The two-sided Italian cross-stitch is a square, densely textured stitch and is another member of the large cross-stitch family. It's composed of a single cross-stitch with two side stitches and is also known as the arrowhead cross, Italian cross, or Italian stitch. It can be worked as a stitch without tension or as a tightly pulled stitch.
Originating sometime between the 13th and 16th centuries, the two-sided Italian cross-stitch was a favorite of Italian stitchers during the 16th century. It and the long-armed cross-stitch were used as the primary, strongly pulled, background filling stitch on the earliest Assisi embroideries, which are named after a town in Umbria, a province in central Italy. Assisi embroidery probably originated with the nuns at a local convent prior to the 14th century, who worked simple designs of geometric motifs and mystical or realistic animals, birds, and flowers, which resembled the local woodcarvings and other decorative art forms. This type of embroidery was used mainly for ecclesiastical linens. Later, the basic cross-stitch was preferred for the background stitch because it's a less complicated and a considerably faster stitch to complete.
Assisi Embroidery
In Assisi embroidery, the interior design is left unworked (voided or a negative image; see photo above) and is outlined with thin black or dark brown backstitch or double-running stitch. The background stitching was done in a single color, usually dark red or blue, but sometimes a dark green or deep rose was used. Additionally, this embroidery was bordered with double-running (Holbein) designs (see photo above). Assisi embroidery was generally worked on a loosely woven linen ground, and the filling stitch was pulled to create tiny holes between the stitches. Today, it is more common not to pull the stitches and to create a more solidly colored background, thus making the design more pronounced. Occasionally, today the background threads are gradated from lighter to darker colors, creating an ombre appearance. Assisi embroidery enjoyed a revival at the end of the 19th century and still remains somewhat popular today.
In the late 16th century and all of the 17th century, English needlewomen used the two-sided Italian cross-stitch on their samplers. This stitch appeared on the English Jane Bostocke sampler, signed and dated 1598, and is often referenced because it sets an absolute date for a particular stitch, stitching pattern, overall design, and stitching materials. The two-sided Italian cross-stitch also appears on 17th-century English spot samplers. American stitchers rarely used this stitch on their samplers and other needlework.
There are several stitching procedures used to complete the two-sided Italian cross-stitch, and they involve either one or two stitching journeys. I have chosen one of each type to illustrate. The others simply have a slightly different numbering sequence.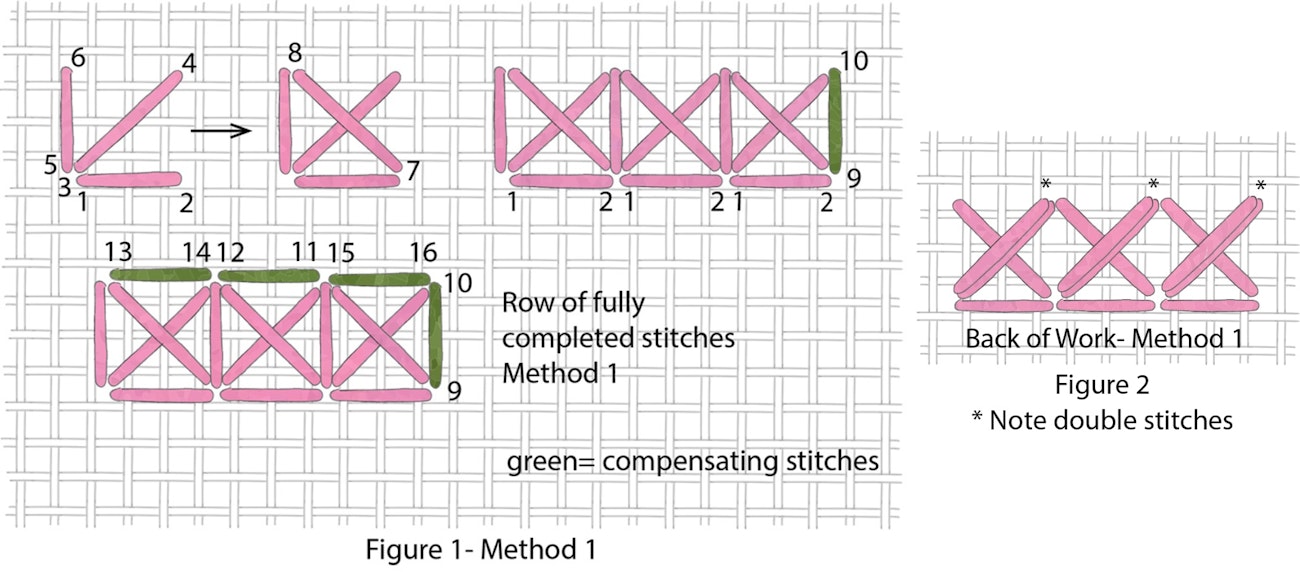 Method 1 (Figures 1 and 2) is accomplished in one journey with each stitch consisting of four steps and completed before proceeding to the next stitch.

Method 2 (Figures 3 and 4) is a two-journey procedure, working from left to right and then returning along the same row with the last diagonal stitches completing each stitch before proceeding to the next row.
Some stitchers believe that this second method is somewhat neater on the back of the fabric because of the lack of double stitches (compare Figures 2 and 4). Regardless of what method used, the two-sided Italian cross-stitches are reversible (Figures 2 and 4).
When stitched row upon row, each stitch will appear as surrounded by a straight stitched box (Figure 7). As a pulled stitch on loosely woven linen, a little or a lot of tension can be applied, resulting in very different final appearances.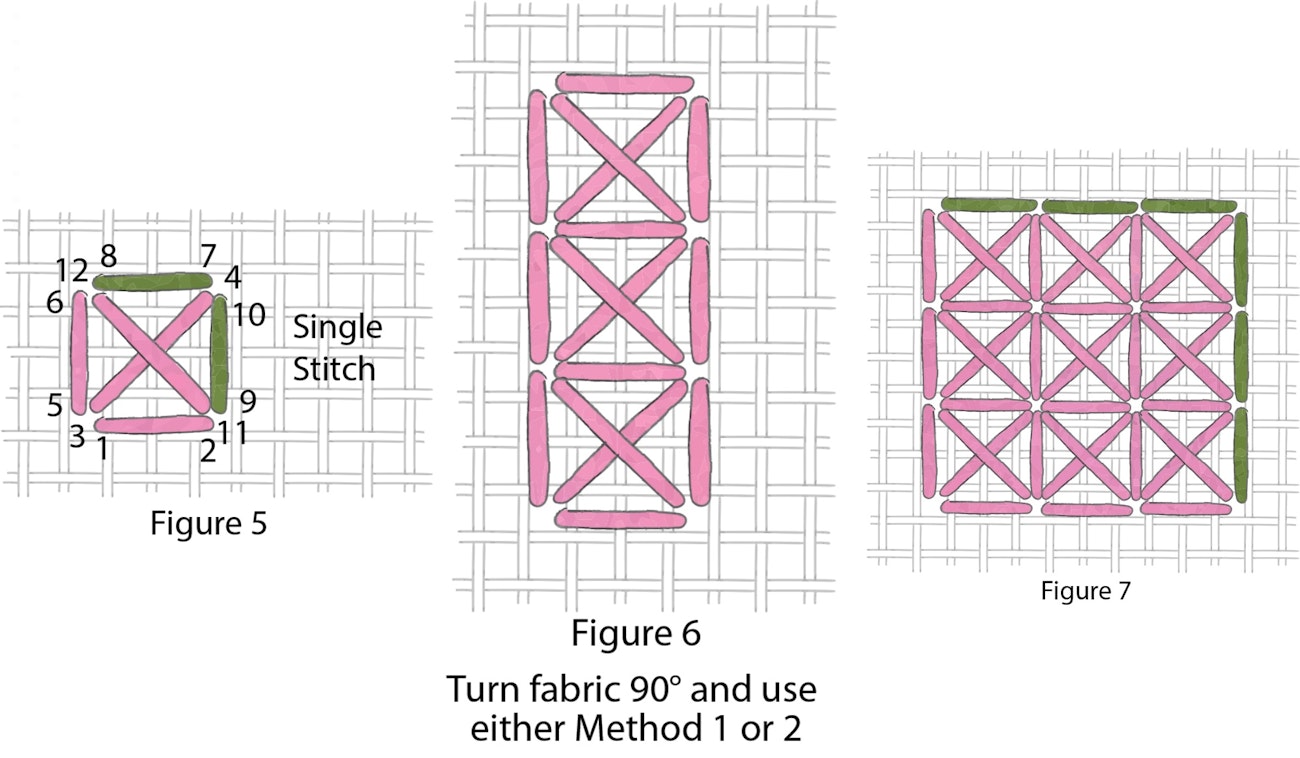 Use the stab-stitch method for the best results. To start stitching, sew a few small running stitches in the area to be covered later by the two-sided Italian cross-stitching. To end the stitching, change to a sharps needle and bury the working thread deep within the stitches on the back and trim the thread close to these stitches.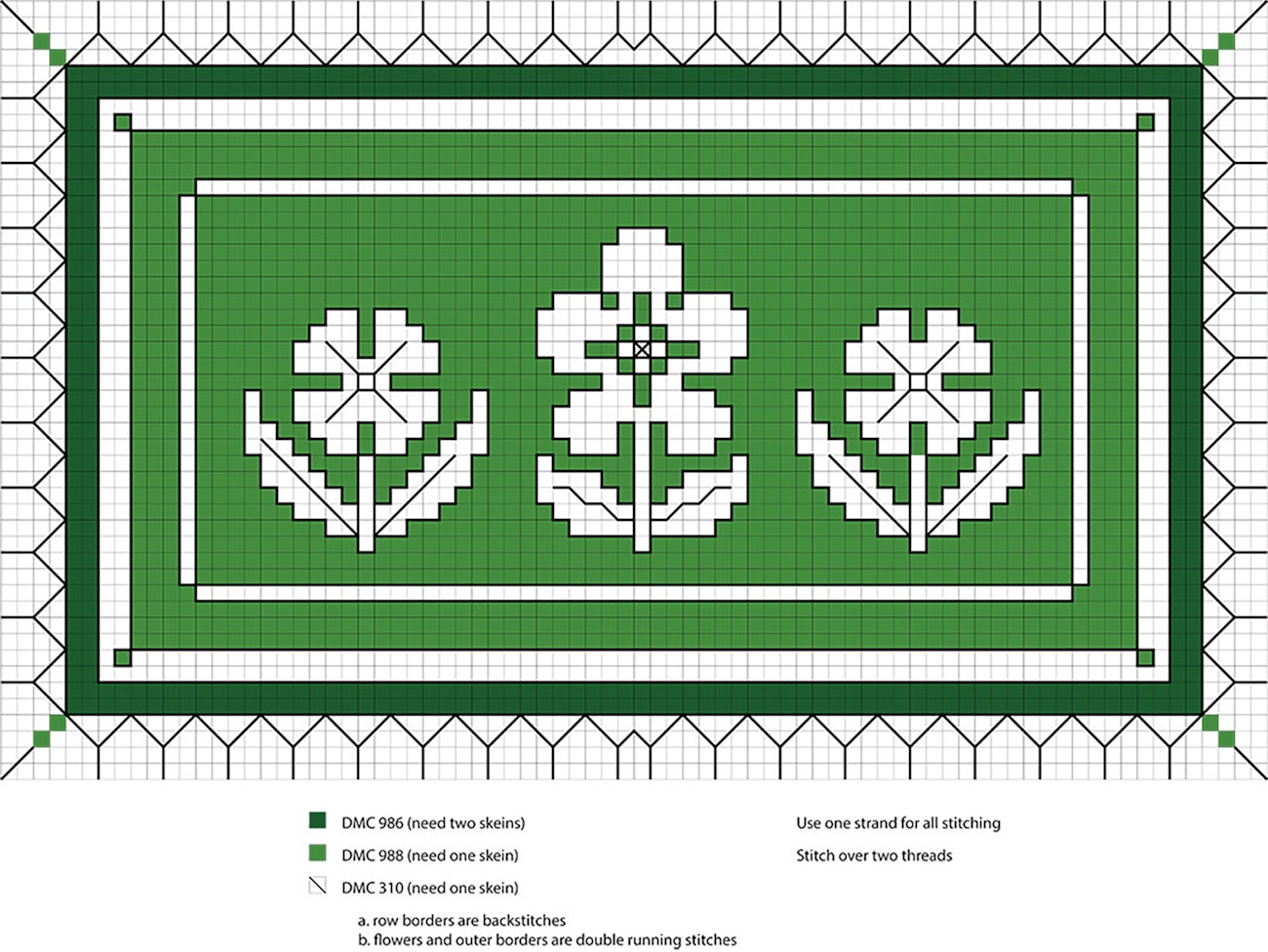 For my sample, I used Method 2 (Figure 3) and started at the top of the design and then worked toward the bottom.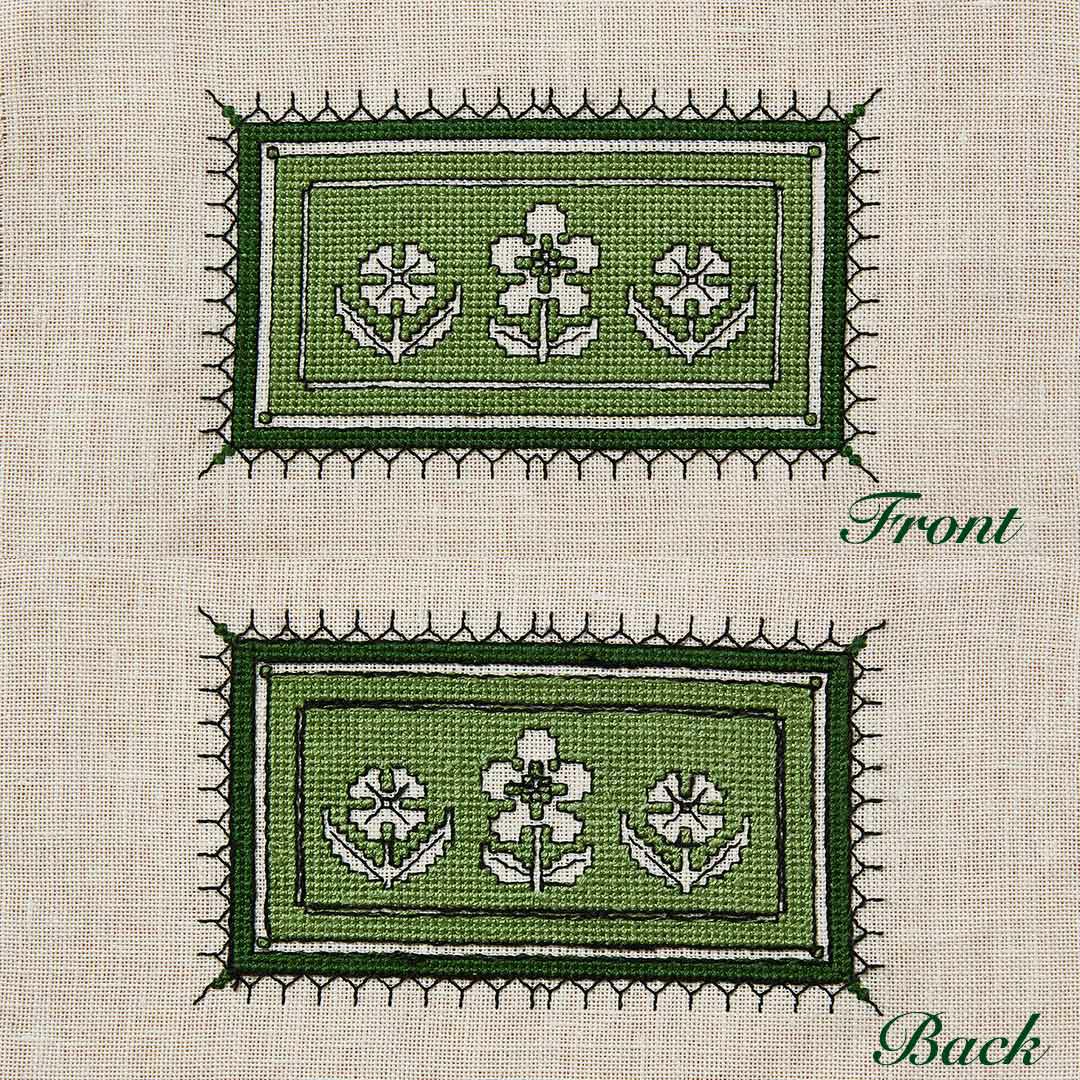 The front and back of Deanna's work. Notice how tidy the reverse side of Deanna's two-sided Italian cross-stitch piece is.
This stitch is traditionally worked on white, ecru, or other lightly colored evenweave fabrics or needlepoint canvas and with cotton or silk floss, coton à broder, pearl cotton thread, or yarn. Choose the correct thread or yarn size for the particular thread count of the fabric or canvas. The thread should cover the background fabric completely but not pack the stitching space.
The two-sided Italian cross-stitch can be used as a solitary stitch (Figure 5), horizontal or vertical (Figure 6) straight line, border, or filling stitch (Figure 7). Because it is a reversible stitch, it's especially useful for items such as table napkins, bed linens, towels, and other items in which both fabric sides may be seen. Today, this stitch is primarily used for samplers, household linens, clothing panels, framed pictures, or small personal or sewing accessories, such as bookmarks, needlebooks, eyeglasses cases, and pincushions.
Deanna Hall West is PieceWork's needlework technical editor; she previously was the editor of The Needleworker magazine.
Originally published January 16, 2019; updated August 22, 2022.