Editor's Note: This is the fourth article in a series by Sheena Pennell about Eleonora di Toledo. Read Part One to learn about the inspiration behind the author's quest to re-create the original burial stockings of Eleonora di Toledo. Part Two details Sheena's investigations into the calculations that have allowed her to make the stockings as historically accurate as possible. In Part Three, she discusses knitting guilds in the 1500s and how they relate to Eleonora's lady-in-waiting. Read on to learn how the very valuable clothing during Eleonora's time was re-used and often upcycled into other articles of clothing.
Clothing in the Renaissance—with its rich, handwoven fabrics, heavy embroidery, and precious stones sewn into the fabric—was staggeringly expensive. To achieve looks like the gown worn in her famous portrait with her son, Eleonora di Toledo (1522–1562) had her own stable of professional gold and silk weavers and embroiderers at her beck and call. These gowns cost thousands of florins, more than a year's wages for a skilled laborer. Granted, her wardrobe was smaller than, say, a Kardashian's, but the individual pieces were worth far more.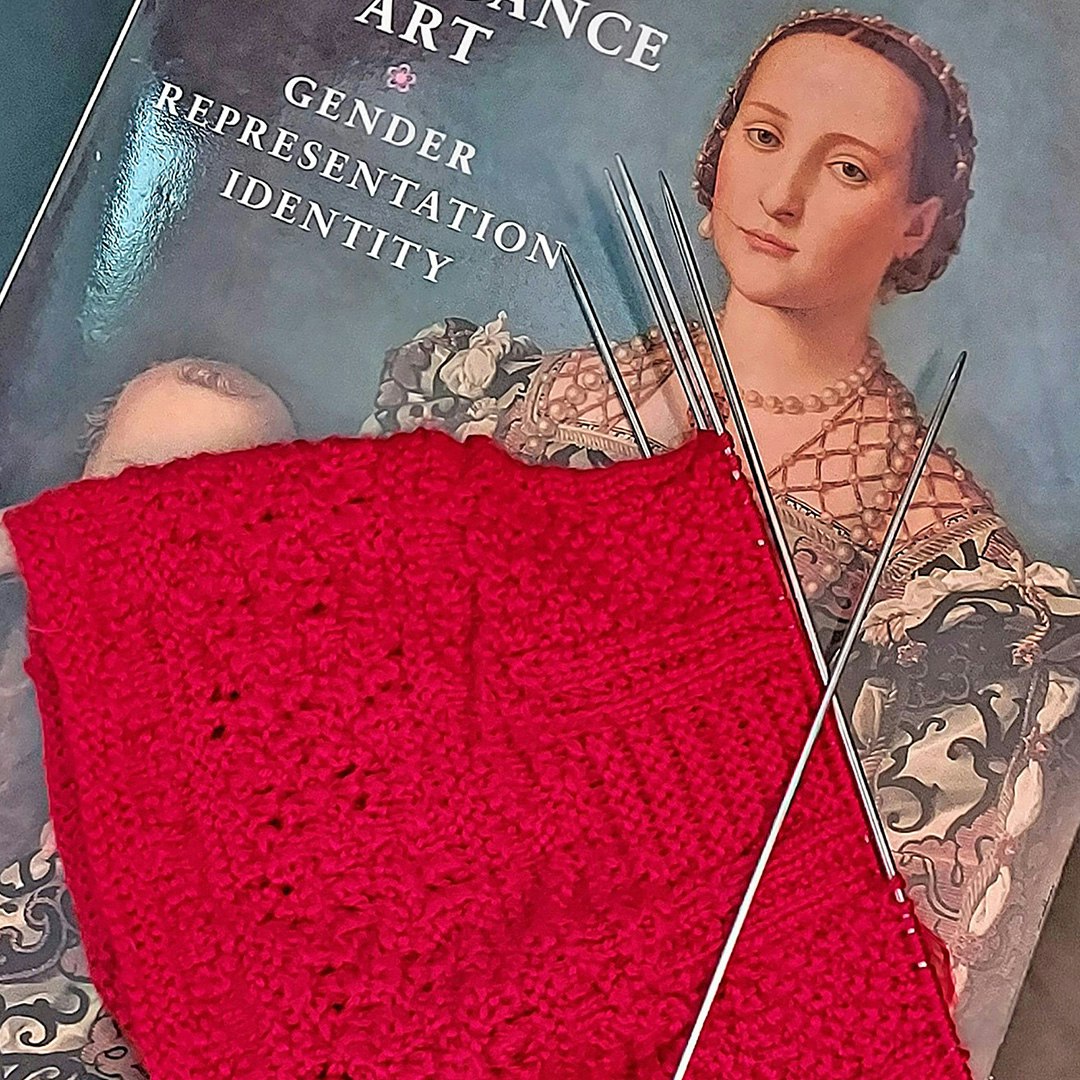 The author's in-progress of the re-creation of Eleonora di Toledo's burial stockings with one of her research books, which shows the famous portrait with her son. Photo courtesy of Sheena Pennell
Garments once made were worn for a lifetime. Wear was covered with embroidery or other decorative elements, and pieces might be re-trimmed, taken in, let out, or cut down to accommodate changing fashions or a woman's body as it fluctuated because of health, age, or pregnancy. When these measures were no longer possibilities, the garment was handed down to another relative, friend, or servant or donated to charity. Particularly expensive garments might be cut down into another item altogether.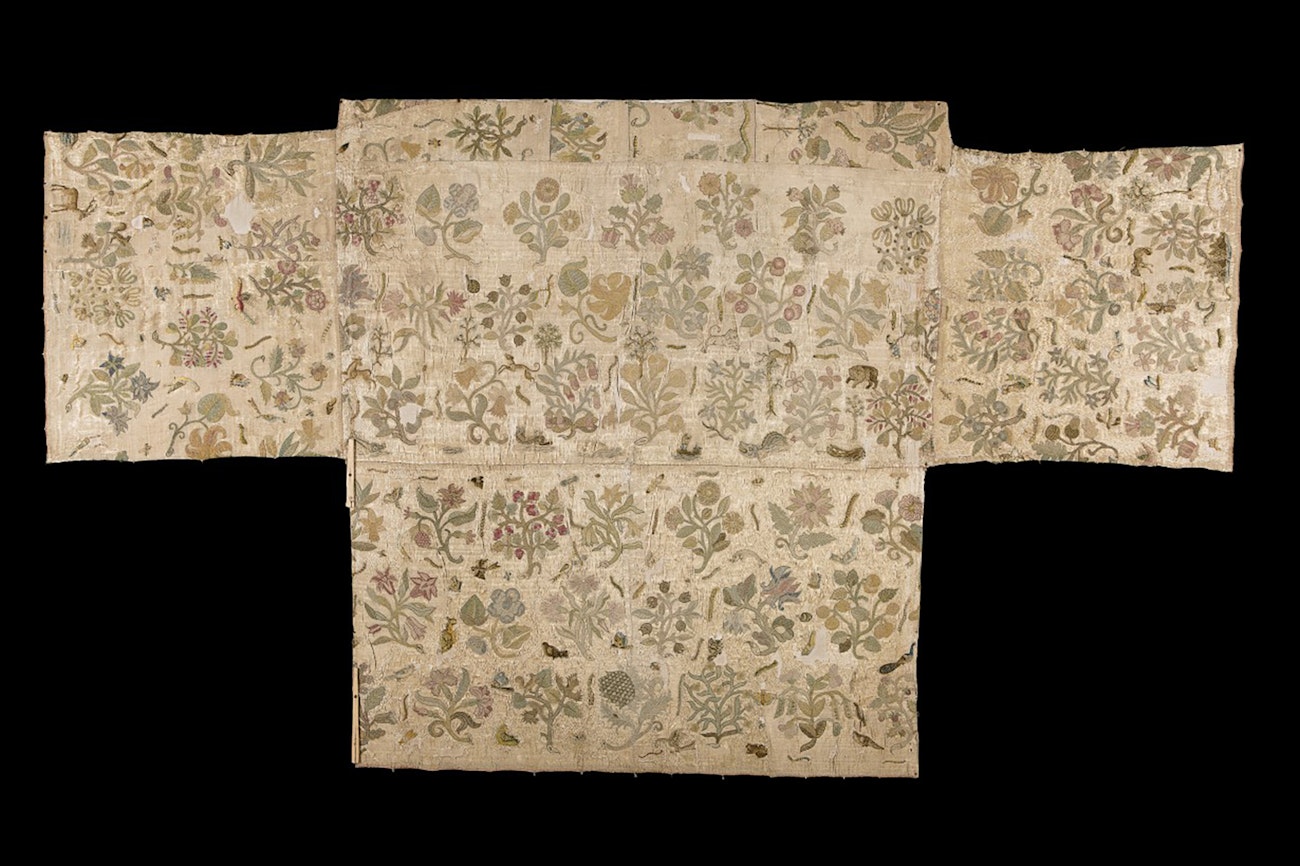 Experts identified the richly embroidered Bacton Altar Cloth as a piece of 16th century dress in 2016. Upon its identification, the cloth was loaned to Historic Royal Palaces, the independent charity that cares for Hampton Court Palace, home of Henry VIII and Elizabeth I. The altar cloth required urgent conservation and conservators have spent three years undertaking a full conservation treatment of the object at the Hampton Court textile-conservation studio and preparing it for display, ensuring its survival for future generations. Photo courtesy of the Historic Royal Palaces
In one 16th century example, the skirt of one of Elizabeth I's gowns, possibly from The Rainbow Portrait was recently discovered to have a second life. Women's gowns could use anywhere from 4 to 10 yards of fabric for the skirt alone, so it's no surprise that in 2016, the dress was found to have been repurposed as an altar cloth for St. Faith's Church in Bacton, England. The fact that this is believed to be the sole survivor of a queen's wardrobe should give you an idea of just how valuable clothing was, whether or not it belonged to someone important. Everything was cut down, worn out, and used up until there was nothing left to survive the centuries. What path this gown took to its destination is unknown, but for another gown, we have a somewhat better idea.
The Crimson Pisa Gown
At a quiet convent in Pisa, a red gown was found draped on the statue of a saint, where someone recognized that it had the same cut and similar materials to Eleonora di Toledo's burial dress.
The Crimson Pisa Gown, as it's known now, doesn't match the records we have of Eleonora's wardrobe, of which a detailed inventory was kept. Most researchers believe it probably belonged to one of her ladies-in-waiting, which explains both the cut and the quality of the materials and work, as both dresses would have been made by the same court tailor.
We aren't sure which lady this belonged to, but when she passed away, she left the dress to the church. While it might seem strange to donate a woman's gown to a patriarchal organization such as the Catholic Church, garments were often cut down to make everything from altar cloths to liturgical garments. Sometimes, gowns were even used to dress statues of saints to make them appear more lifelike.
And there the dress stayed for centuries, quietly waiting in plain view for rediscovery. While the dress had been modified to accommodate the less flexible forms of statues, it's a rare example of a (mostly) intact 16th-century gown and an even rarer view into the wardrobe of Eleonora and her court.
Sheena Pennell is the author, editor, knitwear designer, and amateur historian behind KnotMagick Studios. She has studied art conservation with an emphasis on textiles in Florence, Italy. The Eleonora project is based on a portion of her thesis, which focused on the challenges facing conservators working with burial garments.