The complex, counted-thread queen stitch (American) is also known as the rococo (English) and renaissance stitches. It is commonly composed of a bundle of four to six Roman (French, Romanian or Roumanian, or Oriental) stitches arranged in a very specific manner, ultimately creating a distinctive diamond shape with small, evenly spaced holes at its outer points and a line of tiny stitches at the mid-line (Figure 1).
The queen stitch can be arranged vertically, horizontally as well as diagonally. Each individual queen stitch is not difficult to sew but it does, however, require some time to complete because it is basically composed of eight to twelve individual steps (legs) per stitch. This time-consuming factor often produces groans in today's needleworker.
The queen stitch first appeared on 17th-century English band and spot samplers and continued to be a very popular stitch into the 18th century and was revived in the 19th century. It was a favorite canvaswork stitch of America's colonial needleworkers, often covering the entire surface of needlecases, pincushions and pinballs, and envelope-type pocketbooks and purses. The queen stitch also appeared on early American samplers. Examples of this are the samplers from the Mary (Polly) Balch school (1785–1797) in Providence, Rhode Island.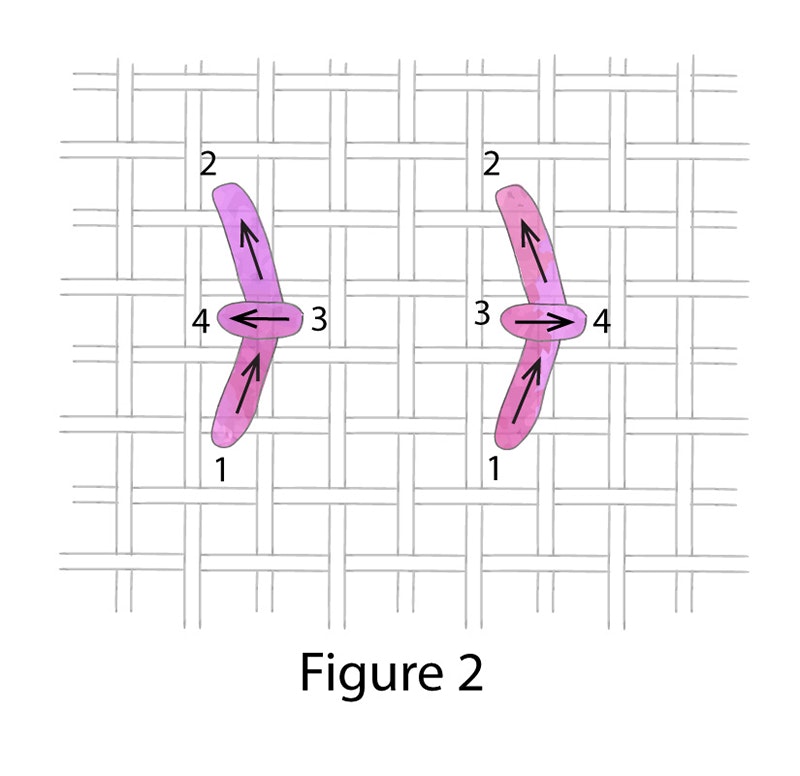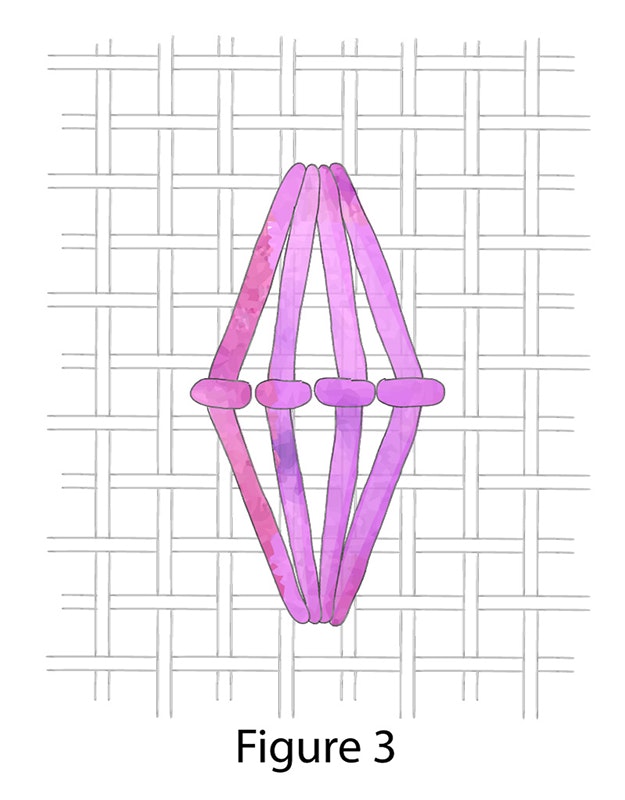 Several stitch sequences can be used to sew this stitch, most involve on which side of the upright leg the couching leg begins (Figure 2). Each long leg of the stitch should be left a little loose until the couching leg is completed and then the working thread is pulled fairly tightly to compress the background threads to form the distinctive holes. Each leg of the queen stitch can be completed in any order—the two left legs and then the two right legs or vice versa or alternating from side to side. Practice this stitch and choose which order suits you best. Generally, work the queen stitch from right to left. Use a tapestry needle sized to fit the chosen thread and fabric or canvas; a sharp needle may be needed to bury the thread tails on the back of the stitches. The lone variation I could find in the literature was the long queen stitch (Figure 3), which only involves the length of the long leg.
Traditionally, an individual queen stitch is sewn in one color and one type of thread, usually a stranded cotton or silk floss, an indivisible cotton or silk thread (pearl cotton), and small gauge wool yarns; some stitchers, however, use sewing or metallic threads! Light colored threads are the most effective because this allows for the greatest visual contrast between the actual stitch and the tiny dark holes. The correct gauge of stitching thread used is important; too thin and the background fabric shows or too thick or fuzzy and the holes close up. [To learn more about silk embroidery, read our blog post "Vietnamese Silk Embroidery."]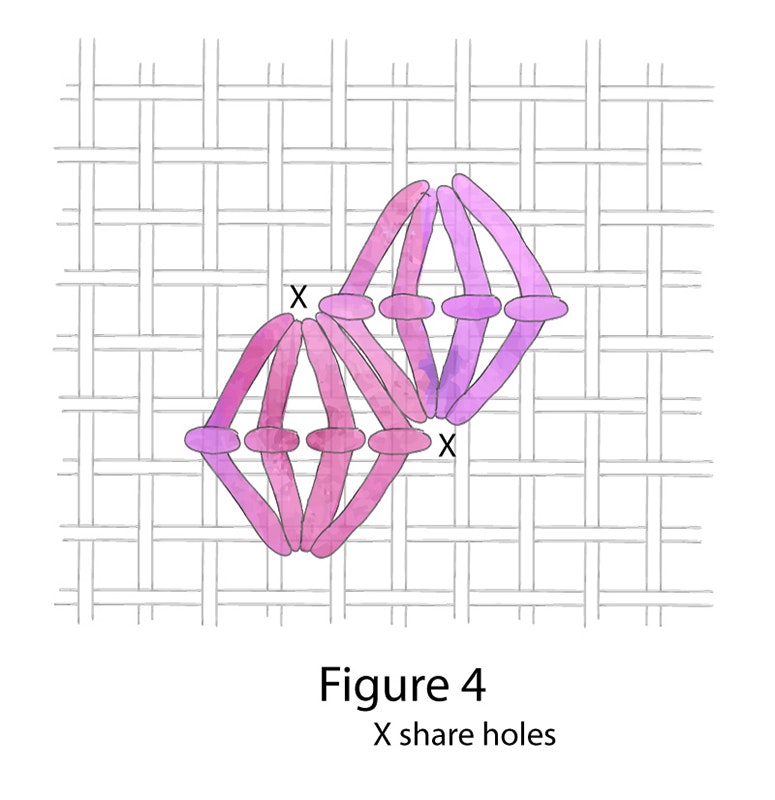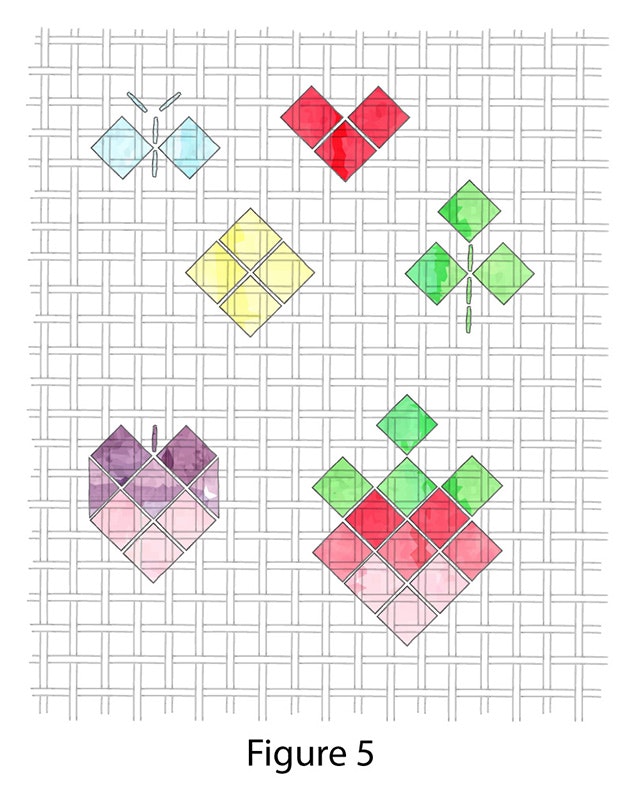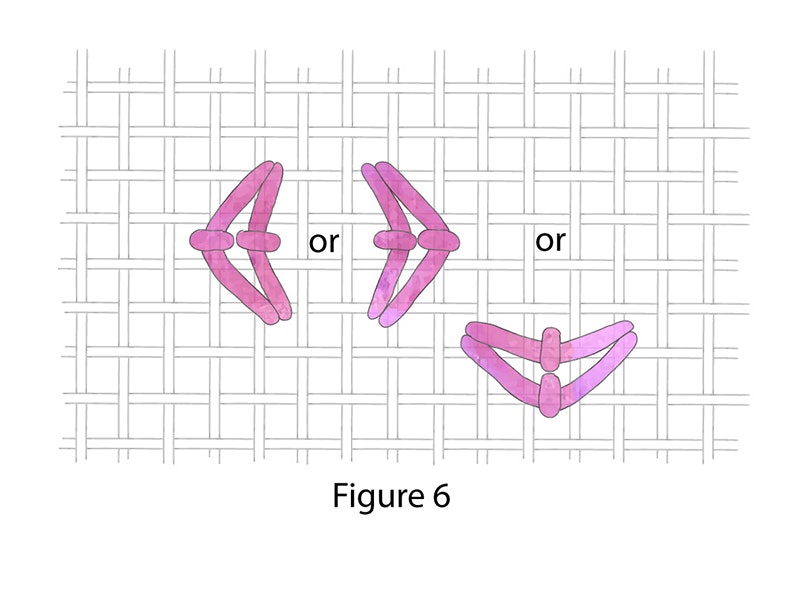 When many queen stitches are used in a motif, the stitching order is important; stitch in a downward diagonal progression (Figure 4) to prevent the working thread from dragging across and obliterating the carefully formed holes. Queen stitches, when closely grouped together, can form geometric (hearts, diamonds, triangles), fruit (strawberries, grape clusters), and floral (carnations, tulips) designs (Figure 5). Half queen stitches can be used at the outer edges of a solid design (Figures 5 and 6).
Linen and other plain-weave fabrics or a needlepoint canvas is required for the queen stitch. This stitch is frequently referred to as a canvaswork stitch in modern needlework books.
Personally, I find the attractiveness of the queen stitch overcomes its lengthy stitching process. Considering the numerous antique samplers and other needlework items containing hundreds, if not, thousands of queen stitches, the stitchers of yesterday felt the same way. I greatly admire the tenacity of these early needleworkers.
—Deanna Hall West
---
We are thrilled to welcome Deanna Hall West back to our A Stitch in Time blog posts. View the entire series here. Enjoy! —Editor
Deanna Hall West is PieceWork's needlework technical editor; previously, she was the editor of The Needleworker magazine.
Featured Image: Scissors and needle case courtesy of Loene McIntyre. Photo by Joe Coca.