The nineteenth century was a century of innovation. The arts, manufacturing, and trade flourished; dazzling new machines, inventions, and curiosities seemed to appear on the market every month. It was a time of fascination with science and technology, and the Victorians in particular tirelessly designed, improved, and experimented with devices that could make in a day what previously had taken months to complete by hand. It was inevitable that they would turn their unbridled energy, ingenuity, and talent to modernizing handmade needlecrafts.
Between 1760 and 1770, Crane, Else and Harvey in London and Hammond, Lindley, Holmes and Frost in Nottingham developed netmaking machines intended for manufacturing fancy hosiery and lace. In 1829, a French tailor named Barthélemy Thimonnier invented the first chain-stitch sewing machine. The American inventors Walter Hunt and Elias Howe introduced their own sewing machines in 1833 and 1846, respectively, and in 1851, Isaac Merritt Singer patented a foot-treadle sewing machine whose speed of 900 stitches per minute was more than twenty times that of a skilled seamstress.
The Industrial Revolution
Still, all this mechanization threatened the livelihood of workers who made their living by weaving, stitching, and lacemaking—by hand. Netmaking machines were attacked and damaged in the Luddite riots of 1810 in Britain; an angry mob destroyed Thimonnier's sewing machine. But antitechnology protests didn't slow the steady pace of the Industrial Revolution. On the contrary, the 1851 Great Exhibition of the Works of Industry of All Nations in London, organized by Prince Albert (1819–1861) and members of the Royal Society for the Encouragement of Arts, Manufacture and Commerce, celebrated and promoted a multitude of achievements in industrial design and technology.
Rapid industrial changes also affected the lives of the rising middle class. As their incomes increased, middle-class homeowners could hire more household help, freeing their wives from some daily chores and giving them more time to devote to their needlework and the decoration of their homes.
Berlin Work
In addition to labor-saving machines, the Industrial Revolution pioneered the development of new high-quality materials for needlework. In Berlin, embroidery patterns printed on a finely ruled grid and then colored by hand appeared for the first time in the early 1800s. Berlin wool work (or simply Berlin work), the canvas embroidery done by following these charts, remained one of the most popular needlework pastimes for nearly a century. Thousands of Berlin-work patterns were printed and sold in needlework shops worldwide (see my article, "Berlin Work: An Exuberance of Color," PieceWork, March/April 2011.)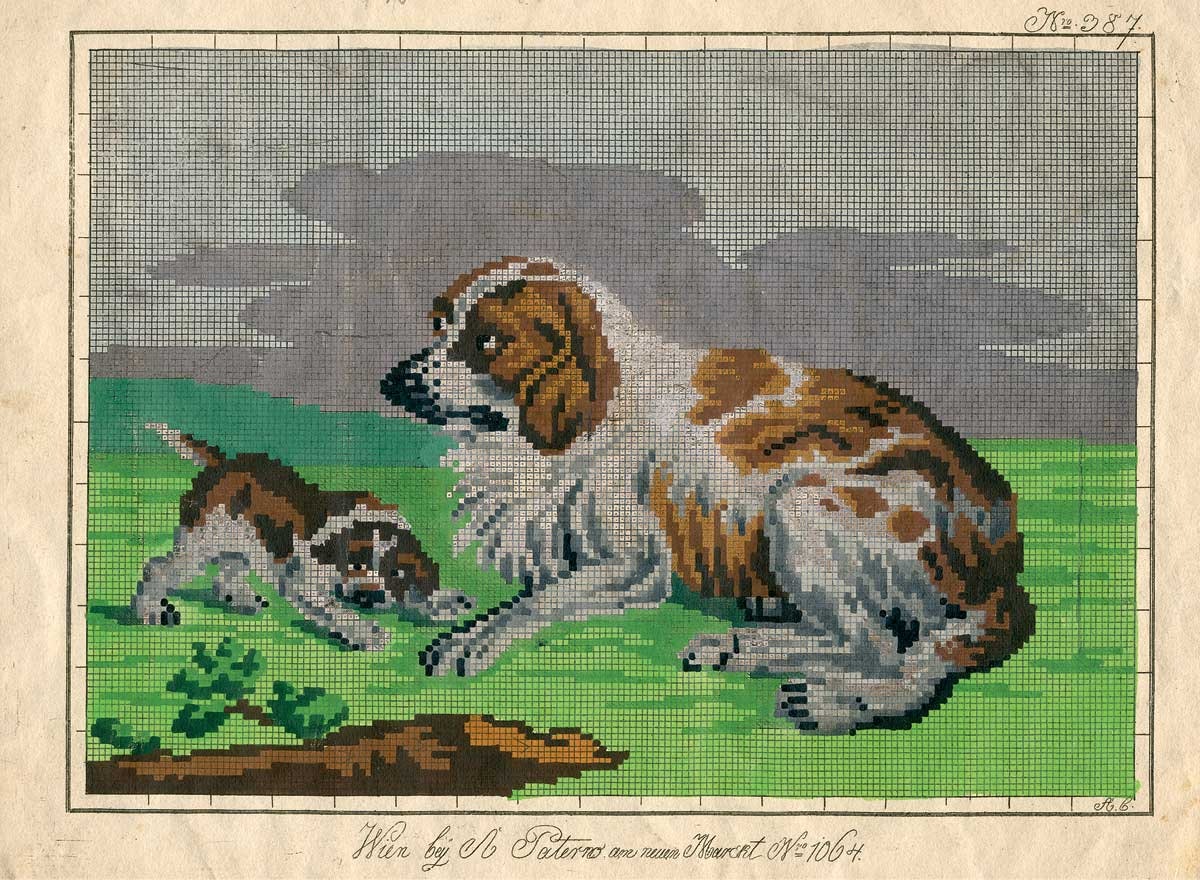 A Berlin work pattern featuring a dog and puppy by A. Paterno. Vienna. Nineteenth century. Collection of the author. Photo courtesy of the author
Typically, large-scale Berlin work was stitched in wool with silk and/or bead highlights. In its heyday in the 1840s and 1850s, needlework shops carried a substantial selection of fine-quality wools. Many were such close imitations of the original German-made Berlin wool that, as The Ladies' Work-Table Book (Philadelphia, 1845) warned, it required "much attention, and an experienced eye, to detect the fraud."
Germany's yarn, made from soft, smooth Saxon Merino fleece, was "brought to the greatest perfection in Gotha, Saxony" (Saxe-Gotha in modern-day Thuringia). Merino sheep originated in Spain, and until the eighteenth century, their export from Spain was punishable by death. The first large flock of Merinos was sent in 1765 by Spain's Ferdinand VI (1713–1759) to his cousin Prince Xavier, the Elector of Saxony (1730–1816). When the Germans crossed the Spanish Merino with the Saxon sheep, the offsprings' fleece was finer and denser than that of their parents. By 1802, Saxony had about four million Saxon Merino sheep, and German wool was considered, according to S. Annie Frost's Ladies' Guide to Needle Work (New York, 1877), "emphatically best used, being of superior finish, and dyed in more lasting and brilliant colors than any other."
Berlin wool (or Zephyr, as it was known in Germany) came in three weights. The coarsest was called double; the intermediate grade, single; and the finest, split.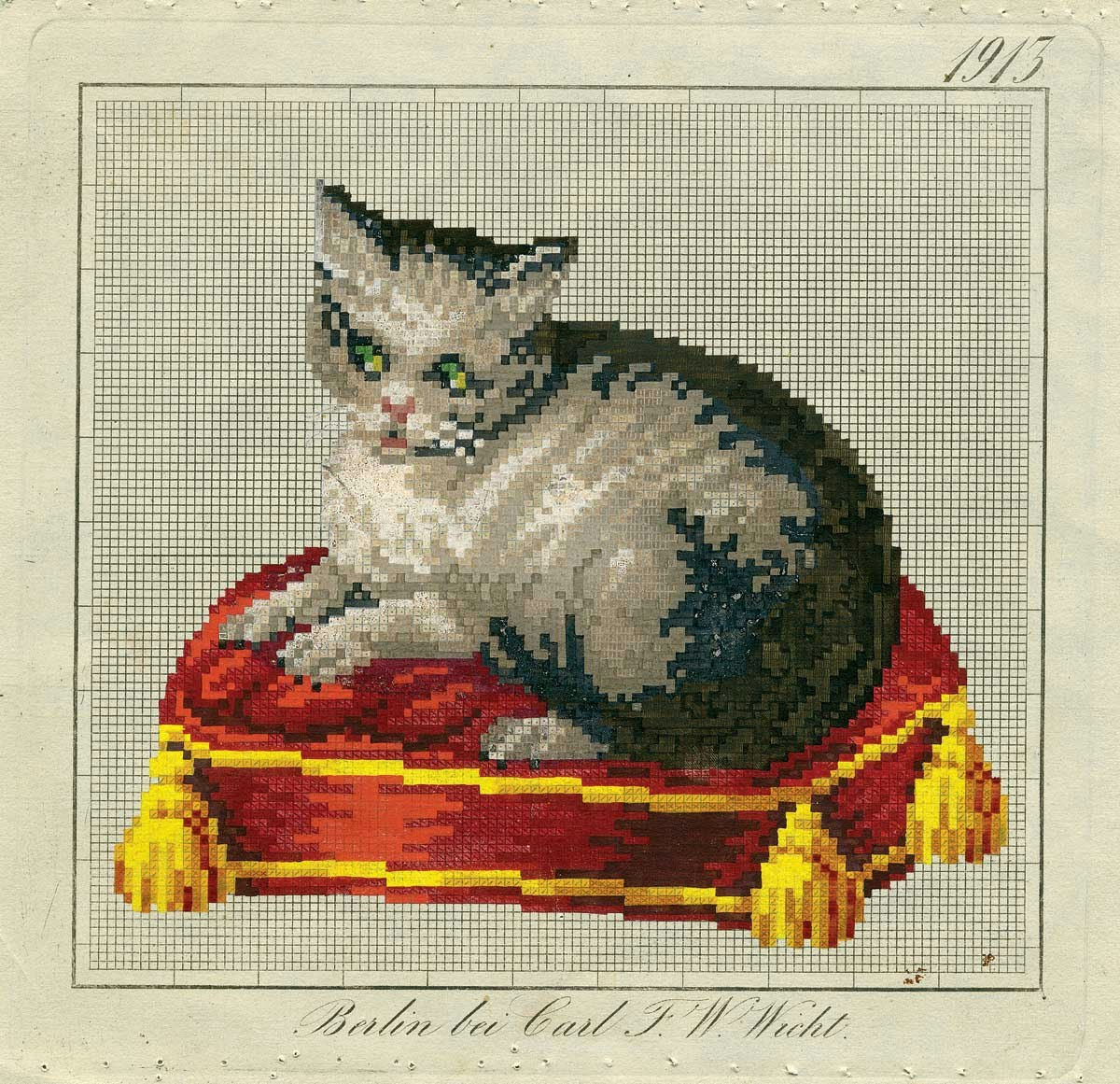 A small cat or kitten resting on a red cushion. Berlin work pattern by Carl F. W. Wicht. Nineteenth century. Collection of the author. Photo courtesy of the author
In The Hand-Book of Needlework, Decorative and Ornamental, Including Crochet, Knitting, and Netting (London, 1846), Miss F. Lambert noted that unlike other yarns, Berlin wool was "soft and curly in its texture, and round in its make." Many contemporary books on needlework cautioned against winding it into a ball, "as it deprived the wool of its elasticity." Instead, the wool should be cut into lengths and wrapped in long papers or calico "with the wool doubled over, to draw out at the loop." Each wrap was labeled as to color and shade number, the darkest shade receiving the lowest number.
Berlin wool came in a wide variety of colors and shades. Enquire Within Upon Everything (London, 1872) discusses the types of shades available to the needleworker:
Shades of Color
Technically, a silk or wool dyed in shades of the same color, going gradually from light to dark, and from dark to light again, is termed an ombre, or shaded wool or silk. Chine is the term employed when there are several colors used. There are, also, what is called short and long shades; that is, in the former the entire shades, from the lightest to the lightest again, will occur within a short space, a yard or so; whereas, in long shades, the gradation is much more gradually made.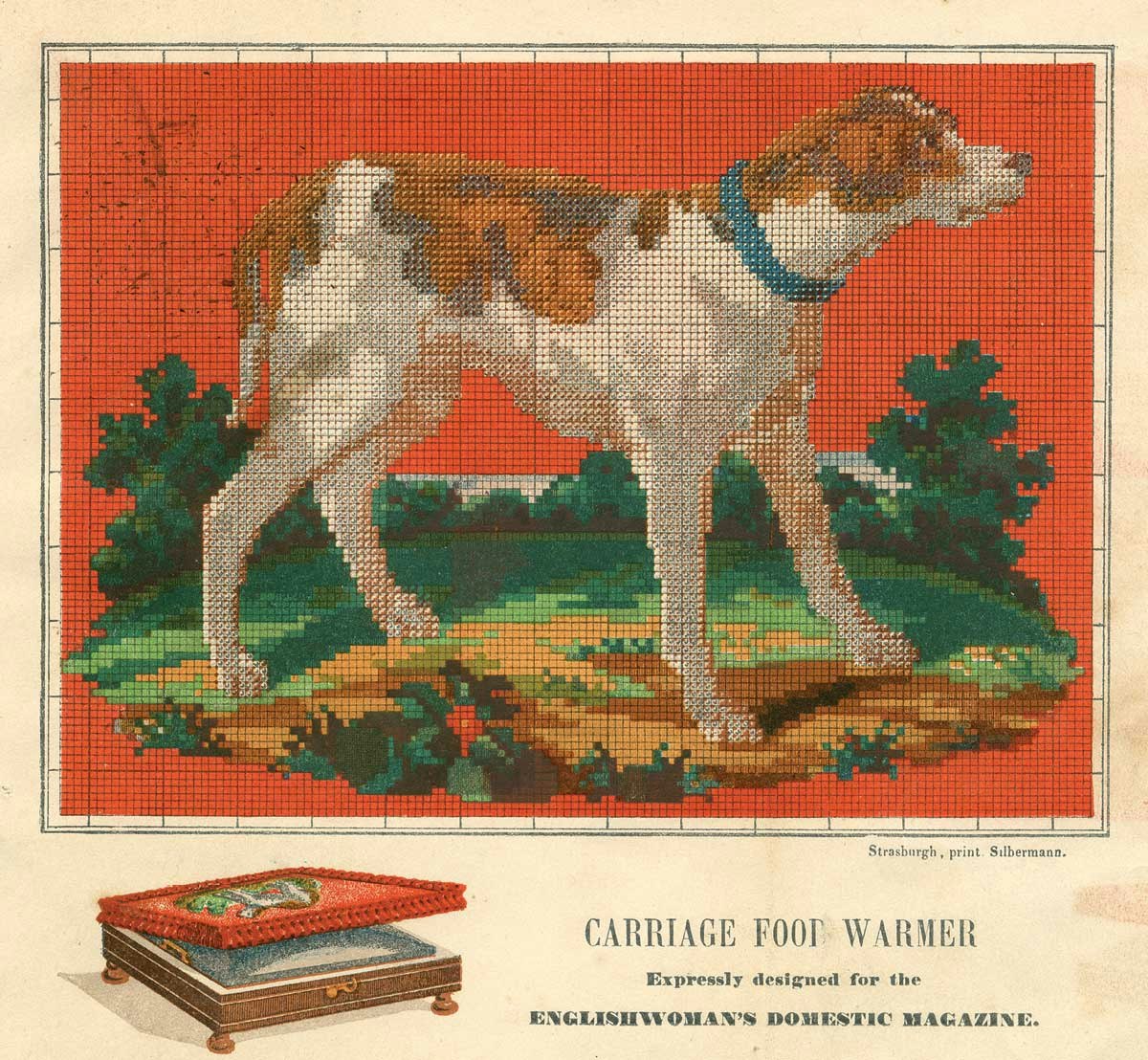 This Berlin work pattern was intended as the top of a carriage foot warmer. Englishwoman's Domestic Magazine, 1863. Collection of the author. Photo courtesy of the author
Berlin wool was famous for its clear, bright shades, pure whites, and delicate pastels. The vibrancy of color for which Berlin work was so loved was imparted to the yarn by synthetic aniline dyes, which had largely replaced the natural dyes used previously.
The new dyes worked especially well on natural fibers, such as wool and silk. The earliest ones tended to turn into muddy browns and greens over time, but as technology improved, more reliable deep reddish-purples, blues, violets, greens, and reds became available. Synthetic dyes had two major advantages over natural dyes: they were inexpensive, and they could be readily manufactured in large quantities.
Curiously, Berlin wool was imported into the United States "in a raw state" and then dyed domestically. The results, as The Ladies' Work-Table Book pointed out, were "equal to the wools prepared in Germany, as to quality; but the brilliancy of the color will not bear comparison."
English lamb's (or "embroidery") wool was thicker, rougher, and sturdier than Berlin wool, but it was still considered to be "of a very superior kind" and excellent as a foundation wool. In fact, English wool was preferable to the German for working large background areas. Although the selection of colors was limited, certain blues, greens, clarets, and golds could (according to The Ladies' Work-Table Book) "for brilliancy and permanency justly claim equality with the most finished productions of the continental states."
Neither regular nor fine (crewel) worsted was used in Berlin work, despite the assertion by Miss Florence Hartley in her Ladies' Hand Book of Fancy and Ornamental Work (Philadelphia, 1859) that "it takes a fine dye and has a brilliant glossy appearance in large articles, such as carpets and rugs." Worsted was also much cheaper than Berlin wool, but it had gone out of fashion by the time Berlin wool work became all the rage.
Silk for Delicate Items
Although most Berlin work was worked in wool, small objects not subjected to heavy wear, such as delicate face screens (used to protect wax-based makeup in front of the fireplace or candles), needle books, and tops of workboxes, were worked in silk. Of the three kinds generally used for Berlin work, chenille was the finest and most expensive; when working on the delicate silk Berlin canvas, it was preferable to use chenille threads. Enquire Within Upon Everything effused: "The extreme richness of the appearance of chenille makes it suitable for any work requiring great brilliancy; as the plumage of birds, some flowers, and arabesques." The book had less to say about floss silk ("very beautiful and expensive") and filoselle ("much used for grounding canvas and not suited for fine work").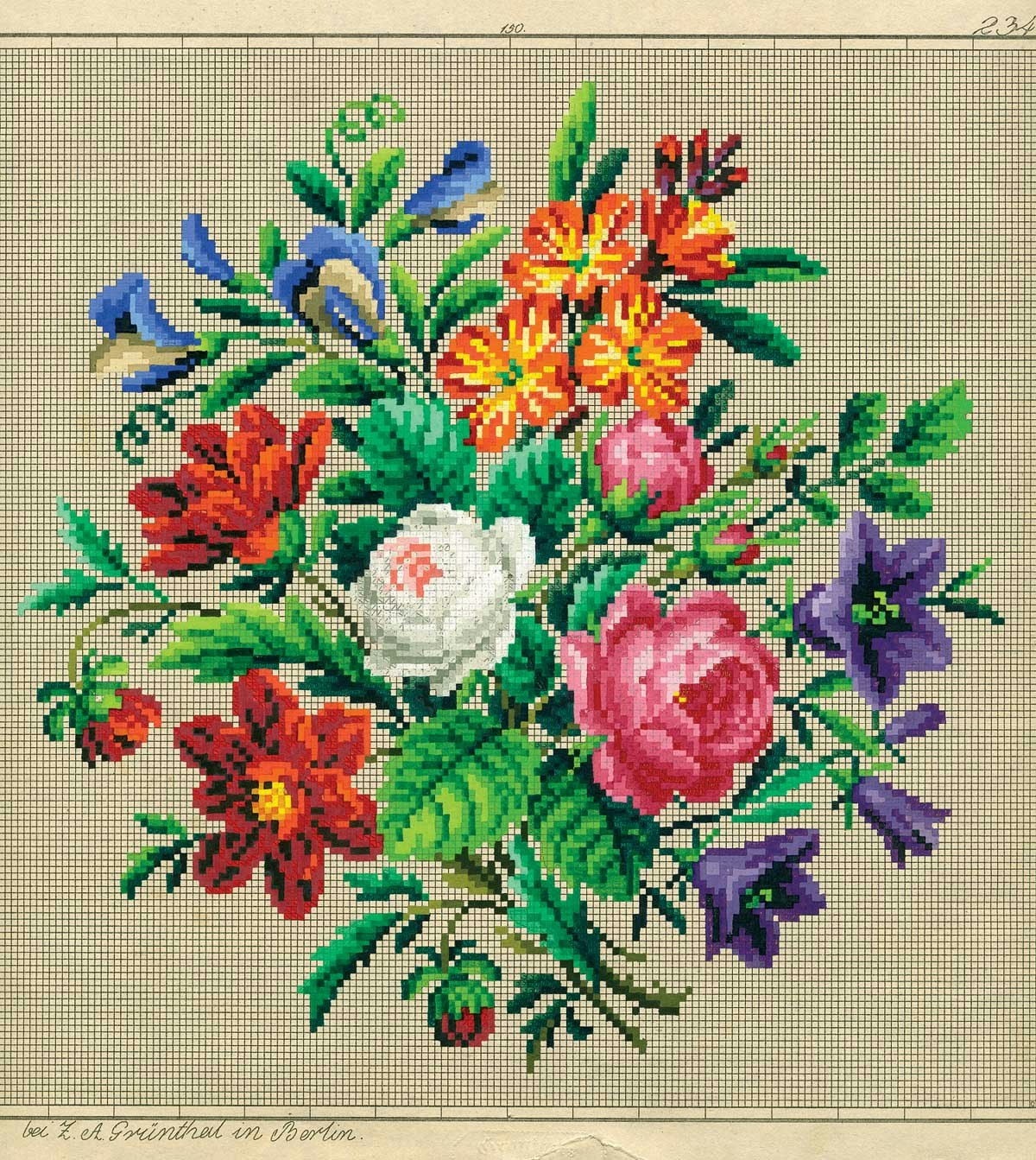 A floral Berlin-work pattern by Z. A. Grünthal. Nineteenth century. Collection of the author. Photo courtesy of the author
The Evolution of Designs
In her book Discovering Embroidery of the 19th Century, Santina M. Levey describes the evolution of Berlin work:
The first Berlin patterns were flat, fairly formal floral designs dominated by their geometric construction. During the 1840s, however, a vogue for naturalism developed which resulted not only in elaborate copies of realistic paintings but also in increasingly flamboyant, three-dimensional representations of birds, flowers and animals. These were made life-like by careful shading and by the use of padding and of plush stitch trimmed to a rounded shape. Pictorial subjects were not so suited to the more lavish techniques and they reached their peak in the early 1850s but the full-blown roses, peonies and lilies, together with parrots, peacocks and other exotic birds survived into the 1860s. The second half of the 19th century was dominated by more geometric designs until the mid-1870s when Berlin work was taken over by the Art Needlework Movement.
Victorian taste and romanticism shaped the subject matter of Berlin work patterns. It included massive religious or pictorial wall hangings; complex floral wreaths, bouquets, and borders; elaborate geometric designs; and bucolic pastoral scenes with young women, children, and animals. Pet birds perched on branches, pet dogs and cats curled on the floor or seated on tasseled cushions decorated pillows, needlework accessories, and samplers.
The debate over the artistic value of Berlin wool work has been going on for more than two hundred years. Detractors have argued that Berlin work limited needleworkers' imagination and the number of different stitches they used and that its popularity was due more to the speed at which it could be done than to the aesthetic qualities of the finished product.
But I look at tattered antique Berlin work patterns and the surviving Berlin work objects and think of the nameless gifted illustrators who left us these breathtaking designs to admire and execute. I hear the humming and clacking of a printing press marking the paper with a plain black grid on which charts will be laid out. And I see those printed charts in the hands of thousands of women who are no longer afraid to pick up a needle and a fine wool thread and start their first stitching project.
Interested in learning more about wool? This article, a companion project, and others can be found in the November/December 2011 issue of PieceWork.
Also, remember that if you are an active subscriber to PieceWork magazine, you have unlimited access to previous issues, including November/December 2011. See our help center for the step-by-step process on how to access them.
Resources
Edwards, Joan. Berlin Work. Dorking, England: Bayford Books, 1980. Out of print.
Levey, Santina M. Discovering Embroidery of the 19th Century. England: Shire, 1977. Out of print.
Markrich, Lilo, and Heinz Edgar Kiewe. Victorian Fancywork: Nineteenth-Century Needlepoint Patterns and Designs. Chicago: Regnery, 1974. Out of print.
Warren, Geoffrey. A Stitch in Time: Victorian and Edwardian Needlecraft. London: David & Charles, 1976. Out of print.
Irina Stepanova is a designer, needlework collector, and owner of The Oak Lane Cottage. Her patterns are a tribute to nineteenth-century women's needlework. Visit her website at The Oak Lane Cottage for more patterns and inspiration.
Originally published August 3, 2020; updated January 2, 2023.