Beaded knitting, bead knitting, and purse knitting are all terms used to describe a wide range of knitted textiles, and—as usual—the terms don't always appear consistently. Much like knitted lace or lace knitting, beaded knitting and bead knitting are often used interchangeably. However, Mary Thomas differentiates the two in Mary Thomas's Knitting Book, first published in 1938.
"Beaded and Bead Knitting—There are two methods of work. The first, beaded knitting, where the beads are knitted in on certain rows at regular or irregular intervals to enrich the appearance of the knitted fabric. This is the simpler form, and often found on little beaded cuffs. . . .
Baby's cap, eighteenth century, Germany (1941-34-5). Cotton and glass beads. Courtesy of Cooper Hewitt, Smithsonian Design Museum
"The second, bead knitting, is sometimes known as purse knitting, a name descriptive of its use, since it immediately conjures up a vision of bead fabric, whereon the beads are packed so closely together that the knitting stitches are obliterated. . . . Bead knitting is more complicated than beaded knitting, and needs practice to aquire the knack of settling the beads with precision and regularity."
Bead knitting or purse knitting, on the other hand, Thomas says "differs considerably from beaded knitting, both in appearance and preparation." Her detailed discussion of prestringing a patterned design is followed by recommendations for tension and bead management.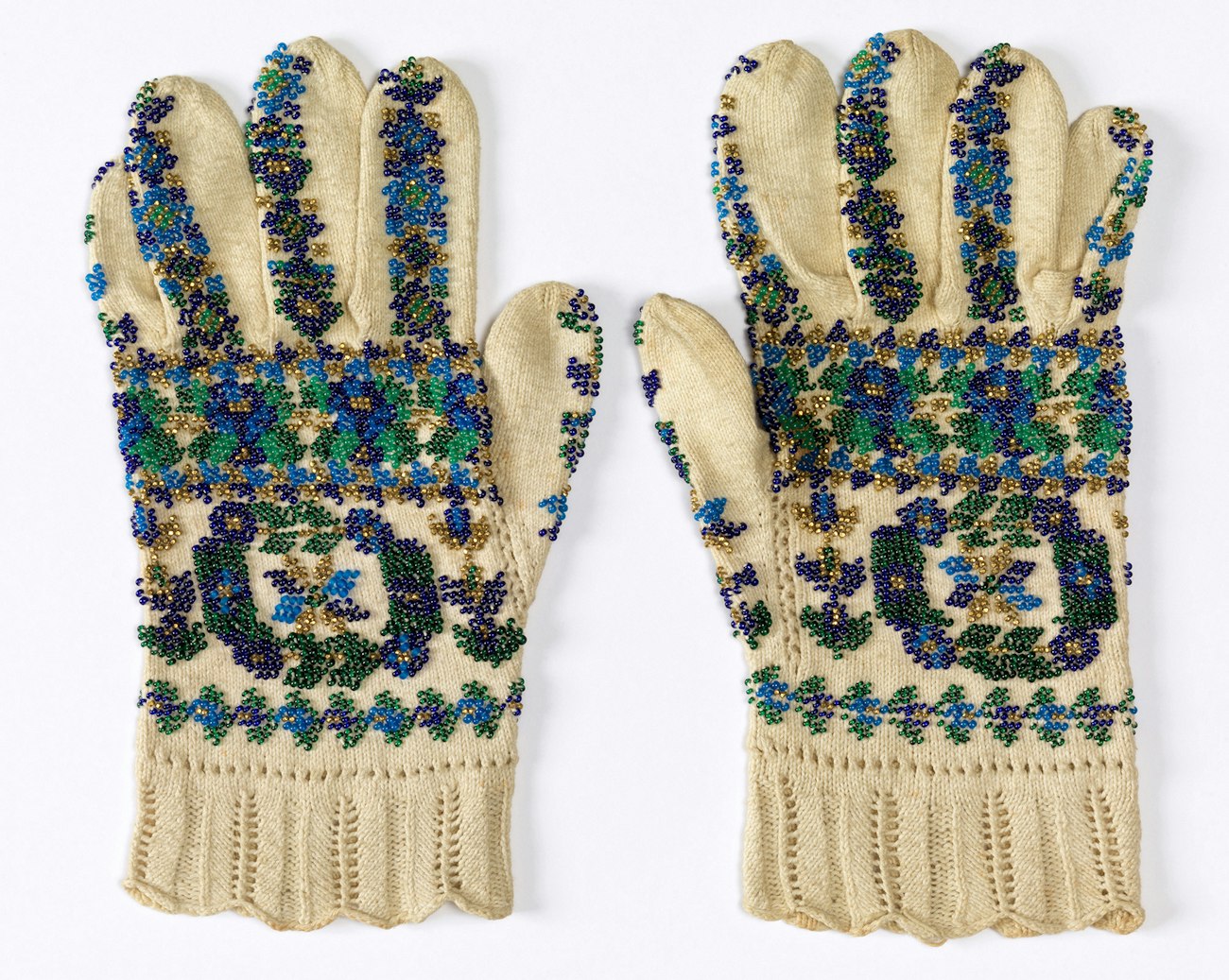 Gloves, nineteenth century (1947-47-1-a,b). Cotton and glass beads. Courtesy of Cooper Hewitt, Smithsonian Design Museum
Dillmont's Beaded Knitting
Thérèse de Dillmont included some information and illustrations on beaded Turkish stitch in the early editions of her Encyclopedia of Needlework. Combining the instructions from an 1890 edition with later editions, I worked a quick swatch.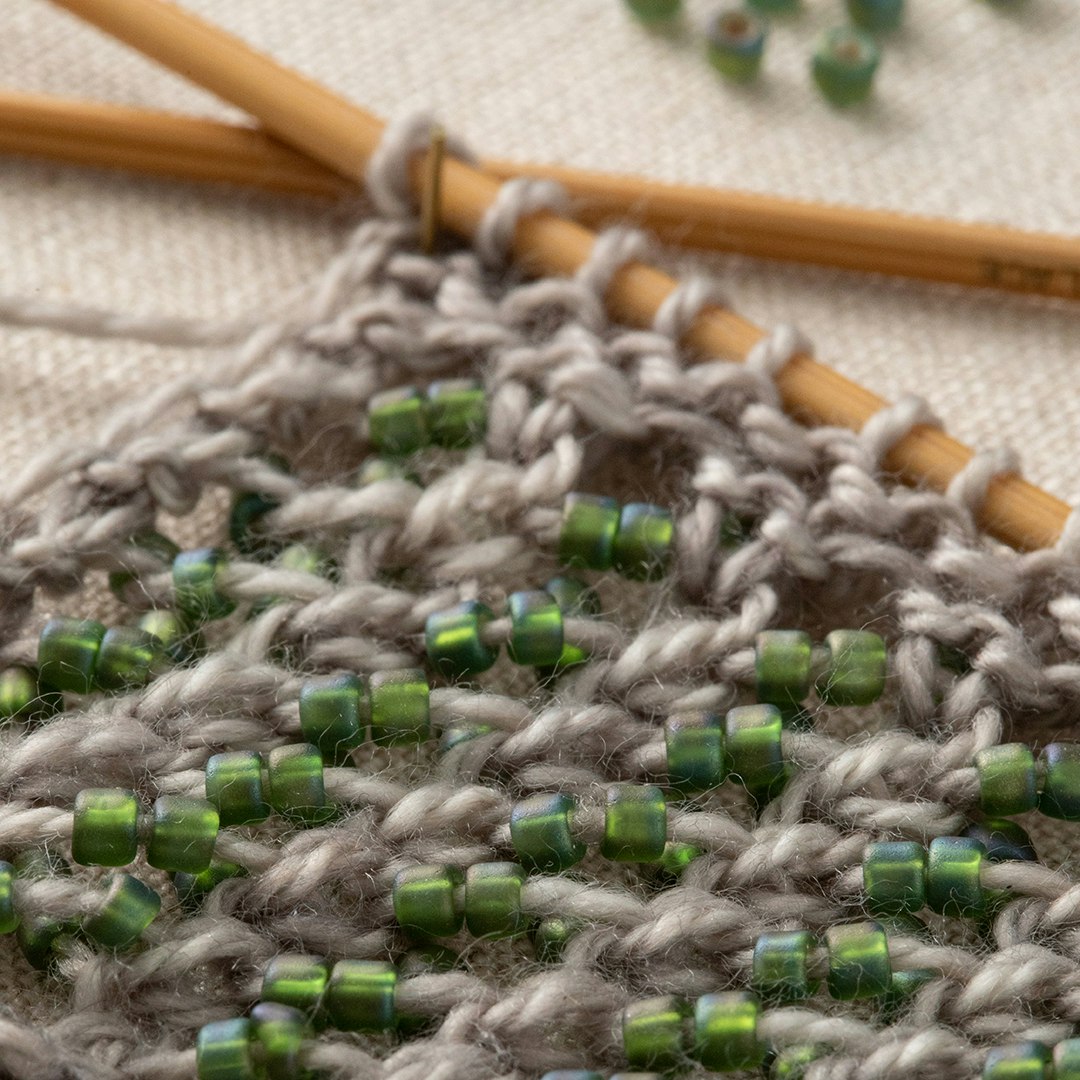 Kate's swatch in Turkish Stitch with two beads per yarn over. Photo by Matt Graves
I find prestringing beads to be fussy but well worth the time when adding weight and interest to scarf and shawl edgings. How would you put this stitch to use?
Turkish Stitch
From Encyclopedia of Needlework (1890)
Row 1: Slip 1, knit 1, over, knit 2 together, over, knit 2 together, and so on to the last 2 stitches, which you knit plain.
Row 2: Slip the 1st, knit the 2nd and the 3rd plain, the latter having been formed by the last over on the 1st needle; 1 over, 1 intake with the stitch and the over, 1 over, 1 intake and so on.
Turkish stitch with beads: String the beads on the thread before you begin to knit. When you only use one kind of bead, thread a needle with your knitting cotton and run it through the thread on which the beads are strung. When you use several kinds, you must count and thread them on in the required order. Beaded knitting is little in request now, excepting for tobacco pouches and purses for which you should use Cordonnet 6 fils D.M.C. Nos. 35, in any colour, and small beads.
For close beaded knitting, plain stitch is the best. Run the beads down singly at each stitch. The beads will fall on the reverse side of the work so that in knitting with beads, remember that the reverse side will be the right side. Run down 2 or sometimes 3 beads before knitting each stitch.
Interested in other ways to embellish your projects? This article and others are available in the Summer 2022 issue of PieceWork.
Also, remember that if you are an active subscriber to PieceWork magazine, you have unlimited access to previous issues, including Summer 2022. See our help center for the step-by-step process on how to access them.
Resources
de Dillmont, Thérèse. Encyclopedia of Needlework. Mulhouse, France: Bibliothèque DMC, 1890.
Thomas, Mary. Mary Thomas's Knitting Book. London: Hodder and Stoughton, Ltd., 1938.
Kate Larson is the editor of Spin Off, and the author of The Practical Spinner's Guide: Wool (2015).