The Banjaras of India are historically a nomadic community. They would move from area to area with their belongings and huge herds of cattle. Since they were on the move, most of them would make storage containers (bags, boxes, dowry items, etc.) all from cotton cloth that they decorated profusely with embroidery.
Today, with government intervention and support from various organizations, Banjaras lead a settled life in Banjaran settlements referred to as tandas. Such tandas are spread throughout almost all the Indian states. While their embroidery is still done for their personal use, such as for weddings and ceremonies, now to revive the interest in the embroidery, it has also been adapted for commercial purposes, and it is the Banjaras from the Indian states of Karnataka and Andhra Pradesh whose work is seen more prominently.
Kalchi is the name given to a Banjara dowry purse or bag. It comes in all sizes and is filled with gifts for the groom. Usually, one sees large ones that are filled with a lot of items. The size probably depends on the wealth and stature of the family.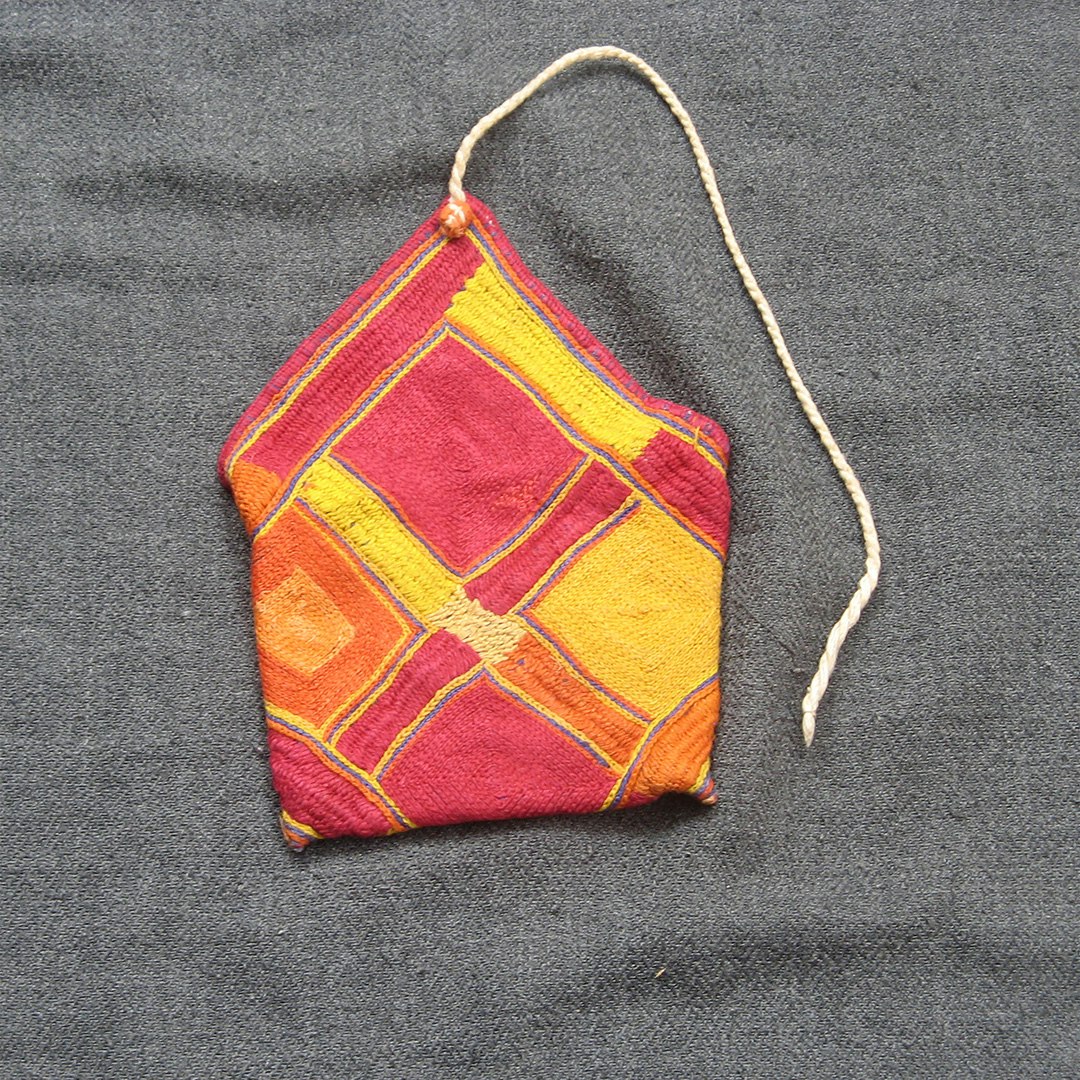 The stitching on this Banjara dowry purse is done using many colors of thread. The coloration is mind boggling.
The one shown here is a small kalchi from a lady from a tanda near Hyderabad, the capital and largest city of the Indian state of Telengana. It may have been included in a larger dowry bag as one of the gifts. The cord that is designed to tie around it suggests it may have been made to carry money.
I have no idea when I bought this kalchi. When I did, I had no clue about the Banjaras or their embroidery. It was the small size and the colors that attracted me. I have since learned that the number of stitches used in Banjara embroidery varies. Although most sources mention 14 types of stitches, I have come across groups doing from 20 stitches to about 50. And I have heard that there are more than 133 stitches done in some parts.
This colorful small kalchi is made like an envelope bag. The cloth used is slightly thick and may be quilted using two or more soft cotton fabric layers. The purse is embellished using a traditional stitch from that huge repertoire of Banjara embroidery. The entire piece, front and back, is covered with embroidery. It is the use of color in the embroidery that is most striking. The stitcher used so many colors, but it all falls into place so well.
My research on this little kalchi continues. If you are interested in learning more about Banjara embroidery, see "The Perfectly Imperfect Embroidery of Banjara."
Chitra Balasubramaniam writes, collects, and experiments with textiles, following her passion with writing on food, travel, and heritage. She dabbles with stock investment analysis and research. She also runs a small travel-log—www.visitors2delhi.com. You can also find Chitra on Instagram @visitors2delhi.