The Twelve Months of Ornaments, created by our own PieceWork team members, is our way of saying thank you to our All Access subscribers for being such valued members of our community. Each monthly seasonal ornament pattern will let you enjoy needle-crafting with us all year. Relax, try a new craft, or savor a familiar craft in quick-to-accomplish projects that are a pleasure to make. It has been so much fun for us at Long Thread Media to work together on these ornaments, and we hope you'll share your finished pieces using #pieceworkmagazine. We can't wait to see them!
When I take my walks on summer evenings, I always stop to admire the beautiful roses that are blooming all around my neighborhood. This pattern, which is based on a pattern from a 1907 embroidery book A Treatise on Embroidery; with Twenty Color Illustrations from Original Models (New York, Philadelphia [etc.] M. Heminway & Sons Silk Co. [c1907]), is a companion piece to the "A Spring Topiary Garden in Biedermaier Embroidery."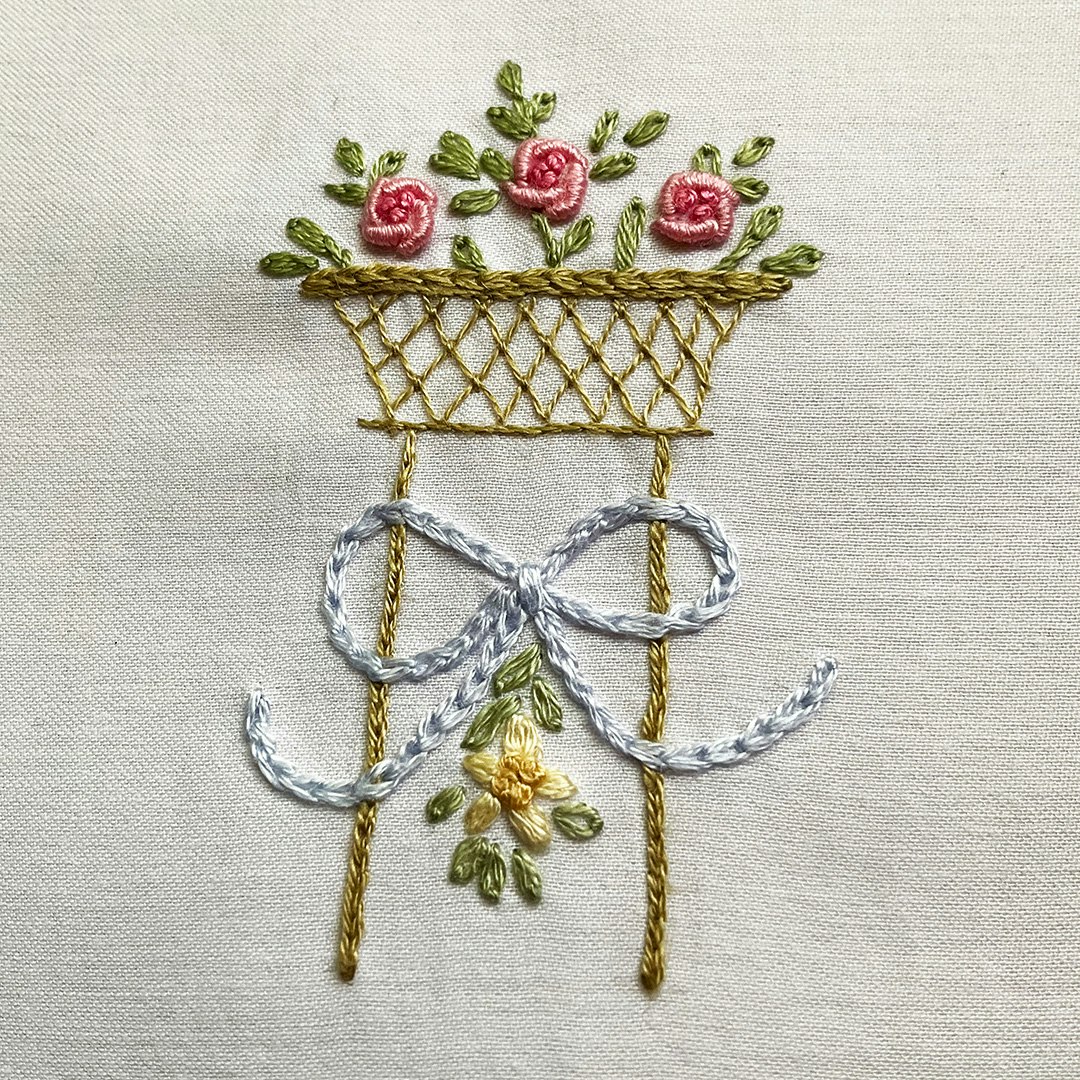 Pat's summery rose design
I have chosen soft colors that remind me of summer flowers, and I have selected some textured stitches including bullion knots and colonial knots to give this piece added dimension. The sweet roses in a woven basket planter look so fresh, especially when framed by a hoop, that it is hard to believe the design is over one hundred years old. I am looking forward to hanging it right over my desk, next to the Spring Topiary Garden ornament.
Diagrams for many of the stitches can be found here.
Materials
White cotton fabric at least 8" × 8" (20 × 20 cm)

DMC Six-Strand Embroidery Floss, (100% mercerized cotton), 8.7 yd (8 m)/skein: 1 skein each of

#371 Mustard
#3052 Green Gray—Medium
#3053 Green Gray
#961 Dusky Rose—Dark
#151 Dusky Rose—Very Light
#676 Old Gold—Light
#677 Old Gold—Very Light
#3747 Blue Violet—Very Light

Needles: embroidery/crewel sizes 7 and 8

Washable marker, pen, pencil, or Hera marker

Small sharp scissors

Embroidery Hoop measuring 4" (10.2 cm) round for working and finishing
Design size: 1 5/8" x 2 7/8" (4.12 x 7.3 cm)
Current All Access subscribers can log in below to instantly access the instructions and chart to stitch your own Rosy Summer Ornament.
Directions
Trace design lightly onto the center of the fabric. Embroider following chart. Block lightly and trim all excess threads.