The Twelve Months of Ornaments, created by our own PieceWork team members, is our way of saying thank you to our All Access subscribers for being such valued members of our community. Each monthly seasonal ornament pattern will let you enjoy needle-crafting with us all year. Relax, try a new craft, or savor a familiar craft in quick-to-accomplish projects that are a pleasure to make. It has been so much fun for us at Long Thread Media to work together on these ornaments, and we hope you'll share your finished pieces using #pieceworkmagazine. We can't wait to see them!
The weather is warming up here, and pastel blossoms and flowers are beginning to peek out—tempting me with the promise of lovely, longer days. I chose this pattern because I adore the timeless and manicured look of a topiary garden. It is based on a pattern from a 1907 embroidery book A Treatise on Embroidery; with Twenty Color Illustrations from Original Models (M. Heminway & Sons Silk Co., 1907).
The description in the original pattern states "As its name designates, Biedermaier Embroidery is of German origin, and although but a revival of old time methods, is enjoying a vogue not readily attained by absolute new comers in the field of needlework. Its designs are the outcome of Empire suggestions, simplified and without the cold formality of the former, so that they carry with them a very homelike atmosphere, and one that is particularly suitable to the present development of house furnishings on simple lines."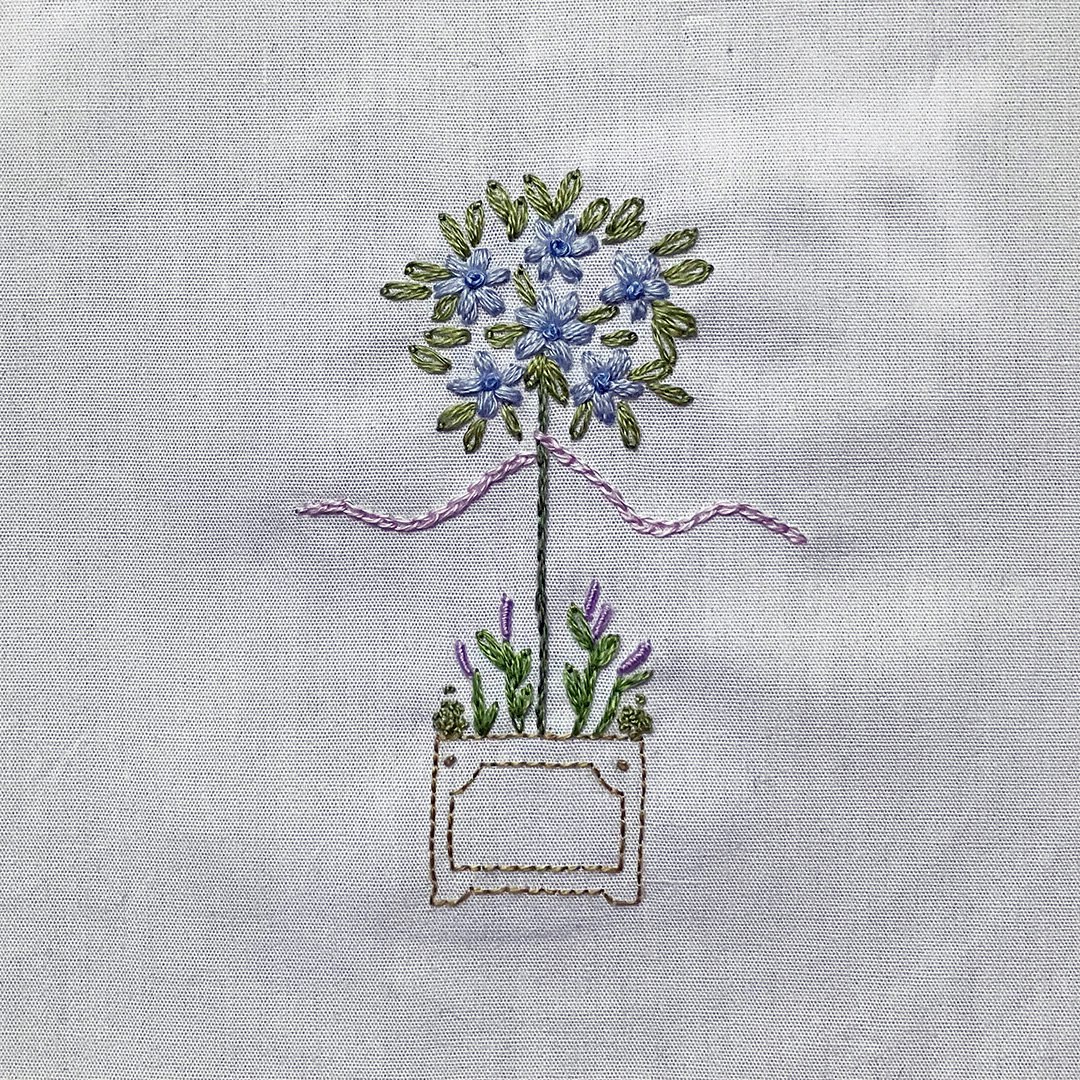 Pat's topiary design
I have chosen soft colors that remind me of spring's fragrant blossoms, and simple stitches—backstitch, stem stitch, split stitch, straight stitch, lazy daisy, French knots, and colonial knots—so that the design can take center stage. An ornament in a hoop is so versatile, and I am looking forward to hanging this over my desk, so that I can look up and admire this refined floral pattern that was designed over one hundred years ago.
Diagrams for many of the stitches can be found here.
Materials
White cotton fabric: 1 piece 7" x 7" (17.75 cm x 17.75 cm)

DMC Six-Strand Embroidery Floss, (100% mercerized cotton), 8.7 yd (8 m)/skein: 1 skein each of

#371 Mustard
#3363 Pine Green
#3364 Pine Green
#341 Blue Violet Light
#3839 Lavender Blue Medium
#3347 Yellow Green Medium
#210 Lavender Medium
#153 Violet Very Light

Embroidery needle size 9

Embroidery scissors

Embroidery hoop 4" (10.2 cm) round for working and finishing. (Hoop shown is by F.A. Edmunds)

Sharp #2 pencil or washable fine-tip marker to trace design
Design size: 2 3/8" W x 3" H (6 x 7.5 cm)
Current All Access subscribers can log in below to instantly access the instructions and chart to stitch your own A Spring Topiary Garden Ornament.
Directions
Trace design lightly onto the center of the fabric. Embroider following chart. Block lightly and trim all excess threads.