The multi-shaped Algerian eye stitch (Figure 1) is a popular, non-pulled, counted thread or canvas stitch, and the Algerian eyelet stitch (Figure 2) is the regular eye stitch with the legs pulled to create a distinctive center hole. London's Victoria and Albert Museum has numerous examples of embroideries that include this stitch, which are labeled "Algerian XVI century." This is possibly the source of the name.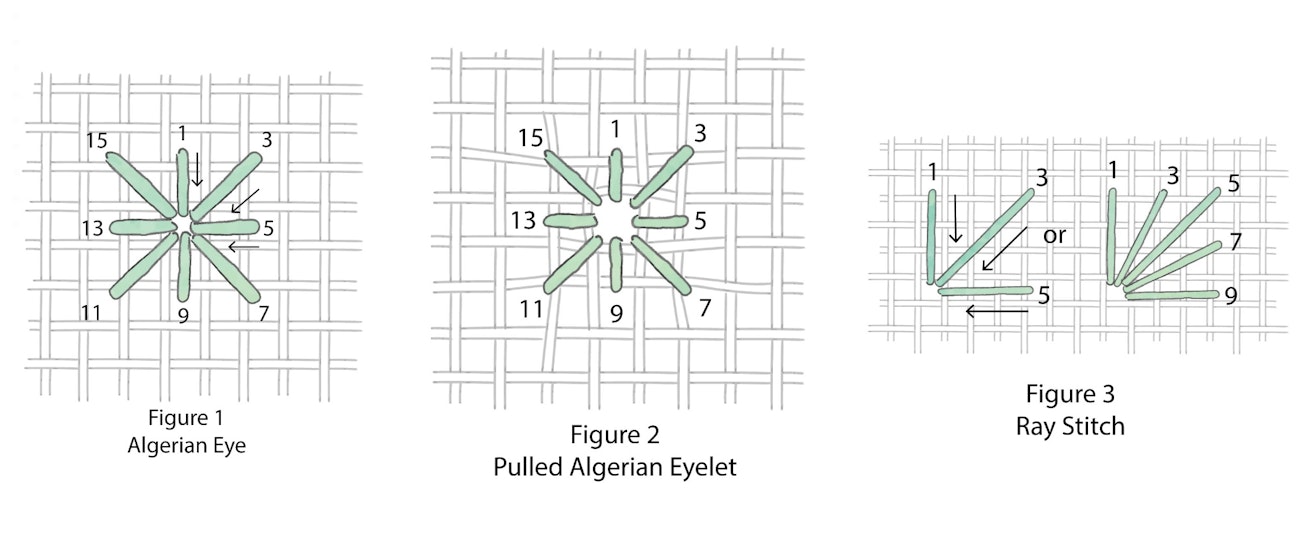 History
The Algerian eye and eyelet stitches have a long European history, appearing on some of the earliest samplers and clothing. The Italians worked an overlapped version (Figure 11) of this stitch for backgrounds. It appeared on the Anne Gower sampler (1610), one of America's oldest samplers, as lettering, a time-consuming endeavor as there are eight or more legs per stitch. The "A" in the stitched sampler has 112 legs! This stitch is also known as the star eyelet, square eyelet, star, and distelfink stitch. It's difficult to draw a line of distinction among the numerous shape variations of the Algerian eye and separately named stitch entities, such as the ray or fan stitches (Figures 3 and 15), which are only partial stitches of the whole stitch. Should they be considered a separate stitch with a different name or simply an Algerian eye or eyelet variation? My take on this is, if the stitch variation is well known and has a long history and/or a more appropriate name, just accept it but realize that the stitch ultimately belongs to the larger Algerian eye stitch group. Do not confuse this stitch with the Algerian filling, Algerian plaited, or the Algerian border stitches.
How It's Worked
The versatile Algerian eye stitch is worked over an even number of threads with a tapestry needle sized to fit the working thread/yarn and can be worked horizontally, vertically, or diagonally. Stitch the legs clockwise or counterclockwise; just be consistent within in the same area or project. The most common variation usually consists of eight legs, all meeting at one central point and forming a square (Figure 1). The legs can greatly vary in length (Figures 6 and 9) and placement. Some of the more popular variations include the diamond or star (Figure 4), oval (Figure 5), rectangle (Figure 6), or circle (Figure 7), depending upon the number of legs. This stitch can be tiny (Figure 8) or very large (Figure 9). Some additional variations include the double Algerian eye stitch (Figure 10), which gives a heavier, more textured appearance, and the elongated Algerian stitch (Figure 12), which can indicate delicate insect wings when one thin strand of thread is used.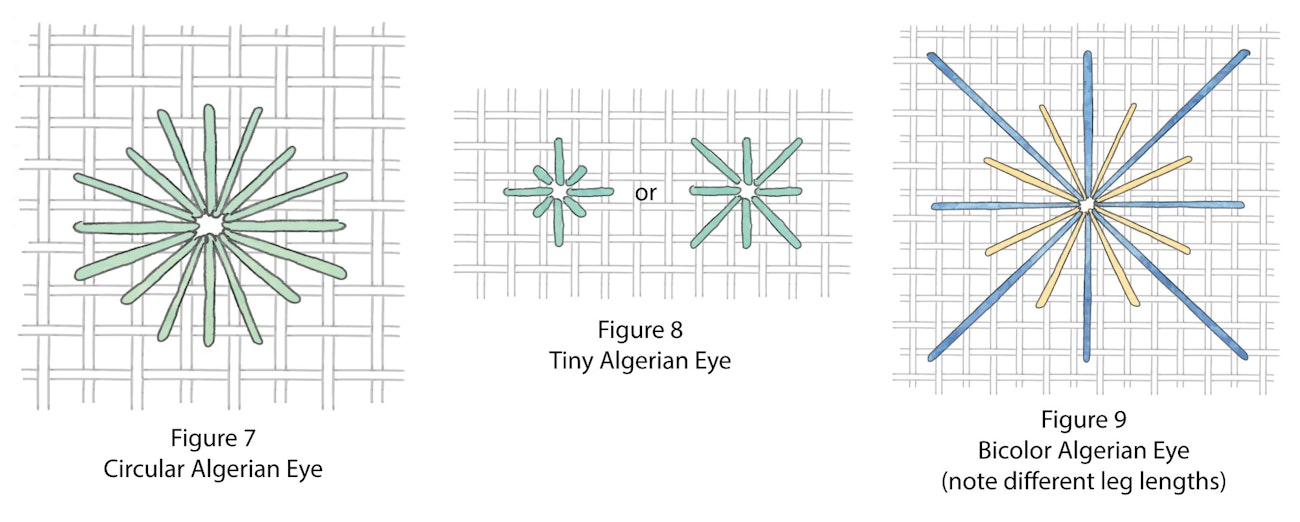 Creating an Eyelet
The individual legs of the Algerian eye stitch can be pulled a little, moderately, or tightly to create a small to large central hole. Once a hole is formed, this stitch is now considered an Algerian eyelet. If you want a large hole, a stiletto, sewing awl, needle tip, or even the tips of small embroidery scissors can assist in forming the hole before completing the actual stitch. This procedure makes creating an evenly sized, large hole easier. Also, using a loosely woven fabric helps with creating larger holes. The harder you pull the threads, the larger the central hole becomes. Pull on the working thread in the opposite direction from the hole but only when the needle and thread are brought back to the fabric surface ready to begin the next stitching leg. This method prevents holes from forming at the outer periphery of the stitch. The pulled variation is especially useful for creating bound holes used for lacing garment pieces together and to create lace-like fabrics.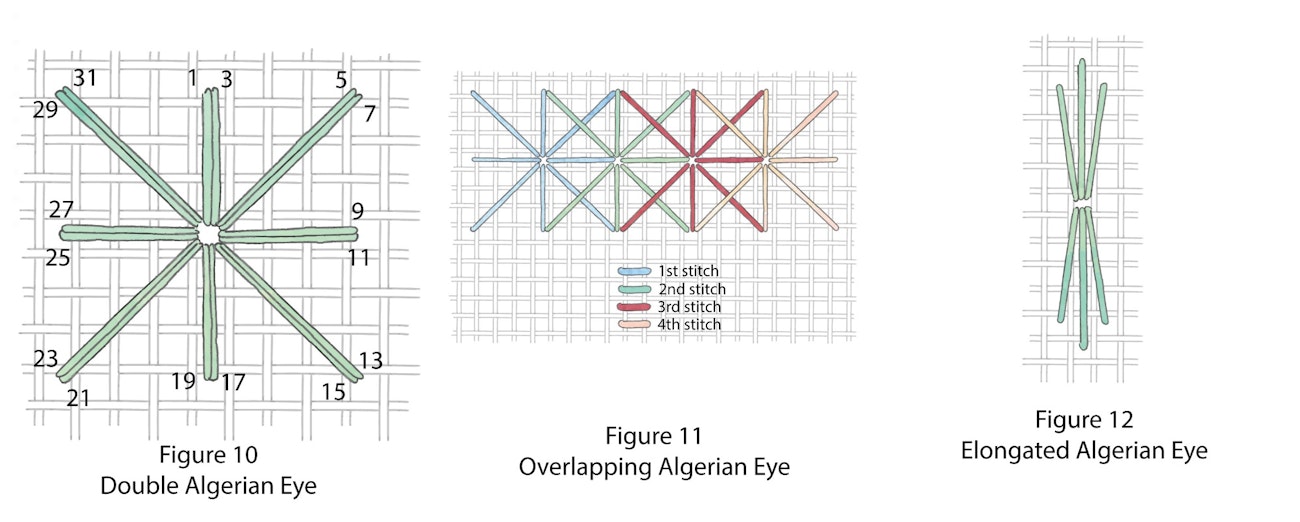 Recommended Fabric
You can use almost any plain or evenweave fabric (linen, cotton, or a blend), hardanger cloth, or mono canvas, and you can use almost any type of thread or yarn (solid, variegated, overdyed, or blended colors), as long as the thread is suitable to the gauge of the fabric. When you use a plain fabric, more care is needed to keep the stitch as symmetrical as possible. Marking the fabric with the final geometric shape and size before stitching is helpful. Also, if the stitch is to be pulled, you must consider the strength of the thread. When working multiple pulled stitches, take care to avoid carrying the working thread across the open holes by sewing the thread into the backs of previously formed stitches. Sometimes this procedure requires a sharp needle to avoid disrupting the placement of the stitch legs on the fabric surface. It's best to work the larger Algerian eye, and especially the Algerian eyelet stitches, with the ground fabric under tension by using a roller frame, stretcher bars, or embroidery hoop to prevent the warping or puckering of the background fabric.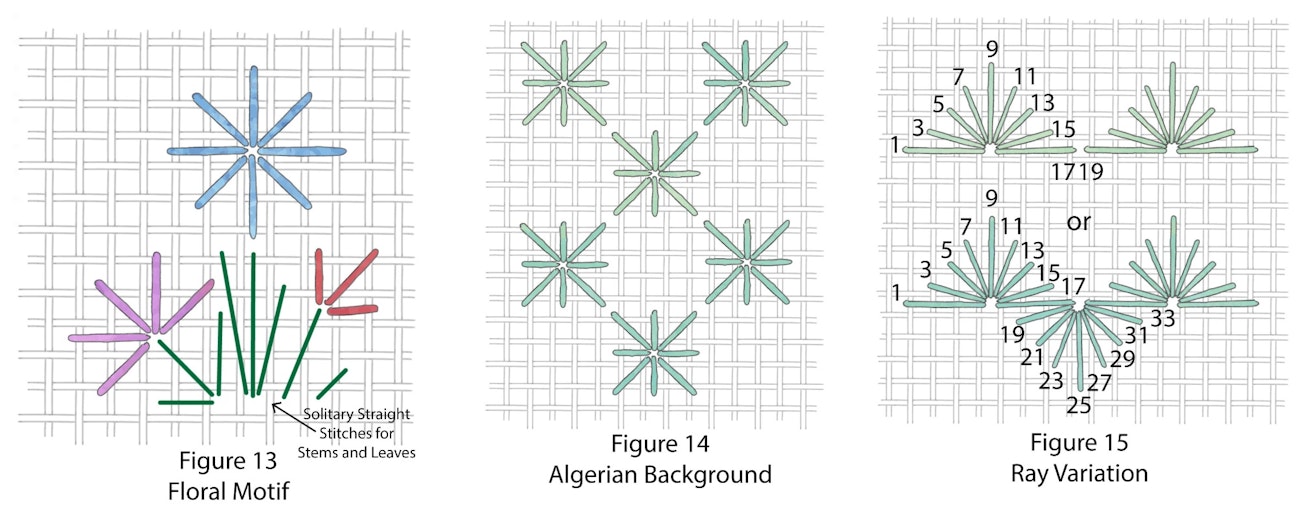 The Algerian eye and eyelet stitches and their many variations have been recorded on antique samplers in both Europe and America, as well as in Hardanger, blackwork, broderie anglaise, and other whitework and Wessex embroideries. Modern needlepointers and other counted-thread stitchers are quite fond of this stitch, too. The Algerian eye and eyelet stitches can be used decoratively for standalone, solitary motifs, flowers (Figure 13) and floral centers, alphabets, numbers, bands, borders, and backgrounds (Figure 14), as well as for utilitarian purposes.
The Algerian eye and eyelet stitches are fun and fascinating to stitch because they have so many shapes, sizes, and uses.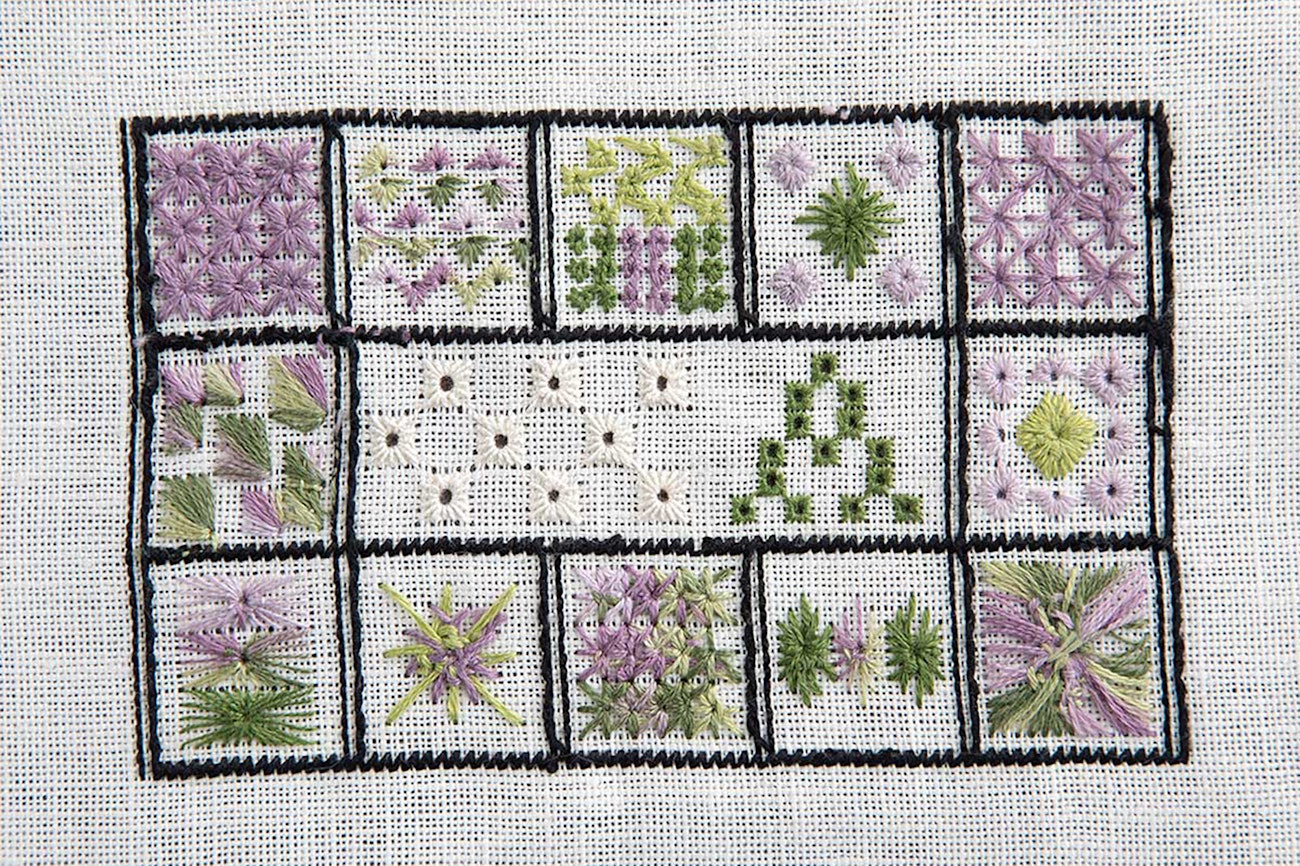 The back side of Deanna Hall West's Algerian Eye and Eyelet Stitch Sampler looks as good as the front.
Materials
Wichelt Linen, 32-count, Ivory, 1 piece 5 x 8 inches (12.7 x 20.3 cm) or size to fit project
DMC embroidery floss, 6-stranded, #310, #471, #937, #3041, #3042, one skein each
DMC Coloris embroidery floss, 6-stranded, #4505, one skein
DMC Pearl Cotton, size 12, Ecru, one ball
Needles, tapestry size 26; embroidery/crewel size 8 (optional)
Embroidery hoop, 6-inch (15.2 cm) diameter
Stiletto (optional)
Magnifying glasses (optional)
Algerian Eye and Eyelet Sampler
Algerian Eye and Eyelet Sampler Key
1: Square: #3041, 2 strands, over 8
2: Diamond (Star): #937 (large, over 16) and #3042 (small, over 8), 2 strands
3: Tiny Square and Diamond: #471, #937 and #3041, 2 strands, over 4
4: Ray: #4505, 1 strand, 4 high x 8 wide
5: Double: #3041, 2 strands, over 8
6: Circular: #3042 (small, 1 strand, moderately pulled, over 8); #471 (large, 2 strands, over 12)
7: Initial Square: #937, 1 strand, tightly pulled, over 4
8: Square: Ecru Pearl Cotton #12, 1 strand, tightly pulled, over 8
9: Ray: #4505, large—2 strands, over 8; small—1 strand, over 6
10: Large Square: #4505, 2 strands, over 24
11: Oval: #4505 and #937, 2 strands, 16 high x 8 wide
12: Overlapped: #4505, 2 strands, over 8
13: Large Bicolor: #471 (over 20) and #3042 (over 12), 3 strands
14: Rectangle: #3042, #4505, and #937, 1 strand, 8 high x 20 wide
15: Grid: #310, cross-stitch, 2 strands, over 2
Deanna Hall West is a former needlework technical editor for PieceWork and former editor of The Needleworker magazine.
Originally published November 15, 2019; updated September 26, 2022.