Of all the various craft techniques that can be found in the world, the one that I am most intrigued by is lace. Knitted, crocheted, netted, tatted—I find all of it amazing. Another style that I have recently dabbled in is needle lace, and there are various traditions found all over the world.
Needle lace is believed to date back to the sixteenth century and developed from embroidery. In one style, a design is created by couching a thick thread into an outline or shape on a piece of fabric. This couched thread acts as scaffolding or cordonnet.
Once the shape is in place, smaller stitches are used to fill in the open space. When the space is filled in, the couching stitches holding the scaffolding to the fabric are clipped and lifted free of the fabric. This is only one way to create needle lace. Oya, as it is known in Turkey is a series of knots created in the thread and found along the edges of scarves and garments. No scaffolding is used to create the designs.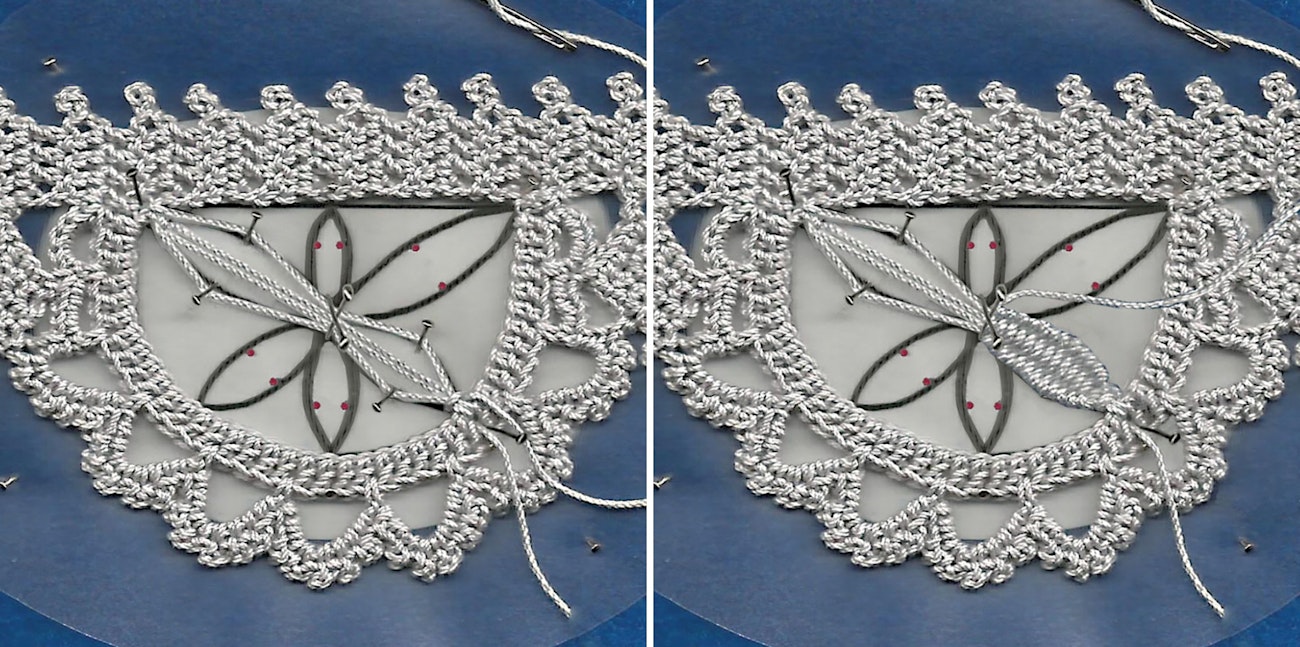 Step photos of the cordonnet (scaffolding left) and a finished leaf (right). Photos by Joe Coca
To try my hand at this technique, I dove into the back issues of PieceWork and found Bart Elwell's "Yap Lace Edging in Crochet and Needle Lace" from the July/August 2014 issue. He re-created a pattern found attributed to Mrs. Jane Weaver that was published in an 1874 volume of Peterson's magazine. A unique aspect of this piece is that part of the scaffolding is crochet. Once I had the crochet portion made it was time to try out the needlework.
Instead of couching my threads to a piece of fabric, I resized the pattern to fit the interior of my crochet and pinned it to a tailor's ham. Following the pattern's instructions, I placed the first series of cordonnet and, passing the needle back and forth, wove the leaves. I was surprised at the time it took but also at how much fun it was.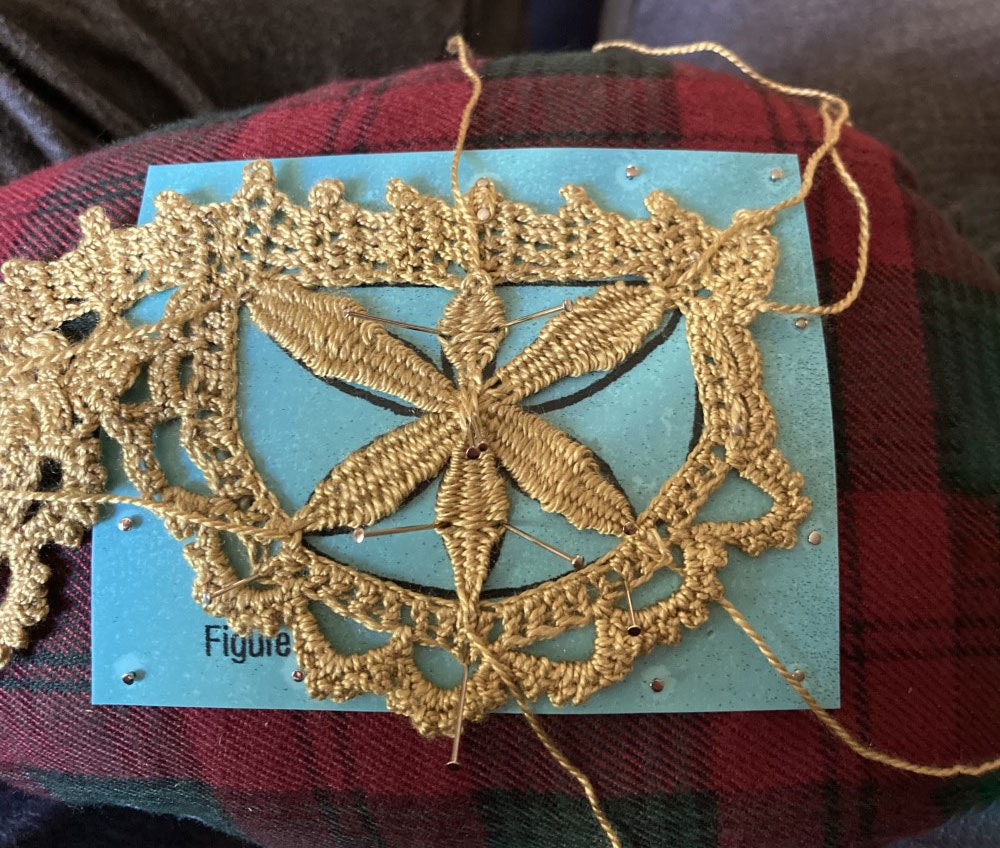 My work in Treenway Silks' Kiku. Photo by Katrina King
While you can work needle lace with any type of thread, I found silk to be a little slippery and can see why the original pattern was worked with cotton thread.
One of the beauties of this pattern is that you can make it as long or as short as you would like. The gold silk I used here matches a leaf pattern in my curtains, and this needle lace could become lovely ties for them.
Have you tried your hand at needle lace or other lace techniques? We love to see your work! Send in your photos and stories for our By Post column here .
If you'd like to give this needle lace a try, All Access subscribers can log into the form below to get instant access to the pattern details and PDF download. This pattern is also available in the PieceWork July/August 2014 issue or in the shop.
Yap Lace Edging Pattern Information and Download
The six-petal needle-lace flowers that are worked inside the large scallops after the crochet portion has been completed are an unusual feature not often found with crochet.
Pattern: Download your copy of the Yap Lace Edging pattern here.