One of the things I love about crafting is the continued exploration and refinement of techniques that take place—how stitches evolve based upon the purpose they are put to. A prime example of this is the buttonhole stitch. It is most often a tightly spaced stitch designed to strengthen fabric edges, such as—you guessed it—buttonholes.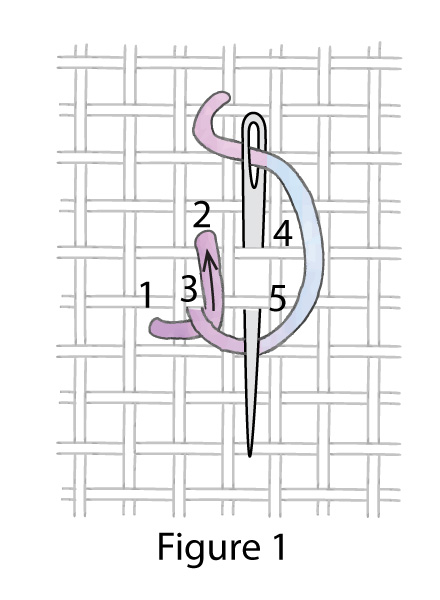 A cousin to the buttonhole stitch is the blanket stitch, which is a wider-spaced stitch used on fabrics that have a lower tendency to fray. Buttonhole and blanket stitches maintain similar forms and functions, and they are often relied upon to strengthen fabric edgings.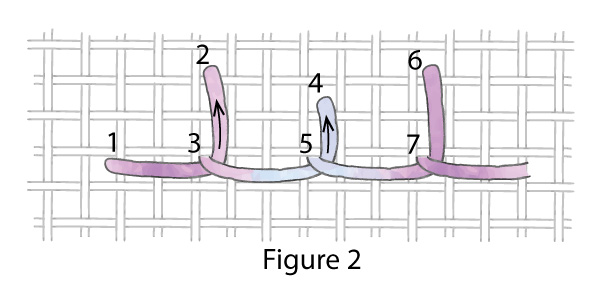 What if you were to take this versatility one step further? To give it another purpose? That is exactly what Dawn Cook Ronningen has done in her bodkin holder project from the Summer 2022 issue of PieceWork. The buttonhole bar stitch is used to create holding straps for bodkins to slide into on a holder.

The ingenuity of this technique is that it goes back to the original stitch's purpose, to add strength to an area that requires it. Instead of being worked through fabric, the buttonhole bar stitch is worked around a strand (or several strands) of thread, providing strength and durability.
Buttonhole bars are frequently used in cut and drawn work. In Grace Christie's 1921 handbook, she explains that three stitches are used as fillings for cut spaces: buttonhole bars, overcast bars, and woven bars. "Figure 199 illustrates buttonhole stitch being worked over a bar. The upper bar shows a single row of stitches worked slightly apart, and the lower one, where the needle is at work, shows the completion of the bar by a second line of buttonholing, on the opposite side, so arranged that is stitches fit in between those of the first row."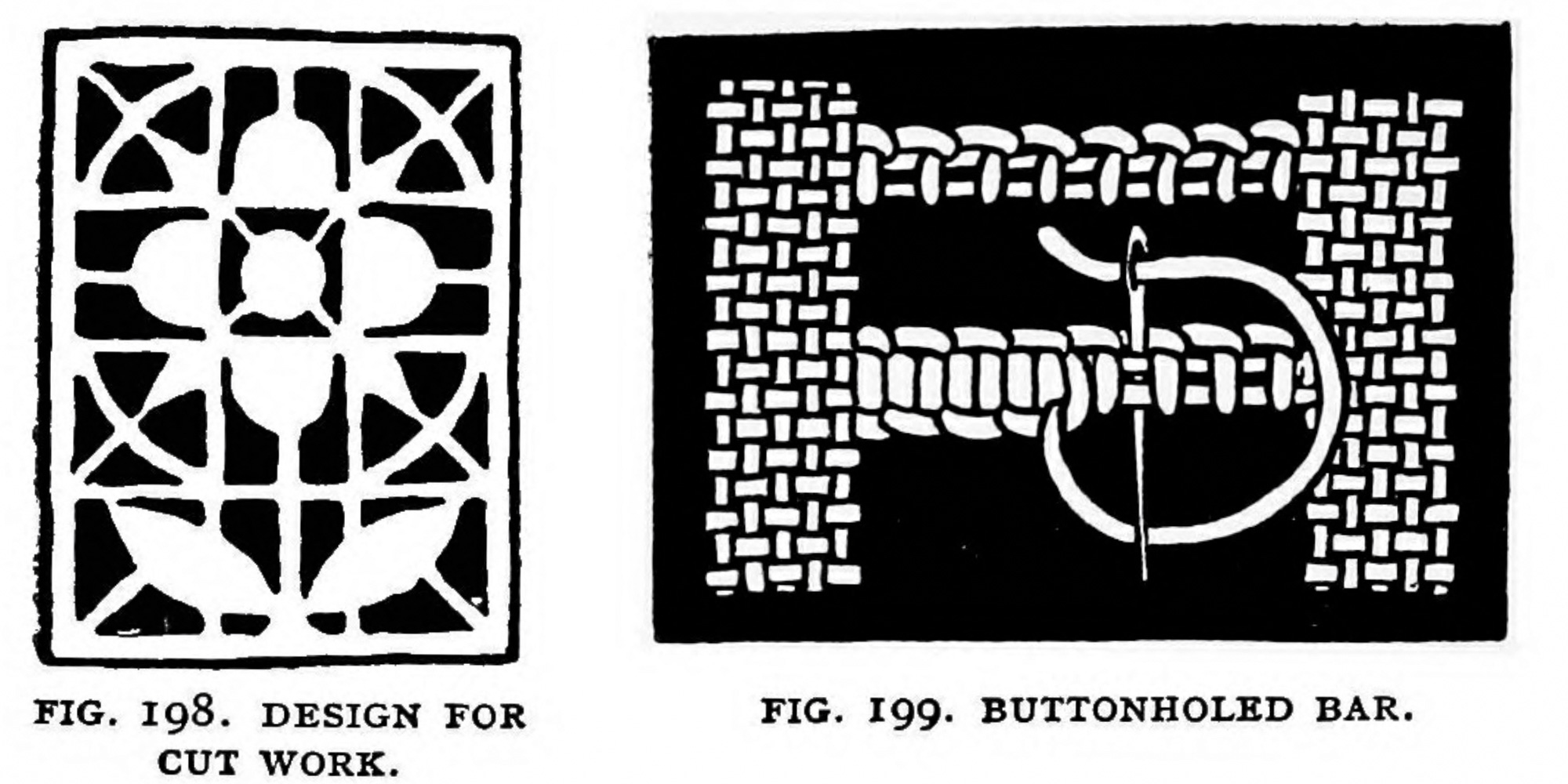 Basic Buttonhole Bar
Step 1: Make a stitch (anchor thread) spanning the area you want the bar to cross. Bring your needle back up through the fabric close to your endpoint.
Step 2: Pass your needle under the stitch, pull until you have a small loop in your thread below the stitch, then pass your needle through the loop and snug this up to the anchor thread. It's a buttonhole stitch worked around the anchor thread first created.
Repeat step 2, sliding each stitch up close to the previous stitch made until the anchor thread is full. Pass your needle through the fabric to the back of the work and tie off.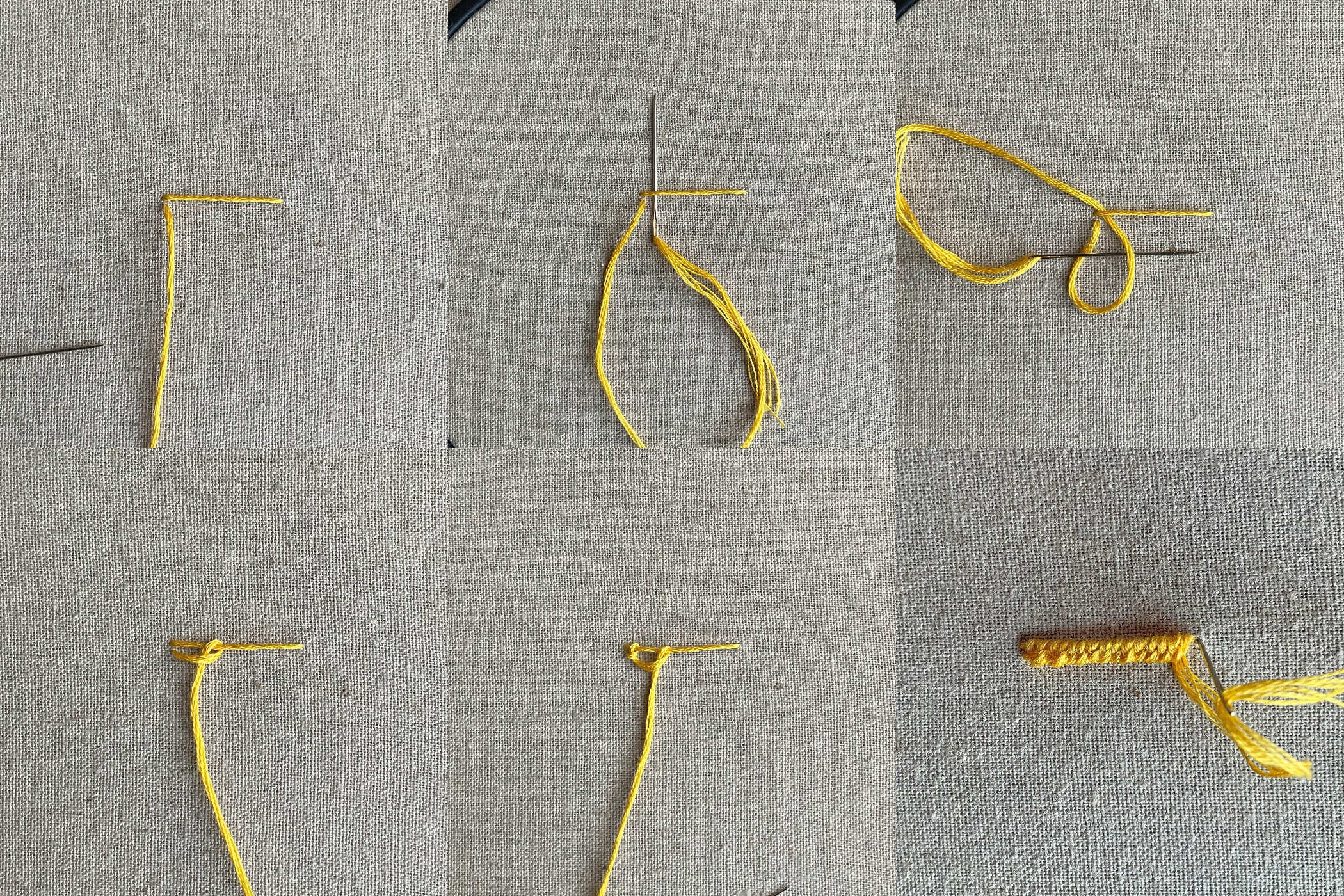 In essence, the buttonhole bar stitch is the buttonhole or half hitch worked around a thread to strengthen it just as the same stitch strengthens the edge of the fabric. I have also seen examples of it used in cutwork to connect areas or as a decorative raised portion of needlework.
We would love to see your uses for the buttonhole bar stitch. Please share your works for our By Post column by email here.
Katrina King just keeps learning in craft and in life. Along with lace knitting, she also has crochet, weaving, spinning laceweight yarn, embroidery, and tatting in her tool bag. You can follow her craft adventures at Threaded Dream Studio. When she's not crafting, she can be found following sports, reading epic fantasy novels, and keeping up with her two daughters.