Basically, a fichu is a coverup. Here's a definition from Encyclopedia of Clothing and Fashion: "In eighteenth-century Western fashions, bodices were cut revealingly low, requiring a piece of cloth, known as a fichu, to cover a woman's chest." Okay, that's clear. But wait, there's more!
Almost every definition of a fichu is different—it's square; it's triangular. It's a kerchief, a shawl, a scarf, or a handkerchief. It fastens in the front or in the back. It's lightweight or not. Some are sheer (but doesn't that defeat the purpose?); others are frilly. Regardless of the confusion, fichus were important (and actually very necessary) fashion accessories from the early eighteenth century to the late nineteenth century. Period fichus were made of cotton, linen, and silk; many were lace, others were lavishly embroidered, and some were knitted. Maybe the etymology of the word "fichu" will shed some light. It seems the word derives from a French word—ficher, which means "to plug." Not really that helpful!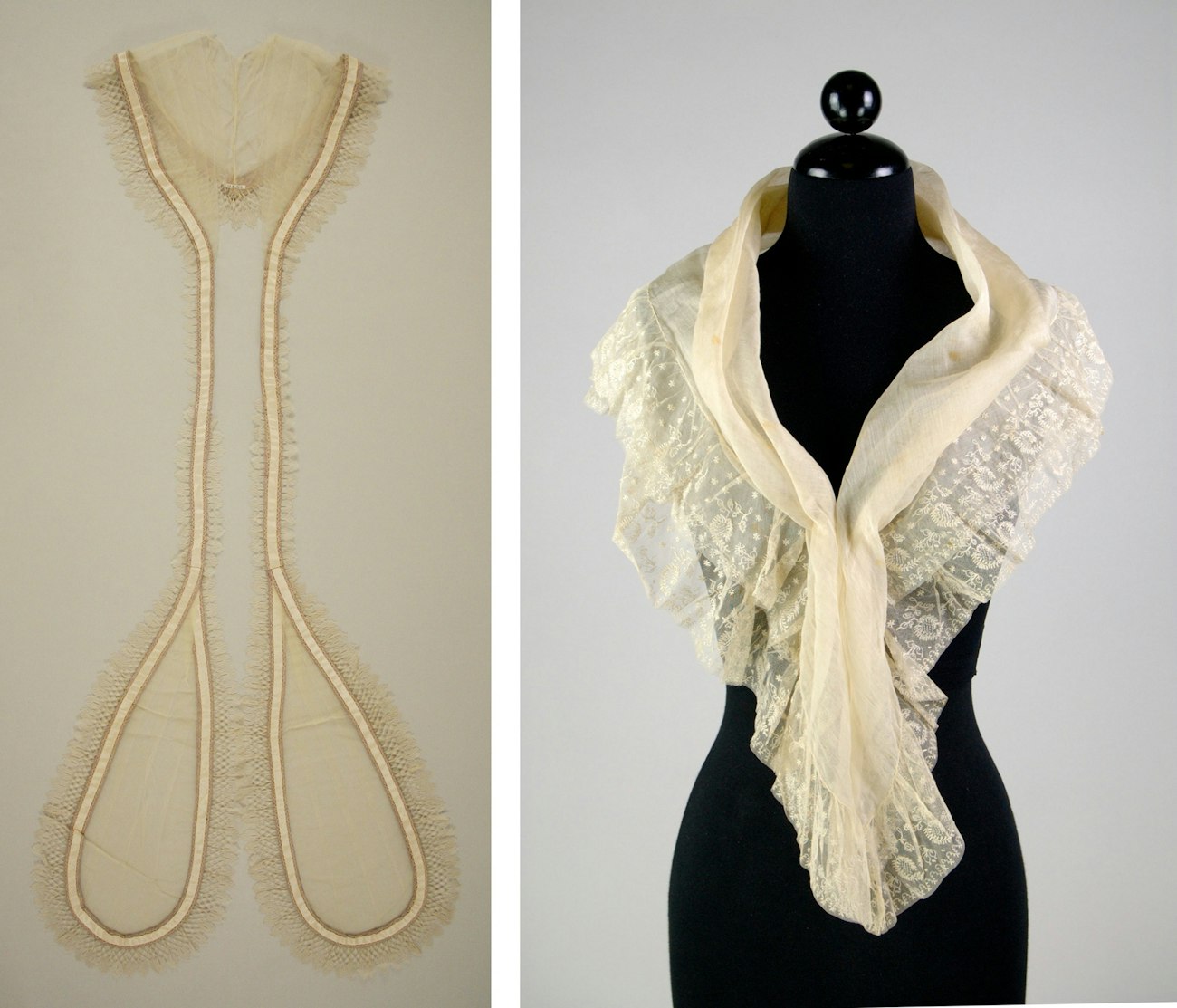 Left: Fichu. Mid-19th century. Silk. America or Europe. Collection of The Metropolitan Museum of Art, New York, New York; gift of Mary Pierrepont Beckwith, 1969. (C.I.69.33.19). Right: Fichu. Cotton. America. 1790–1810. Brooklyn Museum Costume Collection at The Metropolitan Museum of Art, New York, New York; gift of the Brooklyn Museum, 2009; gift of Mrs. Frederick H. Prince, Jr., 1967. Photos courtesy of The Metropolitan Museum of Art
Included here are some examples from the collection of The Metropolitan Museum of Art. These illustrate both the variances in form and the creativity of the makers. Many are astoundingly beautiful. The museum's website has more than 150 examples.
Fichu. Silk. France. 1785–1787. Collection of The Metropolitan Museum of Art, New York, New York; purchase, Irene Lewisohn Bequest, 1966. (C.I.66.39a, b). Photo courtesy of The Metropolitan Museum of Art
Fichus worn by the March women in Louisa May Alcott's Little Women inspired designer Eileen Lee to knit a fichu for her project for the Winter 2018 issue of PieceWork. The book was one of Eileen's favorites when she was young. Eileen explains, "The March sisters were often characterized by their clothing and accessories. Looking respectable, but not showy, was the sign of a good woman. It meant that one was reserved and proper but not extravagant and wasteful. Several illustrations in the book depict the mother and girls wearing fichus, a fashionable but modest accessory of the time."
Below is a photograph of Eileen's knitted fichu, and here are the materials she used:
Cascade Forest Hills, 51% silk/49% merino wool yarn, laceweight, 785 yard (717.8 m)/100 gram (3.5 oz) ball, 1 ball of #17 Ivory
Needles, size 3 (3.25 mm) or size needed to obtain gauge, size 5 (3.75 mm) for cast-on and bind-off, and size 2 (2.75 mm) for top band and ties
Smooth waste yarn
Eileen Lee's fichu inspired by those worn by the characters in Louisa May Alcott's Little Women and by Alcott herself. Photo by George Boe
Download the digital edition of the Winter 2018 issue of PieceWork for Eileen's complete step-by-step instructions for knitting the fichu. You'll also find other projects and articles on the deep connection between needlework and books.
Also, remember that if you are an active subscriber to PieceWork magazine, you have unlimited access to previous issues, including Winter 2018. See our help center for the step-by-step process on how to access them.
Originally published January 30, 2019; updated June 8, 2022.