I have here on my desk a tiny piece of Miao cross-stitch embroidery from Guizhou Province, China, that is worked at 34 stitches—cross-stitches!— to the inch. (An inch is about the length of the first segment of one of my fingers. Just picture it.) And here's a lovely piece of khamak satin stitch embroidery from Kandahar, Afghanistan, that's 70 stitches to the inch. And a man's knitted cap from Bolivia that's 20-plus stitches to the inch. There's more, but you get the idea. These are all contemporary pieces, created by real people who spend the rest of their time cooking meals and tending fields and flocks and babies.
I wonder what makes "tiny" so valuable. I wonder what drives people to do this kind of work in dark dwellings with maybe one electric light bulb hanging from the ceiling. Everywhere I've gone around the world, a recurring theme has been early loss of vision. In indigenous cultures, girls typically start learning needlearts when they're seven or eight, and they expect to lose visual acuity by the time they're in their forties or early fifties. But it seems worth it to them. So precious.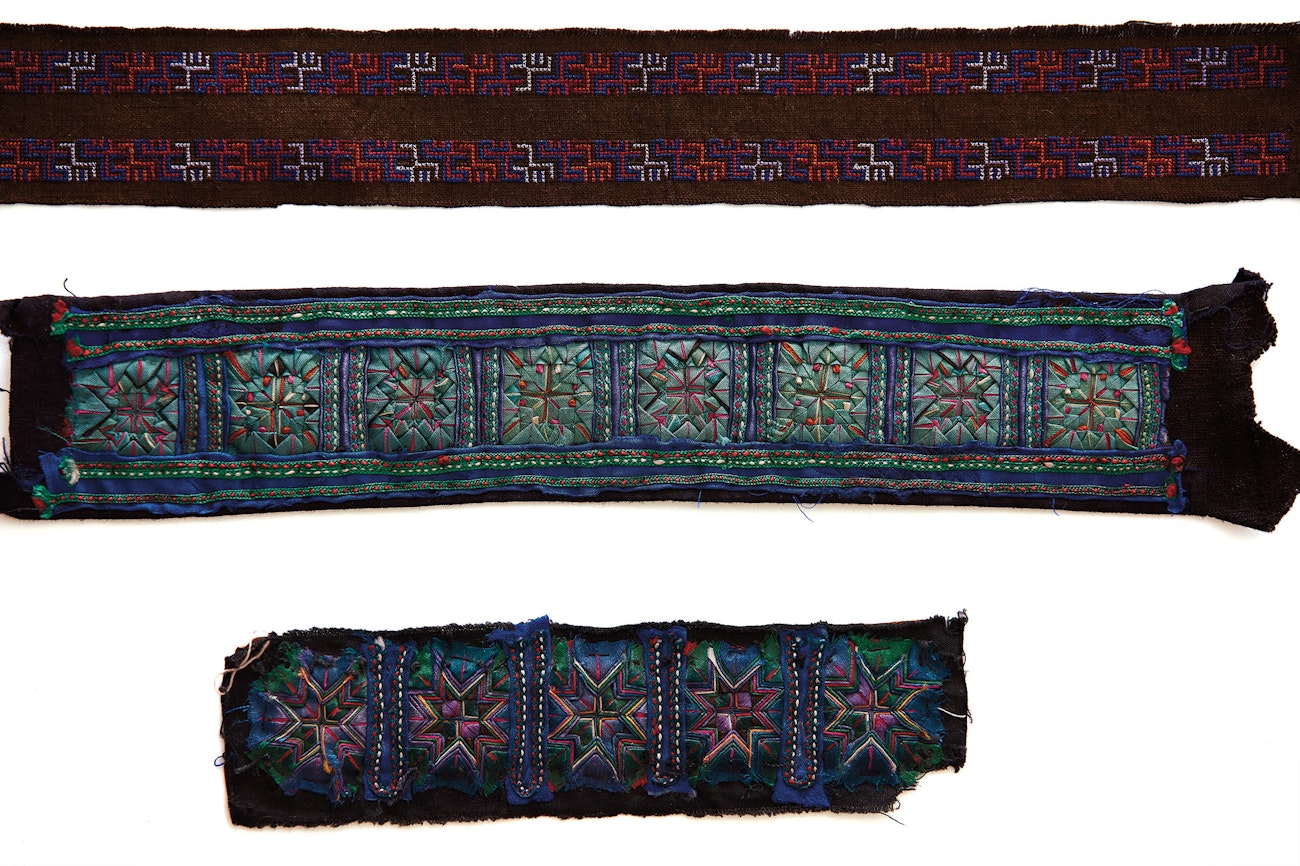 These pieces are worked by Miao women in the Guizhou province of China. The example at top is cross-stitch; the other two are folded cloth piecework. In all four, the stitches are so tiny, they are almost imperceptible.
The pieces they create take days, months, even years. But they're intended to last a lifetime and beyond. They're intended to sustain their culture and values into future generations.
Try it yourself! You can get evenweave linen embroidery fabric up to 64 threads per inch, needles up to a size 12, silk floss that can be divided down to just a wisp. You can get cheater reading glasses up to 6 or 7 times magnification. You can get color-balanced lights that are as bright as day. But try it yourself in a dark room by firelight first. Just for the experience.
Interested in more tiny work? Check out the Fall 2018 issue of PieceWork.
Also, remember that if you are an active subscriber to PieceWork magazine, you have unlimited access to previous issues, including Fall 2018. See our help center for the step-by-step process on how to access them.
Linda Ligon is one of the founders of Long Thread Media.
Originally published October 10, 2019; updated May 1, 2023.