The sunlight piercing through gold-tipped trees against an improbably clear blue sky made me smile yesterday. That, along with the mild chill and the acorns on my lawn, means that knitting season (for me) has begun. Despite my good intentions, I could only muster half-hearted attempts to knit poolside or during hot summer weekends. But fall, with the slight chill in the air and the earlier sunsets, is when I relax, revisit old projects, and daydream about new ones.
My fall projects are almost always scarves and shawls. They are crafted and worn when just the lightest wrap is perfect for cool restaurants on warmer days, on crisp evenings at social gatherings, or as a scarf when the first twinges of true cold seep in. I always keep a shawl in my handbag for this time of year, which proves not only useful but as justification for starting a new shawl.
Lucky for us, we have many knitted projects to choose from, and here are two that may prove equally tempting for you and for me.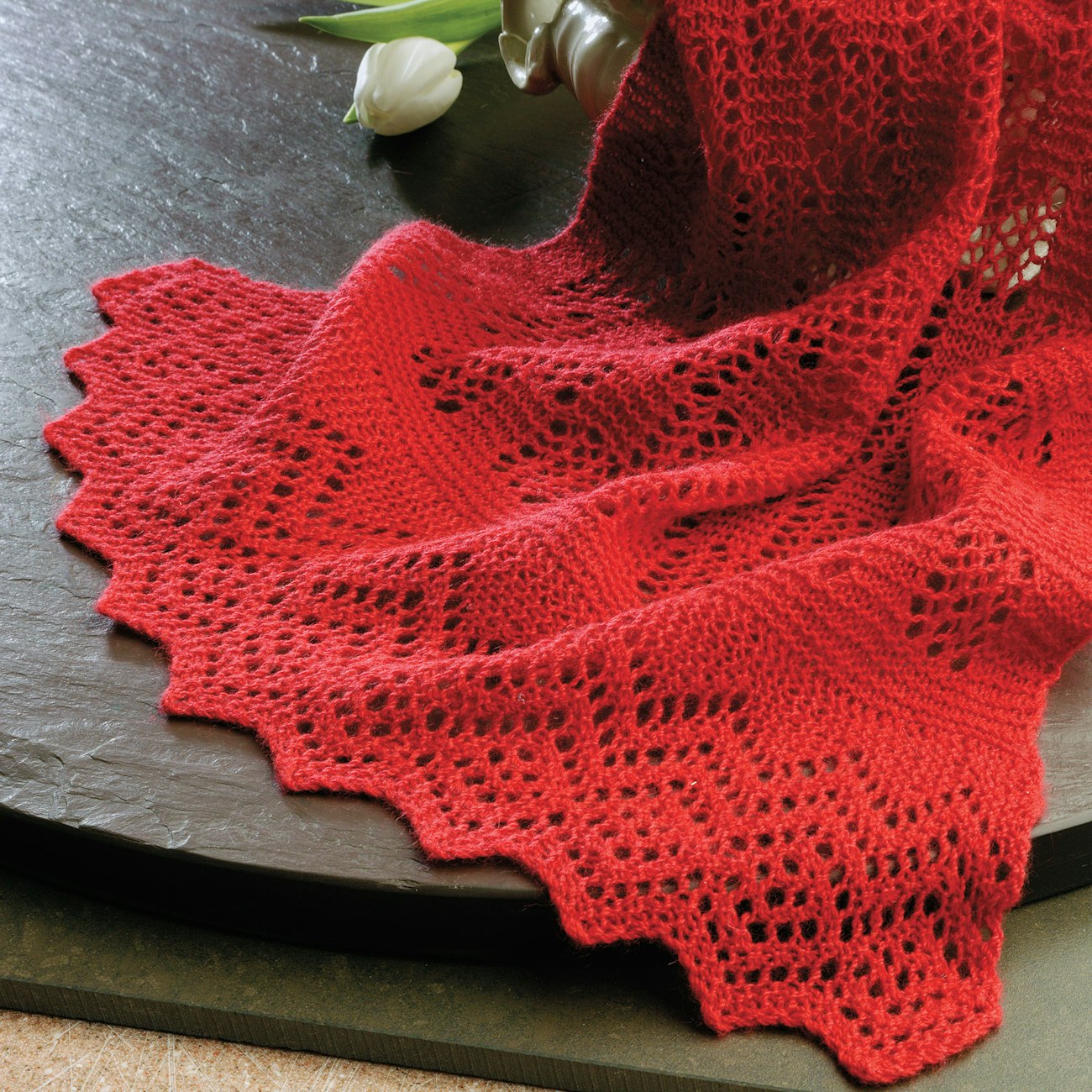 Galina Khmeleva's scarf, made from luxurious cashmere yarn, showcases the Accordion element from traditional Orenburg lace knitting.
The Accordion Scarf by Galina A. Khmeleva is based on traditional Orenburg lace patterning, featuring a romantic lacy edge juxtaposed against a simple, relaxing-to-knit geometric repeat. Double the width (and the yarn amount), and you can make an elegant and unfussy shawl that would be suitable for many occasions.
You can find this pattern in PieceWork May/June 2012, or current subscribers to PieceWork magazine can log in below to instantly access the subscriber exclusive pattern PDF.
Two yarn substitution ideas for this scarf
Jade Sapphire Mongolian Cashmere, 100% cashmere, 2-Ply, 400 yd (365.8 m)/1.94 oz (55 g) per hank, 3 hanks
Brown Sheep Nature Spun, 100% wool, fingering weight, 310 yd (283.4 m)/1.76 oz (50 g) per ball, 4 balls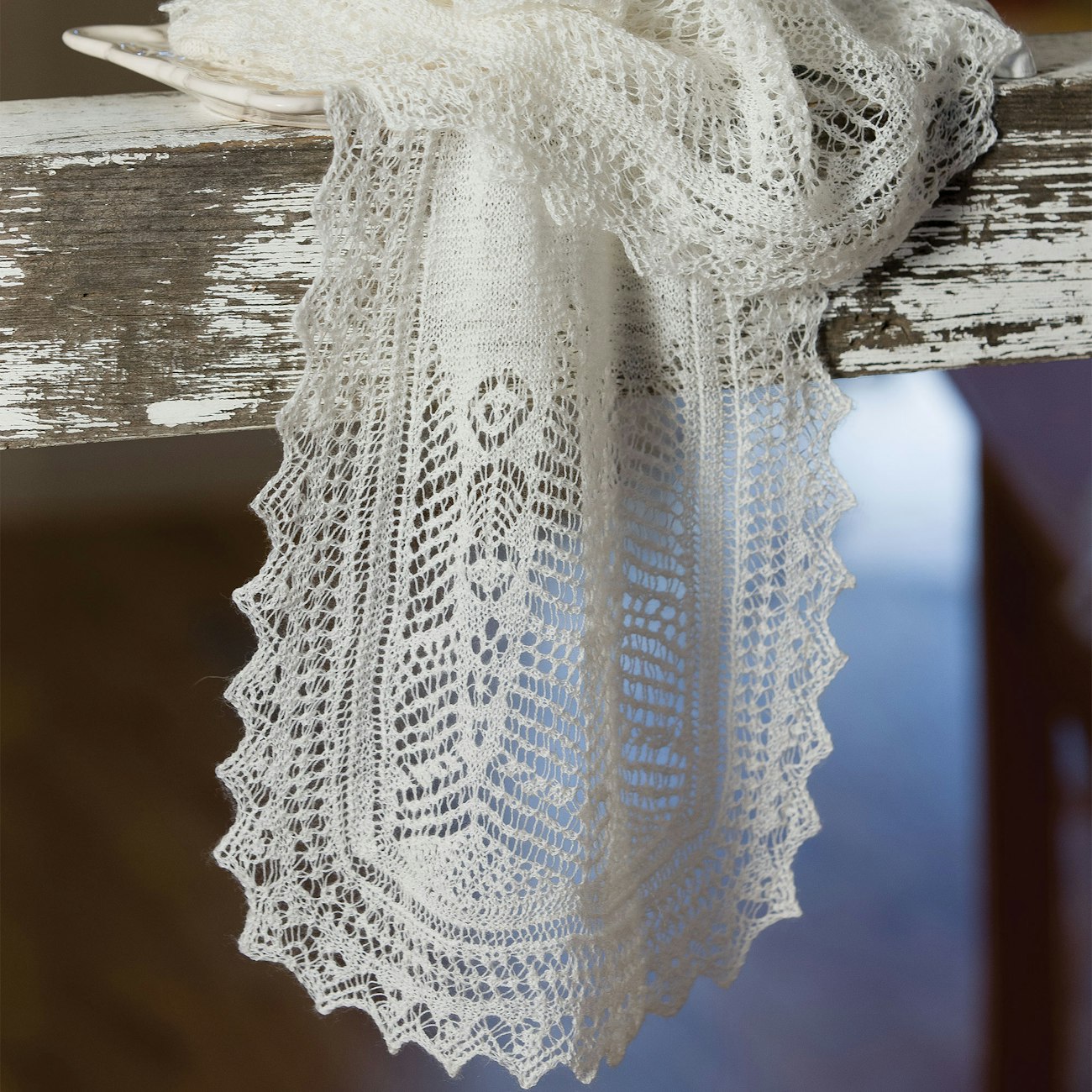 Margaret Stove's elegant Shetland lace scarf was inspired by an original Shetland shawl knitted by Granny Cheyne after she immigrated to New Zealand.
The Granny Cheyne Scarf is lovely and just the type of standout piece I look for. Margaret Stove adapted this magnificent Shetland lace scarf from patterns used in the border of the shawl Granny Cheyne made in the nineteenth century. It is a great way to learn traditional techniques in an approachable manner.
Originally published in PieceWork May/June 2013, current magazine subscribers can log in below to access this second pattern as a PDF download.
A yarn substitution idea for this scarf
HiKoo Merino Lace Light, 100% merino wool, laceweight, 1531 yd (1399.9 m)/3.5 oz (100 g) per hank, 1 hank
Subscriber Exclusive Pattern PDFs
Accordion Scarf by Galina A. Khmeleva
This subscriber exclusive PDF includes the original pattern, knitting abbreviations, and full-size charts in one download. Originally separate in the magazine and on our website, we hope putting these resources together makes knitting smooth and enjoyable. Download the Accordion Scarf pattern here.