The PieceWork copy of Fancy Work for Pleasure & Profit by Addie E. Heron (1894; reprint, Chicago: Thompson & Thomas, 1905) shows its age. The pages are browning and the cover has come away revealing the frayed binding of the folios. Yet, tucked inside remain treasured nuggets of Victorian needlework including vivid color plates of projects.
An inscription on the flyleaf reads: "—From Leonard to Wife Ada, Dec. 25, 1906 A Merry Xmas and a Happy New Year." One can only wonder if the gift was intended for "pleasure" or for "profit." What project included within inspired "Wife Ada" to pick up her needle and thread, crochet hook, or knitting needles? No other markings were made in the margins of the pages. No bookmarks remain inserted indicating the need to return to a page.
Did Ada make the exquisite "Crocheted Beaded Silk Chatelaine Bag" from "Chapter XXL Crocheted Purses and Bags?" We will never know. The PieceWork September/October 2013 issue includes "Addie Heron's Purse to Bead-Crochet," Karen C. K. Ballard's interpretation of the "Crocheted Beaded Silk Chatelaine Bag." The original was made with black silk "purse twist," cut-steel beads, and an ornate silver purse frame meant to hang on a belt. Karen used 100% mercerized cotton thread, lighter-weight silver-lined glass beads, and a modern but antique-style silver-plated frame for her adaptation.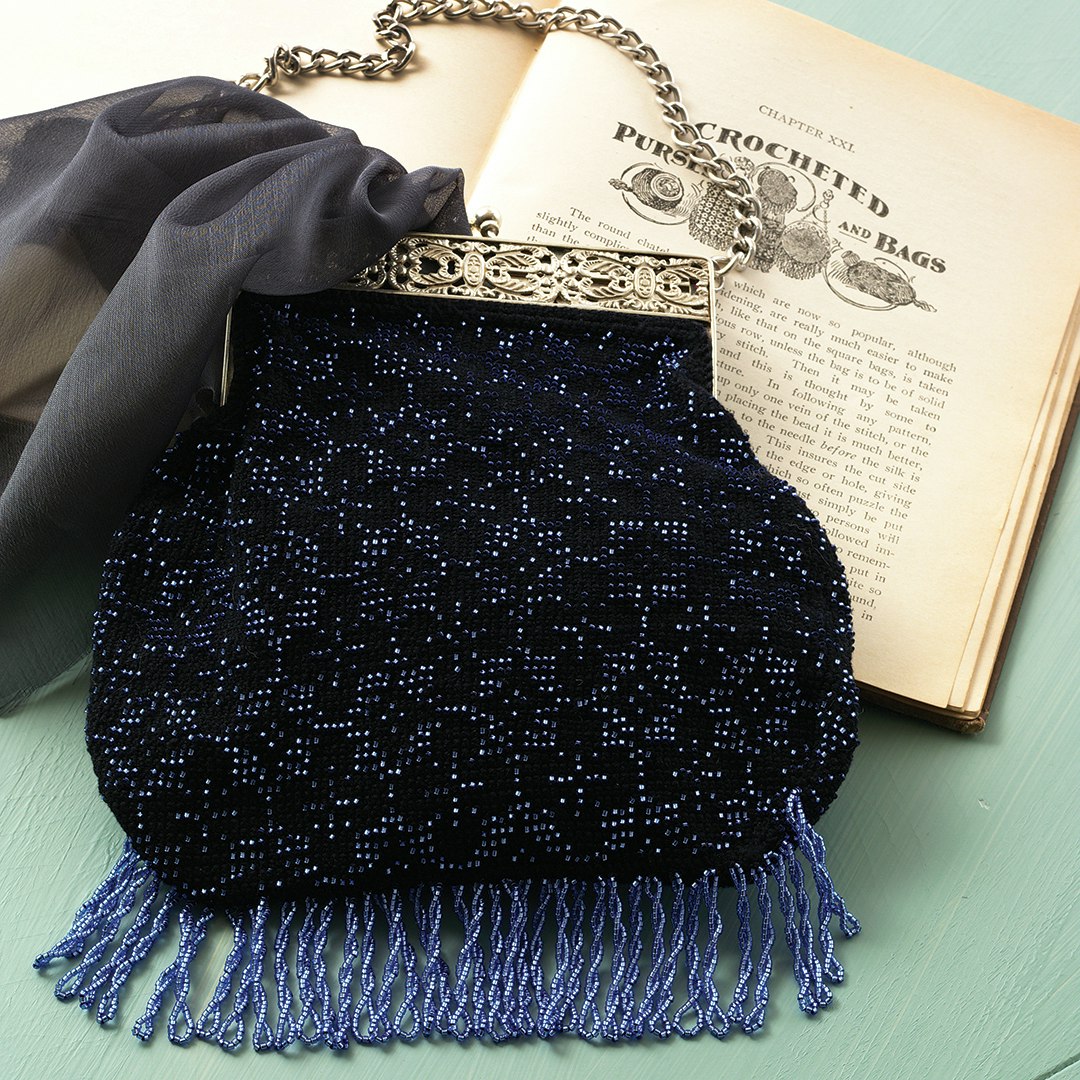 "Addie Heron's Purse to Bead-Crochet" by Karen C. K. Ballard featured in PieceWork September/October 2013. Photo by Joe Coca
Victorian needlework books remain a fragile connection to the past, reminding us that we are not so different from the stitchers who came before us. How many times have you been told by a well-meaning friend or relative, "You should sell that (fill-in-the-blank needlework item here)!" Whether we engage in our craft for pleasure or profit, it is the act of making we often find most satisfying. And that, as any Victorian or modern needleworker knows, is priceless—and certainly not weird!
Interested in making your own beaded purse? This project and others can be found in the September/October 2013 issue of PieceWork.
Also, remember that if you are an active subscriber to PieceWork magazine, you have unlimited access to previous issues, including September/October 2013. See our help center for the step-by-step process on how to access them.
Elizabeth Prose is a former associate editor of PieceWork.
Originally published October 17, 2017; updated August 23, 2023.