Captivated by the timeless allure of lace? PieceWork has fallen under lace's spell since its inception and dedicated its May/June 2018 issue for the eleventh time to lace's magic. Throughout time, needleworkers have become smitten with lace, and Kathi Rotella's Victorian lace square is a good example. She was so taken by a sample that she re-created it for PieceWork.
Kathi explains, "The inspiration for this design came from a vintage piece of lace purchased by a friend from an antiques shop in Missouri. The lace particularly impressed me because it has a delicate visual presence even though it was created entirely from machine-made lace net (tulle) and machine-made tape laces. The tapes formed little flowers upon the net background that mimicked my favorite forget-me-nots."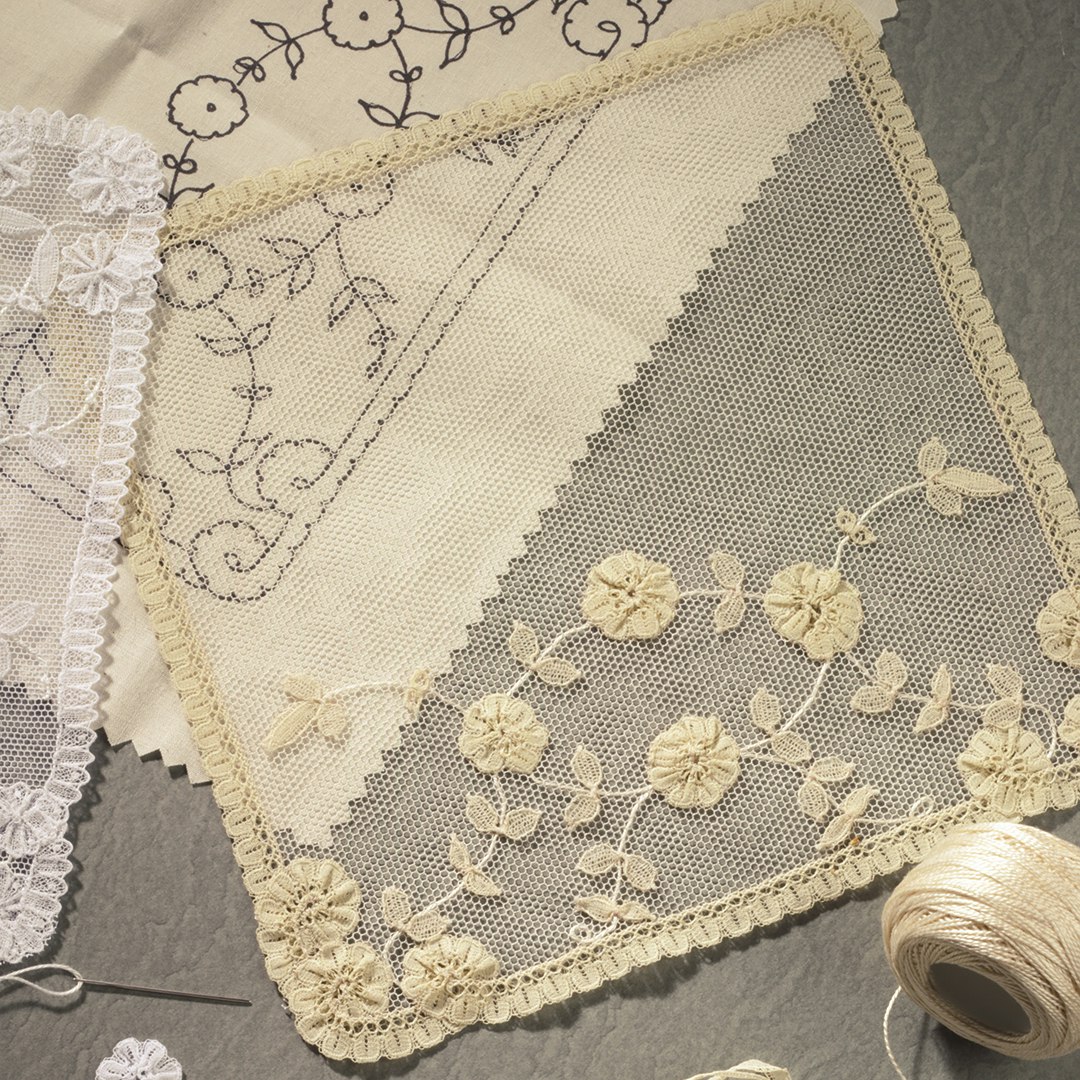 Kathi's delicate Victorian square
Materials
Lacis tulle, #HE01, 100% fine cotton, 18 hole, 1 piece 9 x 9 inches (22.9 x 22.9 cm), Ecru
Lacis princess tape lace, #CN17, 100% cotton, 2 yards (1.8 m), Ecru
Lacis Honiton tape lace, #CN14, 100% cotton, 10 inches (25.4 cm), Ecru (for small leaves)
Lacis Honiton tape lace, #CN15, 100% cotton, 6 inches (15.2 cm), Ecru (for large leaves)
Lacis dot tape lace, #CN18, 100% cotton, 6 inches (15.2 cm), Ecru (for small rings)
DMC Brilliant Cutwork and Embroidery Thread, Article 107, size 16, 100% cotton thread, 23 meters (25.1 yd)/skein, 1 skein of Ecru
Sewing thread, Ecru (for sewing) and contrasting color (for basting)
Muslin fabric
Marker, fine point permanent
Finished size: 7½ x 7½ inches (19.1 x 19.1 cm)
You can find the complete instructions in the May/June 2018 issue of PieceWork.
Also, remember that if you are an active subscriber to PieceWork magazine, you have unlimited access to previous issues, including May/June 2018. See our help center for the step-by-step process on how to access them.
Originally published December 4, 2018; updated November 11, 2022.