The number is symbolic of Christ's thirty-three years of life. The thirty-three knots are divided into three eleven-knot groups, separated by a red bead. The division by three symbolizes the trinity.
Tension is critical when tightening the knots. The goal is to have even tension among the varying strands before cinching down the final two loops. If the tension is too tight, one can't continue to draw the two strands through the knot; if the tension is too loose, the knot is floppy. As we used the modern material paracord (parachute cord) for this project, we speculated on whether the wool yarn the ancients used was first pulled through beeswax to allow the threads to move smoothly past each other. (We know that Coptics used wool coated in beeswax to bind their books.)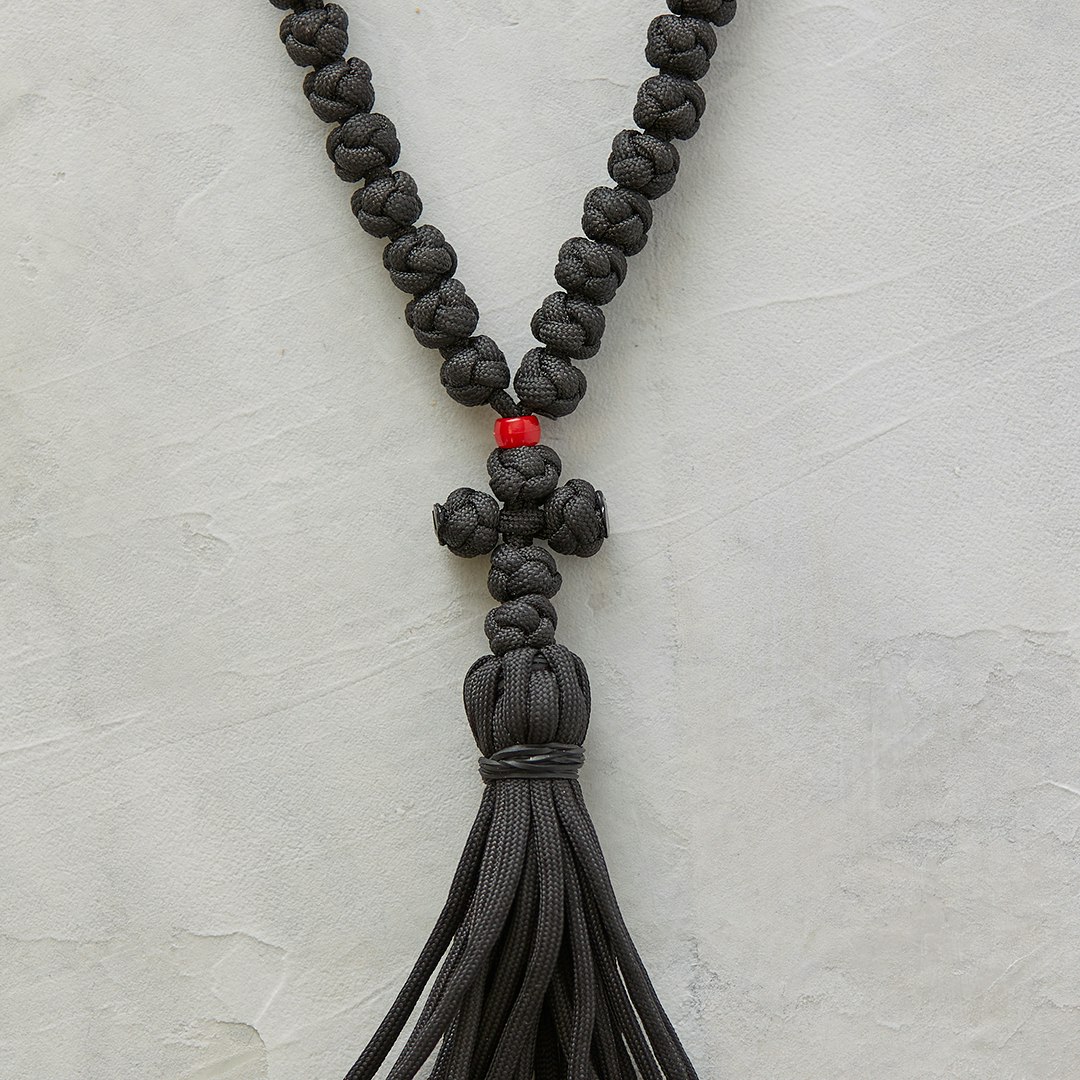 This detail shows the knots and red bead of Laura Ricketts and Timothy Roe's prayer rope.
Materials:
Horizon Group USA ParaCord, 100% nylon utility cord, 18 feet (5.5 m)/hank, 2 hanks of Black
Pony beads, Red, 3
Rubber band, small, Black, 14 (or plumbing O-rings, black, 2), for tassel
Gauge: 1 knot = ½ inch (1.3 cm)
Finished size: Rope length from top of the tassel and around the outside to the top of the tassel, 20 inches (50.8 cm); this may vary due to size of knot or length of cording between knots
Regarding rope material: one of the most popular choices is 2 mm satin rattail cording. We recommend starting with the larger paracord while you get used to making a knot. When you feel ready, move on to the rattail cording. Knots pull smoothly with rattail, and the cording is nicely rounded. Of course, the knots will be much smaller.
Try your hand at knotting a prayer rope. Follow Laura Ricketts and Timothy Roe's step-by-step instructions and photos in "How to Tie a Traditional Thirty-Three-Knot Eastern Orthodox Prayer Rope," available in PieceWork March/April 2018, our 25th-Anniversary issue.
Laura Ricketts enjoys needlecraft of all kinds and recently adding smocking and bobbin lace to her repertoire. She lives and works in northern Indiana and is a neighbor to Timothy. She can be located via her website, www.laurarickettsdesigns.com.
Timothy Roe lives in Rochester, Indiana. When he isn't taking care of his three rescue greyhounds and labradoodle, he is likely studying, walking, or sitting in oblivion. He is a self-described philologist, philokalian, hesychast, seamster, stone mason, bookbinder using Coptic and Japanese techniques, apophatic theologian, literacy director in the county in which he currently resides, and poet. Together, they thank Scott Sayger and the RTC crew for the use use of their studio for the project pictures on the following pages. Tim thanks the Ukrainian woman he never spoke to but only observed in awe.
Originally published February 2, 2018; updated August 1, 2022.