With its subtle yet sophisticated striped pattern, ticking fabric is considered by many to be a classic choice for upholstery, duvets, curtains, and other decorative textiles. Ticking, a staple of classic French Country style and farmhouse décor, has a long history and very humble origins.
Ticking fabric has been around for hundreds of years—some secondhand sources I found claimed it to be more than 1,000 years old, but I couldn't confirm. What we do know for sure is that the word ticking itself comes from the Greek word theka, which means case or covering. Until the twentieth century, ticking referred to a woven fabric, originally linen and later cotton, used as the covering for straw or feather mattresses.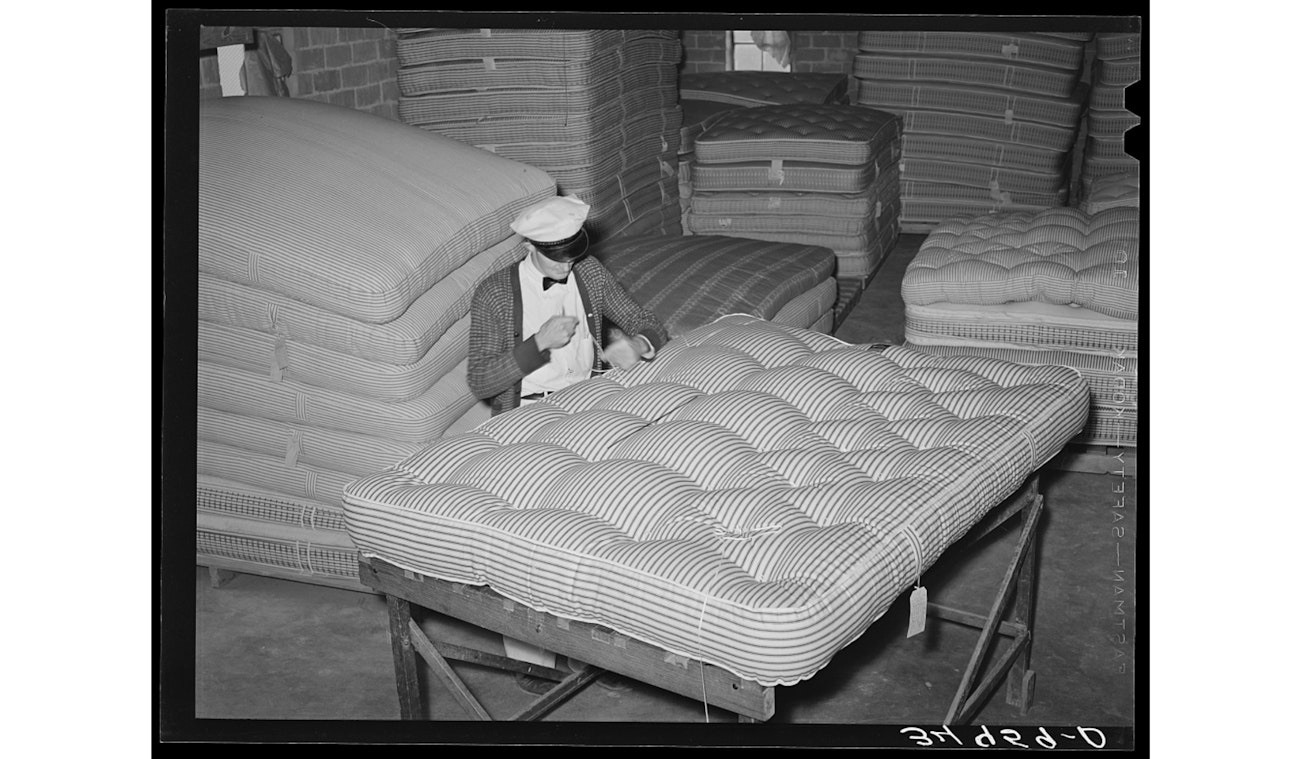 The oldest ticking would have been much denser than its modern-day counterpart as its primary job was to prevent the straw or feather quills within the mattress from poking out. While perusing images of vintage ticking, I even saw some with a tag declaring it to be "guaranteed featherproof [sic]." For centuries ticking was synonymous with durable, thick fabric and more like a denim or canvas in use and feel. Ticking was used not only for mattresses, but also for heavy-duty aprons, such as the kind worn by butchers and brewers, as well as for army tents. It was woven in either plain weave or twill and in stripes with a simple muted color palette. Later, more decorative ticking came on the market featuring bright colors, different weave structures, multi-colored stripes, and even floral motifs between colored stripes.
In the 1940s, ticking took on a new life thanks to Dorothy "Sister" Parish. When Parish moved into her first home as a new bride in 1933, she wanted to decorate but had to adhere to a strict budget. One of the ways she saved money was to make draperies out of ticking fabric. She enjoyed decorating so much, she began a business and soon was designing interiors for the New York elite (and later President and Mrs. Kennedy). She's credited with creating the "American Country look" and often used ticking fabric in combination with florals to create her homey, classic designs. By the 1940s Sister Parish was considered one of the top interior designers in the world. As others sought to emulate her style, ticking fabric became wildly popular as an intentional design element.
Ever since, ticking has remained firmly in style within the realm of home décor. Today you can buy ticking in just about any color and in a variety of thicknesses. You can buy thick ticking for upholstery and finer ticking for duvet covers. Ironically enough, the one place you probably won't find ticking is in mattress form as damask eventually supplanted ticking as the fabric of choice for those purposes. Regardless, it seems ticking is here to stay and, to quote Sister Parish, "Innovation is often the ability to reach into the past and bring back what is good, what is beautiful, what is useful, what is lasting."
—Christina
RESOURCES
Decorators to Know: Sister Parish
Mattress Ticking: The Striped Fabric with a Checkered Past
Textile Spotlight: The Ticking Trend