It is rare to find crafters who still make handmade lace, and the craft is supported almost solely by individual makers with vast patience and a deep love of history. But lace is still immensely popular: machine-made guipures and Alençons are used by couture houses and fast-fashion firms alike on everything from red carpet gowns, to workwear, to swimsuits.
For a comprehensive look at it all—from the beginnings of reticella and punto-in-aria to the very newest 3D printed laces—New York City's Bard Graduate Center is currently hosting Threads of Power: Lace from the Textilmuseum St. Gallen in collaboration with the Textilmuseum, Switzerland. The 150-plus piece show spans the work of five centuries and two continents—the portraits from 18th-century Lima are particularly entrancing. It features the art of knotting and twisting threads with a focus on the hard-working makers, in lieu of a focus on the royals who bedecked their wedding gowns in meters of the precious stuff.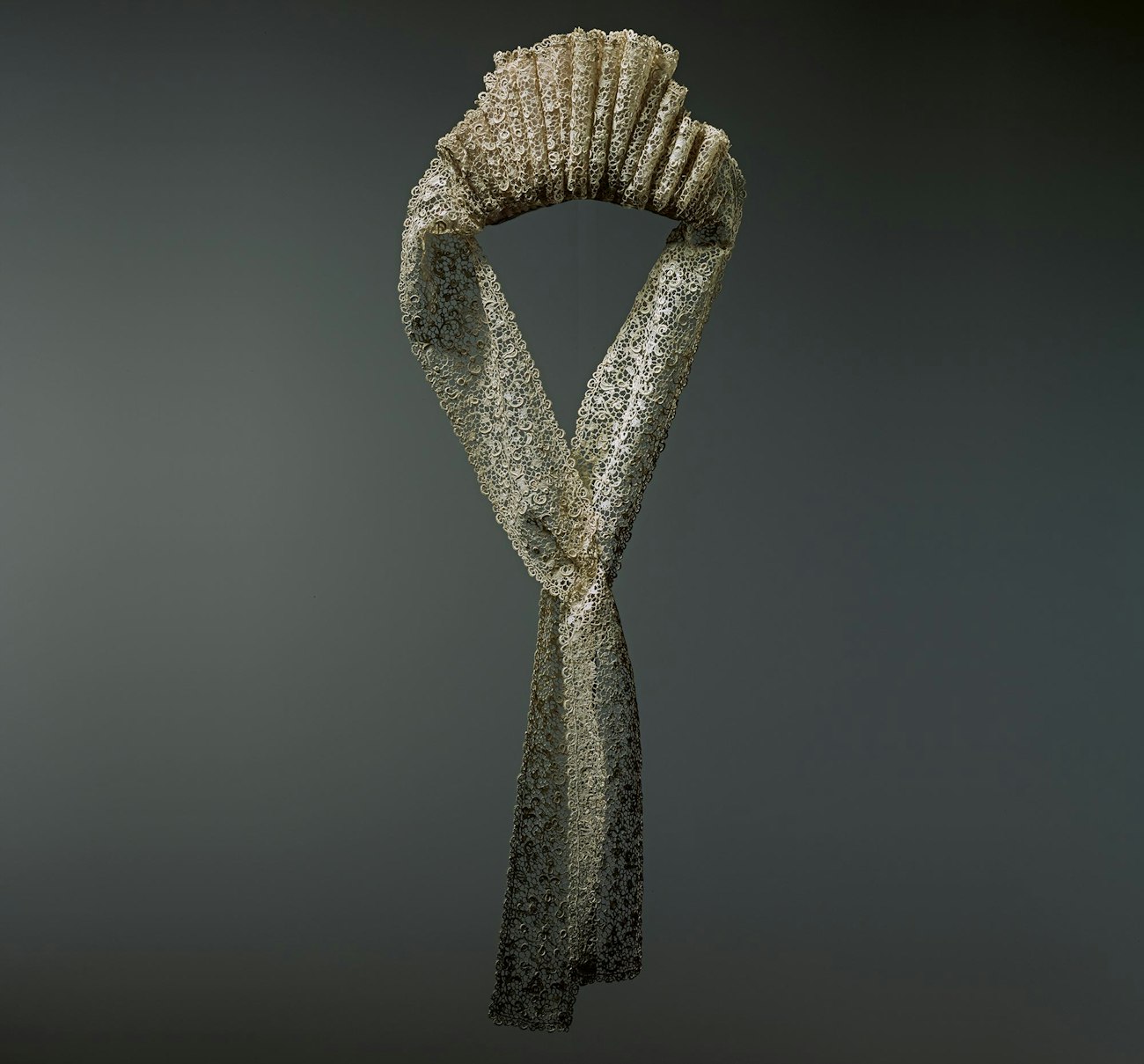 Point de France needle-lace frelange with lappets, Orne, France, ca. 1695. Linen. Textilmuseum St. Gallen, Acquisition from the John Jacoby collection, 1954, 01246. Photo: Michael Rast; courtesy of Bard Graduate Center
Among the highlights of the exhibit are some of the rarest kinds of early modern accessories, including one of the only surviving early 18th-century frelange headdresses as well as the precisely arranged remnants of an enormous 16th-century men's neck ruff. The Metropolitan Museum of Art provided the pattern books, from their collection, that elite women pored over to create their own accessories.
Judith and Holofernes bobbin-lace collar, silk; Elena Kanagy-Loux (American, b. 1986). Commissioned by Bard Graduate Center for Threads of Power: Lace from the Textilmuseum St. Gallen. Photo © Bruce M. White; courtesy of Bard Graduate Center
At the beginning of the exhibition is an up close and personal view of a shockingly red lace collar crafted specifically for the show by Brooklyn-based lacemaker Elena Kanagy-Loux, who has revitalized an interest in the craft. Her followers flock to her online videos and museum demonstrations (for a fascinating look at how this collar was made, watch the time-lapse video here).
Just beyond the entrance, a 19th-century set of bobbins and pillow—nearly identical to the tools that Kanagy-Loux uses—lie in a vitrine as if the maker had stepped away for a brief moment, a design partially formed around the pins that remain upright upon it. Upstairs, an immense black Chantilly lace shawl spreads its wings within a case that also contains a striking black-and-yellow gown once owned by Fanny Appleton Longfellow, on loan by the National Park Service from the home of her poet husband.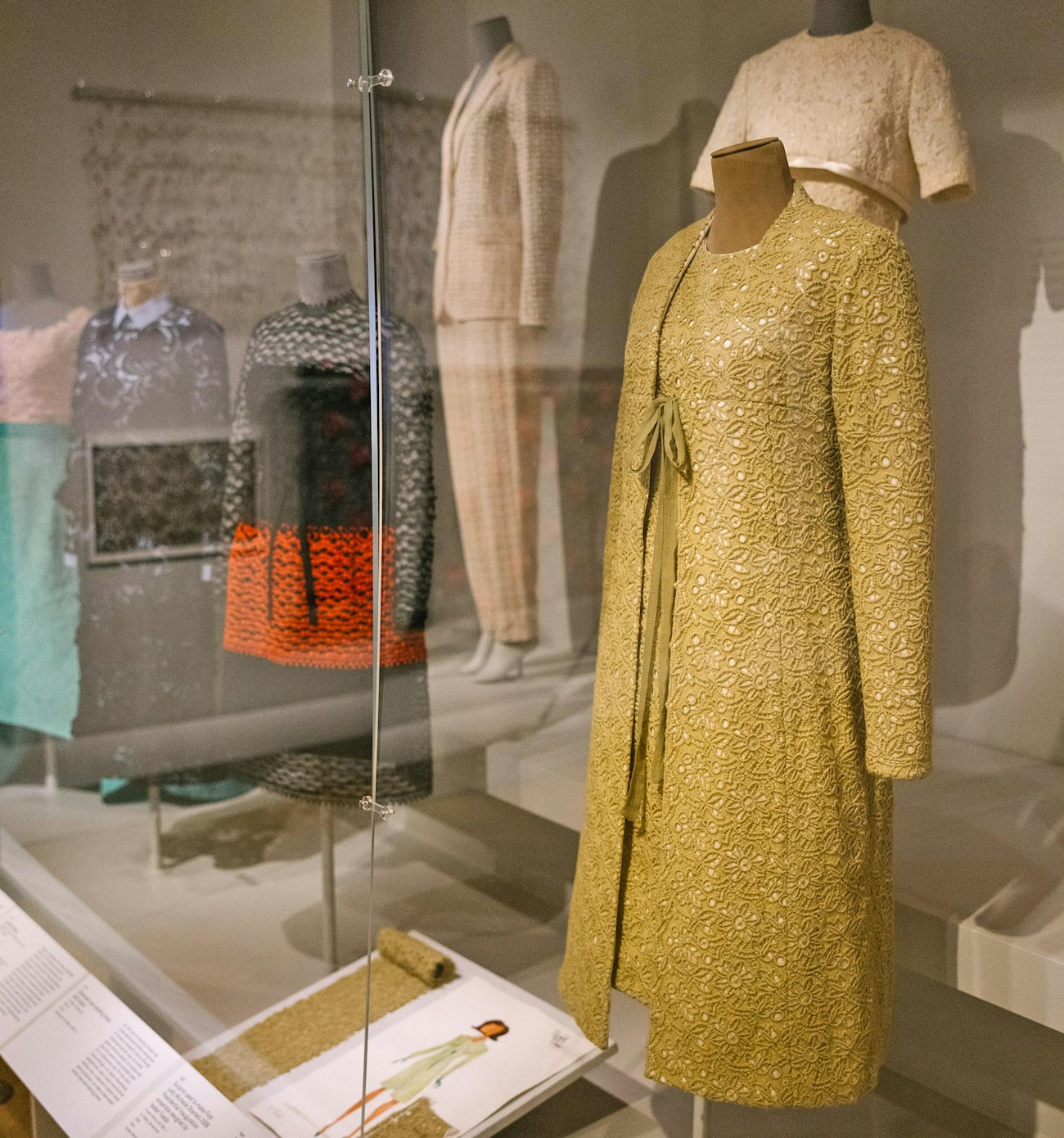 2009 Presidential Inauguration ensemble worn by First Lady Michelle Obama; Isabel Toledo (Cuban American, 1960–2019), designer Forster Rohner AG (1904– ), textile manufacturer. United States and St. Gallen, Switzerland, 2008. Felted wool lace, silk radzimir, and silk netting. Courtesy Barack Obama Presidential Library, FL2011.1a–b and Bard Graduate Center
Central to Threads of Power is a discussion about the present and the future: step into the last room and admire the lemongrass-yellow Isabel Toledo wool lace ensemble worn by First Lady Michelle Obama at the 2009 presidential inauguration, a custom-made creation "crafted in the spirit of optimism," while a 2018 white Akris pantsuit adds a touch of gender nonconformity to the mix.
The works of Jakob Schlaepfer and Forster Rohner, both important Swiss firms that reinforced St. Gallen's reputation as a lacemaking center, are represented not only in complete garments but also in rows of samples showcasing the impressive variety possible in machine-made laces, including Schlaepfer's 3D-printed "hypertube" designs (shown at top) full of promise for the future.
The exhibit demonstrates that although the craft of lace may have changed, the demand will never fade.
Threads of Power: Lace from the Textilmuseum St. Gallen is on display at Bard Graduate Center, NYC, until January 1, 2023. Visit their website for more information.
Kenna Libes is a dress historian and PhD student at Bard Graduate Center in New York. She has worked in textile conservation, curation, and collections management at various American institutions and her current area of research is size diversity in museum collections.