Editor's note: The following article describes atrocities committed during World War II.
In the south of France, about 15 miles northwest of Limoges, is the small village of Oradour-sur-Glane. This rural community has endured for over a thousand years. Its pre-World War II (1939–1945) population was about 350 people. During the war, many French citizens fled the larger cities of the Nazi-occupied France to seek refuge in the countryside where food was more available, so towns such as Oradour grew in population.
On June 10, 1944, four days after the D-Day invasion, a German Waffen SS Panzer Division sealed off the town and rounded up 642 residents, refugees, and people traveling through. Those rounded up believed that it was a routine check of identity papers.
The 190 men were taken to barns and sheds, where they were shot with machine guns. Then the structures were locked and burned with men still alive. At the same time, 247 women and 205 children were locked in the church. Those inside were gassed, and then the church was set on fire. Anyone managing to escape through the windows was shot. That night, the village was looted and burned.
Only fifteen people managed to escape. One woman was shot escaping the church but survived. Five men survived the shooting and burning by hiding underneath others' bodies.
The reason for the massacre is unknown. Some think it was retaliation for the capture of a German officer by the resistance. Others speculate that it was to make an example of the town to prevent any defiance. Perhaps the atrocities were meant for the nearby town of Oradour-sur-Vayres instead. Maybe it was anger at the Normandy invasion.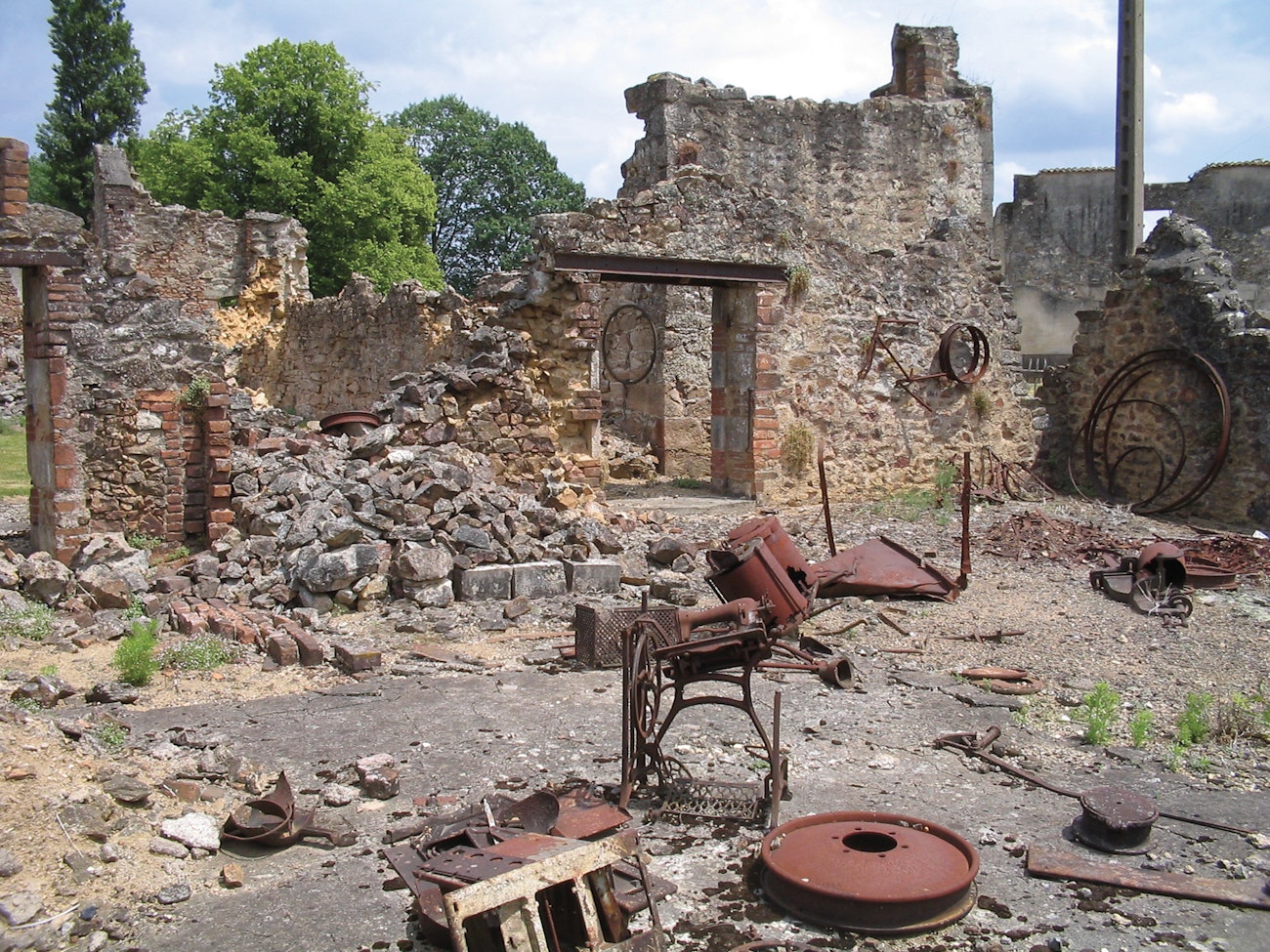 A treadle sewing machine lies along with other household metal items, left exposed to rust after the village of Oradour-sur-Glane was burned. Photo by Dennis Nilsson
After the war, General Charles de Gaulle ordered that Oradour-sur-Glane remain as it was—not to be torn down, not to be rebuilt. It stands as a reminder to the world of lives lost, of destruction, of evil. It has been designated "Village des Martyrs." Many schoolchildren visit this memorial annually. A short distance away, a copy of the original main street was built, and an underground museum explains the rise of the Nazi Party, World War II, and what happened to the town.
I had heard about this town from a friend. When planning a vacation in France, I put a visit to Oradour-sur-Glane on the itinerary. Driving up from the Dordogne Valley toward Paris, we found the small village. We visited the cemetery and the memorial there. We went through the museum and then out to the ruins of the quiet village. Crumbling stone walls outlined where homes and businesses existed. The smell of smoke still lingered in the air. Bed frames, bicycles, and the occasional car were frozen in time.
And there were sewing machines, dozens of them. It seemed that every other structure had a sewing machine—heavy metal ones, made to last a lifetime. They remained. I walked along abandoned streets, taking photographs of rusted sewing machines, most left where they were last used. Wooden cabinets had been consumed by fire, but several sewing machine legs and braces bore the familiar name Singer. One stands behind a memorial with pictures of the residents of that home. Some machines had been picked up and placed on stubborn stone walls. Others had fallen and lay on the ground. They all had stories to tell.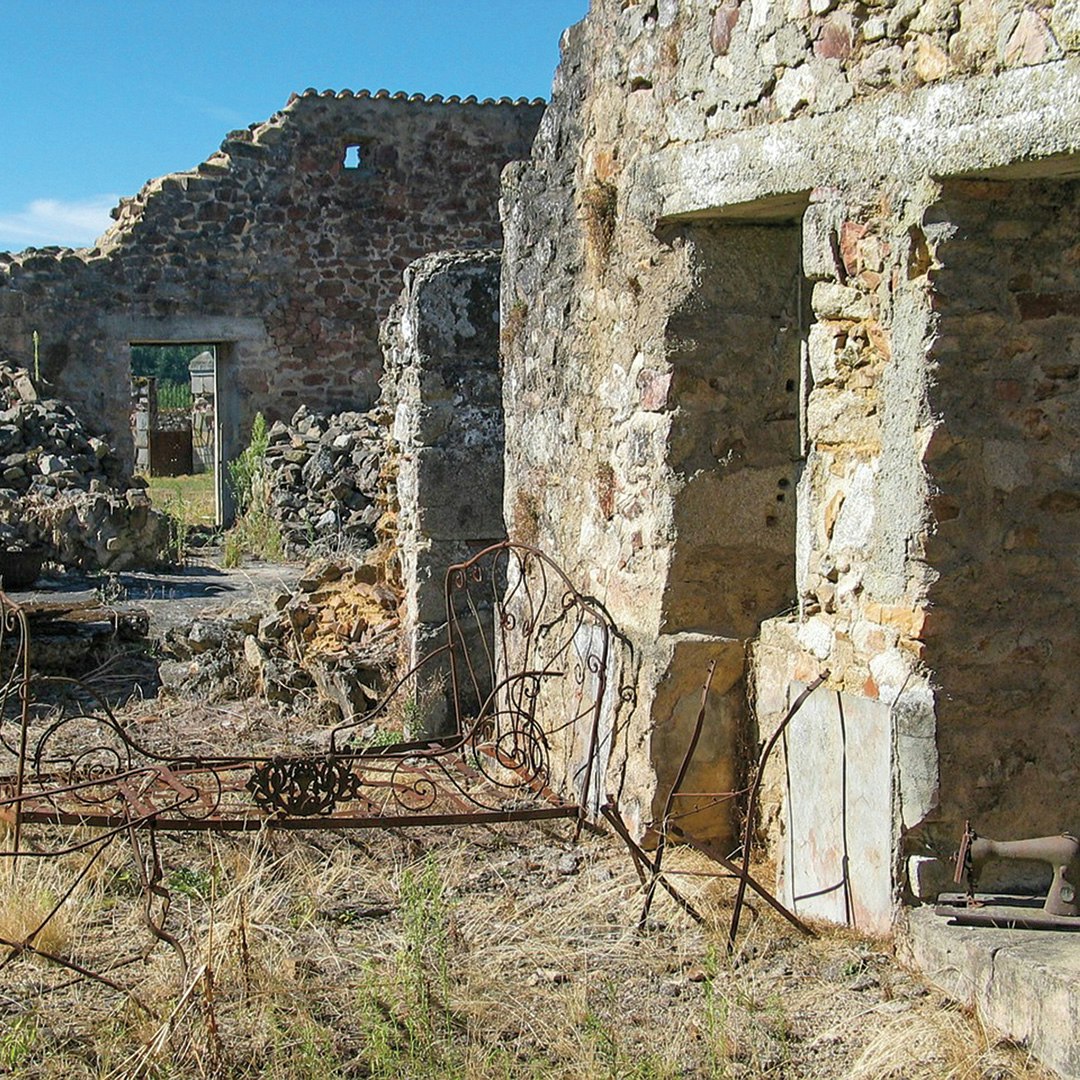 A sewing machine sits next to a metal bed frame in the ruins of a house in Oradour-sur-Glane. Photo by Mrs. Brown
I have read many books on World War II and have seen scores of pictures of the rubble, destruction, and cruelty. But this experience suddenly made it personal. I imagined women sitting at their machines making clothes for church, a dance, or a wedding, or mending work clothes, or altering a hand-me-down for a growing child. I pictured myself as a baby in the christening gown my mother had made. I remembered sitting with my mother learning to sew, then making clothes for myself. I thought of making dresses for my daughters' birthdays and first days of school, making Halloween costumes, and sewing quilts. I remembered repairing garments for my mother when she could no longer sew.
It was the women who sewed because they had to or because they loved to. Men might have sewn professionally as tailors, but home sewing was women's work. As nearly all women sewed during this time, these machines seemed to me to represent women as a whole. Clothing makers, cooks, housekeepers, laundry ladies, professionals, shopkeepers, daughters, sisters, wives, mothers, grandmothers—I felt a kindred spirit to all the women who sat in front of these machines.
They touched my soul.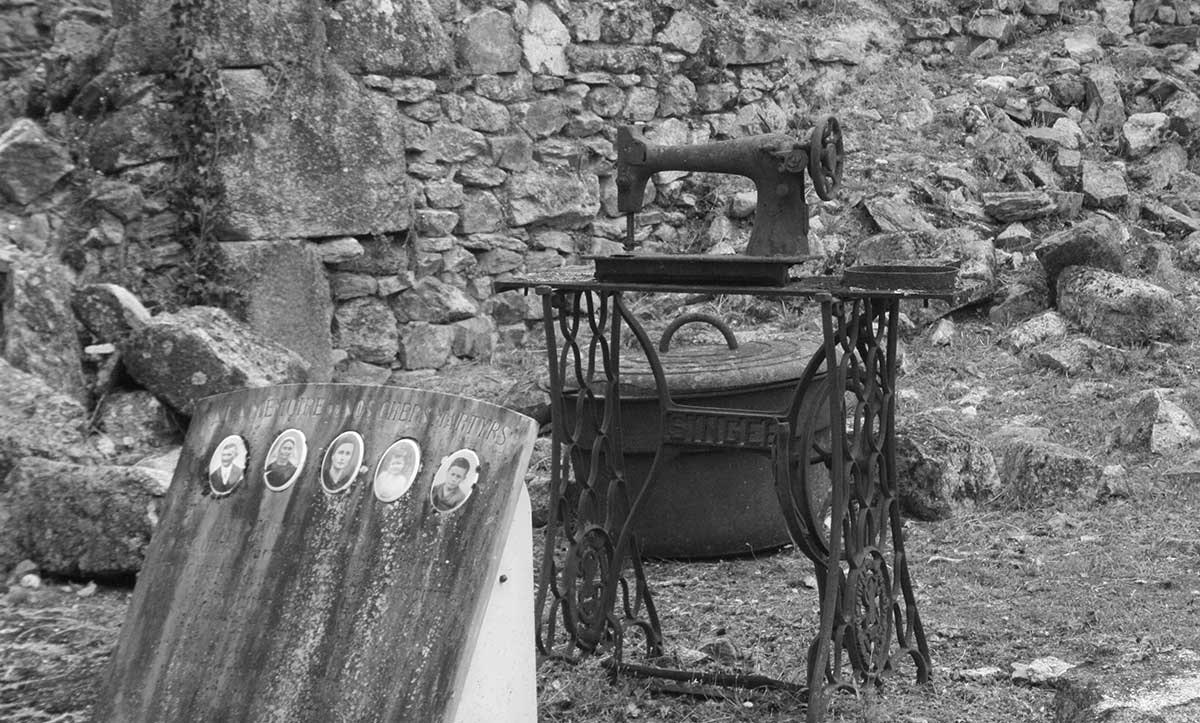 Still upright, this treadle sewing machine stands behind a memorial to the home's murdered family. Photo by Mary Davis
Looking for more expressions from the past? This article and others can be found in the Spring 2020 issue of PieceWork.
Also, remember that if you are an active subscriber to PieceWork magazine, you have unlimited access to previous issues, including Spring 2020. See our help center for the step-by-step process on how to access them.
Resources
Dr. Mary Davis practiced veterinary medicine for thirty-three years and has recently retired. She has been sewing for fifty-nine years. She resides in Dodge City, Kansas, with her husband and six cats. She has two grown daughters.
Originally published May 27, 2020; updated May 8, 2023.