Mundillo is considered a labor-intensive art, as 1 inch of bobbin lace can take more than an hour to produce. Bobbins are long, round-topped, wood-turned cylinders measuring around 6 inches in length. The fiber is wound around the neck, a carved indentation near the top of the bobbin (see note 1). The length and weight of the bobbin allow the lacer to braid the fiber and maintain the desired tension (see note 2). The number of strands used to create a particular design varies, depending on the type of piece to be constructed. The strands are worked in pairs and can be a few or more than a thousand. The desired pattern is traced onto a piece of cardstock, which is plaited and pricked to the pillow to be used as a guide for the creation of the motifs (see notes 3).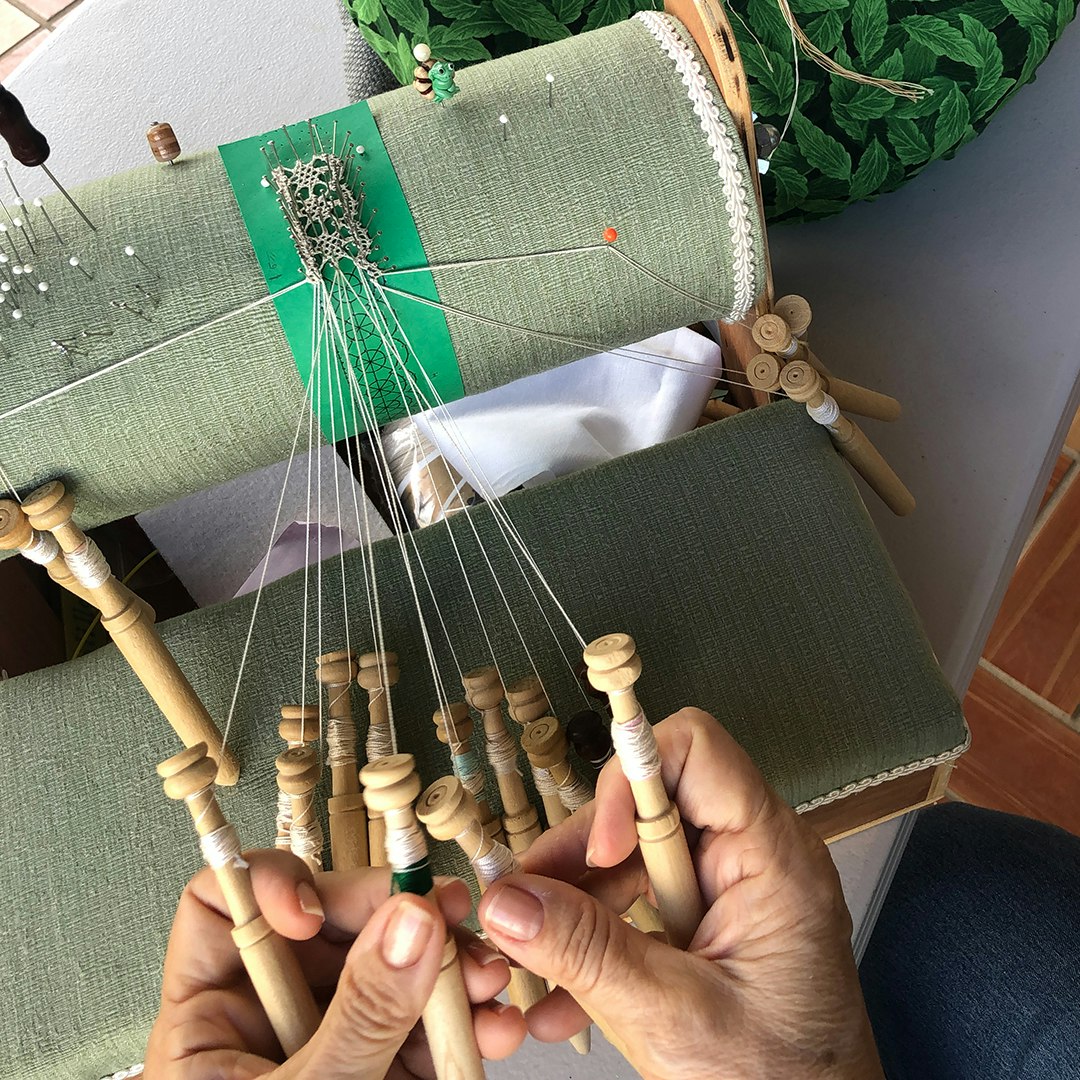 A telar for working bobbin lace
In Puerto Rico, mundillo is made using a revolving cylindrical pillow attached by a rod that serves as an axis supported by the arms of the telar (box), allowing the bolillero (bobbin lacemaker) to weave an infinite design. Some believe that the origins of this Puerto Rican tool may have been the cylindrical pillow used in England and Malta (see note 4). Others follow a connection to France or Spain's bobbin lacemaking practices (see note 5). Each European region that contributed to Puerto Rican bobbin lace varied the shape of the pillows used, the materials used to fill the pillows, the position that the pieces were worked, and the parchment or cardboard used to trace the pattern to be replicated. In Europe and Puerto Rico, regional patterns and styles, such as Alençon, Valenciennes, Chantilly, Honiton, Milanese, and Ret-fi Català, were a source of pride and established the exclusivity of a product, thus making it especially desirable for the discerning buyer (see note 6). Unique Puerto Rican patterns were inspired by elements found in nature on the island, such as flowers and leaves (see note 7).
Interested in learning more about lace? This article and others can be found in the Fall 2022 issue of PieceWork.
Also, remember that if you are an active subscriber to PieceWork magazine, you have unlimited access to previous issues, including Fall 2022. See our help center for the step-by-step process on how to access them.
Notes
Pedro Amill-Quiles, "Preparing Bobbins for Lacemaking," Papiro Digital, August 2, 2009, video, peamill.org/2009/08/02/473.
Pedro Amill-Quiles, "Interview to a 'Mundillo' (Bobbin Lace) Artisan," Papiro Digital, July 29, 2009, video, peamill.org/2009/07/29/469.
Amill-Quiles, "Interview to a 'Mundillo' Artisan."
Textile Research Centre Leiden, "Maltese Lace," trc-leiden.nl/trc-digital-exhibition/index.php/maltese-lace.
Ellen Fernández-Sacco, "Mundillo and Identity: The Revival and Transformation of Handmade Lace in Puerto Rico," in Women and the Material Culture of Needlework and Textiles, 1750–1950 (Farnham: Ashgate, 2009), 150, researchgate.net/profile/Ellen-Fernandez-Sacco.
Carolina de la Guardia, "Origins of Lace, a Resume . . .," History of Laces, Carolina's Lace Site.
"Nellie Vera Sánchez (92 años), Moca, PR," Instituto de Cultura Puertorriqueña, YouTube video, youtu.be/_aHak9GGHos.
Diana P. Martínez-Rodríguez lives with her husband, children, and two cats in San Juan, Puerto Rico. She discovered the world of needlecrafts at the age of four and a half while visiting with her paternal grandmother. Her grandmother's sewing room, as tiny as it was, seemed like a whole fantasy universe with pieces of lace, ribbons, yarn, and fabric hanging everywhere. An experienced seamstress, knitter, and crocheter, Diana's experience with fiber has proven very useful while performing microsurgery as a pediatric and strabismus ophthalmologist for the past 34 years.