The seventh edition of PieceWork's Knitting Traditions, Fall 2013, is all about lace—its magic and mystery and its ethereal quality—as expressed in knitting. The word "lace" comes from the Latin verb laqueare, "to ensnare." Many believe that lace originated with efforts to reproduce the web made by nature's consummate lacemaker, the spider.
The openwork fabric that would come to be known as lace originated in the sixteenth century, and the lace industry quickly became a force to be reckoned with. Lace made and broke national economies. Women and men died trying to possess the best examples. Smugglers devised creative (and some ghoulish) ways to avoid paying taxes and duties on it. Numerous governments established laws that restricted who could wear it.
Each piece of lace speaks so eloquently to the beauty and value of work done by someone's hand, whether that of an unknown maker of the past or one of today's practitioners of lace knitting. And the lacemakers' stories are just as intriguing as their lace.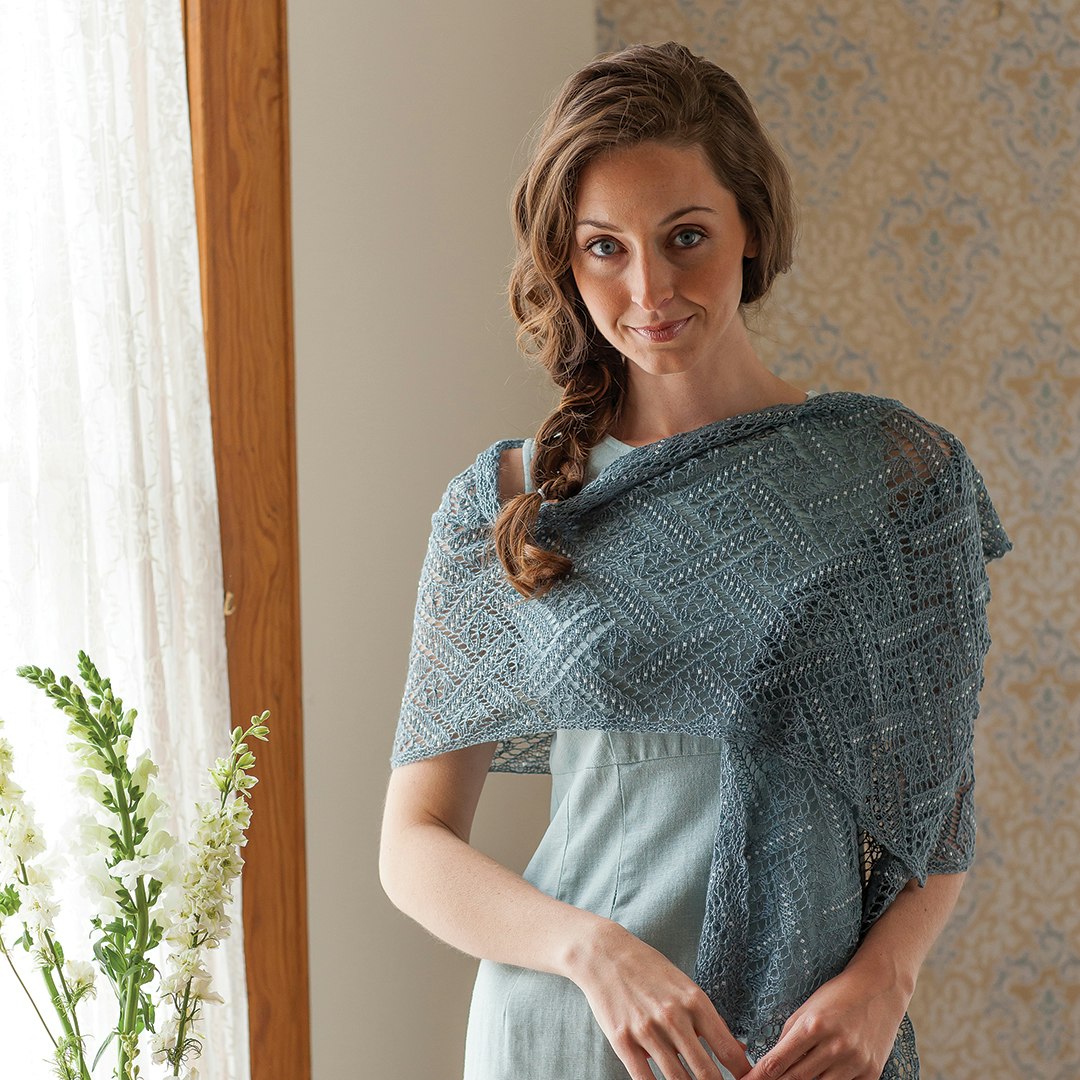 Delicate opalescent beads highlight the open-stitch pattern of strong diagonal lines in Anniken Allis's luxurious beaded stole.
In addition to new patterns designed for this special issue, our archives yielded a selection of older lace patterns that are no longer widely available. In these pages, you'll find stunning stoles, scarves, and shawls, plus an entire section with lace patterns from Victorian England, which were excerpted from Weldon's Practical Needlework and include lacy edgings, doilies, socks, and more.
Although knitting lace came along a little later than lace in its earliest forms—bobbin and needle—its fascinating history is still centuries old, and its traditions grow stronger with the addition of each new lace knitter to the fold.
Interested in learning about lace? The Fall 2013 issue of Knitting Traditions is loaded with a wide variety of this ethereal technique.
Also, remember that if you are an active subscriber to PieceWork magazine, you have unlimited access to previous issues, including Knitting Tradtions Fall 2013. See our help center for the step-by-step process on how to access them.
Originally published August 14, 2018; updated June 18, 2019; updated June 26, 2023.