Tell us about what you do at the museum.
My focus is to design exhibits that tell the history of the area through a collection of artifacts, photographs, and archival material. The Gallatin History Museum is housed in the old 1911 county jail, so a large part of the exhibits center around that history, about which I have published three books. Because it is a small museum, each member of the staff ends up doing multiple jobs. Along with administrative work, such as keeping track of memberships and donations, I also get to help design projects that involve the community, including museum tours and outreach. The Gallatin County Tapestry Project is one such outreach project. During the winter of 2020, I was able to apply my background in art to design and draw each of the panels that were to be embroidered.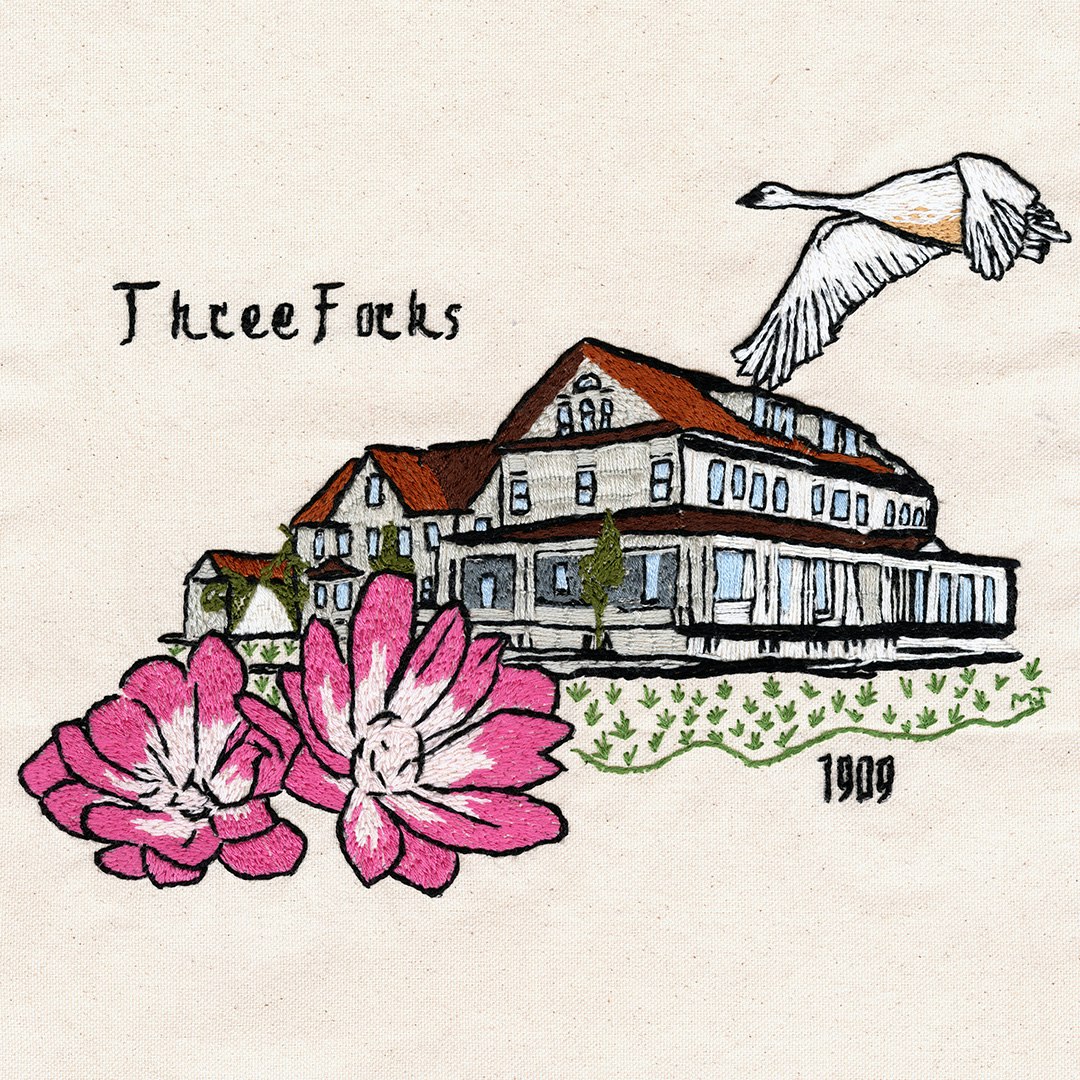 What was the inspiration for the project?
The Gallatin County Tapestry Project has its roots in a trip I took to London with my dad in 2017. I was lucky enough to see the Mount Felix Tapestry, a series of embroidered panels chronicling the history of New Zealand General Hospital 2 in Walton-on-Thames during World War II. I brought a book back with me that shared an image of each panel with information about the history and those who had embroidered it, at the time thinking this could be a great idea to implement in my own community. Then came the COVID-19 pandemic, and I realized that this project had been waiting for a moment such as this to uplift people in the community through working together while we had to stay apart.
Are there any historical influences?
Each panel in our project shares a piece of the local history, from the early influence of the landscape to the building of the town of Bozeman and smaller surrounding communities to the arrival of the railroad and annual celebrations. Photographs from the museum's collection helped to influence each design so that each panel had deep roots in the past.
The art of embroidery also has its roots embedded in the history of the area and female-focused crafts in general. From historical examples in the collection itself to the heritage each participant brought to the table, each panel feels deeply rooted. In addition, the natural world is celebrated in every panel, paying homage to the land that makes this area home.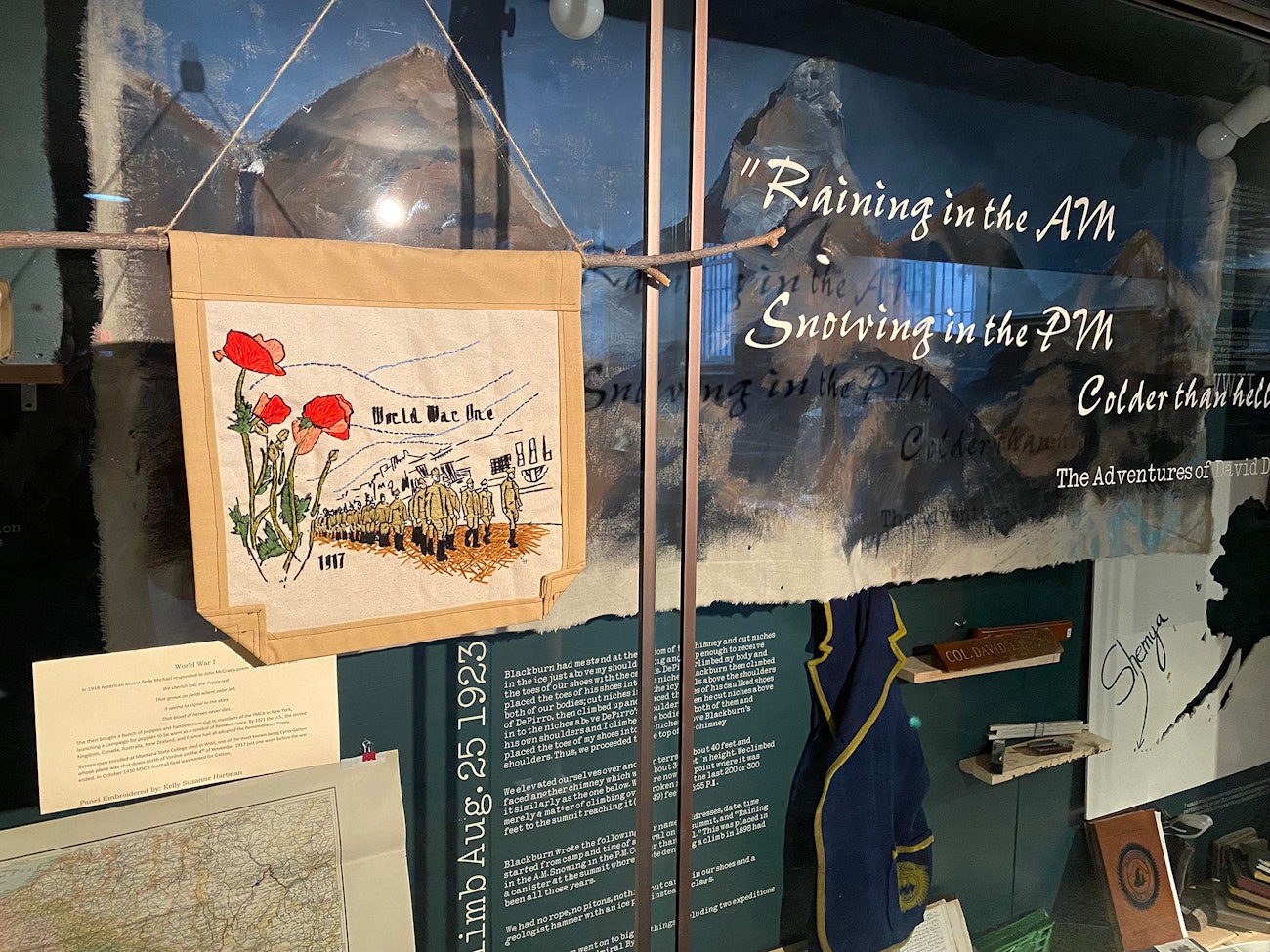 What techniques were used?
Participants had free rein as to how they wished to complete their panel. We had included a small instruction sheet with examples of embroidered stitches but found that many of the participants either brought additional inherited or newly learned knowledge to their stitches. From French-knot flowers to felt-appliqué beavers, each panel was completely unique.
Each panel celebrates the embroiderer's individual artistic style and attention to detail. Participants had been given only a simple line drawing, a small color guide, and embroidery floss. Each element was completed to provide texture, depth, and feeling, and each of those elements were the work of the embroiderer's hand and mind.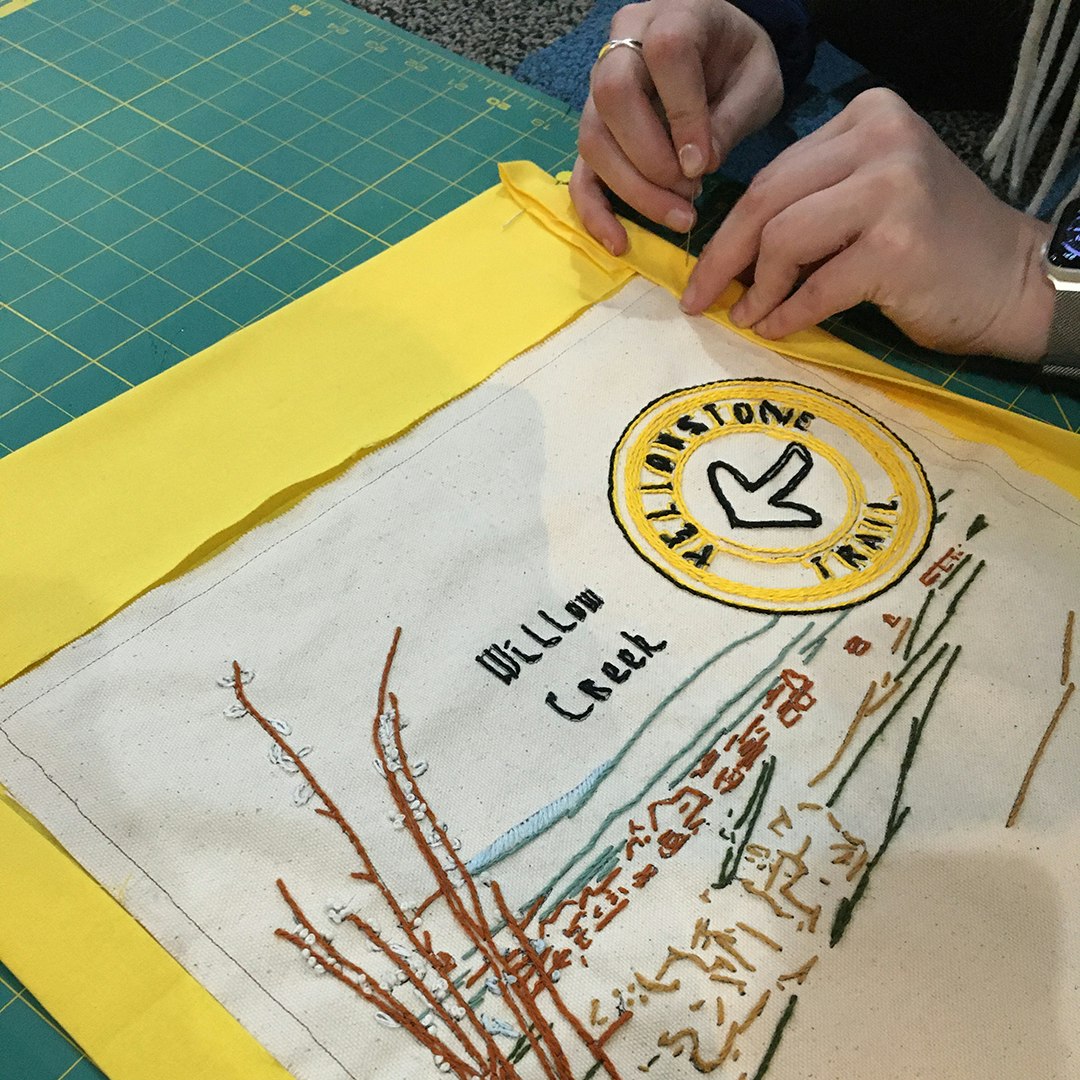 How was the community response?
At the start of the project, I had designed 20 panels, and at its debut, we quickly had a wait-list of additional participants. In the end, 35 panels were designed, handed out, and completed by a community ranging from local participants to former residents now living in different states.
When receiving the panels back, I heard multiple times how the work was like painting with thread, and once participants got into it, the artist in them came out. For some, it was an artist they hadn't even known was there. Bozeman is inherently an artistic community—one of the reasons I love having my own art-based small business, Studio 308, here. For the museum to participate in this local heritage of arts and crafts is very special and something we all hope we can continue to foster.
The positive response we got from the community was almost overwhelming. I don't think even the participants could anticipate what the result would be. In the summer of 2021, we held a party so the participants could see their finished panels in place, and the reactions were priceless. The embroidered panels are now a permanent part of the collection that can be displayed for years to come to celebrate our shared history. Since that time, we have had many community members ask to participate in a future rendition of the project.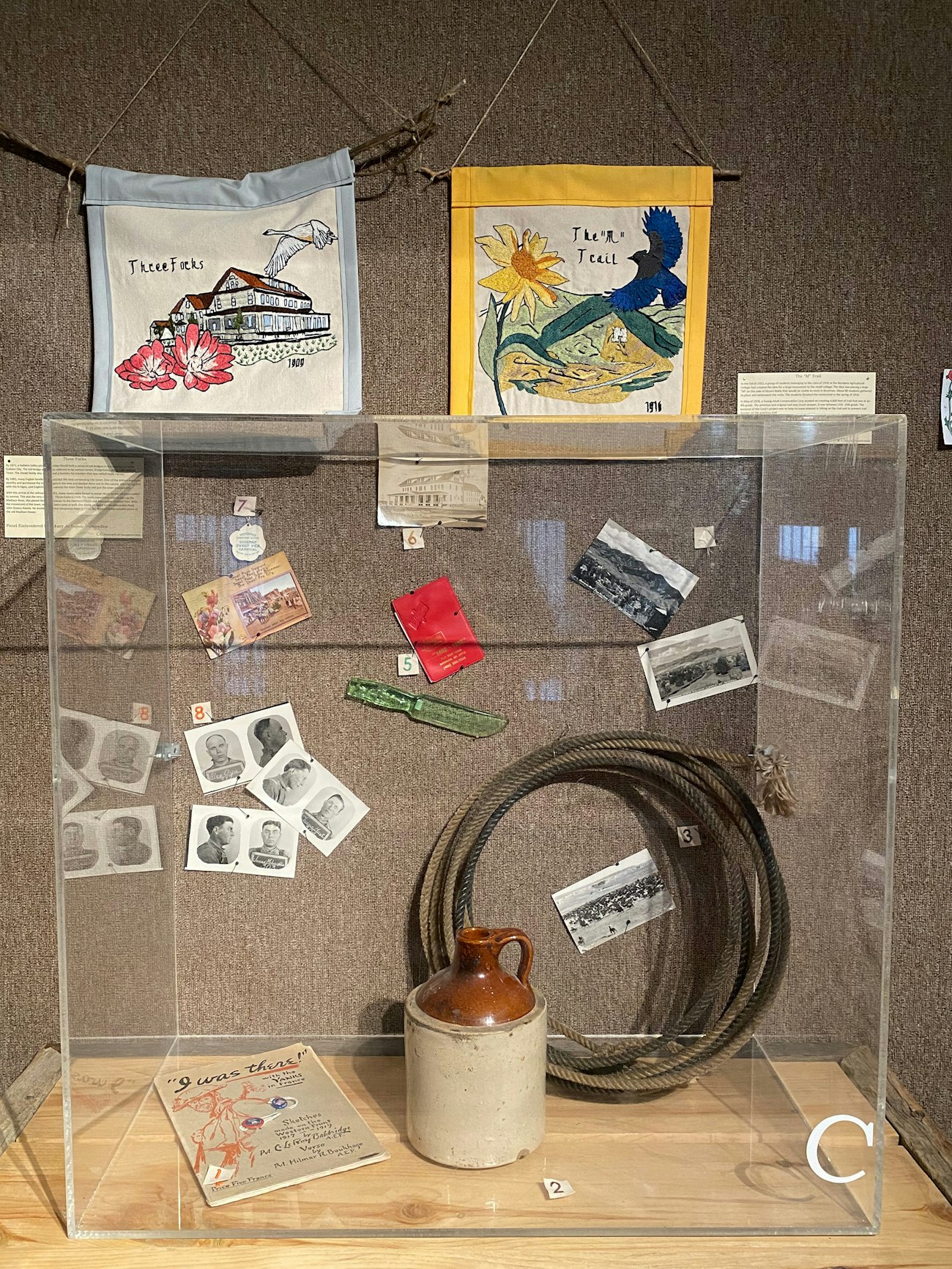 Are there plans to do similar projects in the future?
The Gallatin County Tapestry Project is planning a comeback in 2022. An additional 20 panels will be embroidered to mark historic events such as the earthquake of 1925; the creation of Belgrade, Montana; and the heritage of "Granny Yates." We will again be asking for community involvement in the creation of the embroidered pieces and are hoping to host a few get-togethers where local participants can gather to trade stitch ideas and histories.
There are plans to host a weeklong summer camp for local kids where historical craft techniques such as spinning, natural dyeing, weaving, and, of course, embroidery will be shared. We are also hoping to extend these ideas into workshops for adults who want to get to the heart of creating with their own hands, emphasizing working with natural local elements. It's where our histories are rooted, and it's where I feel most at home.
I'd like to add that I worked with an incredibly supportive assistant curator during this project from start to finish. Victoria Richard helped critique my drawings; researched the history of each place, building, and event; and was integral in putting together the kits and sewing the finished panels.
Learn more at gallatinhistorymuseum.org.
This article first appeared in PieceWork Fall 2022.
Also, remember that if you are an active subscriber to PieceWork magazine, you have unlimited access to previous issues, including Fall 2022. See our help center for the step-by-step process on how to access them.