Nilda Callañaupa Alvarez began life tending sheep and learning to spin and weave in a rural village near Cusco, Peru. Her trajectory took her through the local school and to university in the city and then to the United States, where she honed her English skills and gained a following of weavers fascinated by the traditional ways she had mastered. Returning to Peru, she worked with others to establish the Center for Traditional Textiles of Cusco (CTTC), an organization that serves 10 Andean highland villages, each with its own weaving heritage. Nilda's path has been one of discovering, reclaiming, and sustaining the extraordinary textiles of her home country. And so much more.
Nilda, even as a child, you looked back at the old ways of weaving and spinning instead of doing what your mother's generation was doing. Do you know why that attracted you?
Women of my mother's generation were weaving for the tourists. They needed the income, and the tourists didn't care if they used acrylic yarn or chemical dyes. I saw that some of the old grandmothers in my village, Chinchero, were still weaving and spinning in the old way, and I begged them to teach me. Also, my father was a trader who traveled great distances, and he would bring back old textiles from Bolivia or the coast, or other distant places. I liked trying to figure out how they had been made. I guess it was just a natural curiosity about these old techniques that weren't being done much anymore.
When you started working with the villages of CTTC, one of the first things on your agenda was to increase the use of natural dyes. Why did you make that decision?
As a practical matter, I saw that naturally dyed textiles could command higher prices. They attracted a different kind of tourist—serious collectors instead of casual souvenir seekers. But even more than that, natural dyes were an important part of our heritage. Indigo, cochineal, a wealth of shades of yellows and greens and golds—these were the native colors of our traditional textiles. It took a lot of research and trial and error to recapture these beautiful old colors, and doing the work is very labor-intensive. But I feel it has been worth it. And the dye days in the villages, when dozens of women come together to make beautiful colors of yarn that will last them all year, build community. Natural dyeing encouraged the weavers to keep their traditions and their strong cultural identity.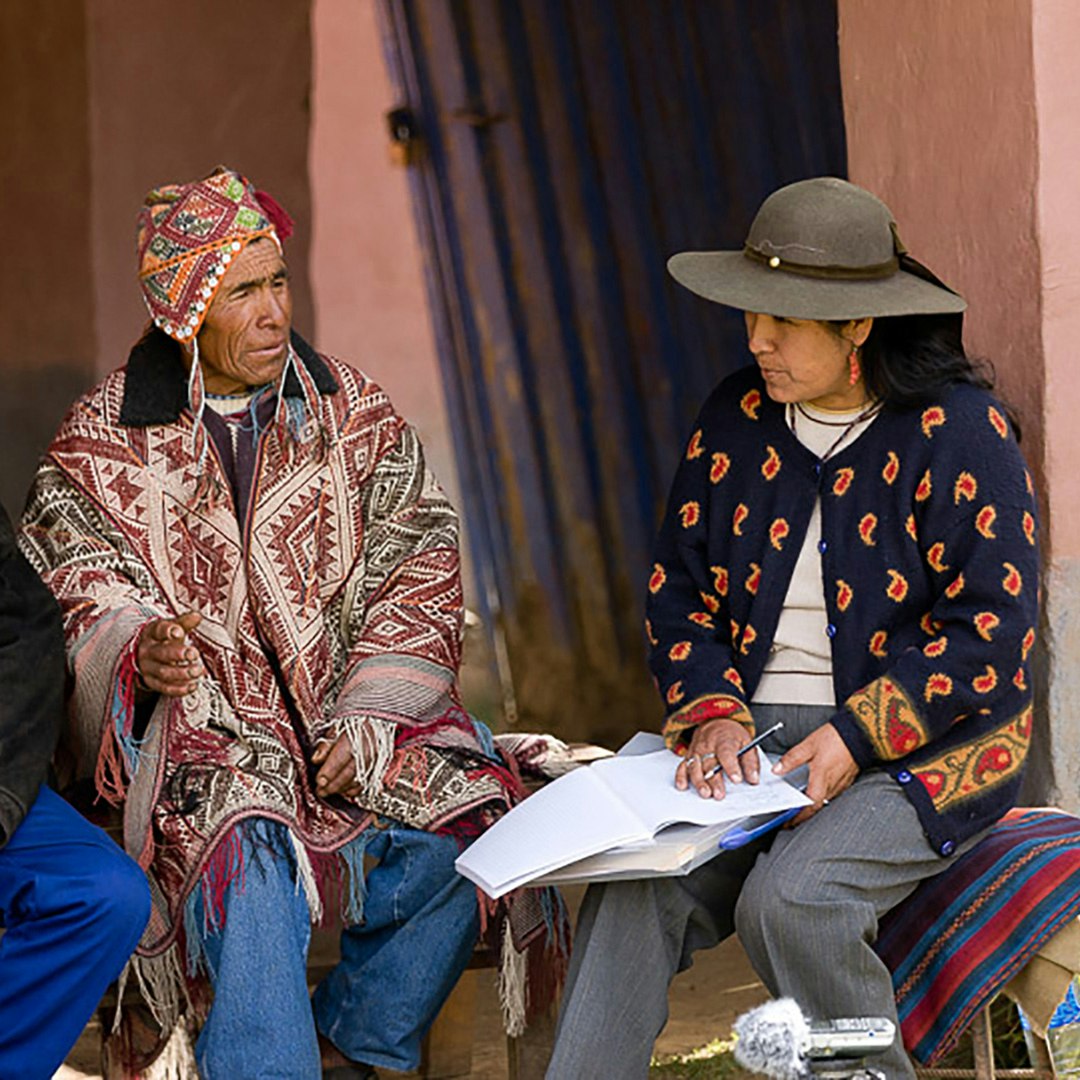 As you were working with weavers in the CTTC villages, you found elders who still knew how to do old techniques that weren't being used anymore. How did you see that as an opportunity?
This has been very exciting and timely. Knowledge of these old techniques was almost gone for good—for example, textiles with ikat warp patterns, called watay, of Santa Cruz de Sallac. This style of weaving hadn't been done for many, many years. But I found one elder from higher up in the mountains who still retained the knowledge and was able to share it. Now, textiles with ikat stripes have become a specialty of Sallac. And in Pitumarca, men have begun weaving beautiful pictorial tapestries, an art that had almost vanished in this region long ago.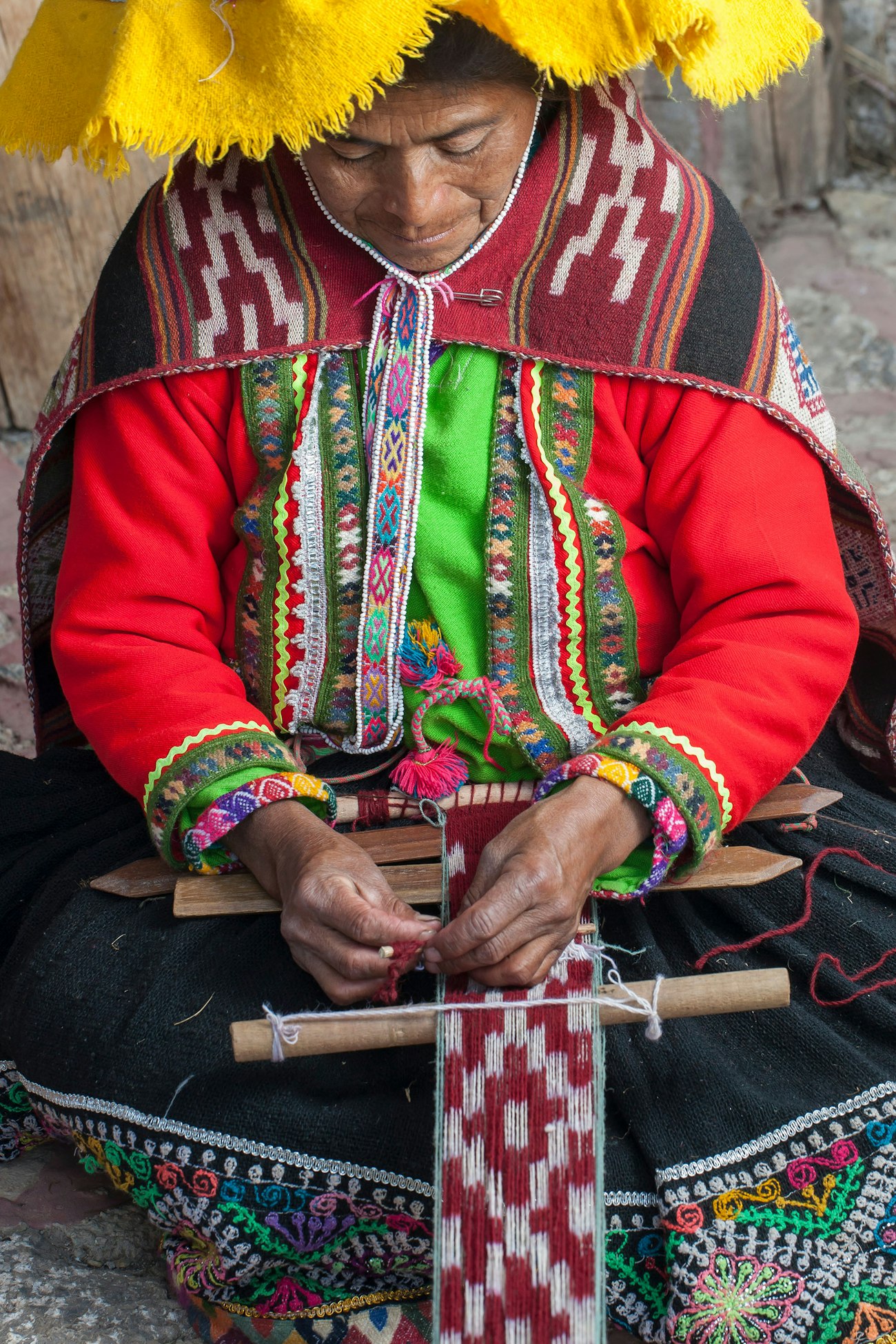 How do you go about inspiring the weavers to rediscover these ancient ways?
One way is to give them a chance to see fine examples of pre-Columbian work. A few years ago, some of the weavers were able to take a field trip to Arequipa to the Museum of Andean Sanctuaries, where the well-preserved "Ice Maiden" mummy is kept.
This fifteenth-century relic is wrapped in a beautiful intact mantle. We had a competition to see which weavers or groups could best replicate this textile, all handspun, hand-dyed, and handwoven, from the patterning down to the details of how panels were joined together. The results were so impressive! Since then, there have been other efforts to replicate and learn from very special antique textiles. Among the techniques that are being recovered are doubleweave on the backstrap loom, and cross-knit looping from grave sites on the Paracas peninsula. Weavers in Pitumarca have begun mastering ticlla, the ancient art of creating tie-dyed patterns on cloth. This dates back to the Wari, the people who came before the Incas. We have such a rich heritage, and the potential for reclaiming techniques is endless.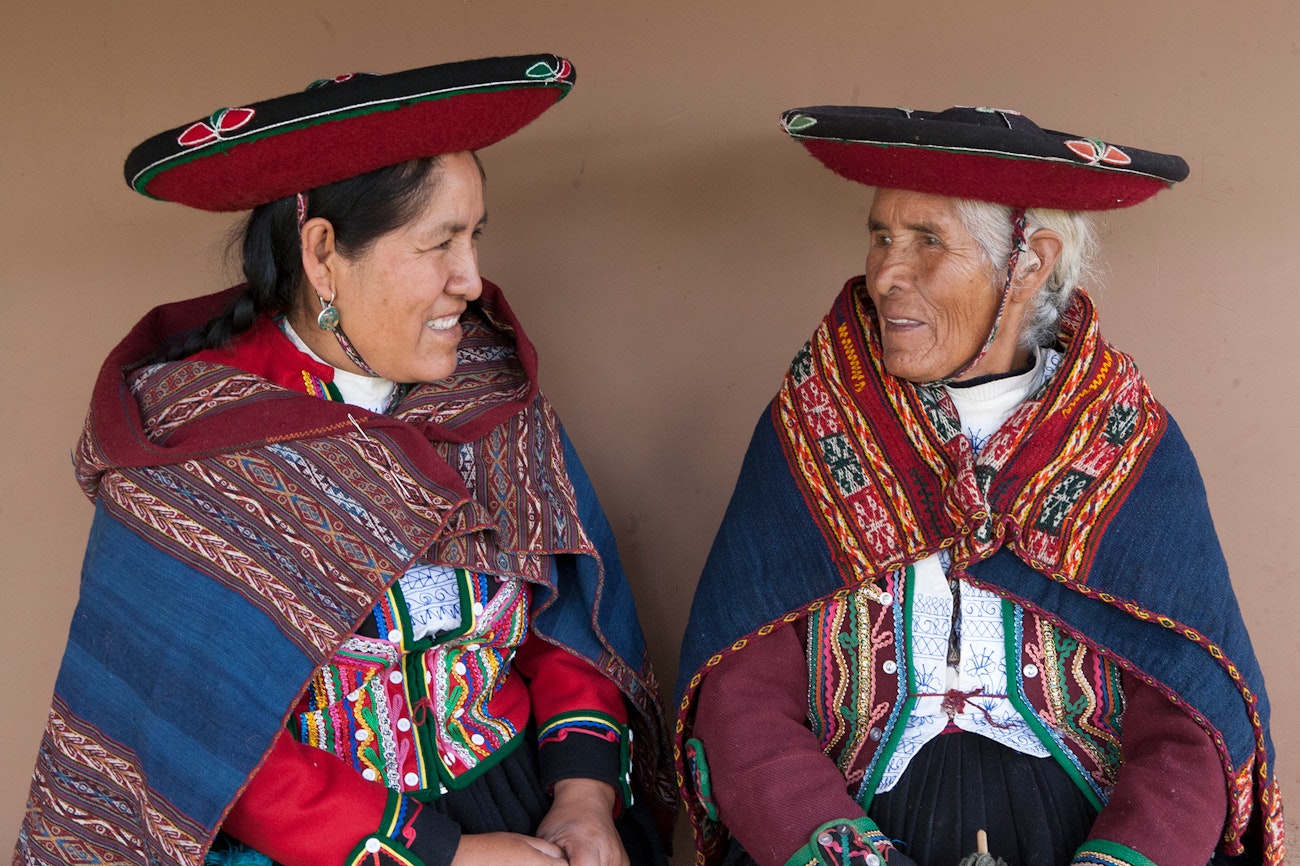 Do you think this effort is sustainable?
I can only hope so. Our mission is to revive, sustain, practice our skills, and pass them on to the next generation. Each community has a Young Weavers group that actively learns and creates. Even if they leave their villages, I hope their interest will continue.
Nilda, you've been dedicated to this work for more than 40 years. You've given your life to it. What do you see for your own future?
My dream is to go back to Chinchero, go back to my family and my roots and weave, spin, and dye. I have so many ideas for things I would like to create, and such a stash of fiber saved up!
To learn more about the Center for Traditional Textiles of Cusco, go to andeantextilearts.org or textilescusco.org.
This article first appeared in PieceWork Spring 2022.