How did you become interested in textiles and their history?
I've always been interested in many forms of history. My grandmother and mother collected antiques, and so, I grew up surrounded by objects of the past. We always visited museums, science centers, and zoos on family vacations. I volunteered or worked at several different types of museums, and it was the history museums that interested me most. While I worked on a degree in anthropology in college, I took a Cultural Perspective on Dress class and was then hooked on textiles. That class was followed by another—History of Costume—and then a minor in textiles and clothing. Eventually, I received a master's degree in textiles and clothing from Iowa State University.
Tell us about your duties and work at Vesterheim Norwegian-American Museum.
I oversee the museum's collection of 32,000 objects, including more than 5,500 textiles. There are pieces of Norwegian folk art brought by immigrants, everyday items made and used in the United States, and contemporary examples of how artists are inspired by the past to create works today. An important part of my job is to share the collection through exhibitions here in Decorah, Iowa, and at Livsreise Norwegian Heritage Center in Stoughton, Wisconsin. There are so many beautiful objects and fascinating stories—I want to try to share them all!
I've shared several of the stories from our collection through PieceWork. In the January/February 2018 issue, I wrote about what was once a common garment in rural Norway, the lugga, or slipper sock. I love research, so the entire project was great fun, but as is so often true, the very best part was the people. For a few hours, I was a member of a Minnesota family that has grown up with these socks. Words cannot adequately describe the incredible warmth and hospitality they shared, along with sock stories.
I've been fortunate to be able to travel to Norway as part of my job and have developed a network of textile scholars, artisans, and professional artists. Everyone has been so generous with their knowledge and encouraging to me and other Americans who are interested in learning more about historic and living traditions. I count these Norwegians (and Americans and Canadians) as fiber friends. Only friends would be so supportive and helpful. They are quick to share in your enthusiasm and equally quick to help you on to a discovery.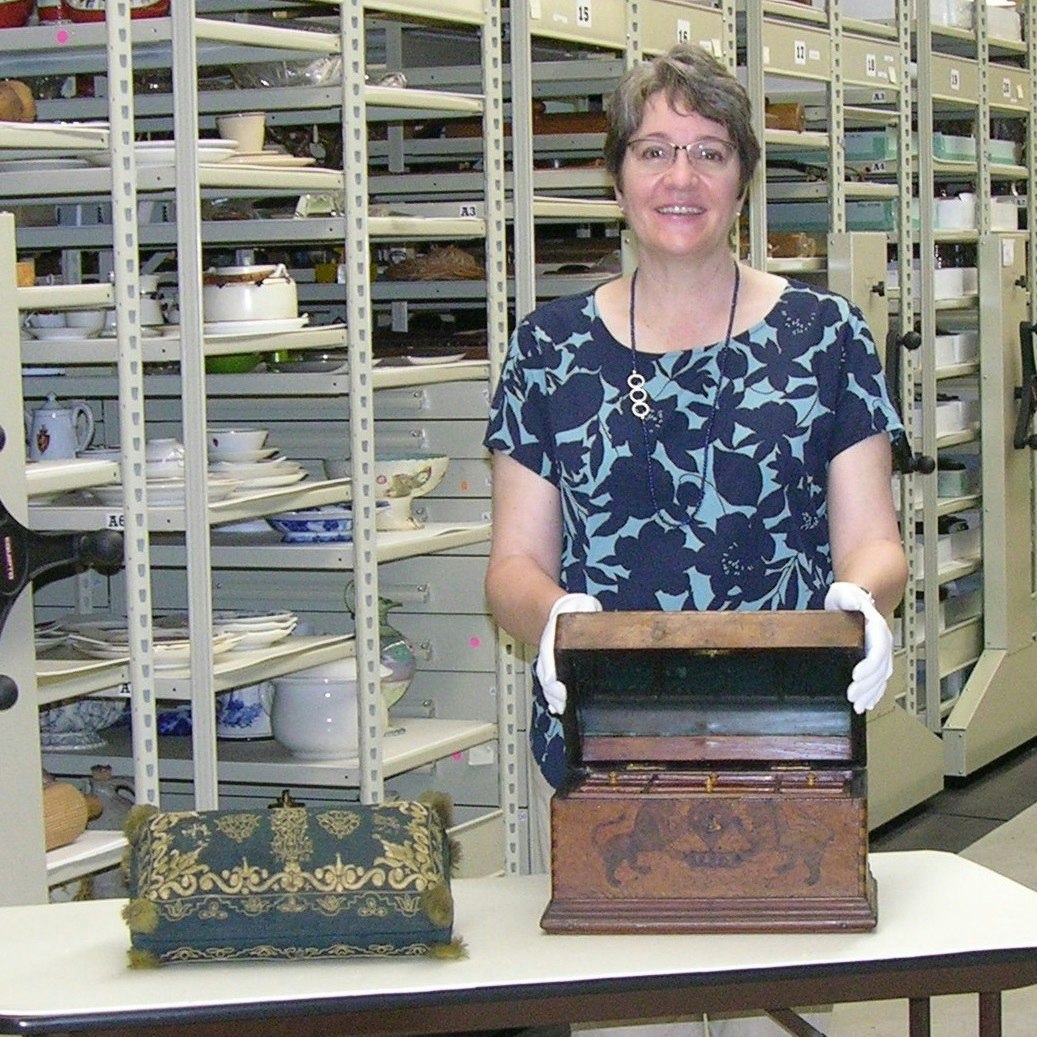 Do you have needlework hobbies?
Inspired by some of the techniques that I see in the objects here at the museum, I've tried some weaving, knitting, and embroidery. You have a different perspective on textiles once you've tried to create them. I'm not always successful at learning the techniques, but I'm always glad I've tried them. I especially enjoy taking classes to learn from the experiences of the teachers and from the other students. So, I consider myself a "trier" more than a "maker."
What is your favorite thing about needlework and textiles?
One textile object, even a simple one, can tell us so much. We can learn about the plant or animal from which the fiber was made, the techniques used to create the object, the purpose of the object, and what that object meant to the people who made and used it. But for me, the most interesting thing is that you can explore all of that from just one object. And you can reflect on all of that, and your place in the larger story of textiles, as you create your own projects. There is no end to the interesting things that you can enjoy and learn.
We also connect to textiles and through textiles. Several years ago, a small group of knitting friends came to the museum to see a pair of gloves, which were re-created by Nancy Bush for the November/December 2008 issue of PieceWork. The gloves in our collection had been worn by a bride on her wedding day. (We also have the groom's gloves, which came to the museum at a different time and from a different branch of the family.) One of the knitters became quite emotional when she saw the artifact gloves. She hadn't just knit a pattern in a magazine; she had connected with another knitter and wearer, though separated by many years and the Atlantic Ocean.
Textiles connect us to each other and to the past and give us opportunities for endless exploration into the future. Their beauty and personal stories are timeless and universal.
To learn more about Vesterheim Norwegian-American Museum, visit vesterheim.org.
This article was published in the Winter 2020 issue of PieceWork.