How did you become a needleworker?
I have had a lifelong passion for textiles. I don't remember learning to sew. It is just something I learned at my mother's knee. When I was seven, we moved from the farm to town, and then, my textile world became larger. The oldest of four children, I liked to escape from our small house and young children, and I often spent time with two different neighbors. Hilda taught me to embroider and crochet. I will never forget her words when I cut a yard-long piece of embroidery floss and tried to work with it. "The turtle won the race," she told me. After that, the rule was eighteen inches of thread. Thelma introduced me to the spinning wheel and weaving. How I loved to watch her great wheel go around in the morning sunlight in her white-washed studio. My mother knit incessantly, both out of necessity and for her sanity. She didn't, however, have much luck teaching me to knit, but I did learn as a fourth grader in 4-H.
Looking back, I can see that I was curious. In high school, I learned hairpin lace, broomstick lace, bead weaving, and macramé. I sewed my own clothes (and wore them proudly), teaching myself how to make flat-fell seams and French buttonholes. I began collecting antique textiles at age twelve. As an adult, I dabbled in bobbin lace, tatting, rug hooking, and even tried net making for needlework.
This mishmash of experiences has given me the perfect background for being a museum textile specialist. I understand the construction of artifacts, which means I can figure out how to fix them. However, that is only part of the responsibility of working at a museum. You also need to know how to clean, when to conserve, when to repair, and when to do nothing because doing something could cause more harm.
How did you come to volunteer at The Henry Ford?
I have owned a textile shop for twenty years, and I started working at the museum eight years ago. I had been daydreaming about studying textile conservation in England. Since that wasn't going to happen, I thought long and hard about how I could achieve that dream in some way locally. I decided to send an email to Fran Faile, the textile conservator at The Henry Ford, and ask if she would take me on as an apprentice. To my delight and surprise, she said yes.
I was very fortunate to work with Fran for four years before she retired. Now, I work under the guidance of Mary Fahey, our head conservator, who has helped me learn more about the conservation side of the job.
Tell us about your duties and volunteer work at The Henry Ford.
One of the things I like best about my time at the museum is that there is no typical day. I have sewn the leather belt on a printing press, repaired a flag on President Kennedy's limo, stitched beads onto a Dior evening gown, vacuumed many carpets, repaired hooked rugs, sewn yo-yos back into quilts, darned a whole-cloth coverlet, mended a crocheted wool table covering from Henry Ford's home, restored embroidery on a caramel-corn store uniform, and learned to dress mannequins.
Another facet of the job is working with textile display cases in the museum. Our goal is to have textiles on view for no more than three to four months at a time so as not to damage the artifacts. Dressing the mannequins for display is challenging. All of our mannequins are the same model, but the clothes and undergarments evolve over the years. So, the mannequins must be modified to fit each garment, and that process can take a day or more. Because garments are fragile, we measure them carefully, then pin, sew, stuff, and pad the mannequin to get just the right fit. But in the end, it is very rewarding to see the garment come to life.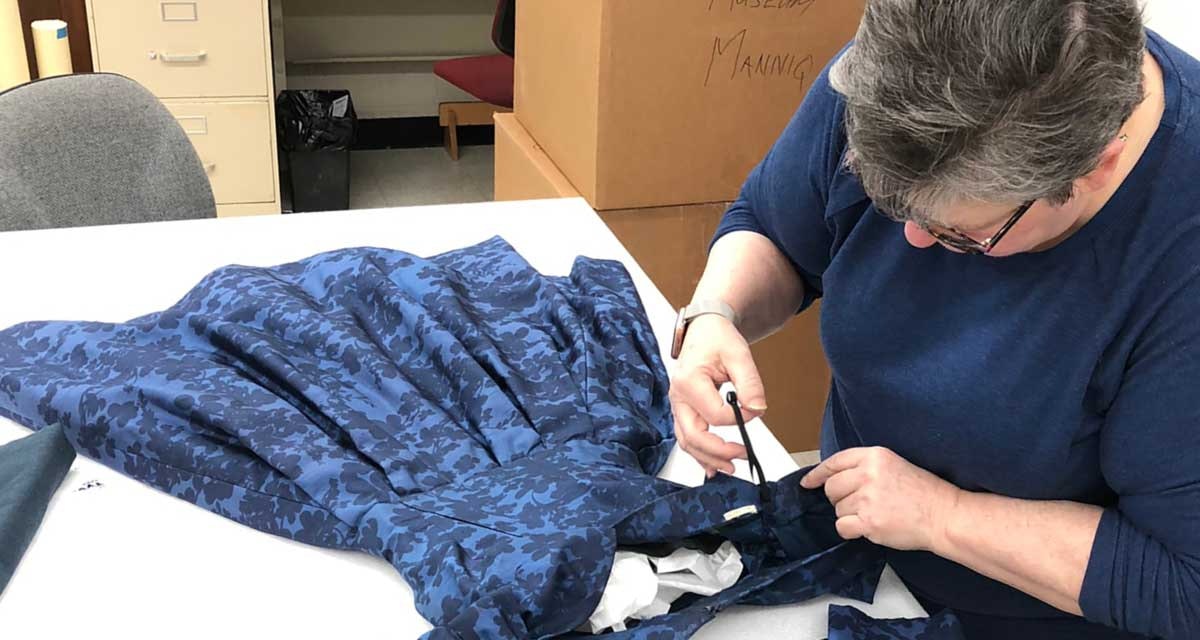 What is your favorite part about volunteering at The Henry Ford?
One of my favorite parts of museum days is simply walking into the museum. The lights are dim, it is empty save for a few workers, and if the floor has just been buffed and polished, you can smell wax and history. The herringbone teak floor of The Henry Ford covers more than eight acres and has been the largest expanse of teak in the world since it was installed in 1934. The conservation department is buried deep in the back of The Henry Ford, past trains, generators, a diner, hotel rooms, cars, aviation artifacts, and oodles of objects that like to draw you in.
Do your volunteer work and your needlework hobbies ever overlap?
An unexpected result of my museum work is that I have learned so much more about vintage and antique textiles. I read more about them, have become better at dating them, and have studied how to create them. My personal collecting has become more focused, and I enjoy looking for examples of different techniques. Of special interest to me are rickrack-embellished items and feed-sack objects. Kitschy, yes, but they make me smile, and they represent the lives of common and creative everyday people. Because I have learned more working at the museum, I have been able to share my collection and a bit of its history with other fiber lovers at conferences, guild meetings, and library presentations.
To learn more about The Henry Ford Museum of American Innovation, visit www.thehenryford.org.
This article was published in the Fall 2020 issue of PieceWork.