One winter evening in Ireland in the mid-1600s, a farmer sat down to supper with his wife. On the table, as was customary in that time and place, sat a large pot of tea. As the farmer reached across the table to help himself to his meal, his hat fell off, landing over the teapot. Later, when he removed the hat to pour himself a cup of tea, he discovered that the tea was still hot. Delighted, his wife decided to make a cover for the teapot that would keep the tea as warm as her husband's hat had. Her invention became the first tea cozy.
Or so legend has it—though the story is widely believed, it is unverifiable. The first documented use of a tea cozy occurred in England in the 1860s, a period when afternoon tea was at the height of its popularity.
In Victorian England, teatime became a fashionable ritual complete with fine porcelain or silver tea services and lavish table settings. Tea cozies were valued not only for keeping the tea at the proper temperature (180°F) but as an element of these accoutrements. From a simple quilted dome that covered the entire pot, cozies evolved in every direction. There were jeweled fabric cozies with lace trim, painted cozies, beaded cozies, themed cozies. Even porcelain dolls were made with heavy skirts to serve as cozies. By the mid-twentieth century, as industry became a popular theme for all types of art, tea cozies took on the shapes of automobiles, airplanes, and even toasters.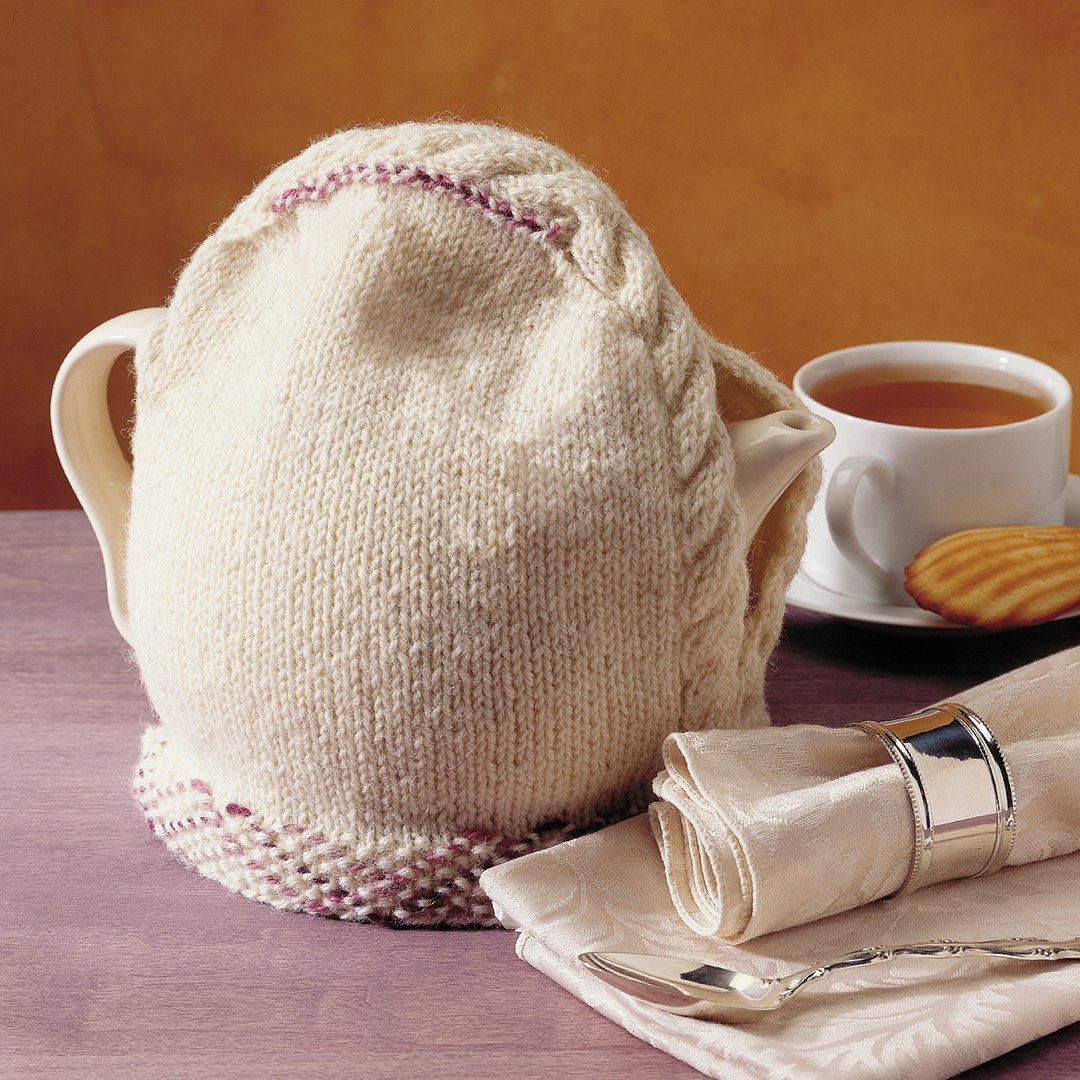 A Victorian Tea Cozy to Knit, designed by Dorothy Ratigan
Whatever their shape, tea cozies are always made from thick, insulating materials. Most handmade ones have been knitted or quilted, with embellishments in every decorative technique, including crochet, embroidery, and beadwork.
Two Main Styles
Of the two main categories, one, sometimes called a "bachelor cozy," is made to fit snugly over the teapot and has holes for the handle and the spout. The cozy need not be removed before pouring out the tea, a design feature thought to be attractive to "lazy" bachelors.
The other style is simply a dome large enough to fit over the entire teapot. These cozies can be used with almost any teapot regardless of its shape. Because they are removed before the tea is poured, they are less likely to become soiled than the bachelor cozy.
Tea cozies are still important accessories to the gracious pastime of taking tea. Antique ones are highly prized by collectors and can be difficult to come by. But as long as needleworkers continue to create new cozies stitched in a variety of techniques, this legendary innovation of the Irish farmer's wife will continue to add original touches to tea tables everywhere.
Looking for a pattern to make a tea cozy? See Dorothy Ratigan's companion pattern in PieceWork September/October 1999 issue.
Also, remember that if you are an active subscriber to PieceWork magazine, you have unlimited access to previous issues, including September/October 1999. See our help center for the step-by-step process on how to access them.
Jennifer Hermes Nastu is a former marketing manager at Interweave Press and a confirmed tea drinker and cozy user.
Originally published October 14, 2020; updated September 9, 2022.