For many centuries, lace has been prized for its exquisite beauty and fineness. Its popularity and value sparked interest in alternatives to true lace that still retain its airy appeal. In the May/June 2010 issue of PieceWork, Mary Polityka Bush introduced us to the charms of Dresden lace embroidery. Here's Mary with more on this form of lacy counted-thread whitework:
The technique known variously as Dresden lace embroidery, point de Saxe, Dresden point, toile de mousseline, or simply Dresden lace, originated in Dresden, the capital of Saxony, which is located in the southeastern part of present-day Germany, in the seventeenth century.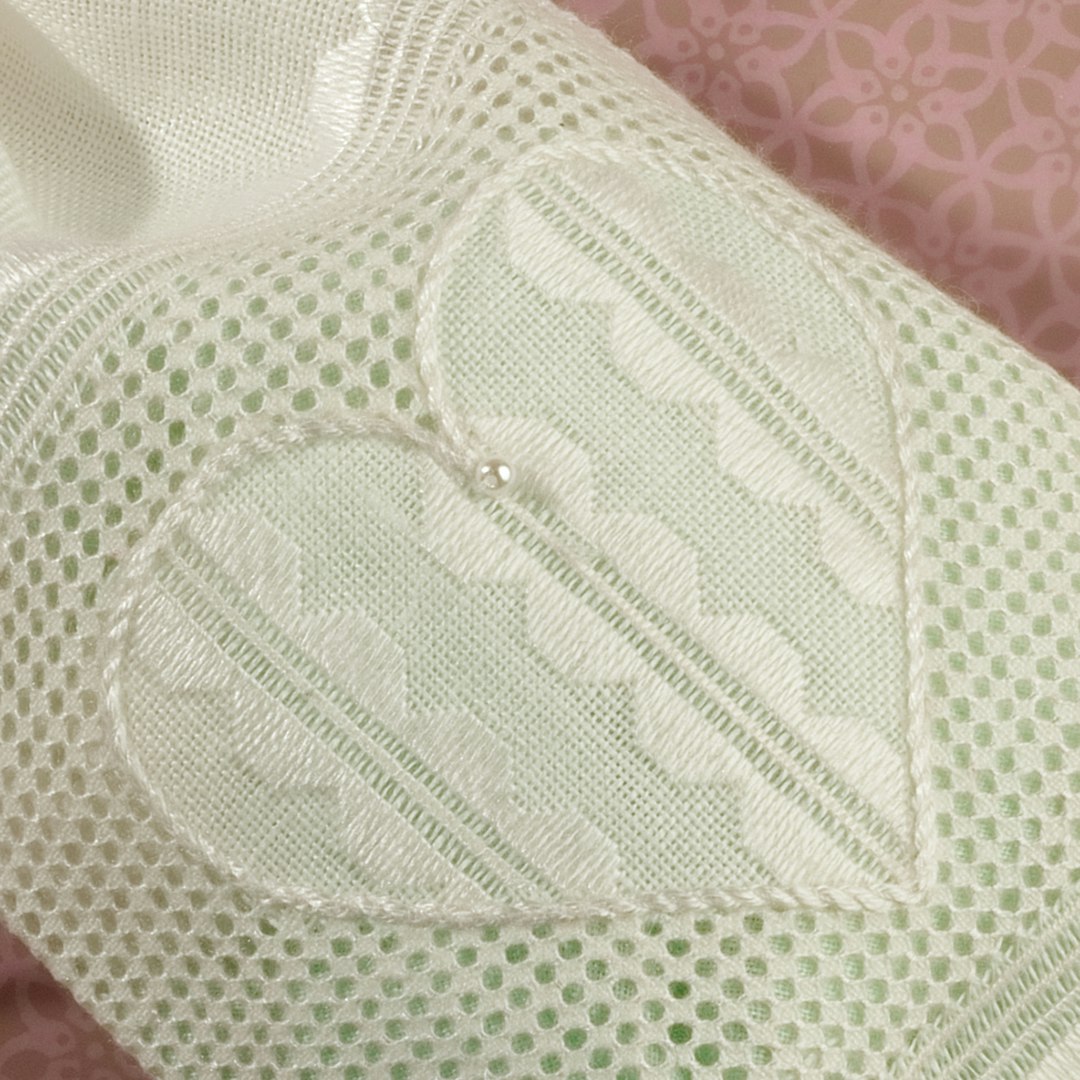 This small project is a wonderful way to learn the technique!
It is worked on very fine evenweave cotton, silk, or linen fabrics such as cambric, lawn, muslin, and batiste having thread counts as high as 100 per inch (about 39 per cm). Typical motifs are comprised of rococo flowers and foliage in concert with flowing ribbons and scrolls. Although counted and outline stitches such as chain, stem, and couching play significant roles, the technique's distinguishing feature is its variety of airy pulled-work filling patterns. Some consider Dresden lace the pinnacle in the art of pulled work. (To create lacy open spaces in pulled work, fabric threads are drawn together in fixed multiples; to achieve similar effects in drawn-thread work, fabric threads are cut and removed.)
Although a worthy alternative to true lace, Dresden lace embroidery was not inexpensive due to the intensive labor and amount of time required to create each piece. Needleworkers, who labored for years in the dimmest light, suffered severe eyestrain, even blindness.
Looking to learn more lace techniques? This project and others can be found in the May/June 2010 issue of PieceWork.
Also, remember that if you are an active subscriber to PieceWork magazine, you have unlimited access to previous issues, including May/June 2010. See our help center for the step-by-step process on how to access them.
Mary Polityka Bush of Piedmont, California, learned to sew, embroider, and knit from her multitalented mother. Mary now designs, teaches, and writes about needlework and enjoys transforming vintage linens into objects for contemporary use.
Originally published December 4, 2018; updated July 7, 2023.