My fondest Memories of youth were dress-up days, when I'd open a closet to reveal beaded dresses and soft velvet coats hung beneath boxes filled with feathered, bowed, and bejeweled hats; tiny, elegant handbags carefully wrapped in tissue paper nestled in the scented "dainties" drawers among embroidered handkerchiefs and plush blue velvet jewel boxes. Today, I'm a teacher, collector, and lecturer on wearable art. I learned embroidery at the age of seven from my mother; it is a skill that I continue to develop and use for many of my creative expressions. I still use my first embroidery project, a small tote bag that my mother designed for our group of Blue Birds (the junior program of the youth organization Camp Fire). My predilection for needlework also is obvious from my collection of vintage handbags from France, Brazil, and Asia.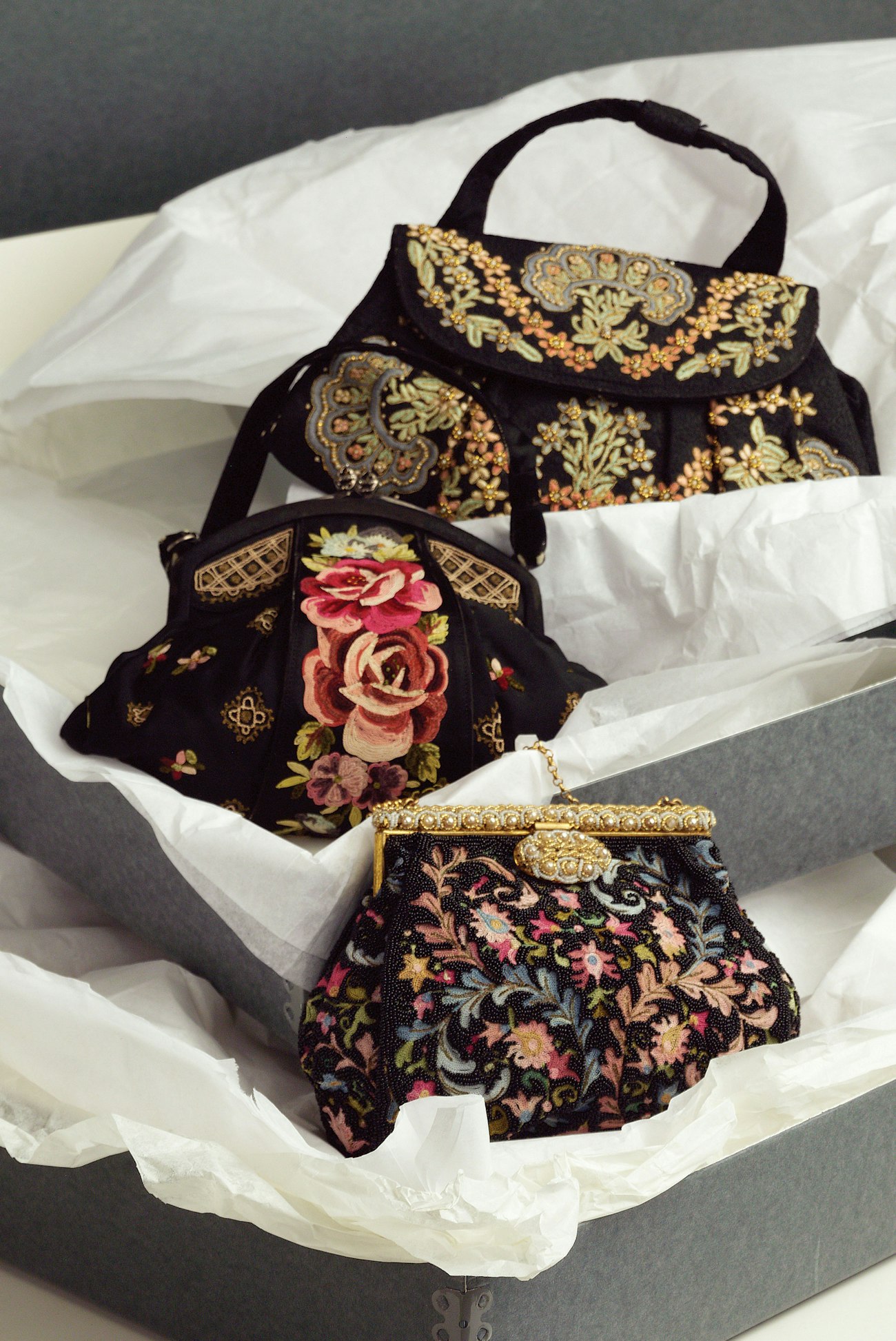 TOP TO BOTTOM: Marketa handbag. Commercially made; label inside reads: "Praia Botafogo 518, Rio de Janeiro, Brazil." Machine-stippled, machine-embroidered, hand-stitched beads. Silk faille with satin lining; cotton threads; beads. Rio de Janeiro. Late 1930s. Handbag. Maker unknown. Tambour-embroidered. Silk; silk and chenille threads. Possibly France. 1910–1920. Bag was probably hand-embroidered by a professional and sent out to be framed; the lining is missing. Point de Beauvais handbag; label reads: "E. Brunin 32 Av. De L'Opéra Paris." Tambour-embroidered. Cotton threads, glass seed beads, satin lining. Paris. 1940s. All objects from the collection of the author. Archival storage boxes courtesy of the Fort Collins Museum, Fort Collins, Colorado.
During the 1920s and 1930s in particular, Parisian fashion houses produced extravagant embroidered garments and accessories. Their handbags included some with ornate or detailed frames set with semiprecious stones, cloisonné, or glass, pierced metalwork, or wire-attached beads. Many of the accessories made to tuck inside the bag were created with just as much attention to detail, such as an embroidered coin purse and embossed leather compact case belonging to my grandmother.

Details of the three handbags shown above
A characteristic technique of the French bags in my collection is tambour embroidery, in which a thin needle much like a crochet hook is used to form a continuous chain stitch. Most tambour-stitched pieces were worked with single strands of cotton floss, twisted silk, metal, or fine silk chenille threads. Even though the stitch itself is simple, the choice of threads and the intricate shading created elaborate and beautiful designs.
Tambour embroidery, which probably originated in China, takes its name from the French word for "drum," tambour, and refers to the need to stretch the ground fabric taut in a frame for stitching. With the thread held underneath the stretched fabric, the hooked needle is stabbed down through the fabric, where it catches the thread, then is brought back through the same hole, forming a loop. Each subsequent stitch is formed a short distance from the previous one, catching the loop of the last stitch at the beginning of the next. Tambour embroidery also may be used to couch beads or sequins to the surface of a fabric. In this case, it is worked with the wrong side of the fabric facing up and the chain stitches placed far enough apart to catch the thread upon which the beads are strung between every third to sixth bead.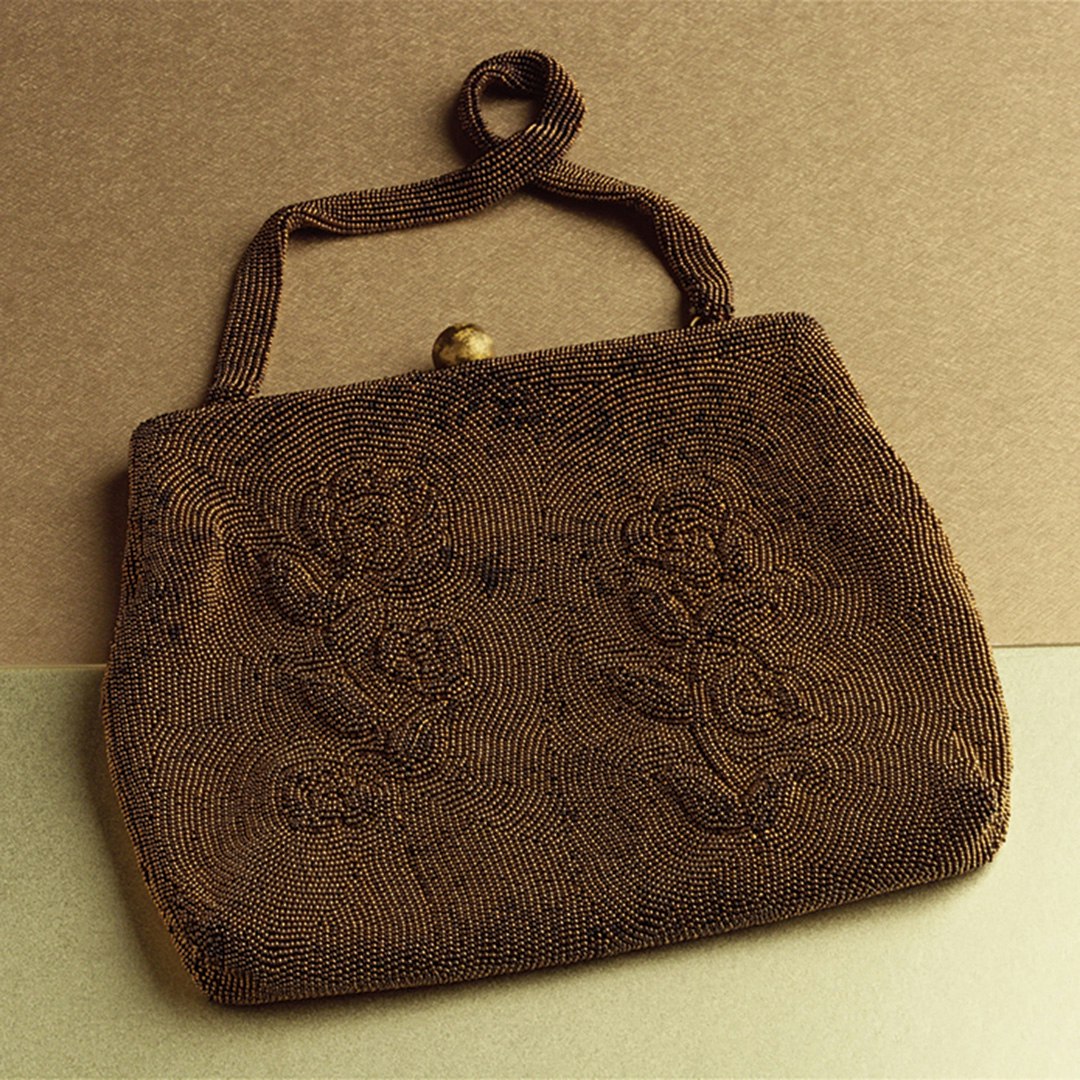 Handbag manufactured by Walborg. Tambour-embroidered. Glass seed beads. Belgium. 1940s.
One of the oldest bags in my collection is black silk, circa 1920, on a double frame encrusted with marcasite, a mineral with a metallic luster; the outer frame has a smaller frame attached to the inside for a cloth coin purse, but the coin purse is missing. Tambour-embroidered roses and peonies worked with silk and chenille threads cover a flap from the same silk fabric that runs from the top center around the bag. The body of the bag bears minute tambour-embroidered geometric and floral designs in mauve, lavender, blue, pink, wine, and cream.
Several of the circa-1930 French handbags in my collection were stitched in point de Beauvais, a technique that incorporates both thread and bead tambour embroidery. Typically, the design is a floral pattern worked with pastel silk threads echoed by either black or white glass seed beads. Two of the bags have a simple chain handle attached to an ornate cloisonné frame encrusted with glass beads. Other embroidered bags that were made in France during the 1940s and 1950s, including one that my mother bought there, are tambour-embroidered with the same intricate designs as the point de Beauvais bags but are attached to less ornate frames. Tiny floral tambour-embroidered motifs also grace a clutch, a small black satin coin purse, and a pair of black suede gloves in my collection. (Most of my French handbags are of black satin, but occasionally I see examples in chocolate brown bengaline or cream satin.)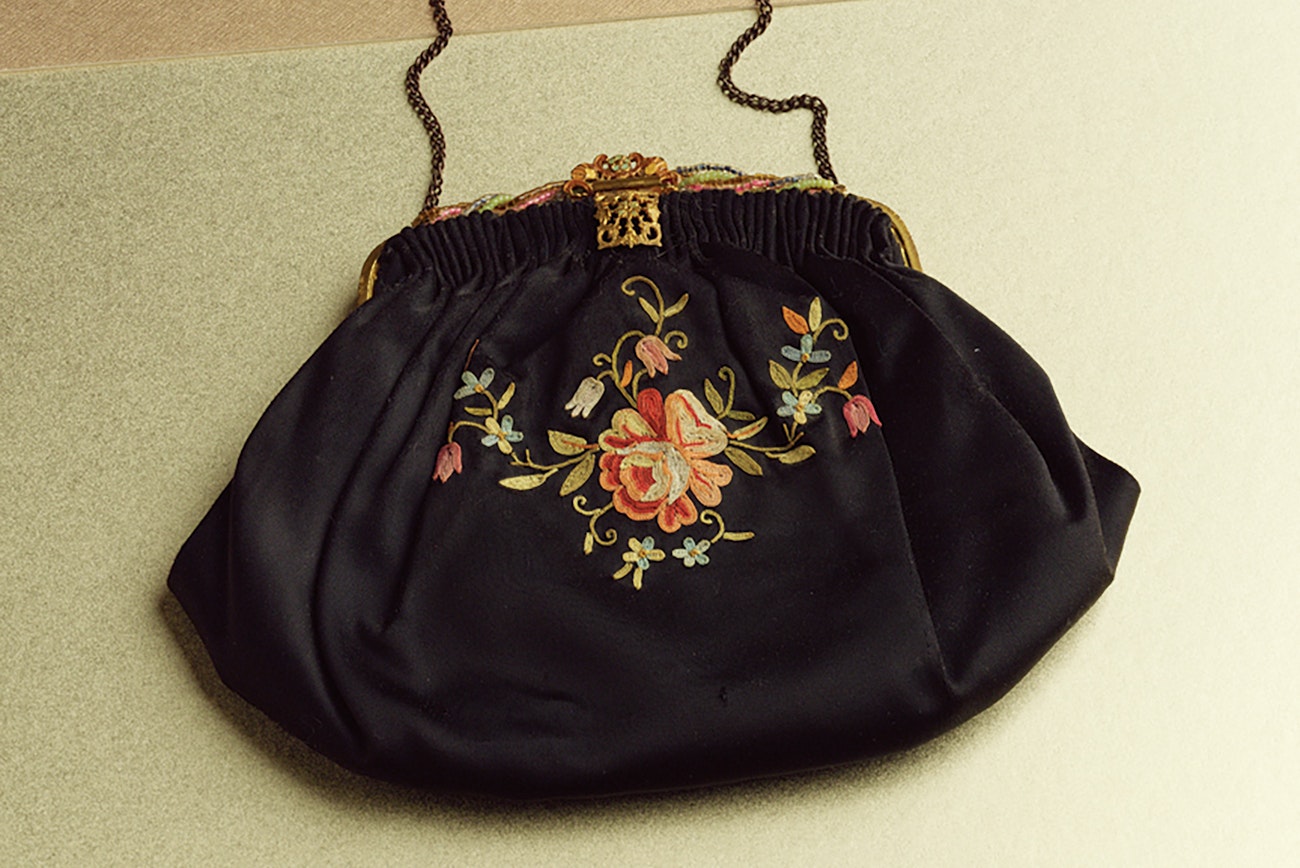 Handbag. Commercially made; no label. Tambour-embroidered. Satin with satin lining; cotton threads. France. 1940s–1950s.
I have some small, hand-embroidered evening bags from China that date to the early 1920s. The asymmetrical designs on silk bengaline and felted wool fabrics are executed expertly in silk threads with the occasional addition of couched gold thread details. The polychromatic floral images are carefully shaded and worked in outline and satin stitches and Chinese knots. The bags have ornate, double-hinged filigree brass frames encrusted with real turquoise and coral stones; one has a fabric-backed mirror attached to the seam of the lining.
Two hand-embroidered silk clutches and a small coin purse that date between 1930 and 1950 are from Japan. One clutch is made from red silk shantung attached to a chrome frame. An outdoor scene is worked in white silk with a sprinkling of black threads, using satin and outline stitches. The other clutch is black silk satin with flowers surrounding images of a dragon on one side and a phoenix on the other. The colorful designs are worked in satin and seed stitches. Both clutches are lined with satin, and each has a small interior pocket.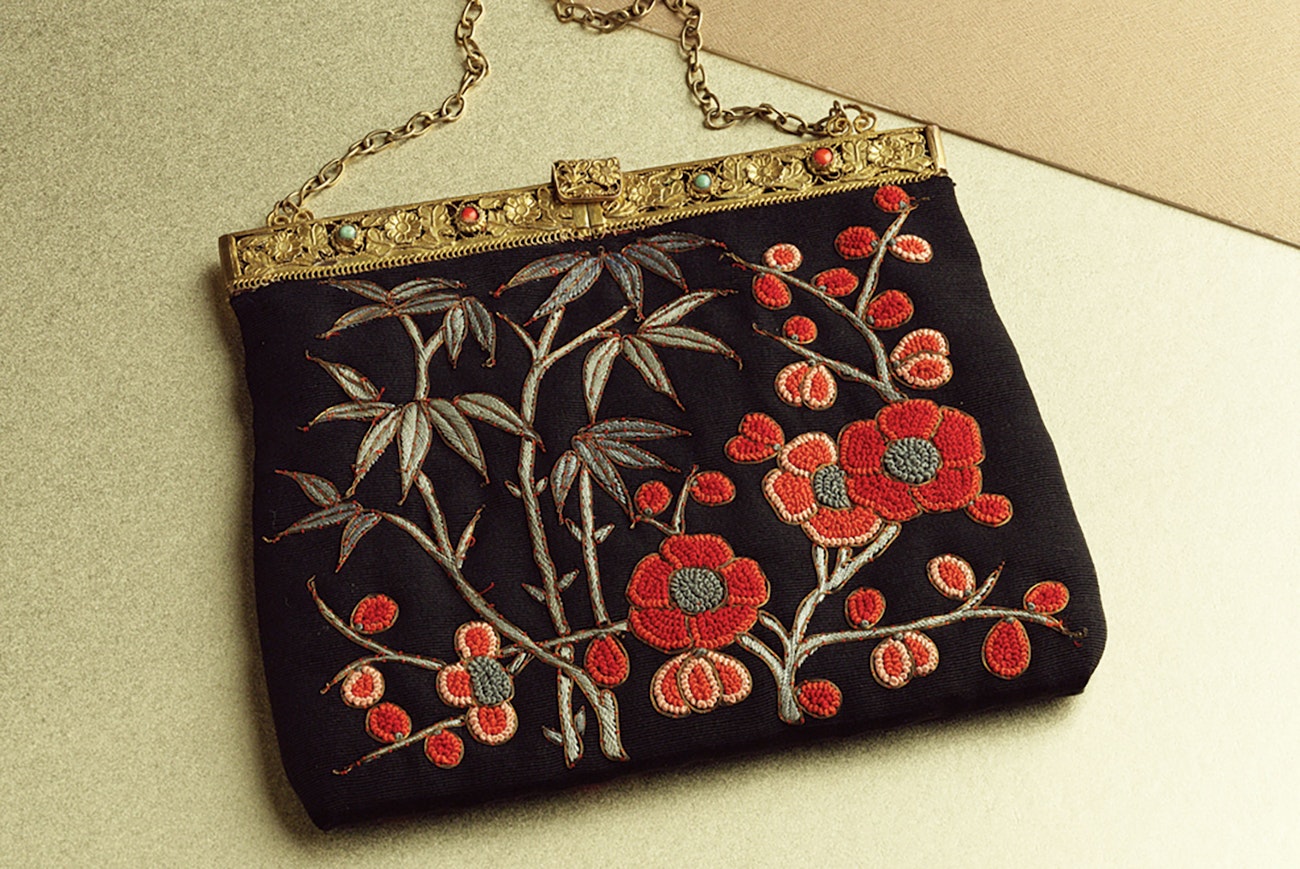 Handbag. Commercially made; no label. Hand-embroidered. China. Circa 1930.
My collection also includes several machine-embroidered handbags created by the Marketa design house in Brazil between 1930 and 1960. The oldest Marketa bag is made from a black, machine-stippled silk crepe. The delicately stitched floral designs are worked in faded blueberry, celadon, maize, and salmon accented with handstitched small pearl and bronze glass beads.
Marketa bags were available only through the company's showroom on Praia Botafogo 518 in Rio de Janeiro. Over the years, Marketa created several unusual handbag styles, including a shortened clutch, a square with rounded corners, and an elongated oval with a handle that slips through a slit in the flap to secure the contents inside. The bags (earlier ones were of silk, the later ones of vinyl) were offered seasonally in cream or black. The surface of each bag, including the handle, is entirely machine-embroidered with a design of flowers, leaves, and the occasional butterfly. All of the bags are lined with moiré fabric and have a label stitched to the inside pocket. Many of the vinyl handbags were sold with accessories such as a matching eyeglass case or coin purse.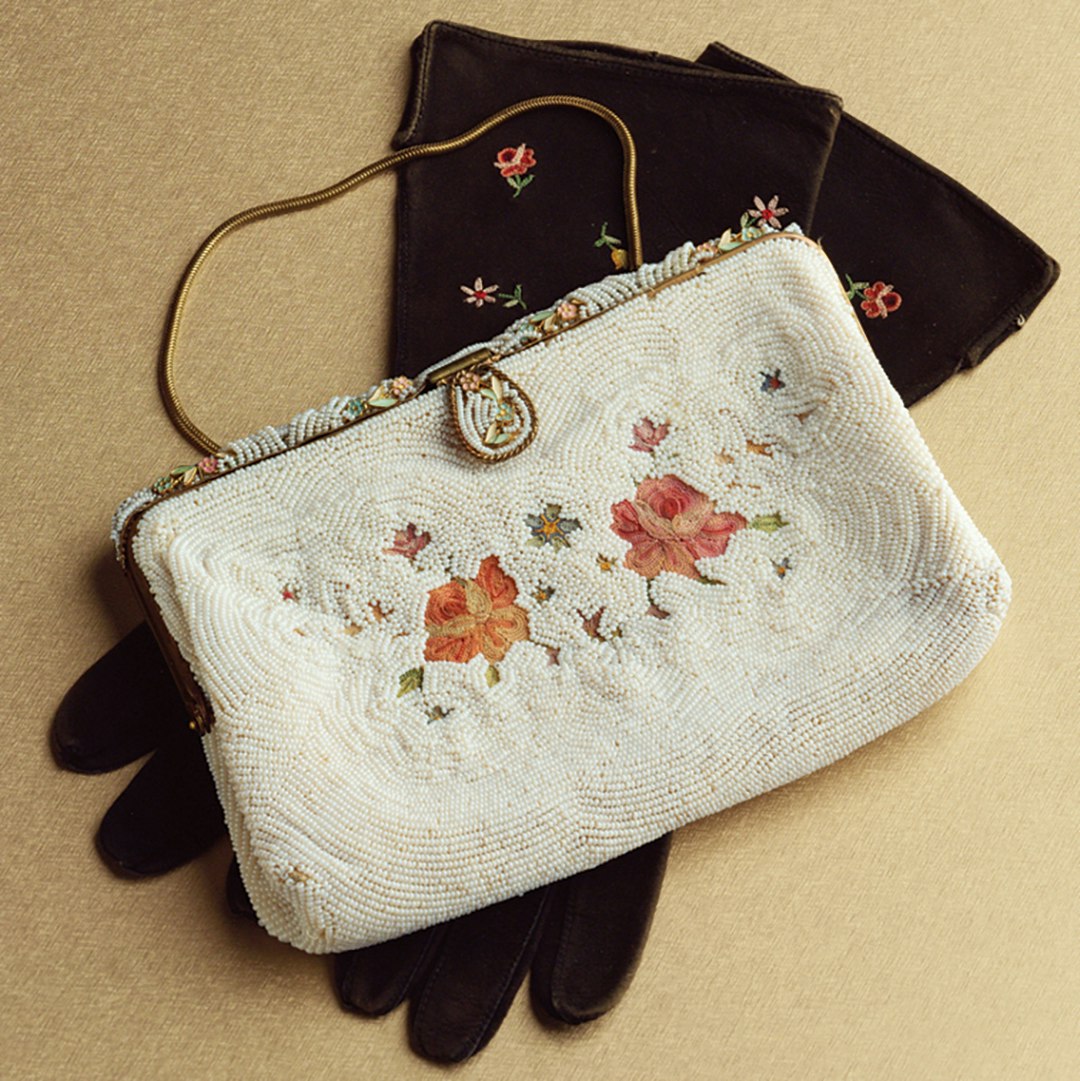 Point de Beauvais handbag manufactured by Walborg; label reads: "hand made in France real Point de Beauvais." Tambour-embroidered. Cotton threads, glass seed beads, satin lining. Paris. 1930s. Suede gloves. Tambour-embroidered. Origin and date unknown.
For me, the research, the quest, and the acquisition have been the joys of collecting these handbags from the past. I started with a few pieces handed down from my mother and grandmother. Even though I have amassed a fairly substantial—100 and counting—collection, I still look forward to my monthly "thrift-shopping treasure haunts." A wonderful bonus is that my twenty-five-year-old daughter, who collects vintage jewelry from the 1930s, now enjoys accompanying me.
Tips for Beginners
Before you begin a collection of your own, whether it be of handbags, lace, linens, quilts, or garments, I suggest that you first research the periods and styles that interest you the most. A wealth of information is available in books, magazines, and online. An understanding of what was available in each era will help you date your find, determine whether it is an original or a reproduction, and whether the marked price is fair. Look for vintage pieces at estate and garage sales, swap meets, thrift stores, and antique malls, as well as online. Keep in mind that an object found at a thrift store may be priced to sell but may have been discarded because of its poor condition; a similar object found at an antique store may be in better condition but will have a correspondingly higher price tag.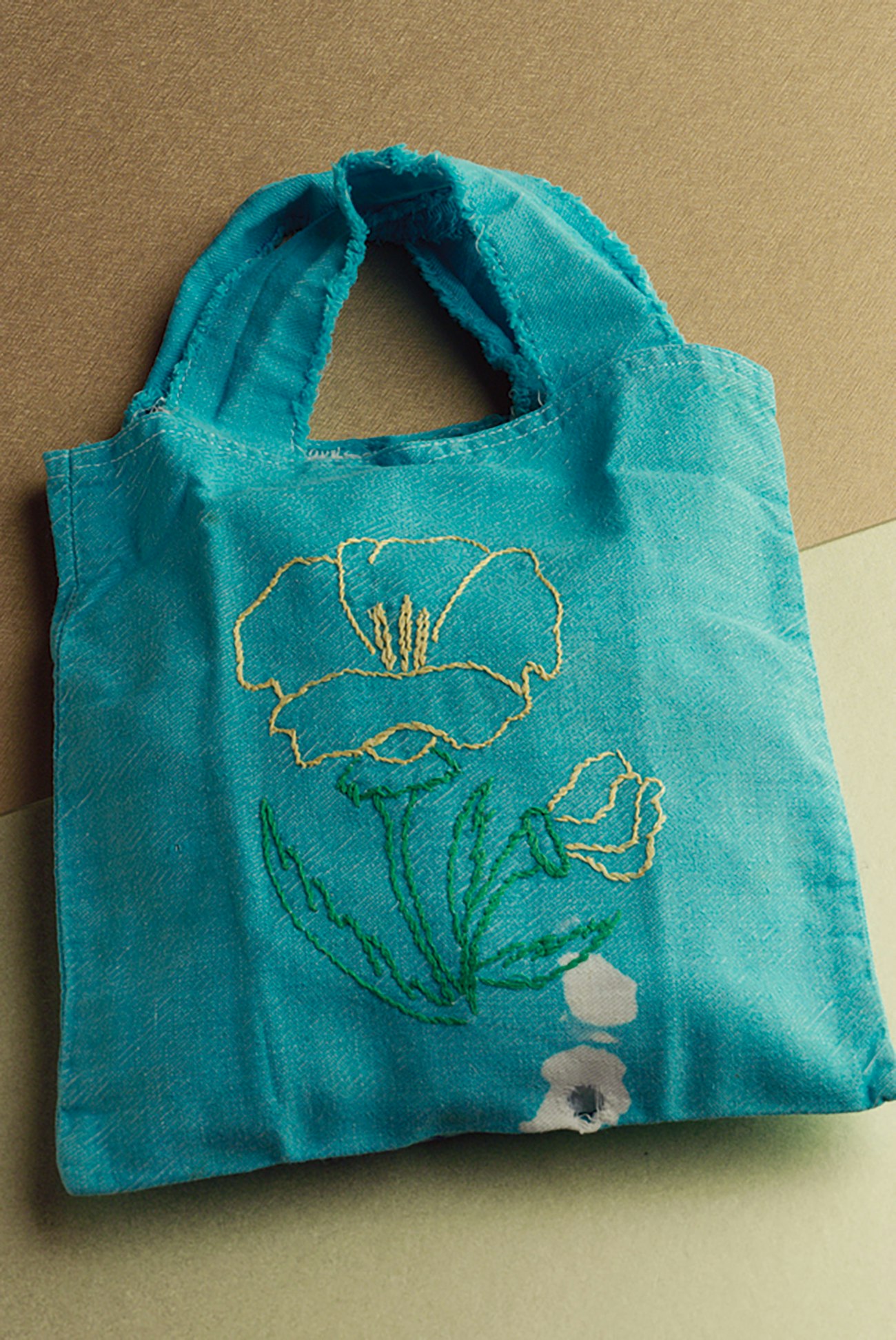 Tote bag designed and assembled by Evelyn Swartz, the author's mother; hand-embroidered by the author. Cotton broadcloth, cotton floss. California. 1963.
This article was published in the November/December 2007 issue of PieceWork.
Also, remember that if you are an active subscriber to PieceWork magazine, you have unlimited access to previous issues, including November/December 2007. See our help center for the step-by-step process on how to access them.
Resources
Bags. Amsterdam: Pepin Press, 2005.
Ettinger, Roseann. Handbags. Atglen, Pennsylvania: Schiffer, 2003.
Fukai, Akiko. Fashion: A History from the 18th to the 20th Century. Cologne, Germany: Taschen, 2005.
Grafton, Carole Belanger, ed. Shoes, Hats and Fashion Accessories: A Pictorial Archive, 1850–1940. Mineola, New York: Dover, 1998.
Johnson, Anna. Handbags: The Power of the Purse. New York: Workman, 2002.
Peacock, John. The Complete Fashion Sourcebook. New York: Thames & Hudson, 2006.
Schwartz, Lynell. Purse Masterpieces: Identification and Value Guide. Paducah, Kentucky: Collector Books, 2004.
The Fashion Book. London: Phaidon Press, 1998.
Christen Brown is a needlework designer, retailer, and author. Visit her website at www.christenbrown.com.
Originally published September 30, 2020; updated May 9, 2022.