Editor's Note: If you've been following our series on author, knitwear designer, and amateur historian Sheena Pennell's mission to re-create and adapt several pieces of Eleonora di Toledo's wardrobe, in addition to the "why" and "how", you'll also be interested in the factors Sheena considers as she embarks on this fascinating undertaking. (Read all of Sheena's previous articles here.)
The Eleonora Project is my attempt at making both faithful and updated reproductions of historic garments that were actually worn in the 1530s–1550s. It's a massive undertaking, but it's one that is doable, even by novice or new knitters, crocheters, or sewists. Your own situation might be different and may require other considerations (such as a specific deadline), but for now we'll start with four basic questions to ask yourself as you consider re-creating a historic garment or other historical project:
What was the original made of?
What is the intended end use of my project?
What is accessible to me?
What are the best materials I can afford (What is my budget)?
What was the original made of?
If you want an accurate representation of a historic object, you need to know what the original item was made of. Was it linsey-woolsey? Thread wrapped in hand-hammered precious metals and strung with pearls? Many fabrics simply don't exist anymore—perhaps the weave has gone out of fashion and is no longer produced, or a thread weight doesn't work well in machines and was discontinued. Given these considerations, will you plan to spin and weave your own, or will you look for the closest commercial alternative that's available on the market?
What is the intended end use of my project?
Modern life is very different than it was 400—or even 40—years ago. Is this an item that will be for display only? Or used as a teaching tool (in which case you may want to re-create it as close to the original as possible)? If your object is intended for daily use—such as the stockings in the Eleonora Project—consider changing the materials, structure, or size of the item in order to fit you, so it's easier to care for or repair, or so it will hold up better for your lifestyle.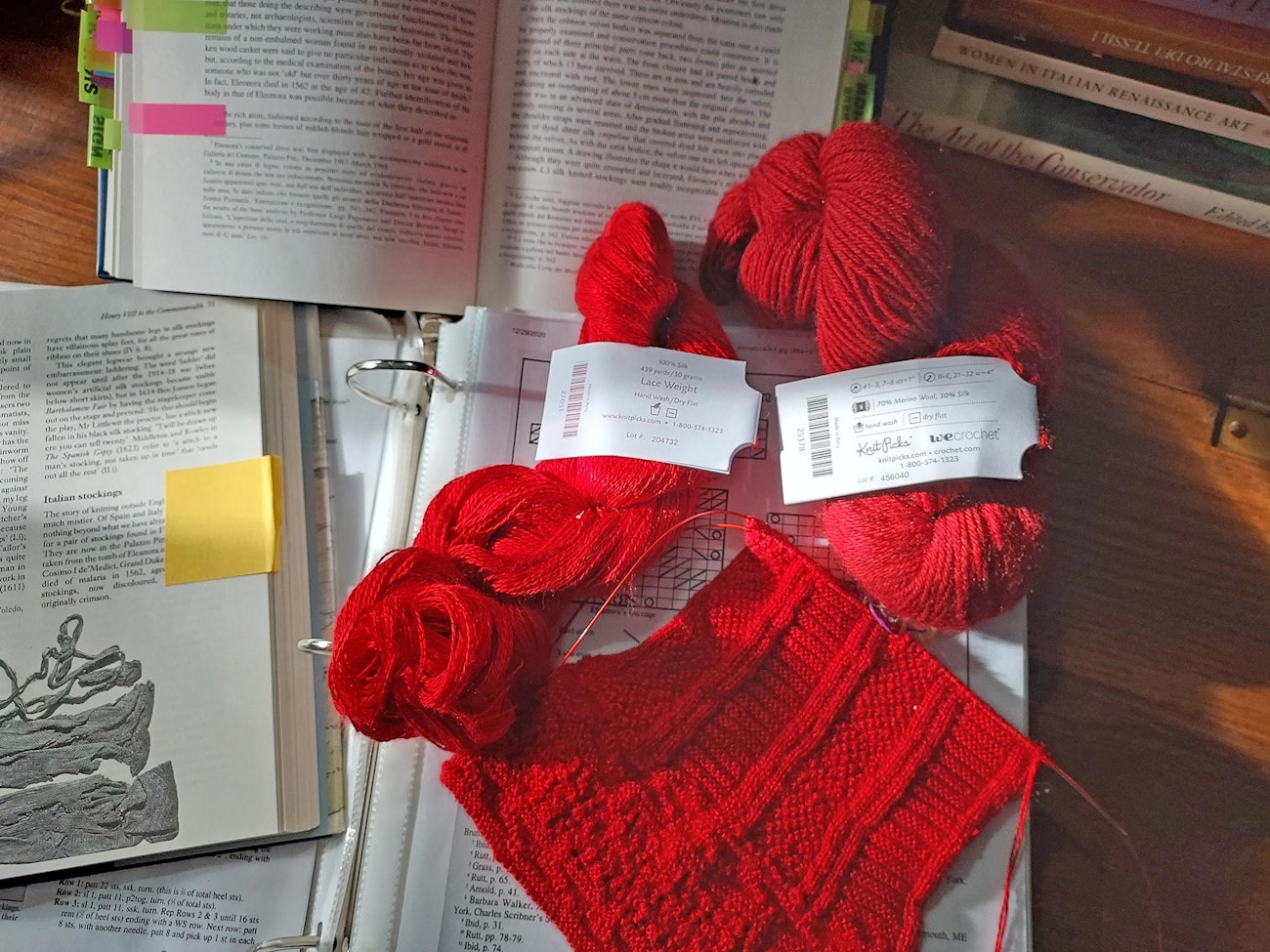 The author's current progress on the knitted stockings is shown beside some of her research materials and notes. Courtesy of Sheena Pennell
What is accessible to me?
Consider what types of materials you'll be able to get your hands on. This might mean "What does my local yarn shop carry?" Or it might mean "What can I order from overseas and receive in a reasonable amount of time?" Or perhaps it might mean something completely different, for example, working around fiber allergies or the aforementioned discontinued fabrics and threads.
What are the best materials I can afford?
This last question brings everything together. Your chosen project might be a silk counterpane from the court of Henry VIII, but you may be working on a limited budget. How might the project change if you put the bulk of your budget toward the silk backing and use regular embroidery floss instead of silk thread for the motifs? Will it bother you if you have to compromise even more, and order, say, a poly-rayon blend for the base?
When making a reproduction of a historic garment it's always best to use the highest quality materials you can afford, both so the end project looks its best, and so it holds up better and longer over time. If you aren't willing to compromise on materials, then the project may need to be delayed or worked in phases so you can purchase the desired materials as funds become available.
This is just a basic starting point of things to consider when creating reproductions of historic projects and patterns. And keep in mind that the answers might be very different when comparing the needs of a 1940s knitting pattern to those of a 13th-century tapestry. Start with what you know, and research the rest.
Sheena Pennell is the author, editor, knitwear designer, and amateur historian behind KnotMagick Studios. She has studied art conservation with an emphasis on textiles in Florence, Italy. The Eleonora project is based on a portion of her thesis, which focused on the challenges facing conservators working with burial garments.