Are you as curious as we are about nålbinding? This fascinating Scandinavian knotless looped yarn technique predates knitting and crocheting. It takes its name from the Danish nålbinding (literally translated as needle binding). In this excerpt from Spin Off Summer 2019, Penelope Hemingway shares some of the history of this ancient craft.
Looping around the Globe
One of the earliest known nålbound items, a textile fragment dating from 10,000 years ago, was found in a cave in Nahal Hemar, Israel. Researchers found that the fragment was made from plant fibers and human hair. Another early example of nålbinding is a fragment found at Friesack, Germany, dating to around 7,750 BCE. Close inspection shows that the two-ply yarn used was bast fiber spun S (left) and plied Z (right). Several other Stone Age looped finds are from Denmark.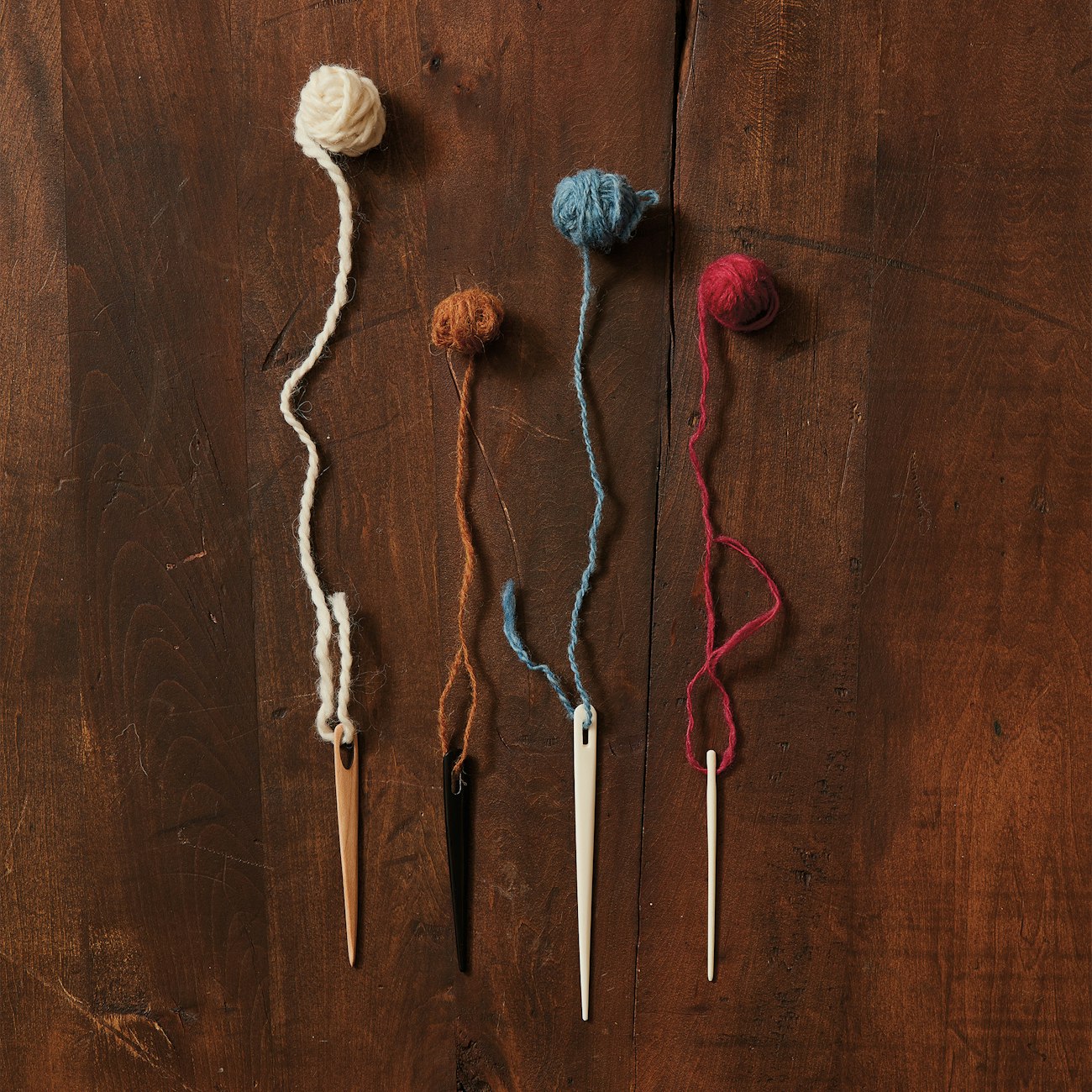 Two-ply yarns spun with a semiworsted draw (from left): Border Leicester from the Doulton Flock, Boreray wool dyed with alder buckthorn, Derbyshire Gritstone dyed with indigo and logwood, and British shortwool dyed with cochineal.
From the Bronze and Iron Age, there are extant items of nålbound clothing such as the famous beret-shaped hat from the Tarim Basin in China found with the Cherchen Man mummy. The Roman era yields a famous pair of socks found in Oxyrhynchus, Egypt. The red Coptic-stitch socks were misidentified by early textile researchers as having been knitted, as the Coptic stitch bears a strong resemblance to stocking (or stockinette) stitch. The socks dated from the third to the fifth centuries CE and were found on the site of a Greek colony. Other Roman-era finds hail from elsewhere in Egypt and Syria. From medieval times, some of the best-documented items are Scandinavian. Mittens were found in Mammen, Denmark (from which we now have the Mammen stitch), and others in Iceland, Finland, Sweden, Norway, and Poland. Medieval nålbinding is often found in ecclesiastical grave goods. Two German examples are the cap of Saint Simeon (wool, eleventh century) and the cashmere cap of Saint Bernard (twelfth century).
Archaeologists have located nålbound texiles throughout the Middle East, Europe, North and South America, and beyond. In the Pacific Islands, the indigenous people of Papua New Guinea make bilums, bags from bast fiber that are used to carry anything from firewood to babies. Nålbinding is found on almost every continent and was used by numerous cultures to solve many of life's daily challenges.
If you enjoyed this short segment, you'll love reading the rest of Penelope's article "Nålbinding: A Short History of An Ancient Craft." You'll find it, along with instructions and a small pouch project to learn nålbinding basics in this exclusive PDF download.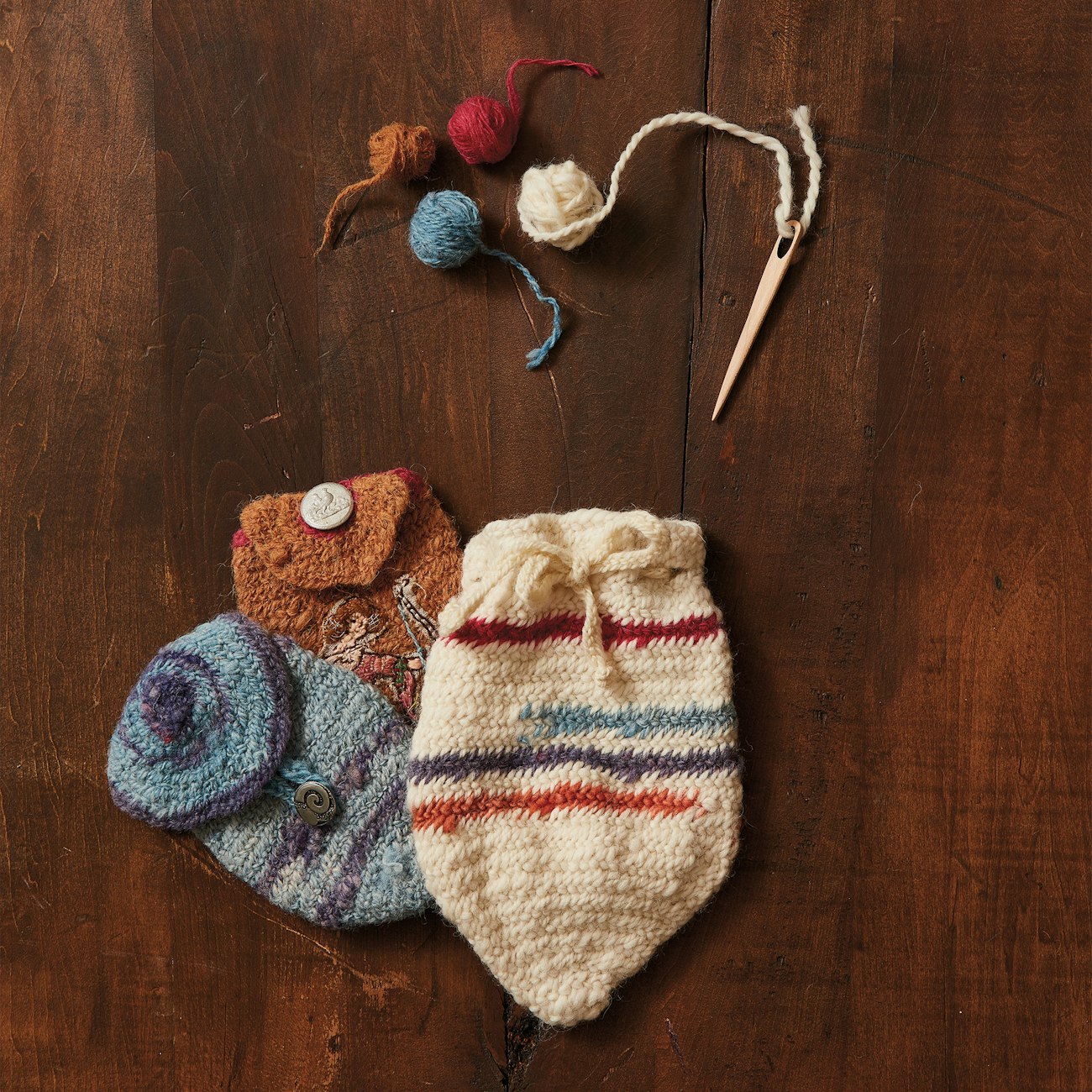 This white pouch with shots of different colors (below right) is an easy way to learn to nålbind.
Current PieceWork magazine subscribers can log in and access this bonus subscriber-exclusive PDF collection instantly. We hope it helps you become captivated by the history and how-to, and get you started with this age-old textile method that uses a single needle and yarn.
What's included in this exclusive download:
Nålbinding: A Short History of an Ancient Craft
Nålbinding Basics: Oslo Stitch (tips and techniques to help you learn the Oslo stitch—a good place for beginners to start—plus step-by-step photos)
Instructions for creating a needle pouch worked in the round