Everything old is new again, which is why a visit to a fine museum is not only enjoyable, it can also leave you with a renewed inspiration to add similar artistic elements into your own home. You'll find crafts that have stood the test of time as well as abundant rich palettes to draw inspiration from. Even a close examination of the techniques that make a piece museum-worthy can translate into a beautiful pillow or sumptuous rug. Elements from perennially popular subjects, such as the Tree of Life, are as fresh today in the textile and needlework industry as they were in the eighteenth century.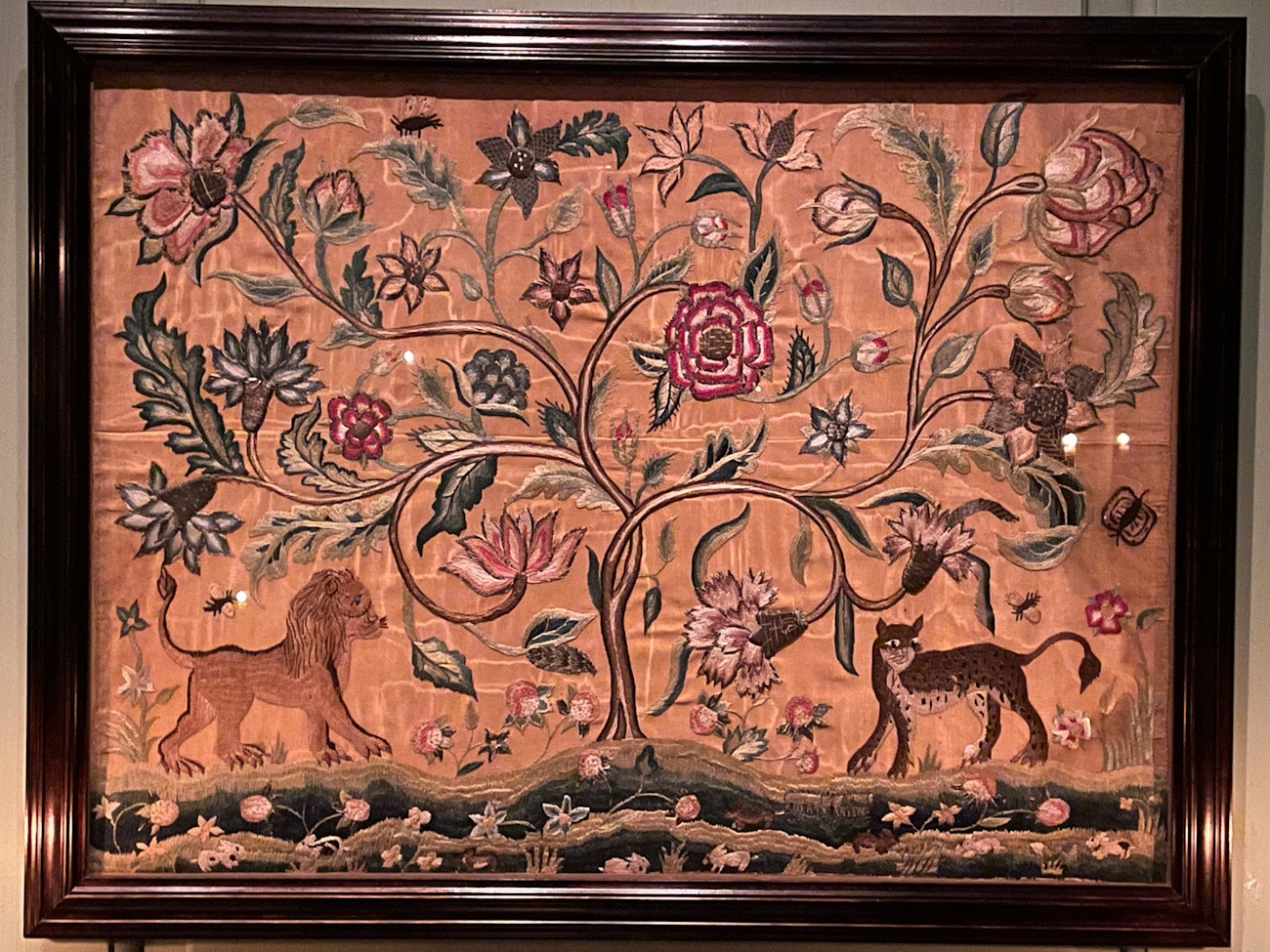 This Tree of Life silkwork picture at Winterthur Museum, Garden & Library, was made by Mary King in 1754 in Philadelphia. The picture is made of silk and metallic threads on a gold moire silk background. It was embroidered with satin, whip, seed, flat, long and short, chain, and couching stitches.
In so many industries, innovation comes from changing the way things are done. But with rug weaving in particular, the centuries-old techniques of craftsmanship remain the best practice.
The carpet pictured above exemplifies how rug makers throughout the ages have borrowed heavily from ancient motifs and have made use of these methods. It features a geometric, floral, and trailing vine pattern. Made around 1900 in the Caucasus region, possibly Shirvan in the eastern Caucasus, the design format is that of an early to mid-sixteenth-century northwest Persian medallion carpet with a cotton weft and whipstitching combined with Ghiordes knot in some sections. Rugs, such as this one, were often sold through caravans and markets, and they were woven by women who were self-employed and who created these masterpieces in the village or in their homes.
According to rug expert Erika Kurtz, "All textiles share a common ancestry. For instance, floral embroideries and hooked rugs came from the old Persian rugs and textiles. Looking through some of the Winterthur collection, I see so many elements that are carried on through the ages into today. . . . Common elements are passed down and re-invented into new styles. Many geometric, repeat patterns come down from prehistory through Greco-Roman decorative painting and mosaics, again reinvented for a modern aesthetic but originating from the past. Everything old can be new again."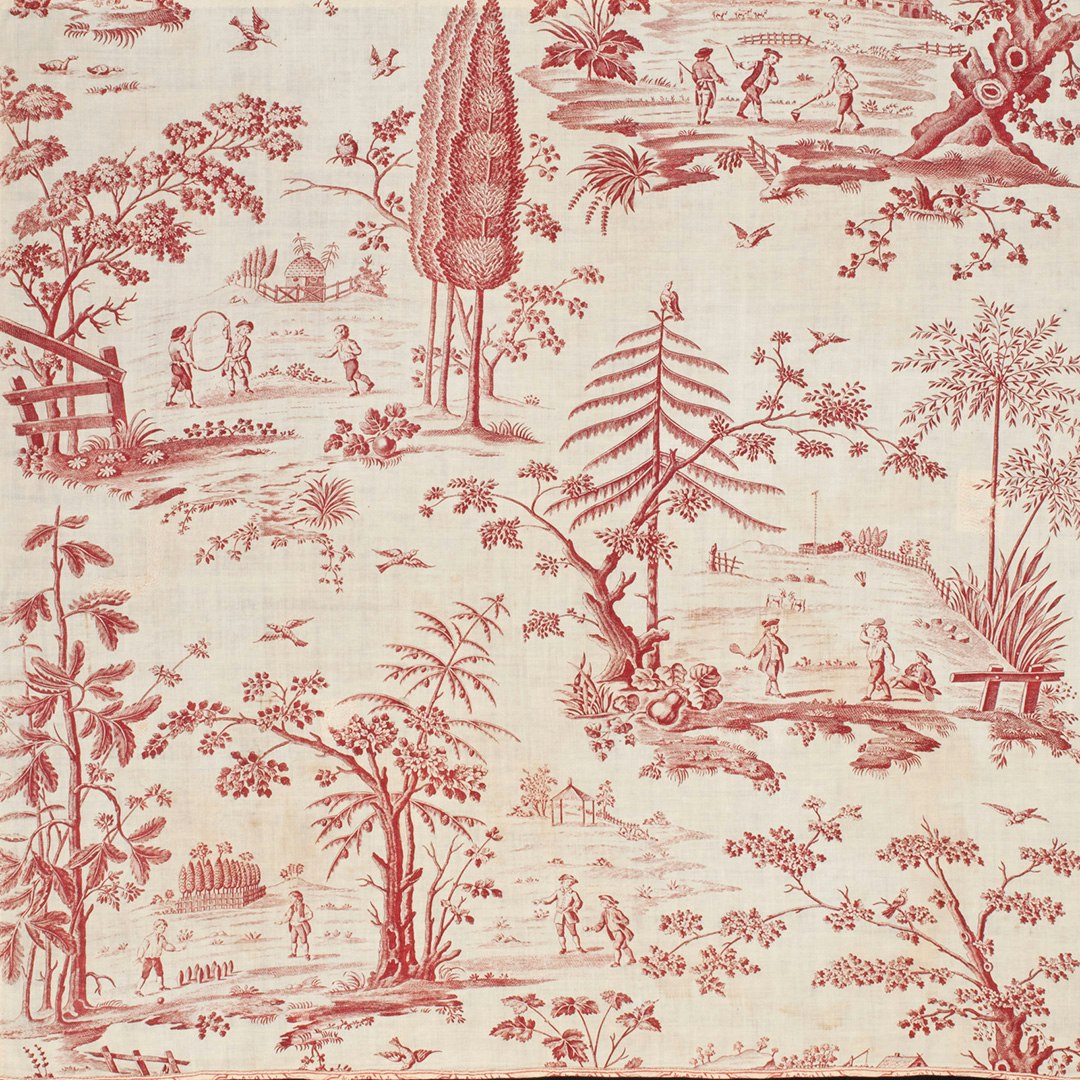 Toile de Jouy is always in style. Plate-printed furniture with designs of boys playing with a spinning top, a hoop, battledore and shuttlecock, and bowling. The cloth was woven with warp and weft threads in pairs, which is unusual. Printed in Britain; about 1775. Warp is cotton spun with a little linen; weft is all cotton, selvedge width about 40 inches, design repeat 36¼ inches.
Visit winterthur.org for details about the Winterthur Museum, Garden & Library—a rolling estate just outside of Wilmington that is the premier museum of American decorative arts, and has a vast collection of nearly 90,000 objects. Please come see the month-long Winterthur: House of Style event.
Participants will examine the connection between historic textiles and latest design trends and how they can translate into their own home. Speakers include industry leaders such as Erika Kurtz, founder and COO of New Moon Rugs and daughter of John Kurtz (renowned rug historian, artist, and PBS TV personality), Margot Shaw, Founder and Editor in Chief of Flower magazine, and Scott Kravet, Chief Creative Director of Kravet Fabrics. Visit winterthur.org for details.
Jason Brudereck is the Public Relations and Communications Manager at Winterthur Museum, Garden & Library, in Delaware. He previously served as Director of Communication for Berks County Community Foundation and worked for 15 years as a newspaper columnist and reporter.