She found a cocoon, dropped it into her tea, and watched it unravel. So legend explains the discovery of silk by Lady Hsi-Ling-Shih, queen of China's Yellow Emperor, some 5,000 years ago. With an apparent intuitive leap regarding the filament's utility, Hsi-Ling-Shih then began raising the larvae of the silk moth (Bombyx mori) and designed a loom for weaving cloth from their fiber.
Whatever the genesis of the silk industry in China, by 2600 BCE, workers there were active in all aspects of silk production from harvesting the filament to spinning thread and weaving fabric. Slowly, silk fabrics made their way west, welcomed by all who encountered them.
Silk fabrics are incredibly diverse, varying according to weave, thread count, and weight of the fibers. Their surface may be further elaborated through dyeing, painting, embroidery, and other techniques. The following are a few of the countless fabrics that have been made from silk throughout the years. Many are still produced today.
Aerophane: a lightweight gauze that is dyed in a single color and cut on the bias.
Atlas or fagara: a brightly colored satin-weave fabric with a silk face and a cotton back. This silk, which comes from the Attacus atlas moth, originated in India and was first exported to Europe in the eighteenth century.
Bengaline: a shiny, lustrous cloth with raised cords created by heavier weft threads. The fabric is believed to have originated in Bengal, India.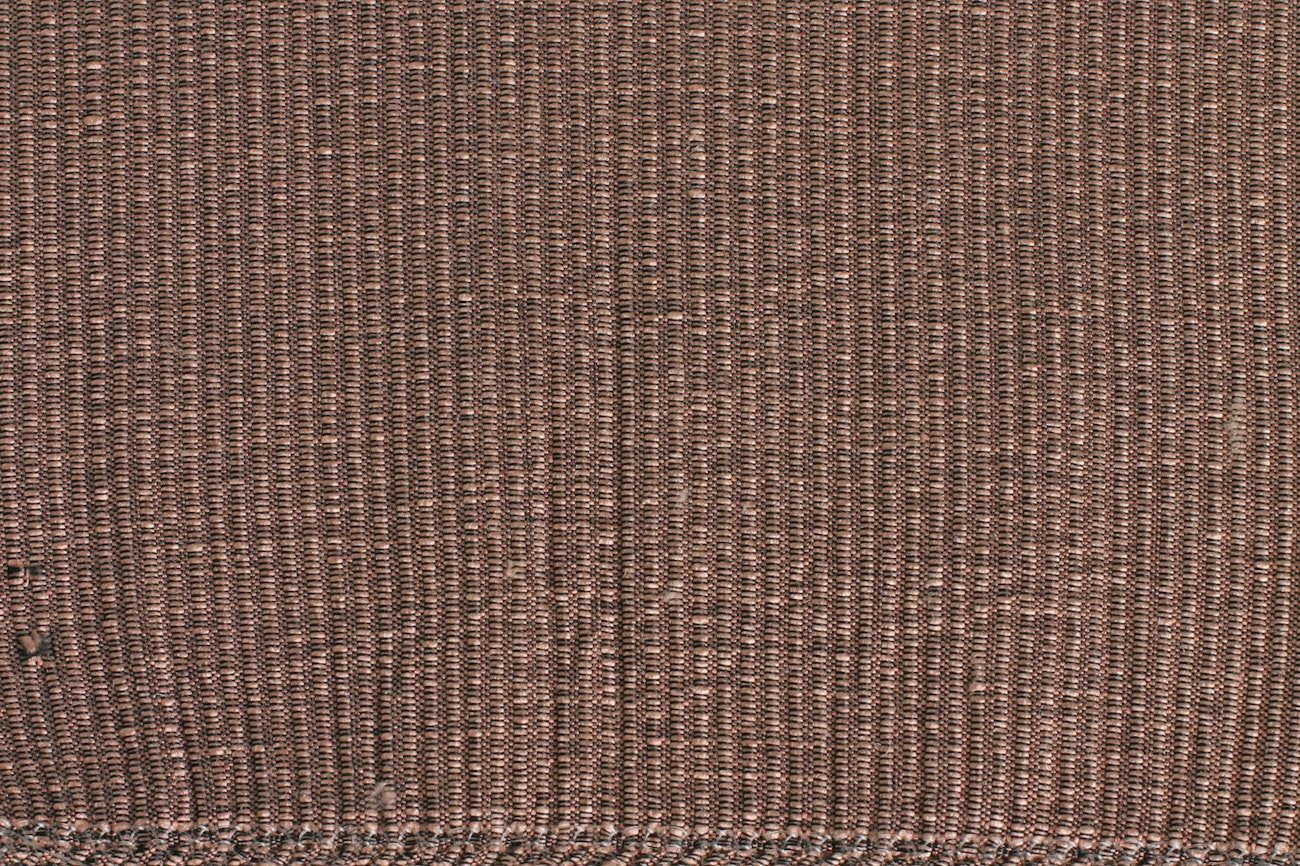 Bengaline
Bolting cloth: a sheer, plain-weave "working cloth" used by millers to sift flour and later as a foundation for wigs.
Broadcloth: a solid-colored or striped cloth made with many fine warp threads and fewer medium-weight weft threads, woven on a loom that was wider than standard looms of the time.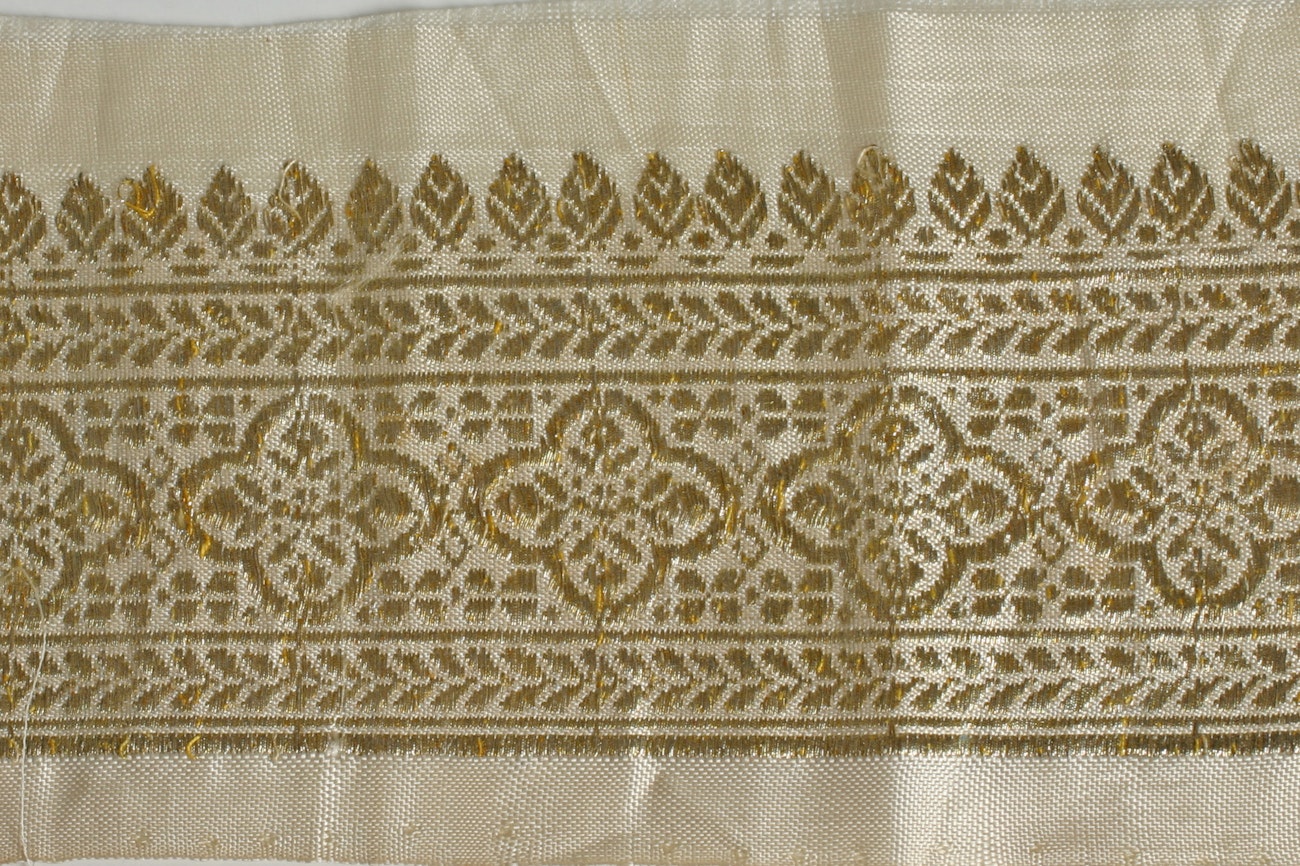 Broadcloth
Brocade: a heavy fabric woven with supplementary weft threads that create flowing designs. Brocade variants include baldachin (a thicker fabric), broché (French for "stitched"), brocantine (the design more raised than in ordinary brocade), and brocatelle (a doubleweave).
Chiffon: a light, sheer, and delicate but sturdy cloth woven with highly twisted threads using a plain open weave. Variants include chiffon batiste (a British term for a sheer lightweight worsted fabric), chiffon crêpe (a lightweight fabric), chiffon net (fine net), chiffon taffeta (lighter in weight and softer than taffeta; see below), and chiffon (or "wedding ring" or "transparent") velvet (a fine velvet; see below).
Corah or cora: a lightweight fabric created in India from an unwashed natural raw silk fiber.
Crêpe de chine (French for "crêpe from China"): a fine, supple cloth with a crinkled or pebbled surface; the warp threads are slightly twisted and more numerous than the weft threads. Variants include crêpe de chine façonné (a brocade), crêpe meteor (woven in satin weave, which creates a smooth, shiny surface), kabe crêpe (slightly stiffer, made in Japan), and crêpe georgette (a thin fabric named for Georgette de la Plante, a late-nineteenth century French dressmaker). Black moss or mourning crêpe is similar to crêpe de chine.
Damask: a reversible fabric originating in Damascus, Syria, that is similar to a brocade but flatter in texture. It is said that Marco Polo (1254–1324) brought this fabric to the West.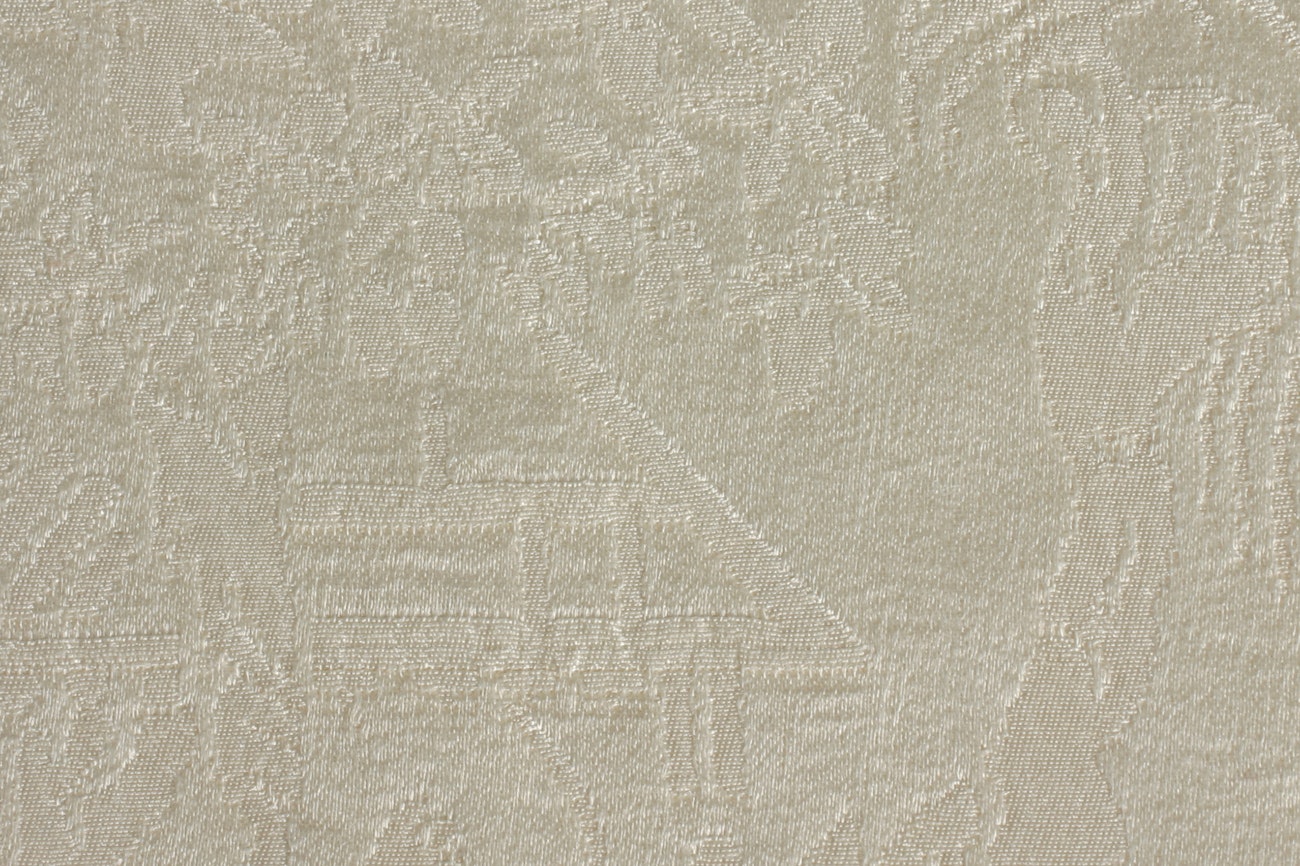 Damask
Faille: a fine, slightly lustrous fabric with horizontal ribs created by weft threads that are heavier than the warp threads.
Foulard: a soft, lustrous, often printed plain- or twillweave fabric that originated in India.
Grosgrain: a fabric or ribbon with a horizontal raised cord produced by heavier weft threads.
Habutai: a lightweight Japanese silk that takes up dyes readily. It is used not only for clothing and household textiles but also for kites and airplane wings.
Ikat: a fabric in which the weft, warp, or both threads have been tie-dyed before weaving; also, the technique for coloring the threads.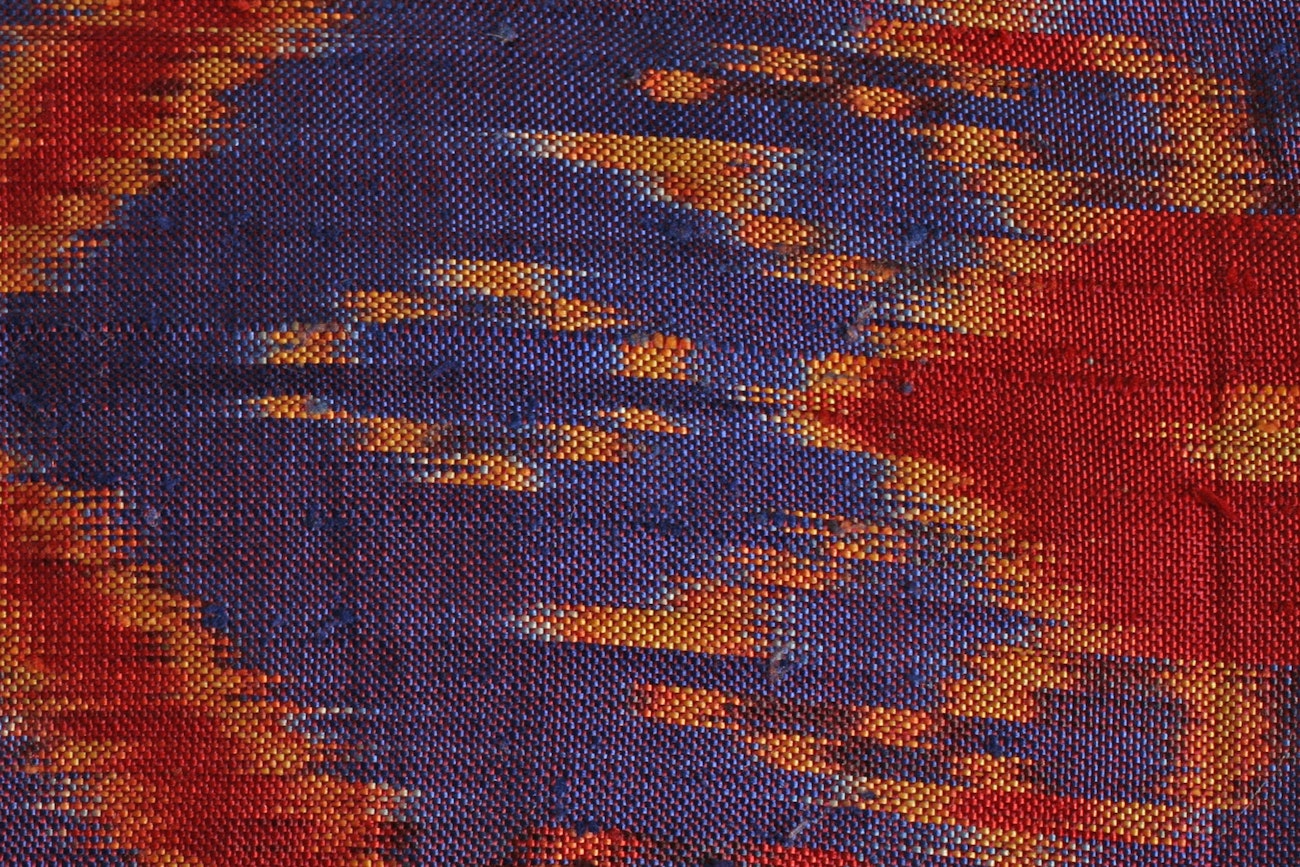 Ikat
Marquisette: a very sheer, lightweight gauze originally made for mosquito netting or curtains.
Matelassé: a soft fabric with a quilted appearance woven on a Jacquard loom.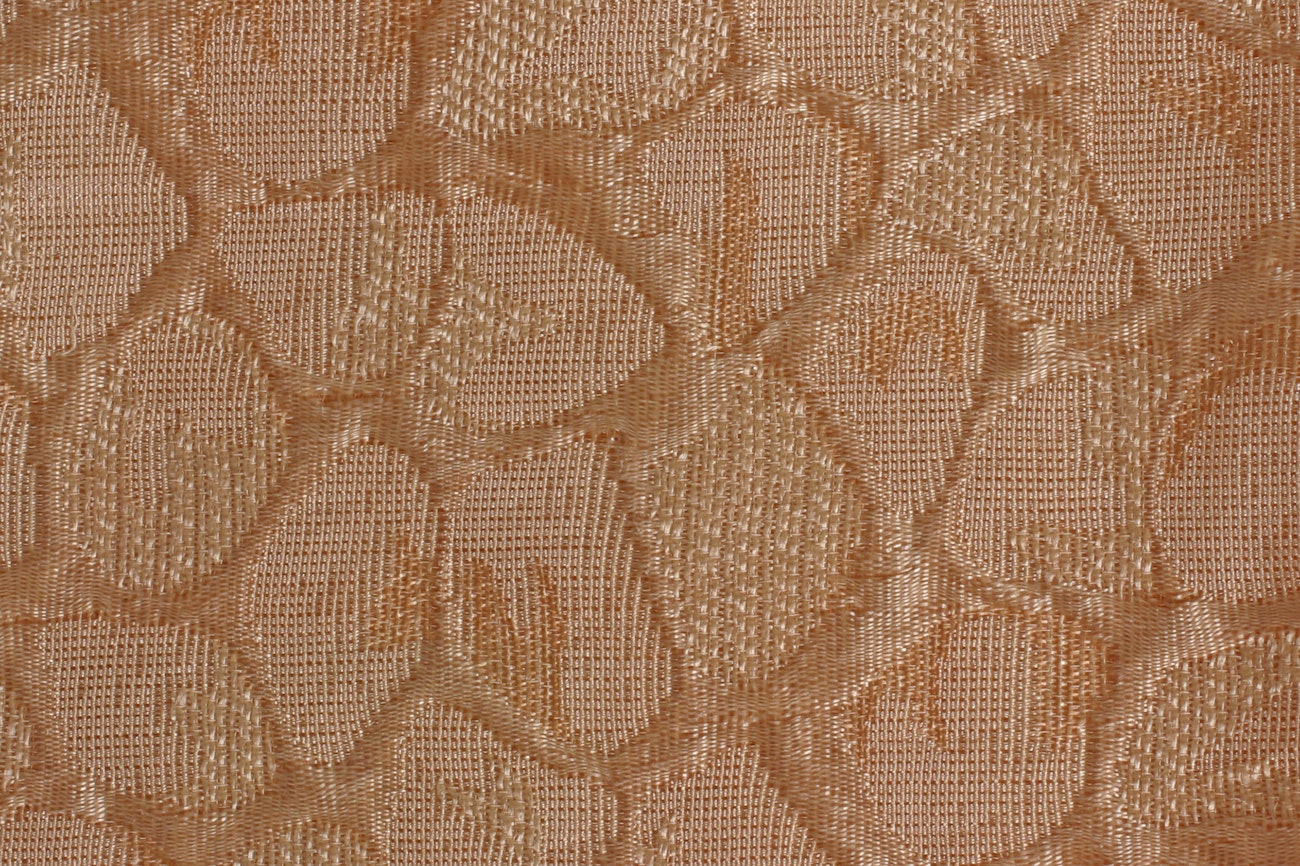 Matelassé
Moiré: a fabric similar to faille but with a "watery" look that is produced by the finishing process.
Mousseline de soie (French for "silk muslin"): a crisp, sheer, lightweight, plain-woven fabric that is similar to chiffon but with a more open weave; it is stiffened with sizing or a chemical agent.
Muslin: a lightweight fabric originally made in Mosul, Iraq, from silk or cotton but now made almost exclusively from cotton.
Ninon: a smooth, transparent, closely woven fabric with warp and weft threads grouped in pairs.
Noil: a soft fabric created from waste fibers and having a slightly nubby texture.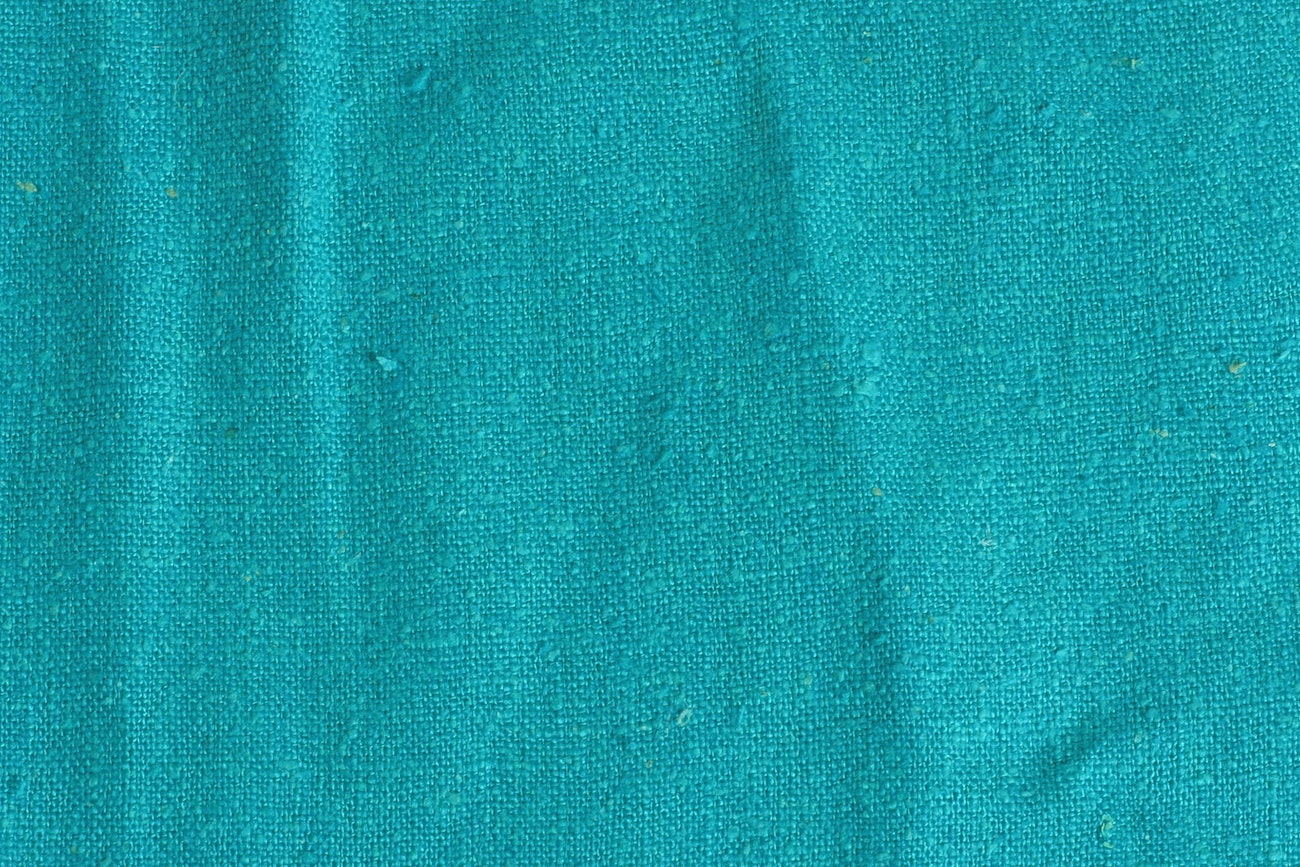 Noil
Organza: a crisp yet sheer fabric, stiffer than chiffon, woven from fine, tightly twisted raw silk threads.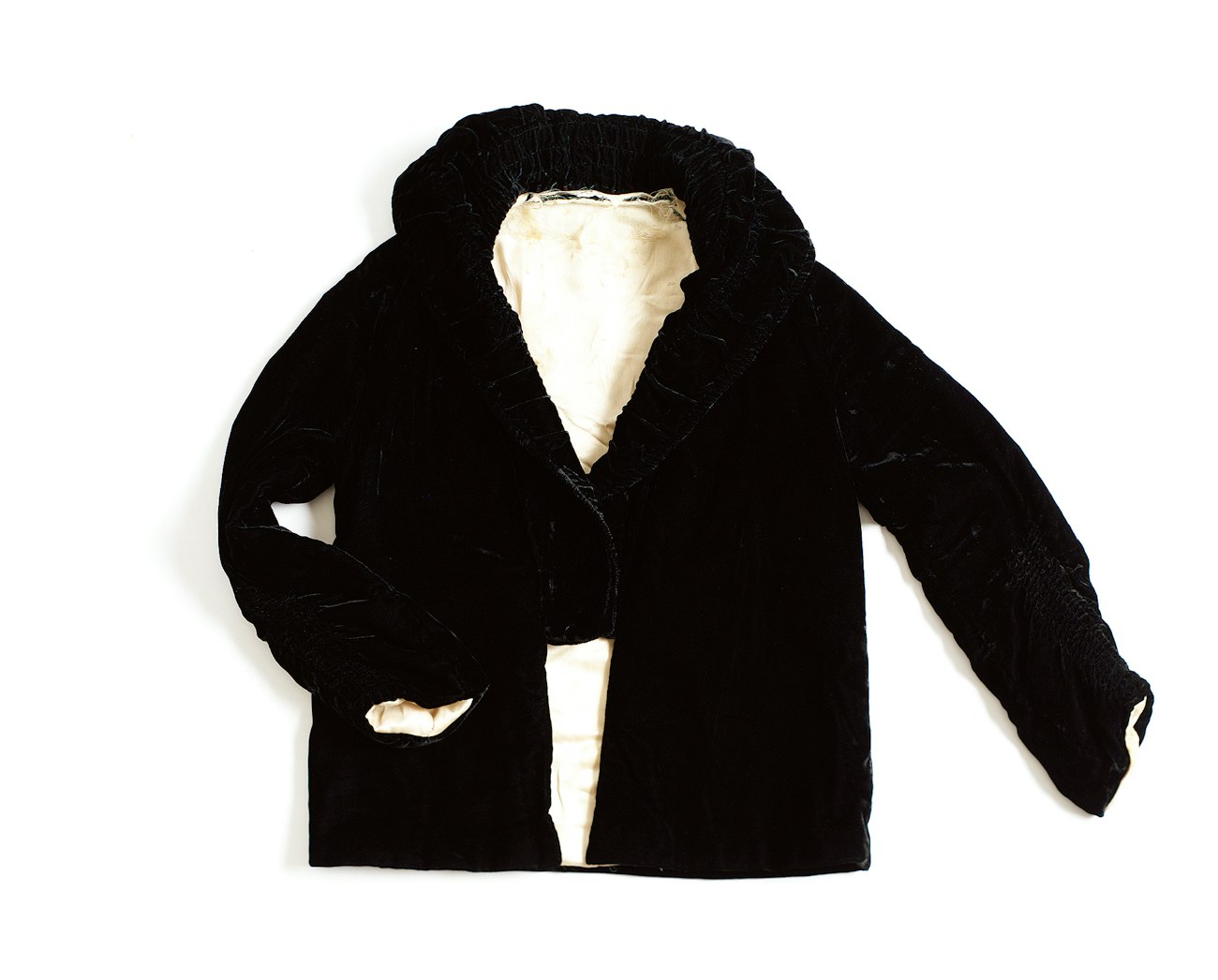 Jacket. Maker unknown. Silk velvet. Early twentieth century
Ottoman: a luxurious heavy fabric originating in Turkey with pronounced horizontal cords.
Pongee: a textured fabric originating in China with a fine warp and coarser, slubbed weft. The silkworms' diet of oak leaves gives the silk a honey color.
Radium: a soft, smooth, firm, closely woven fabric; its tight weave and the use of different colors for warp and weft threads give it a shot effect.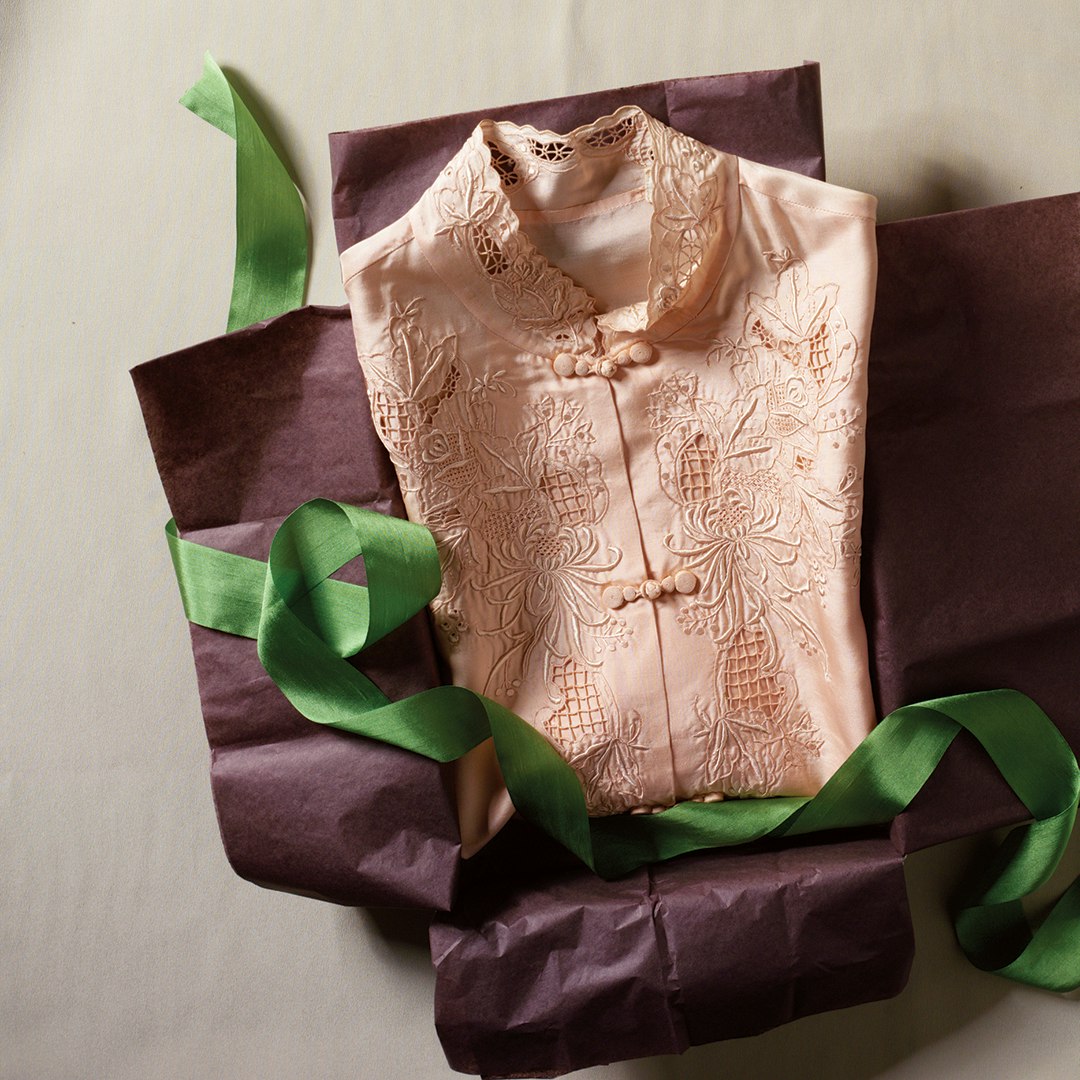 Blouse. Maker unknown. Silk damask. Circa 1960
Satin: a thick, soft, smooth fabric with a shiny face and dull back. The warp threads are set so densely that they completely cover the weft threads. Variants include antique satin (a heavy cloth with a dull luster), charmeuse (with a fine, lustrous surface and matte back), ciré (French for "waxed"; stiff, leathery fabric, usually dyed in metallic colors, waxed, and heated), crêpe back (the front is shiny, the back is finished to make the surface look pebbly), duchesse or duchess (a luxurious satin with a great number of warp threads), panne satin (a stiff, high-luster fabric finished with heat and rollers), and satinette (a very thin, lightweight cloth).
Shantung: a crisp fabric originating in the Chinese province of Shantung with unevenly slubbed weft threads and excellent drape.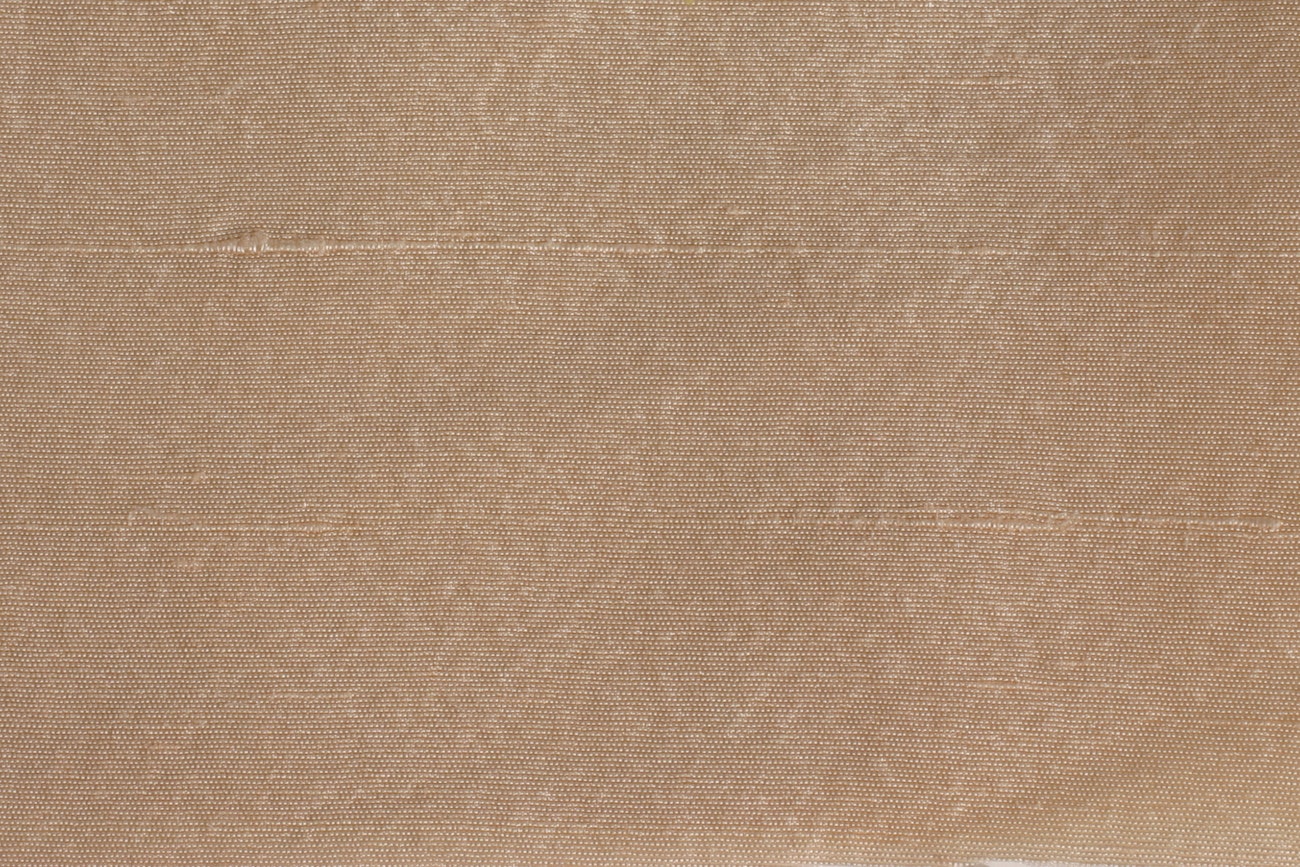 Shantung
Taffeta: a smooth, crisp, plainwoven cloth with a lustrous finish. The term "taffeta" is derived from the Persian word tafta (glossy twist).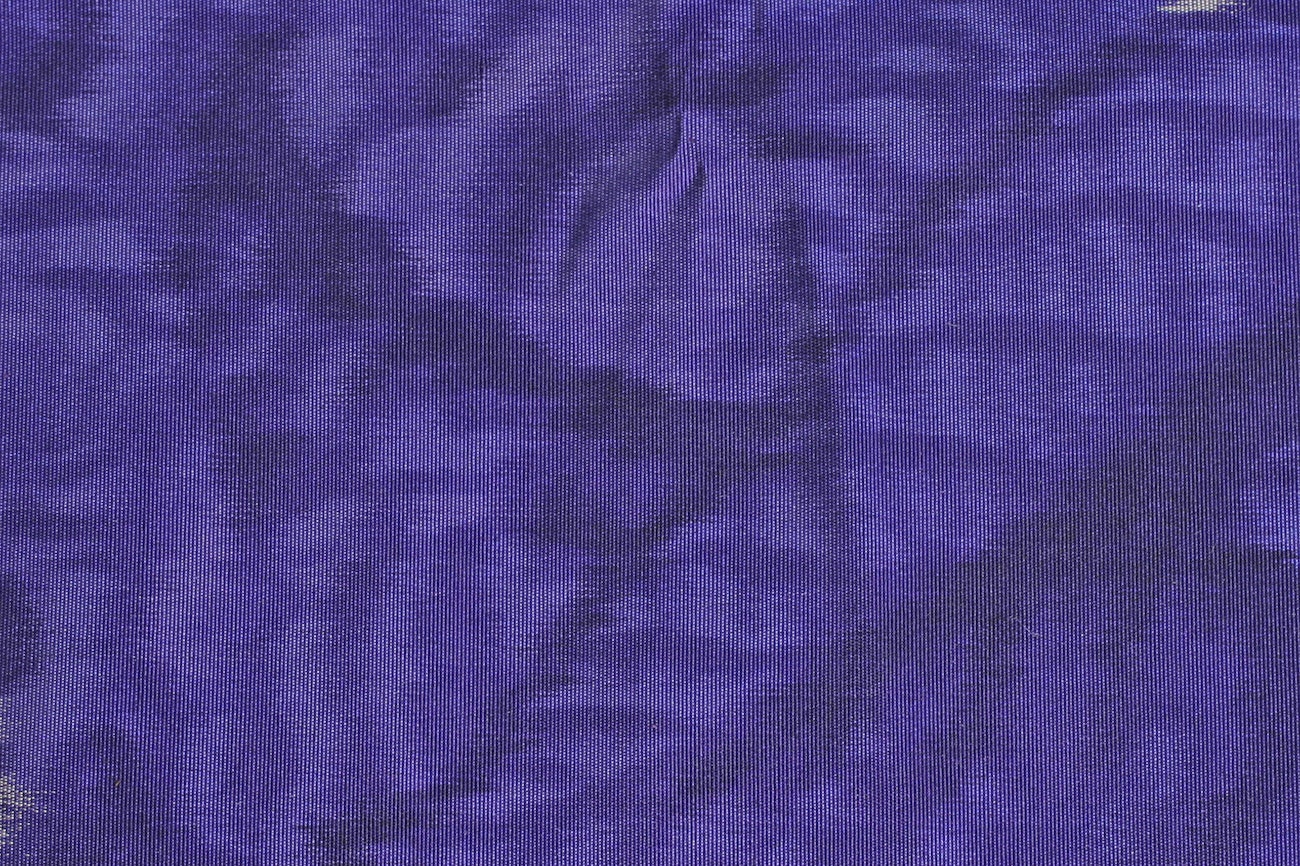 Taffeta
Tussah: a fabric made from filaments from the cocoons of wild silk moths and having a distinctive natural tan, brown, or ecru color. Used widely in India and China, it is stiff and durable and has a coarser hand than that of other silk fabrics. On its introduction to Europe in the seventeenth century, merchants thought that it was made from a plant and so referred to it as "herba."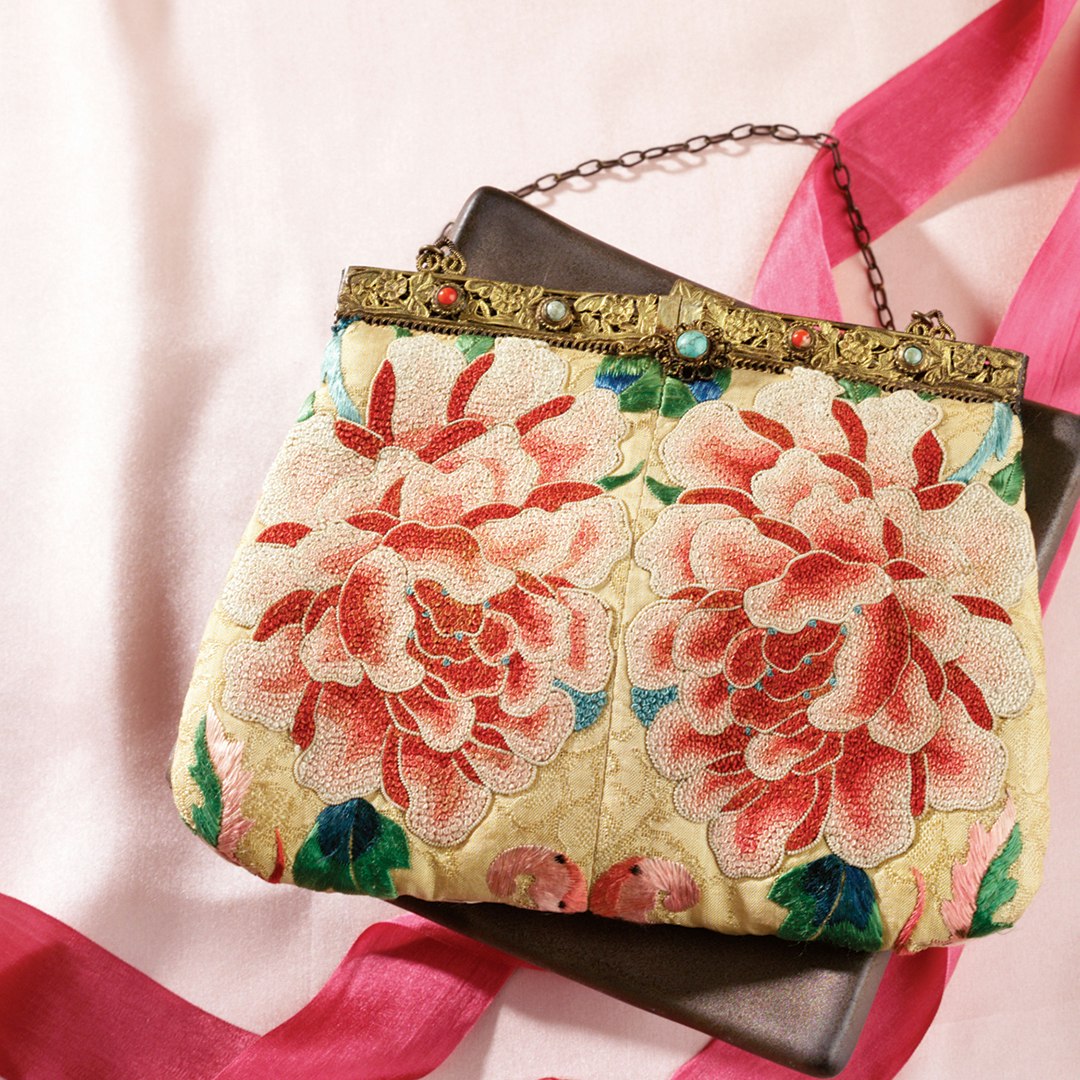 Purse. Maker unknown. Embroidered. Silk. Maker unknown. Date unknown
Velvet: a thick, soft, textured fabric made by cutting the warp threads in the woven goods to produce pile. The denser the threads, the higher the quality of the fabric. Originally, the warp was of silk and the weft, of cotton. Altobasseo, which originated in Genoa, had a high pile and a gold background. Other velvets include chiffon (lighter in weight with a short, dense pile and softer hand), dévoré (patterns are created by chemically burning away some of the fibers), Lyons (heavier, with a crisp hand), and panne velvet (with patterns created by pressing down the pile).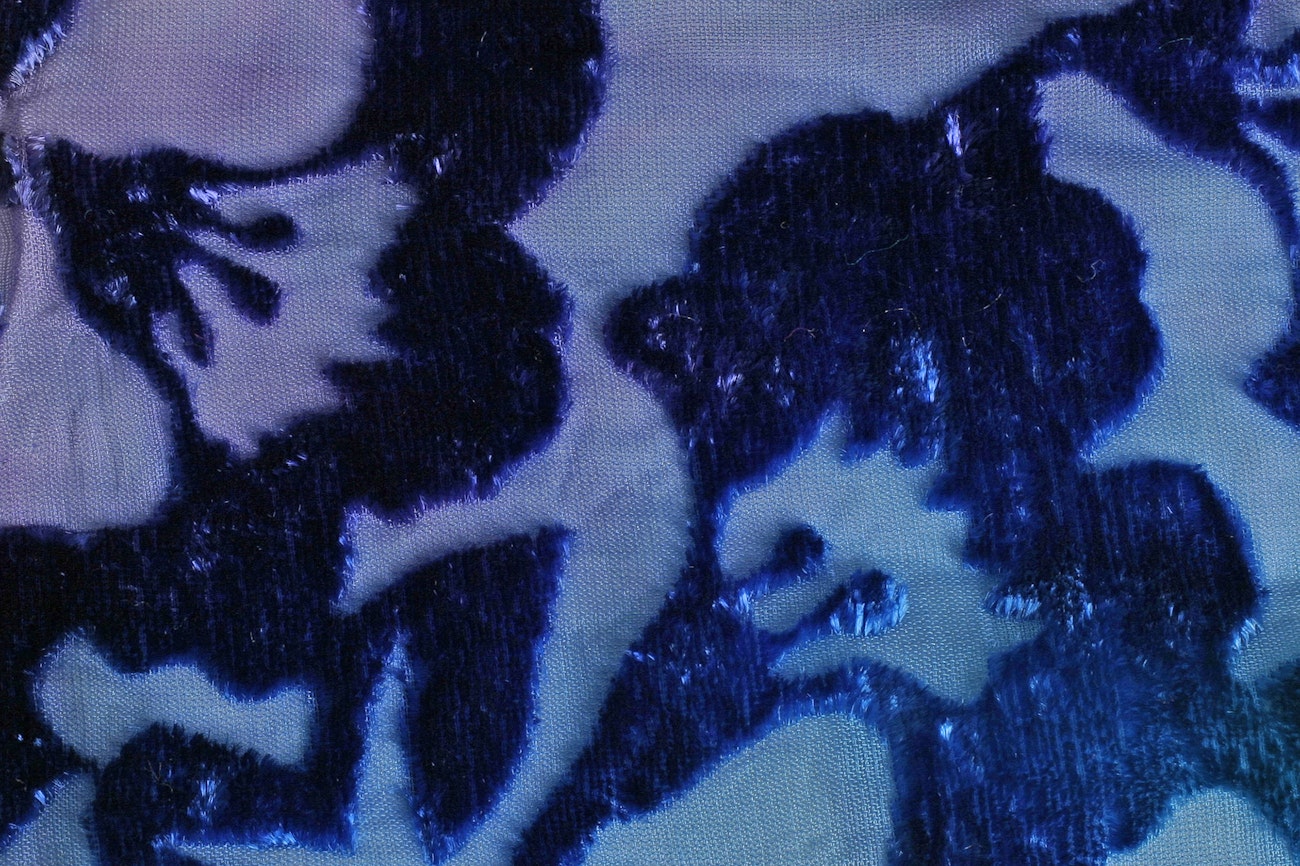 Velvet dévoré
Interested in learning more about the history of silk? Find additional articles and projects in the March/April 2007 issue of PieceWork.
Also, remember that if you are an active subscriber to PieceWork magazine, you have unlimited access to previous issues, including March/April 2007. See our help center for the step-by-step process on how to access them.
Resources
Bassett, Lynne Zacek. Textiles for Clothing of the Early Republic, 1800–1850: A Workbook of Swatches and Information. Arlington, Virginia: Q Graphics, 2001.
Fashion: A History from the 18th to the 20th Century. Cologne: Taschen, 2005
Greene, Susan W. Textiles for Early Victorian Clothing, 1850–1880: A Workbook of Swatches and Information. Arlington, Virginia: Q Graphics, 2003.
Jackman, Diane R., and Mary K. Dixon. The Guide to Textiles for Interior Designers. Grand Forks, North Dakota: Pequis, 1990. Out of print.
Joseph, Marjory L. Introductory Textile Science. Fort Worth, Texas: Harcourt College, 1981. Out of print.
Laver, James. Costume and Fashion: A Concise History New York: Thames and Hudson, 2002.
Montano, Judith Baker. The Art of Silk Ribbon Embroidery. Concord,California: C&T, 1995.
Payne, Blanche, Geitel Winakor, and Jane Farrell-Beck. The History of Costume: From Mesopotamia Through the Twentieth Century. New York: HarperCollins, 1992. Out of print.
Rivers, Victoria Z. The Shining Cloth: Dress and Adornment That Glitter. New York: Thames and Hudson, 2003.
Waugh, Norah. The Cut of Women's Clothes 1600–1930. New York: Routledge, 1987.
Christen Brown is a needlework designer, retailer, and author. Visit her website at christenbrown.com.
Originally published December 21, 2020; updated October 24, 2022.