I was digging through the bins at a special textile sale at the St. Vincent de Paul thrift store in Madison, Wisconsin, and found myself overwhelmed by the hundreds and hundreds of handmade doilies selling for no more than a dollar apiece. They were jumbled together in a massive pile; clearly, they were not highly valued. I kept thinking that this store was just one among many in one city; how many were there, then, in the state, the country, and beyond? Why is it that so many doilies were made in decades past and that they have almost become throwaway items now?
I had encountered other stories of how expendable they now seem: an antiques dealer claiming she didn't carry them because she couldn't make any money on their sale, a blogger (Kathy, "A Delightsome Life") telling of her visit to a thrift shop in 2012, where she found a stack of crocheted doilies on a top shelf. She picked up the whole pile, and the cashier laughed at her when she brought them to the register. "Doilies," the cashier said, "I'm not going to count these!" She charged $2.80 for twenty-seven items. Kathy later discovered each was in near perfect condition.
Unlike quilts and other large textiles that are typically treated as important heirlooms, doilies are generally thought of as impractical "dust-collectors" made by fussy old women who had little to do with their time. The stereotype is that doilies covered every surface in musty, overcrowded interiors; they have come to symbolize a premodern, unliberated time. Nevertheless, some individuals are deeply moved by these small pieces of cloth. They see the dignity and beauty of the makers' lives, and they greet the objects as gifts from the past. Many experience a push-pull: they are drawn to the doilies, but do not want to use them in old ways. Contemporary textile lovers puzzle over what to do with them. Can they be repurposed in a contemporary way? Displayed as art? Used as elements of new artistic expression? Before we address those questions, let's look at where doilies came from, why they were made in such great numbers, and when they came to seem old-fashioned.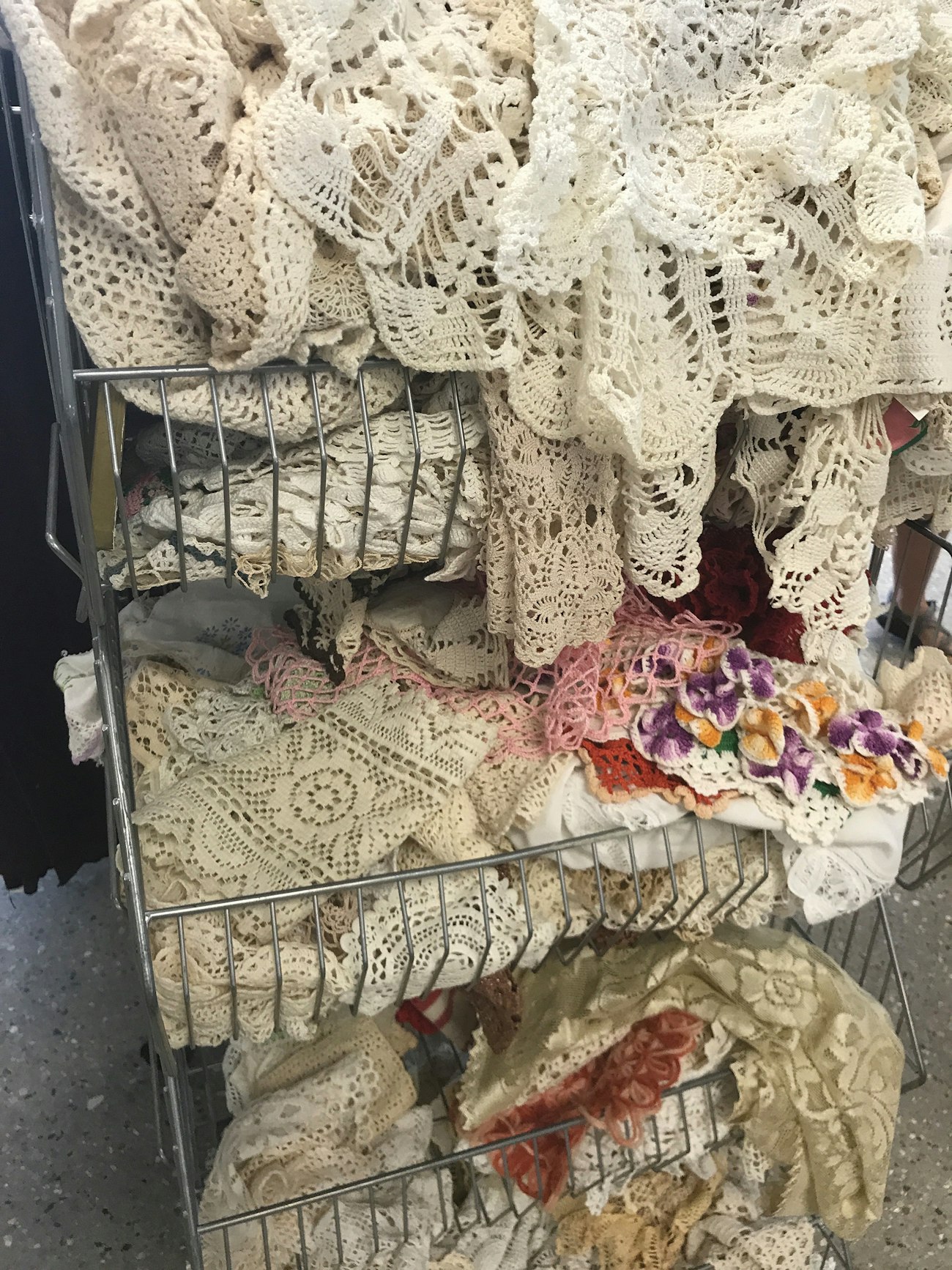 Bins at a special textile sale at the St. Vincent de Paul thrift store in Madison, Wisconsin, containing hundreds and hundreds of handmade doilies selling for no more than a dollar apiece. Photo by Beverly Gordon
Where did the term "doily" originate?
Most sources credit it to an actual man, a sixteenth-century London cloth merchant named Doiley (sometimes spelled Doyley), who sold openwork textiles, probably bobbin lace. By 1711, his name became associated with the term "doily napkin," and eventually the word "napkin" was dropped. A doily was originally a fancy napkin.
The openwork doily form we think of now was a product of the Victorian era, when cotton thread was industrially produced, and most women could afford it. The mercerization process, which made the thread stronger, was invented in 1844. By about mid-century, crochet was beginning to be practiced widely. Originally a convent art, it was the technique nuns taught to impoverished women during the Irish Famine of 1846, giving the women a sellable product that might keep them and their families from starving. Small crocheted textiles could be made relatively quickly, and the resulting openwork pieces, often worked in cotton, were touted as a kind of inexpensive lace.
At the same time, mass production led to a generally higher standard of living and a plethora of furniture, pottery, specialized serving dishes (e.g., a celery holder, a dessert plate), and table linens began to fill the typical middle-class home. By the late nineteenth century, women's magazines regularly printed instructions for coverings that could be crocheted or fashioned with other needlework techniques, including knitting, tatting, cutwork, embroidery, and other forms of lace. When women made these items, they were creating a more elegant domestic environment, investing time and labor in decorating their homes.
Growth and Expansion
By the late nineteenth century, doilies were ubiquitous. Over time, they had more and more specialized uses. Most were probably intended for the dining room—to fit under wine glasses, water pitchers, or finger bowls, in bread baskets, on cake plates, as table centerpieces, or to cover jugs, jars, or sugar bowls. They also adorned the dressing table in the boudoir, side tables in the parlor, and/or the arms and backs of upholstered furniture. (The antimacassar, now considered a type of doily, was particularly meant to protect chair backs from the popular but greasy Macassar hair oil.)
By the twentieth century, the women's press recommended many types of doilies, and home economists commonly gave advice about their proper use. Doilies were touted as important features of a "well-dressed" table. The Etiquette and Service of the Table, published in 1916 by the Department of Domestic Science, Kansas State Agricultural College, noted that tablecloths were to be discarded in favor of individual doilies for "each article to be set upon the table." Although nineteenth-century sources spoke of doilies as cozy, comforting features that would help guests feel welcome, in the twentieth century, white openwork gained other associations: it was perceived as clean and airy. The press described the work as "charming," "dainty," and "gay." Doilies were even touted as "conversation provoking" accoutrements that would lead to "memorable table talk."
Various Techniques
Patterns appeared in women's periodicals such as Ladies' Home Journal, in newspapers, in dedicated needlework magazines, and in special booklets published by thread companies, including Coats and Clark. Free patterns were treasured, but often the doily-maker had to send away for the patterns or purchase a booklet for about ten cents. Some patterns appeared with designers' names. One of the most popular was Anne Orr, who started publishing her own designs as early as 1915. She was later employed by a variety of publications. (Interestingly, Orr didn't actually do needlework but designed patterns for all types of handwork.) Orr was an actual woman, but other names may well have been fictitious. According to Maggie Weldon, a contemporary crochet designer, designs published in numerous periodicals that were credited to specific individuals, starting in the 1930s, may have actually been generated by dozens of individuals. "Alice Brooks," for example, was invented in order to add a personal touch that would appeal to would-be customers.
By the early 1950s, though some doily patterns were still being published (Star Doily Book Number 87 appeared in 1951, implying many volumes before it), the doily craze ebbed before World War II (1939–1945). Additionally, because mid-century furnishings became increasingly streamlined and spare, extra textiles came to seem out of place. With fewer servants to do the work, housewives were responsible for their own cooking and laundry. Paper doilies came into fashion for those who still chose to line their dishes when entertaining, but foodways changed as well. With the advent of processed and frozen foods, packaged mixes, and TV dinners, dining and entertaining were themselves transformed. Post-war children uniformly came to associate cloth doilies and doily-making with their grandmothers.
A Revival
Beginning with the second-wave feminist movement of the 1970s, some women began to look at doilies with a new appreciation. Although not interested in using them in outmoded ways, they saw the careful workmanship and aesthetic sensibility the small textiles embodied. In 1975, the Center for the History of American Needlework sponsored an exhibition called The Art of the Doily in Port Authority Bus Terminal in New York City. Curator Rachel Maines chose that location because the women passing through every day would be able to see this female tradition in a new light. In 1979, feminists in Sydney, Australia, had a similar goal—of honoring the "the women who toiled"—when they mounted The D'oyley Show: An Exhibition of Women's Domestic Fancywork.
As Deborah Erbach, author of the Crochet Insider website, writes, "old crochet . . . is evidence of several traditional and continuing truths about the lives of women. . . . When I cherish a piece of antique lace, crocheted for profit or for pure beauty in another century, by a woman I've never met, I participate in a kinship, a sisterhood larger than my own life. . . . It is also a symbol of the strength, creativity and determination to rise above the mundane, of women who have gone before me."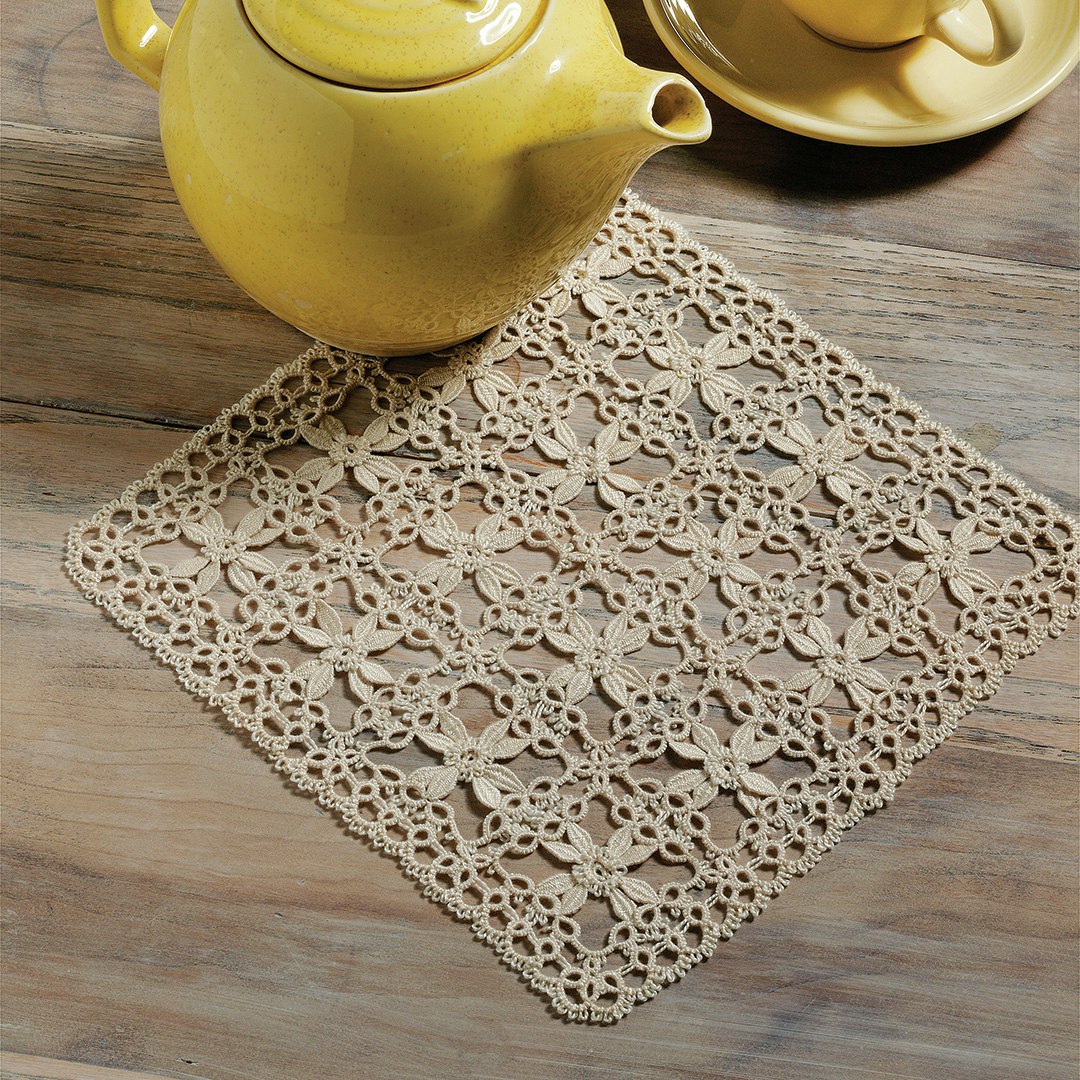 Doily worked in Cluny tatting by Dagmar Pezzuto shown in July/August 2015 issue of PieceWork. Photo by Joe Coca
Marge Engelman, an octogenarian living in Madison, Wisconsin, also began to look at doilies with new eyes. A textile artist herself—she makes quilts, for example, and combines needlework techniques with gourds to make compelling, unique pieces—she began to collect doilies about thirty years ago. Her early associations went back to an elderly relative, her aunt Margaret, a single, sickly woman who never worked outside the home, "crocheted doilies and potholders endlessly." This was her aunt's way of passing time, but it also gave her a way of sharing with others, as she gave the textiles away. Engelman thus still associated doilies with old women and times past but felt great respect for the work that went into them. Her poem, "The Art of the Doily," includes the lines,
The rough arthritic hands
The tired squinting eyes
Focusing in the low glow of the kerosene lamp
The time
The patience
The creativity
And not one doily has a link
To the name of the maker.
. . . Why did we not praise these women
Whose agile hands created all this beauty
Engelman knows the meditative power of needlework, for although she has never made her own doilies, she credits fiber arts as helping her heal from cancer. "My brain longs for the time when my hands take over," she wrote in an unpublished essay, "Fiber Arts and Healing." "There is a power that comes through the hands. It is a power that builds confidence. It is a power that assures you that you are all right." Her poem connects the activity of her foremothers with the same kind of creativity and sustenance:
These women with their work-laden lives
Who found time to create
To design these intricate works of art
How their minds and souls must have thrived
As they clicked the needles
Guided the threads, worked the hook
Twisted the shuttles
The doilies Engelman has collected have "become her friends"; she feels "surrounded by riches made by a host of hands." She also senses the unique story each would tell if it could talk. "Maybe their lives weren't perfect," she notes, "but their doilies could be." She insists that we respect these anonymous doily makers and regrets the fact that the women "never even thought about" documenting them. Her consideration of their lives came through her appreciation of women's history. She also related their stories to her mother's tatting shuttle. As a child, Engelman wondered how the patterns could emerge from such a simple tool. Her mother married a farmer and her life was "primitive." Her time was filled with washing, canning, and other tasks, so tatting, which produced something tangible and beautiful, seemed magical.
Engelman originally collected embroidery of different types, but like most collectors, she eventually began to specialize. Her focus on doilies began with what scholars have called a "seed object"—something that planted the seed for future acquisitions. Her daughter gave her a doily with a pineapple pattern, which Engelman liked very much. She started to look for additional appealing examples. She found them in antiques shops, flea markets, and yard sales, and friends and family often gave her doilies once they knew she was collecting. She concentrated on round examples because she felt she should limit herself to some guiding criteria. She was especially interested in tatted and Hardanger embroidery doilies because she considered those techniques especially hard to master, but she sought out representative examples of all the different techniques. Battenburg (tape) lace was one of her favorites. Sometimes a doily came home with her because of a particular association, such as a shared heritage with the maker or the fact that it was the last doily a given woman had made.
Doily collecting is an "inexpensive hobby." Most of Engelman's doilies cost between $2 and $10. Nevertheless, the collection holds deep meaning for her. In addition to the connection with the women who made them, she claims the process helped her develop a critical eye and hone her own aesthetic sense. In recent years, when she saw "less artistic" examples on the market, she bought fewer. She found a satisfying way to display her collection on individual pages kept in loose-leaf binders. She mounts the doilies on a black background and makes a full-size photocopy of each. With the high contrast, the patterns stand out—they have a visually powerful impact. The pages can be organized in different ways. Befitting her interest in textile history and women's lives, Engelman also collects books, articles, and pattern magazines relating to doilies. Engelman has tried to interest others in the topic but has been frustrated by a generally lukewarm reception. She hopes to find a home for her archive at a university textile collection, so it will live on—and continue to be appreciated—when she is gone.
Mixed Media Comeback
Today, doilies appear to be making something of a comeback. Some people are creating them again, particularly in crochet. In 2011, Dover Press reissued vintage patterns in Old-Fashioned Doilies to Crochet. Leisure Arts has a series of books, including Mary Werst's Extra-Special Doilies, Patricia Kristoffersen's Absolutely Gorgeous Doilies, Kathlyn Glynn's A Year of Doilies, Book 1, and in 2016, Doilies Updated. Doilies Updated is promoted with these words: "Creative choices in colors and weights of thread or yarn are helping doilies leap from old-fashioned status to ultra-modern home décor. Whether you crochet your own doilies or repurpose readymade or vintage doilies, this book will jump-start your journey into awesome doily décor."
Readymade doilies are easily available. In addition to vintage examples, mass-market stores sell new handmade cotton doilies for a few dollars each (they are made primarily in Asia, and the makers earn very little). There also are machine-made doilies on the market, fashioned from polyester (if purchased wholesale in bulk, these cost 79 cents or less each), silicon (typically used by bakers), or paper.
For the last decade, commentators have begun to refer to a doily revival. What are people doing with them? Some, like Engelman, are interested in vintage examples as heritage items. Suzann Thompson, author of the Textile Fusion website, initiated the Doily Heritage Project, and curated an exhibition called Celebrate Doilies! that premiered in Stephenville, Texas, in summer 2017. She collected stories for the project, including one about a woman who crocheted a doily with string saved from chicken-feed bags. Thompson is an artist who also makes quilts from doilies, and that approach—highlighting the doilies as framed wall pieces or by mounting them on other textiles—is increasingly popular.
Many websites and YouTube videos offer instructions for such treatments, and if one searches for "repurposed doilies" or "doily art" on Pinterest, Instagram, or Etsy, literally hundreds of images come up. Doilies also are being formed into lampshades and wreaths, stiffened into bowl shapes, and pieced into garments. A few innovative artists are even piecing them around trees in an innovative variation on yarn bombing.
Most of the time, the form of the doily is respected and intact, although that is not always the case. Carina Shoshtary, a jeweler, was invited to show work in a 2016 Italian exhibition focusing on contemporary lacemakers, tellingly called Doily Free Zone. She explains that she did not see doilies as something beautiful. On impulse, she began to cut them up, and began to "play with the lace tatters. I sewed and glued pieces together and cut off other parts again. Very slowly a new form was growing, a three-dimensional ornament which was free of the corset of a strict pattern."
Some are rebranding round doilies as mandalas, meditative forms that radiate from a central point and symbolically represent the universe. Publicity for Mandalas to Crochet, a 2016 book written by Haafner Linssen, indicates that "these attractive crocheted circles" are a "new take on traditional shapes . . . causing a real buzz in the crochet community." The doily is implied, but the word is never mentioned.
We must also consider the way doilies are being repurposed for weddings. Martha Stewart may have contributed to this trend, by featuring doily wedding ideas for the last decade. In 2008, she gushed in Martha Stewart Living "Happily, intricate doilies, both the hand-crocheted kind that once topped Grandma's night table and the lacy paper versions that line bakery boxes, can serve as stand-ins to fashion a drift of captivating decor and gifts, including a twinkling paper wreath, a shower of crocheted and tatted flakes, a handsome tablecloth, and delicate pierced cookies." She also posted a YouTube video about the history of the doily, focusing on doily-theme wedding ideas (mostly using punched paper doilies, which she supplies). Items range from place cards to luminaria and individual favors.
Oriental Trading, another supplier, states on its website, "Decorate in lovely vintage style when you add these handmade doilies to your wedding decorations! Place them under centerpieces, votive candle holders or under jars of sweets on your candy buffet. They add a timeless elegance to your event." One blog titled Pursuing the Picture Perfect Wedding documented an event where everything was handcrafted, including the gown that the bride made herself. It was covered with doilies that she crocheted and pieced. "It took three weeks and over two miles of crochet yarn," explained blogger Gia Canali. The response was positive.
Interestingly, when Marge Engleman interviewed women at a rural Wisconsin senior center, many remembered the time when handmade doilies commonly were given as wedding gifts, and were intended for use in the bride's new home (I estimate the women were speaking of the 1930s). They also remembered that doilies were valued enough to be washed by hand. It seems fitting that the doilies have a place now at weddings, because the wedding is one place where tradition and "old-fashioned values" have an important role.
In looking back at her doily collection and contemplating the role it played in her life, Engelman concludes that pursuing these textiles was a good use of her time. As she looks through the box where they are stored, she is "amazed" by the variety and by the fact that she found them all.
Considering their myriad functions, the creative outlet they provided, and the way they were believed to add elegance and artistry to the home, it isn't surprising that so many historic doilies were made and that so many show up now in estate sales and thrift stores. While they may be associated with "stuffiness" and "grandmas," few people want to discard what was clearly a labor of love. We can hope that Marge Engleman's collection and others like it will be seen through loving eyes and will help doilies find an even more appreciative audience in the future.
This piece by Beverly Gordon, "The Push-Pull of the Doily: Revered, Reviled, and Reconceived," and other great articles about needlework's history can be found in the November/December 2017 issue of PieceWork.
Also, remember that if you are an active subscriber to PieceWork magazine, you have unlimited access to previous issues, including November/December 2017. See our help center for the step-by-step process on how to access them.
Beverly Gordon has followed a lifelong passion for historic textiles and their meanings in our lives. She is professor emeritus in the Design Studies Department at the University of Wisconsin-Madison, and in retirement, pursues her own art. She has published previously in PieceWork and is the author of numerous other articles and books. Her major works include Textiles: The Whole Story—Uses, Meanings, Significance (New York: Thames & Hudson, 2014; she gives presentations on the topic under the title, "The Fiber of Our Lives: Why Textiles Matter"); Shaker Textile Arts (Lebanon, New Hampshire: University Press of New England, 1980; almost forty years in print!), and Feltmaking: Traditions, Techniques and Contemporary Explorations (New York: Watson-Guptill Publications, 1980).
Posted October 18, 2017; updated January 24, 2020; updated February 6, 2023.