Every August, Edinburgh, the capital city of Scotland, is overtaken by a very peculiar madness better known as "the Fringe" or the Edinburgh Fringe Festival, to give it its full name. In 2017, the festival consisted of 53,232 performances of 3,398 shows in 300 venues. I don't think the final count for 2018 is in yet.
The Fringe program divides the shows, exhibitions, and events into ten categories, but some offerings almost defy categorization. The Edinburgh Fringe Festival website says that it's an "explosion of creative energy from around the globe," and that is as good a description as any. The streets of the city are awash with street performers and people armed with leaflets to promote their shows. Every space (halls, lecture theatres, a Quaker meeting house, and even upstairs at a delicatessen) seems to have something going on. Walking from one venue to another, I passed someone in a lion costume, a group of pirates, and a "walking disco" of about 50 people—everyone was wearing headphones and dancing and singing along the street.
With so much on offer, choosing the shows you want to see can be a bit hit or miss, but sometimes, you really strike lucky! That's what happened to me when I came across the listing for "Stitch in Time: A Knitting Cabaret."
The write-up for the show starring Canadian Melanie Gall did a great job of selling the show to me:
Excitement! Drama! Romance! And . . . knitting? A scintillating cabaret featuring the lost knitting songs of WWI and WWII from Canada, Britain, America, and France. Bring your knitting (or crochet) and stitch along to these funny, poignant, toe-tapping, needle-clicking tunes. Come out and have a ball! Stitch in Time presents over a dozen historic songs, including "More Power to Your Knitting, Nell!," "The Knitting Itch," and "Knocking at the Knitting Club." Wear your knitting—prizes for best knitted outfit!
I wasn't sure what to expect. I've never thought of knitting as a spectator sport, but I decided to take a chance. It was much too warm to wear anything knitted, and I didn't want to carry my knitting around all day. So I chickened out and left my yarn and needles at home, but other members of the sell-out audience were fully equipped. The woman to my left was knitting socks and to my right there was some colorful crochet going on. For those of us who'd come empty-handed, Melanie offered needles and wool to anyone who wanted to join in.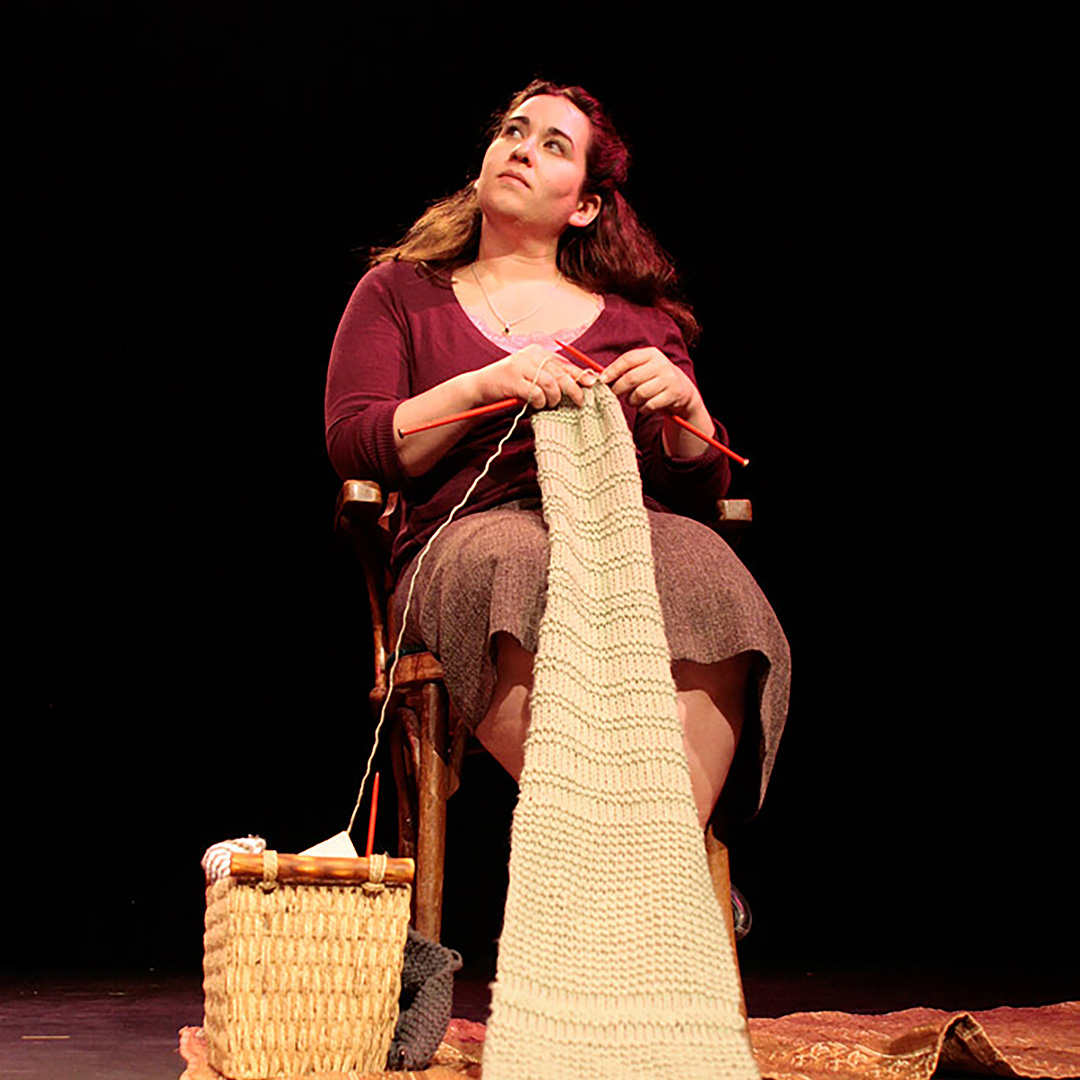 The show was categorized as Music (historical, cabaret) and that summed it up pretty well, but it didn't come close to capturing the flavor and mood as Melanie's exuberant style, enthusiasm, knowledge, and amazing voice captivated the audience. Some of the lyrics made us laugh, but the message about knitting for the soldiers was also poignant. Melanie revealed that, "As part of the war effort, women were encouraged to knit, knit, and knit some more—and even took their knitting to the theater, where they were sometimes asked to knit more quietly as the clicking of their needles was distracting."
During the show Melanie also explained how her sister had introduced her to knitting. "My sister was a Canadian diplomat, and she was living in Argentina, where yarn production is huge. She bought one skein of yarn, and then another, until every room in her apartment was full of yarn. She's a crazy knitter, obsessed, and she got me knitting. I soon discovered knitters were a lot of fun."
As well as being a knitter and having an amazing soprano voice, it turns out that Melanie has recorded two CDs of knitting songs from World War I and World War II. "I heard the first song when I was living with my sister in New York, and I thought there must be more. The Canadian government gave me a grant, and I've spent 7 years researching and collecting the songs, many of which were in danger of being lost forever.
"The knitting songs were written for a variety of reasons. Some were written to sell sheet music, some were written by women missing their sons, some were written as adverts, and some were written to encourage women to be patriotic and knit for the troops."
The show is packed with interesting historical facts (including the origin of the Kitchener stitch used by sock knitters), but it's Melanie's enthusiasm for her subject, her energy, and her gorgeous soprano voice that sweeps the audience along. The show was a joyful journey of discovery, and this was one journey I didn't want to end.
—Kathy
Kathy Troup, born in the north of England, has lived in Scotland for many years. She edited a U.K.-published stitching magazine for seventeen years and continues to write about the subjects she loves.
Don't miss a single post, read the entire "Postcard from Scotland" series! Learn more about Melanie Gall on her website, www.melaniegall.com, or listen to her podcast, www.savvygirls.ca. For more on the Edinburgh Fringe Festival, visit www.edfringe.com. For more on historical knitting, download Knitting Traditions 2018 and the January/February 2018 issue of PieceWork.
Featured Image: The Royal Mile runs from Edinburgh Castle at the top to Holyrood Palace at the bottom. A large section is closed to traffic and performers promote their shows to passers-by. Photo by Kathy Troup.