The Siddi are descendants of early African immigrants to southeast Asia and enslaved Africans brought to India's west coast in the sixteenth century. A historically marginalized people, Siddis, have retained and transformed many of their cultural traditions from Africa, notably patchwork quilts known as kawandi.
Henry Drewal, author of "Soulful Stitching" in our Fall 2022 issue learned about the kawandi in 2004 while he was documenting Siddi performing and visual arts. After meeting the quilters—and acquiring his first quilt—Drewal wondered if these colorful traditions could be an income-generating source for the local women. Shortly thereafter, he co-founded the Siddi Women's Quilting Cooperative in Karnataka, India, with Sarah Khan, whose research has focused on the Siddi women's agricultural knowledge and traditions; and Pashington Obeng, a Professor at Wellesley College who has worked with the Siddis since 2001. The Cooperative continues to help provide a source of income for women of Siddi communities through sales of their traditional quilts.
Patchwork
Kawandi are made from pieces of old cloth or worn-out clothing. Quilters cut the cloth pieces into small square or rectangular patches of brightly colored cloth usually placed on top of other, larger patches, creating a series of layers in contrasting colors. When the quilters have enough pieces of cloth to make a quilt, they use an appliqué technique to attach the patchwork to a cotton sari as backing for the quilt. They begin at one corner of the sari, working their way around, attaching the patches in place with lines of running stitch until they've covered the entire sari.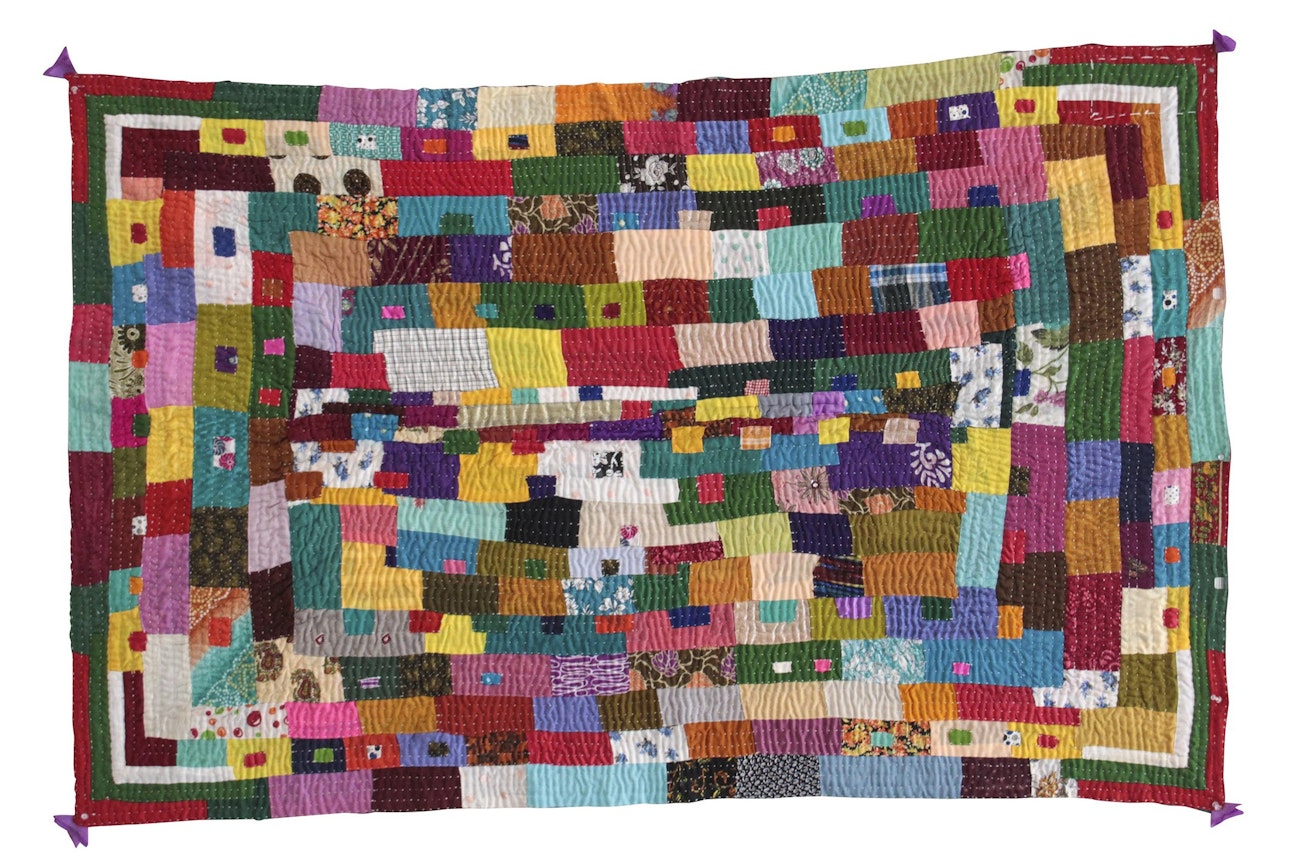 A baby quilt stitched by Kitera Gustin of Mainalli village in Karnataka. Photo by Henry John Drewal
An Exhibition of Support
Artisans around the world have struggled during the pandemic, hit hard by a lack of tourism and limited access to global markets where they can sell their work. Drewal recently told us that the quilters of Karnataka have faced challenges as well. They survive as subsistence farmers, so in addition to the pandemic, climate change has been a major challenge. He writes that "Planting has been completed and the women now have some time to devote to the making of quilts. We are awaiting word from their leaders about the current season of quilt creativity and expect to have some available for sale in the coming months."
In addition to the sales of the quilts, Drewal points to the traveling exhibition he and Khan have curated to help others discover this meaningful textile tradition, and to support the Siddi quilters of Karnataka. The exhibition has received excellent reviews as it has traveled to various U.S. locations. It includes 15 quilts, wall text panels, field photos, and a short film introducing Siddi history.
Those who might be interested in hosting the traveling exhibition or in purchasing quilts to support the Siddi women and their families, can contact Henry Drewal through his website at henrydrewal.com.
Karen Brock is a contributing editor of PieceWork magazine.