I inherited a metal tin full of vintage sewing bits that once belonged to my great-grandmother. Old wooden bobbins with thread, tiny glass buttons on cards, steel knitting needles, pieces of fragile lace, delicate strips of tiny sequins—all are tangible reminders of days gone by. In the mix was a colorful needlebook depicting two playful kittens batting about a piece of spooled thread: the first needlebook of my small collection of these highly collectible historical sewing ephemera.
Sewing needlebooks, also known as needle packs, sewing packets, paper needle cases, or needle cards, are thought to date back to the late nineteenth to early twentieth century. The first iterations were usually serviceable packets of needles of one size, with very little decoration on their covers. Over time, the cover graphics became more detailed and featured needles in multiple sizes and types (see note 1).
About the Book
It is likely that needlebooks were devised to deliver needles to the user and to then be thrown away. They were often giveaways used to advertise products and services and sometimes were used to advocate political and social causes or to celebrate important historical events. Many needlebooks, including those labeled "Bestmaid," "Sewing Susan," "Happy Home," "Sewing Circle," and "Sew and Stitch," are imprinted with "Japan" on the lower right corner of the back cover and were probably mass-produced there and then distributed worldwide.
Earlier examples appear to have rather utilitarian covers and were often fashioned as small packets containing plain black papers (and sometimes tiny envelopes) to hold the needles. The arrangement of needles on the inside of later needlebooks varies, but there is often an assortment of types and sizes, nestled in shiny bits of colorful foil that was almost always embossed with a spiderweb motif. Sometimes needle threaders are included, stamped with their country of origin, many bearing the designation "Japan" or "Germany." Occasionally, the insides are elaborately decorated with illustrations and markings, such as the name of a store or company or type of needle or metal.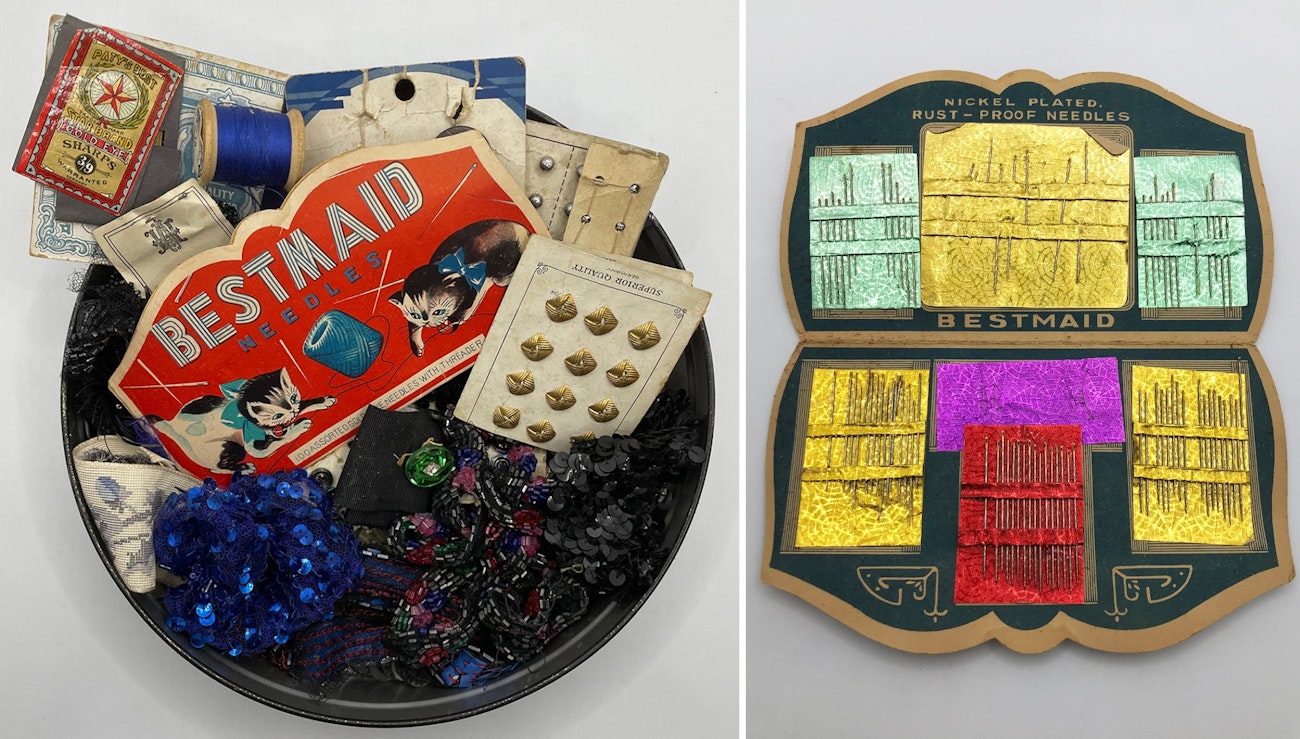 Left: Vintage findings from the author's great-grandmother, including a Bestmaid needlebook marked "Japan" on the outside cover. Right: The inside of a Bestmaid needlebook, with jewel-tone foil paper liners for the needles. Photos courtesy of Marsha Borden unless otherwise noted.
Honor the Needle
From the late nineteenth century until after World War II, Forge Mill in Redditch, Worcestershire, England was the center of needle production for the world market, including the United States. Forge Mill remained in operation until the late 1950s and was likely the source of almost all sewing needles produced throughout those decades (see note 2).
Beginning in the early 1960s, low-cost needles from competing countries such as Japan began flooding the world market. While it is difficult to pinpoint the exact geographical locations where needlebooks were made, the artwork may have been printed in one place and the needles manufactured in another (see note 3).
Left: Sewing Susan needlebooks, each with different clothing and hairstyles. Photo courtesy of Marsha Borden. Right: Woolworth needlebook printed in West Germany. Photo by Matt Graves
Colorful Paper Gems
There are many different shapes and sizes of needlebooks, including pop-up versions. They can be rectangular, circular, or oval and typically measure around 3–4 inches tall and 6 inches wide. Sometimes needlebooks were die-cut into product shapes, such as a paint can or a dishwasher.
Tiny rows of offset dots are visible in the artwork of most needlebooks, suggesting the use of chromolithography, a method commonly used for novelty printing. Lithography was developed in the late eighteenth century and went on to dominate the world of printing until the early twentieth century. This technology provided an easy, inexpensive method of production that allowed for many commercial applications, including advertising, and a proliferation of mass-produced paper ephemera followed (see note 4).
Little is known about the artists who created needlebook images, and most of the artwork is not signed. Still, it is possible to find examples of cover designs that were either signed by the artist or patented by the manufacturing company. The New-York Historical Society Museum and Library has a Woolworth needlebook in its collection, with Louis Wolchonok, a prolific American artist, listed as its maker (see note 5)(see photo above right). An early example from the year 1909, The American Army and Navy Needle Book has a cover design that was patented by NSC (New Service Colt), a firearms manufacturer.
Perhaps the best part of collecting needlebooks is that their enclosed needles and threaders are fully usable for modern needleworkers. Needlebook needles are sharp, smooth, and ready to be threaded for all sorts of handsewing projects. Each needlebook represents a unique slice of time in history and provides a glimpse into the social and historical context of the time in which they were produced. Not only are these little pieces of paper history low cost and fun to collect, but they also sustainably connect us to the nostalgia of years gone by and may pique our curiosity to learn more about them.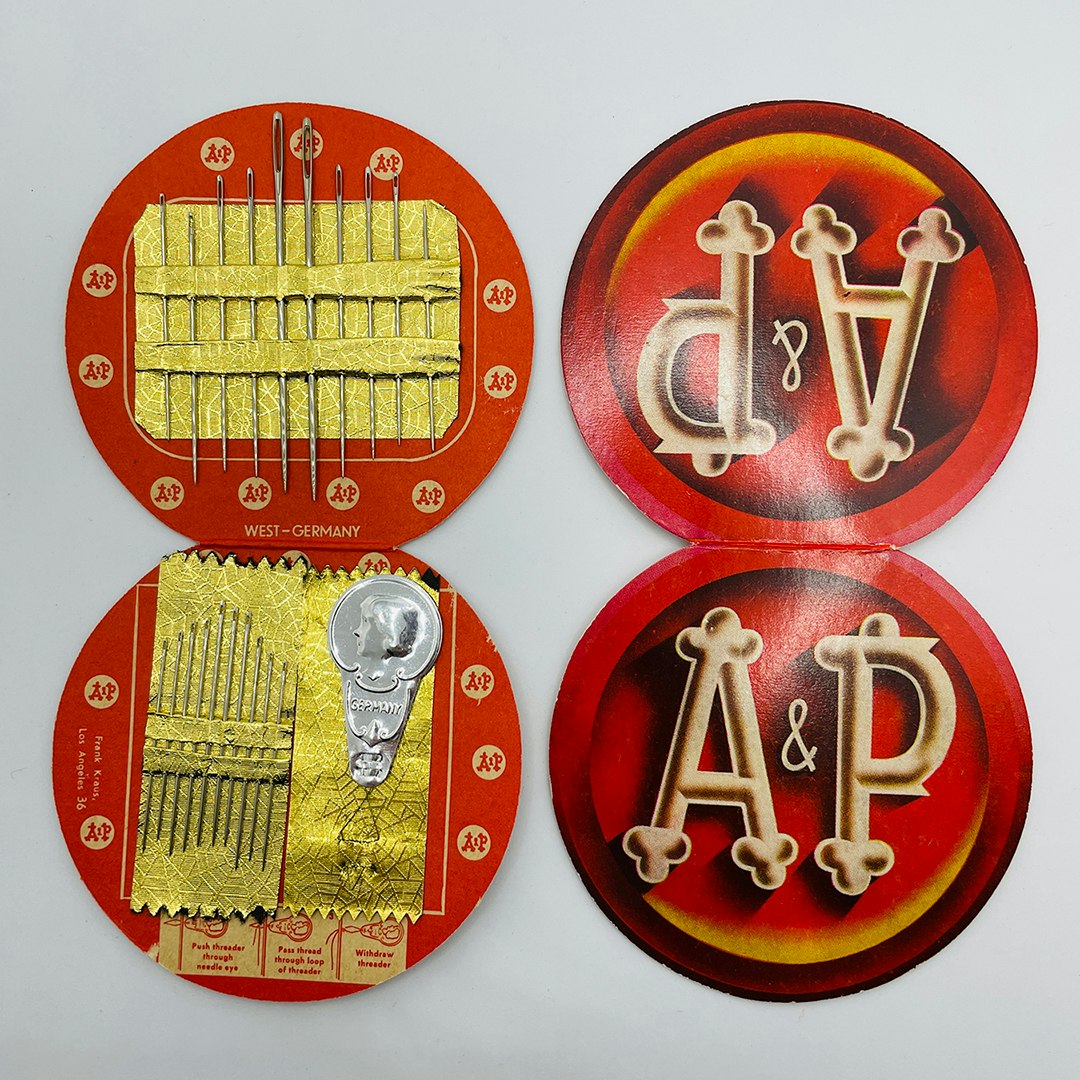 A & P Needlebook. Examples of needlebooks with no needles removed suggest that some of the original owners of needlebooks may have been collecting rather than using them.
Interested in learning more about needlework? This article and others can be found in the Winter 2022 issue of PieceWork.
Also, remember that if you are an active subscriber to PieceWork magazine, you have unlimited access to previous issues, including Winter 2022. See our help center for the step-by-step process on how to access them.
Notes
Martha Klatt, "Collector's Corner: Needlebooks," American Patchwork & Quilting 150 (February 2018), 104.
Mary C. Beaudry, Findings: The Material Culture of Needlework and Sewing (New Haven, CT: Yale University Press, 2006), 50–51.
Dawn Cook Ronningen, Antique American Needlework Tools (Atglen, PA: Schiffer Publishing, 2018), 22.
Colta Ives, "Lithography in the Nineteenth Century," Heilbrunn Timeline of Art History, October 2004, metmuseum.org/toah/hd/lith/hd_lith.htm.
"Needlebook," New-York Historical Society and Museum (website), accessed July 20, 2022, emuseum.nyhistory.org/objects/45850/needlebook.
Resources
MARSHA BORDEN is a lifelong collector of vintage sewing memorabilia. She has her mom's first how-to knitting pamphlet (circa 1961), her great-grandmother's knitting needles, and her 98-year-old neighbor's wooden darning egg, among other things. She is a textile artist who has been practicing needlework for more than 20 years. She lives on the shoreline in the New England region of the United States. Learn more about her studio practice at marshaborden.com.