On a leisurely Saturday, I decided to go through my needlework stash, hoping to find a project to fill the hours and satisfy my creative mood. My father's unfinished 9/11 quilt top immediately came to mind. I found it among my other treasures and pulled it out. As I unfolded it, a flood of memories engulfed me.
I remember the day clearly. I suppose everyone who was school-age or older remembers. We could probably all tell you exactly what we were doing when we heard about the attack. And the aftermath of fear and uncertainty was new to almost everyone.
My father was a quilter. He hadn't actually chosen quilting as a hobby but, rather, inherited it. My mother was a needleworker of all sorts, and her frustration with a crewel sampler is what snagged my dad. His offer to help blossomed into quilting assistance, and eventually, his engineering skills were put to good use designing tessellated quilts. From there the flame of passion grew. He became quite a quilter and even had one displayed at the Paducah Quilt Show. I wish he'd had a group to attend, but he felt like the odd man out among established groups of women quilters. He read as much as he could about quilting, and we'd share articles and books, techniques, and tools. Holidays weren't complete without exchanges of fat quarters. We even attended quilt shows together.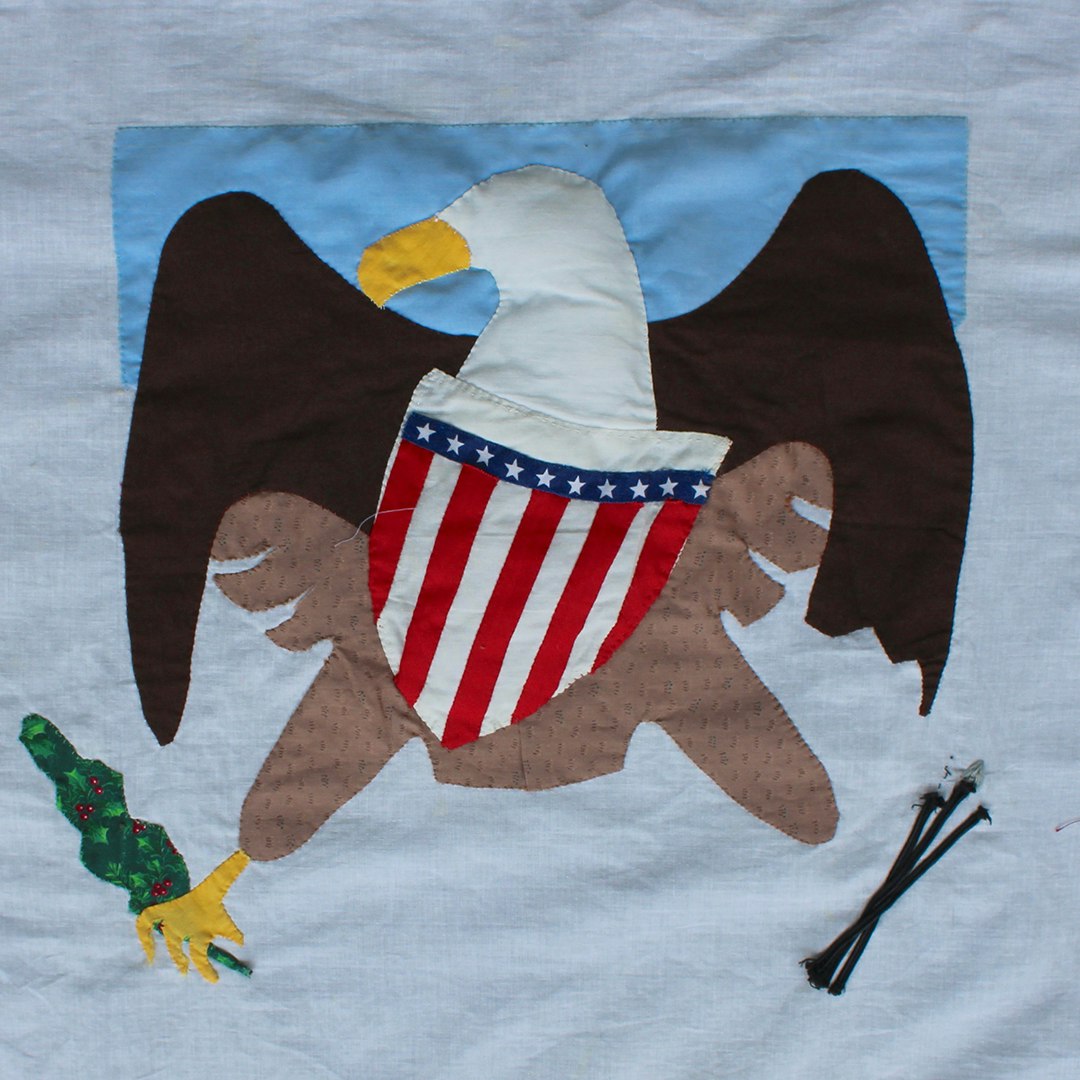 The eagle block is stuffed to create dimension
After 9/11, he mulled the idea of a memorial quilt. I suppose we all occasionally use our needlework to memorialize events. We also use needlework as a form of relaxation or therapy. I think this quilt was initiated for both of those purposes. Unfortunately, he passed away before he was able to complete it.
His plan was to appliqué onto 12-by-13-inch muslin blocks. He used a running stitch to delineate the blocks on a large piece of muslin. There were six blocks in progress. One I recognized as a misfit was a wreath from a Christmas quilt he made for my young daughter. Of the five remaining, I knew of his plan to include an airplane and a bridge on the block with the towers. The eagle was stuffed to make it three-dimensional, and the ship's sails were loose and flowing, adding to the design. The block with the snake was supposed to be the Gadsden Flag, representing the 13 colonies and "Don't Tread on Me." I have since learned that rattlesnakes don't attack, but when attacked, they don't surrender. I suspect he wanted to convey that message. Unfortunately, I have not found his "blueprint."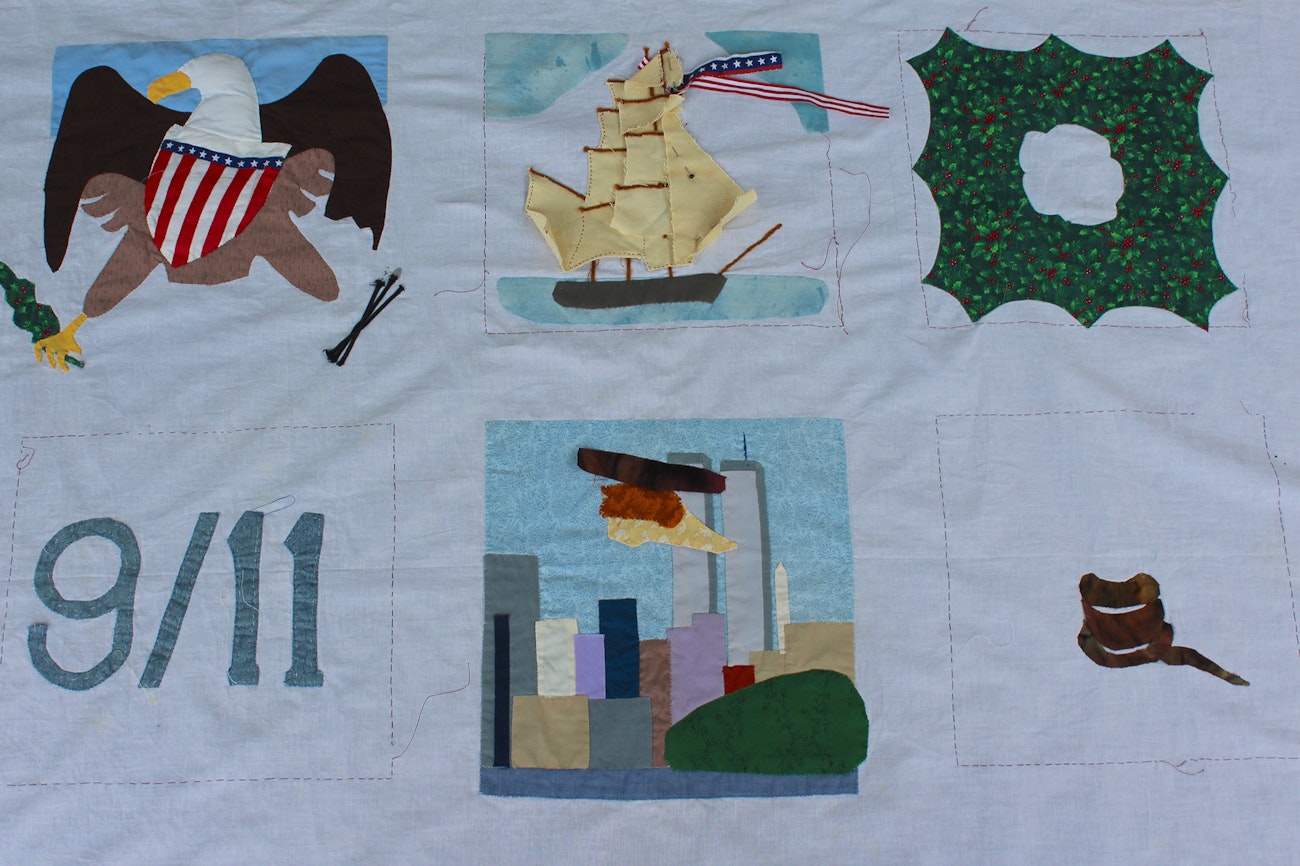 The blocks planned out by Barbara's father
When I cleaned out my parents' house, I had a list in my mind of the things I'd hoped to find and bring home. His unfinished quilt was on my list, and I was thankful I found it. At the time, I was not quilting, but I had future plans to try and complete it. Life got busy as life does, and here I am, memorializing it in my own way. It's not my preferred way, but for now, it's the best I can do, and I'll grant myself that little grace.
Barbara Hurd is a knitwear designer/author who dabbles in all sorts of needlework. On a recent antiquing day with her daughter, she purchased a small bag of irresistible fabric that reignited her love of quilting. Perhaps she will complete her father's 9/11 quilt after all.