Early British steel crochet hooks were manufactured from steel wire using the same methods and in the same workshops as sewing needles. They differed from sewing needles only by having one side of the eye removed to make a hook. Although interchangeably called "crochet hooks" or "crochet needles," the term "crochet hook" typically referred to the tool when mounted in a handle. Note: In this article, I generally will use the term "hook," although you will also see "needle," especially in text references from the time (e.g., in patents).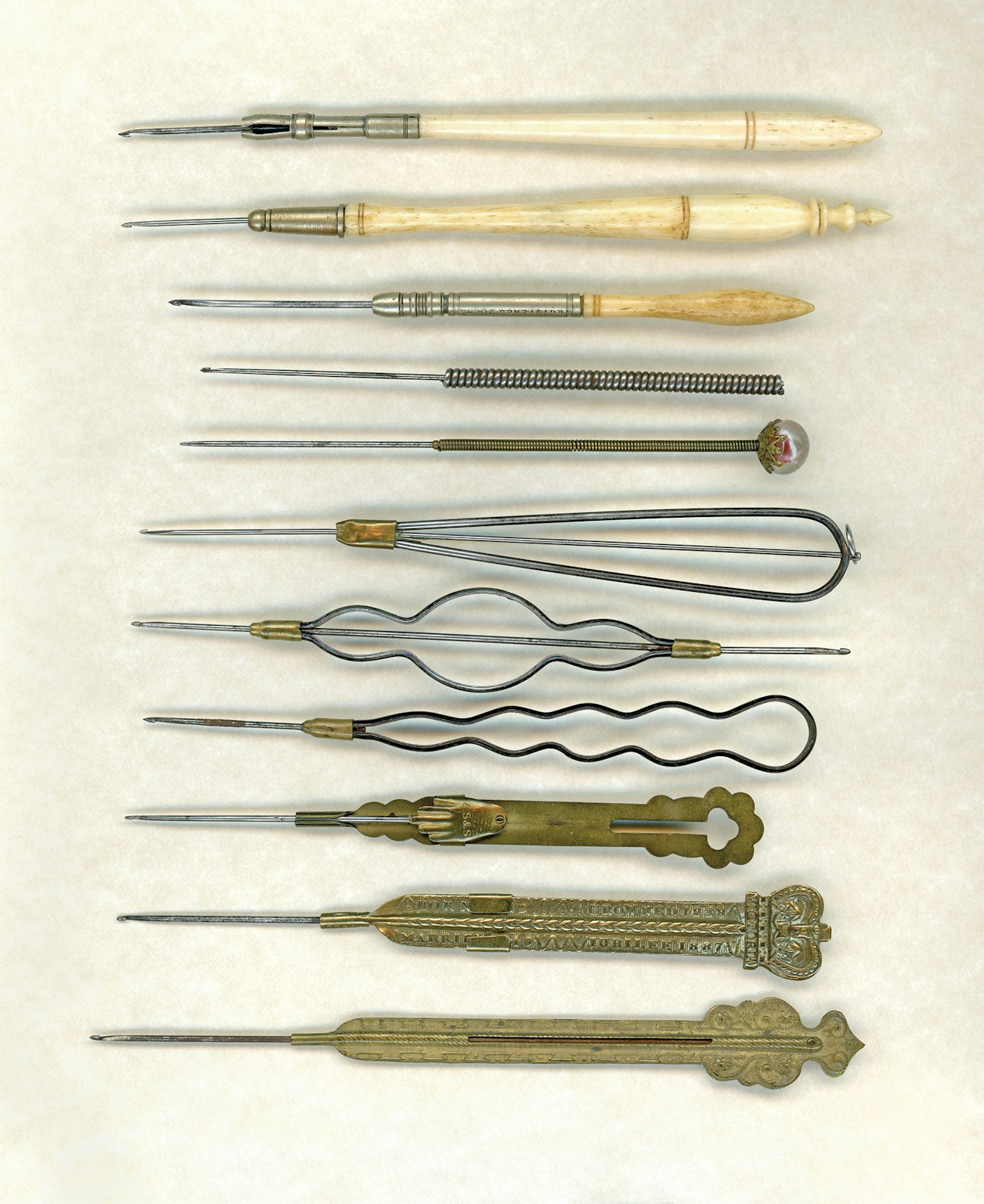 Early British crochet hooks made from 1847 to 1900 differed mostly in the handles used to hold the crochet needles. Top to bottom: The first three feature compression fittings on bone handles, the fourth and fifth have coiled handles, the sixth, seventh, and eighth have open-wire handles, and the last three have stamped-brass handles.
Needle making in England was centered around the town of Redditch in Worcestershire, and it extended in about a 10-mile (16 km) radius. In 1847, when the first British patents for the hooks were issued, it was a cottage industry; individual families made needles from start to finish, with some families and family-owned companies specializing in certain types. Family businesses that innovated in crochet-hook design and production included George Chambers and Co., Abel Morrall, and William Hall and Co. in Studley; Alfred Shrimpton and Sons, John Shrimpton and Son, Zaccheus Shrimpton and Sons in Redditch; and John Burgess and Sons in Birmingham. Some also manufactured toys and smallware (e.g., John Shrimpton's and John Burgess's companies). Over the next fifty years, some of these family-owned businesses closed when the owner died (e.g., George Chambers's and Zaccheus Shrimpton's companies). Yet others (e.g., Abel Morrall's company) expanded by hiring employees and absorbing smaller companies. By 1900, the companies in the needle-making industry had transformed into businesses with corporate structures.
The Process
Michael T. Morrall describes the needle-making process in his 1862 book, History and Description of Needle Making, and he makes specific reference to crochet hooks: "Steel crochet hooks, and all kinds of needles for fancy work are made in this locality [Redditch], by the workmen who came from Long Crendon [in Buckinghamshire], and they supply the manufacturers with them. These goods are made by hand in private houses. Abel Morrall was the first to make crochet hooks by stamp and press, for which a London house unfairly obtained a patent."
Comparison of 1847 George Chambers crochet needles (middle and bottom) with a modern sewing needle (top), illustrating how the removal of one side of the needle eye forms a hook. It wasn't necessary to point the needle for crochet as shown in the bottom example.
Crochet hooks used for thread work (lacemaking) needed to be mounted in a handle, which served two purposes: it held the shaft tightly, and it kept the hook from rotating out of position as the needleworker was crocheting (thus preventing the hook from catching the thread on the subsequent stitch). Crochet hook handles were made in a dizzying variety of styles. During the second half of the nineteenth century, crochet hooks underwent many changes in design and style largely because of advances in steel-manufacturing techniques. The patents registered as well as the timing of advances in steel manufacturing have turned out to be the most useful method for dating these hooks.
Coiled-handle crochet hooks were first patented by John Shrimpton in 1862 in a variety of styles. Top to bottom: Basic coiled handle in steel; duplex hook with large hook at one end and small hook at other (brass cap stamped with patent date was provided to cover the hook not being used); coiled handle in steel with glass paperweight end; coiled handle in brass with glass paperweight end; needle end folds back and wraps around itself (finer steel wire was used to wrap the handle).
Hooks to Handles
Some early crochet hooks incorporated compression fittings to hold the shaft of the hook securely. Most incorporated a brass fitting because brass was softer than steel and could be worked into small, complex pieces much more easily. In 1847, George Chambers patented a split-shank fitting, with the hook inserted into the split and a ring around the shank pushed down to hold it in place. This fitting held the hook firmly, but the ring could be dislodged accidentally. The next year, a patent issued to John Coney used a brass-threaded fitting. For some, the bone of the handle would be threaded. In these cases, to prevent the fitting from being loosened accidentally, a pinhead was added to the needle. In 1848, George Chambers was granted another patent that used a metal-threaded collet (band or sleeve) made of brass. It compressed the fitting around the shank of the hook and could not be loosened accidentally. The collet style, although expensive to produce, remained in production for the rest of the century as a handle for sets of hooks containing multiple-size needles. About 1860, steel replaced brass in the collet, making for a more durable fitting.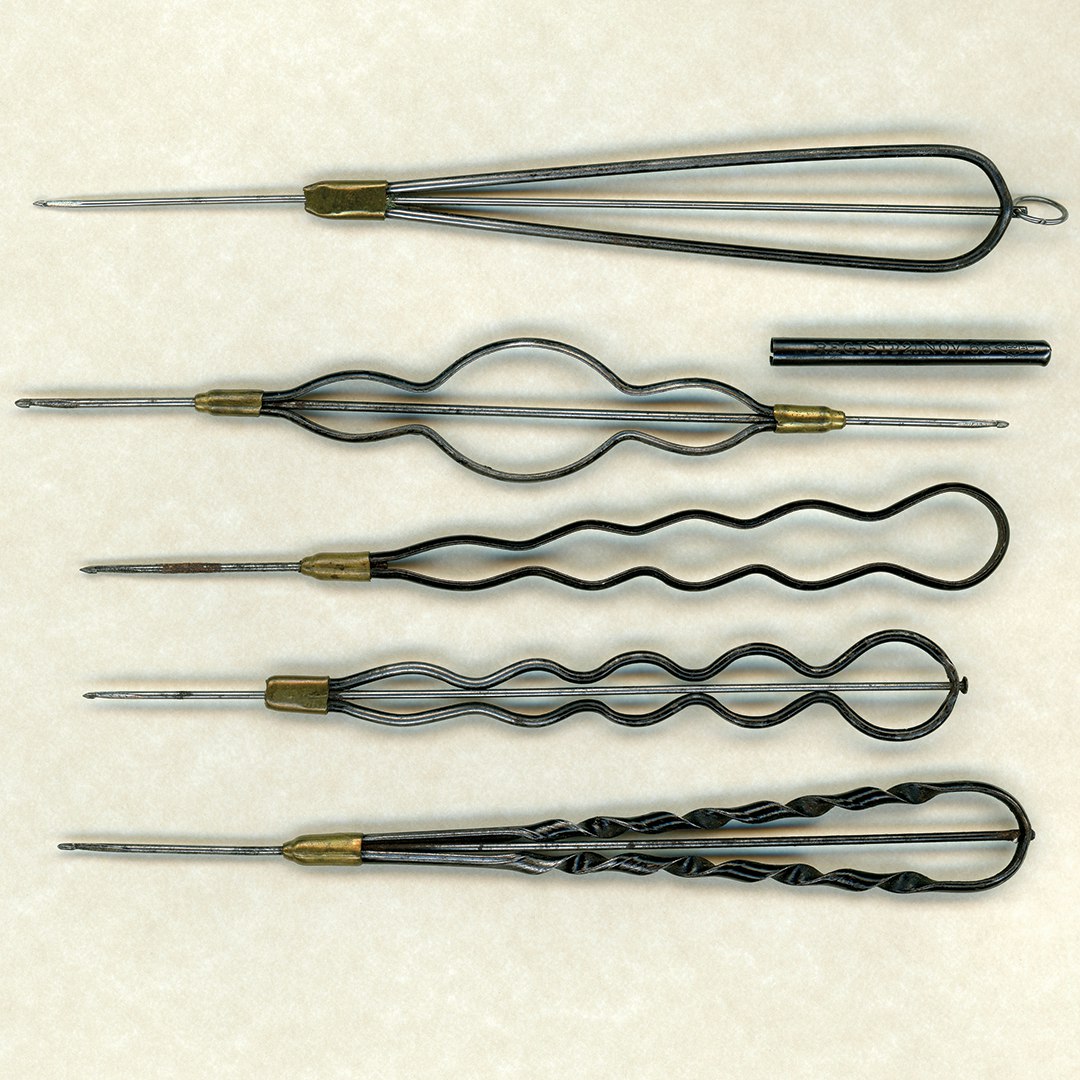 Open-wire handle crochet hooks with patents from 1866 to 1877 were still being advertised in London in 1888. Patent marks were sometimes stamped on the brass collar. Top to bottom: Basic open-wire handle; duplex hook with large hook at one end and small hook at other (a cap stamped with the patent date was provided to cover the hook not being used); scalloped handle with short needle; scalloped handle with long needle; twisted handle.
The Metal of Choice
Steel was manufactured only in small batches before Henry Bessemer developed and patented a method of mass production in 1856. By 1860, large quantities of steel were being produced by the Bessemer process. Furthermore, the metal's composition could be varied to make steel with different properties. Hard steel was made for tools that could bend and stamp parts made from brass and softer steel. John Shrimpton patented a crochet hook in 1862 that used wire tightly coiled over a long shaft. Design patents were in effect for just three years, so other crochet-hook manufacturers quickly adopted the idea. The style is found with either brass or steel handle wire; some have decorative ends, including glass paperweights. The coiled-handle crochet hooks still suffered from the problem of the hook rotating out of position as the crocheter worked. The last patents for this style were issued about 1871 and production may not have continued much after that.
In 1866, Zaccheus Shrimpton introduced two open-wire handle crochet hooks, and several companies soon produced dozens of variations. This style had the great advantage of not rotating as the needleworker crocheted. Although made mostly of steel, the hooks and handles were still assembled with soft brass collars. The steel handles were normally coated with black lacquer to prevent rust. Variations in addition to handle shape included hooks for which the handle was made of brass, sliding hooks whose shaft could be drawn up between the sides of the handle, and duplex hooks with each end holding a hook of a different size. The duplex style was popular for many years, and duplex-style crochet hooks were still being advertised in the 1888 Olney, Amsden & Sons General List, a London haberdashery wholesale catalog.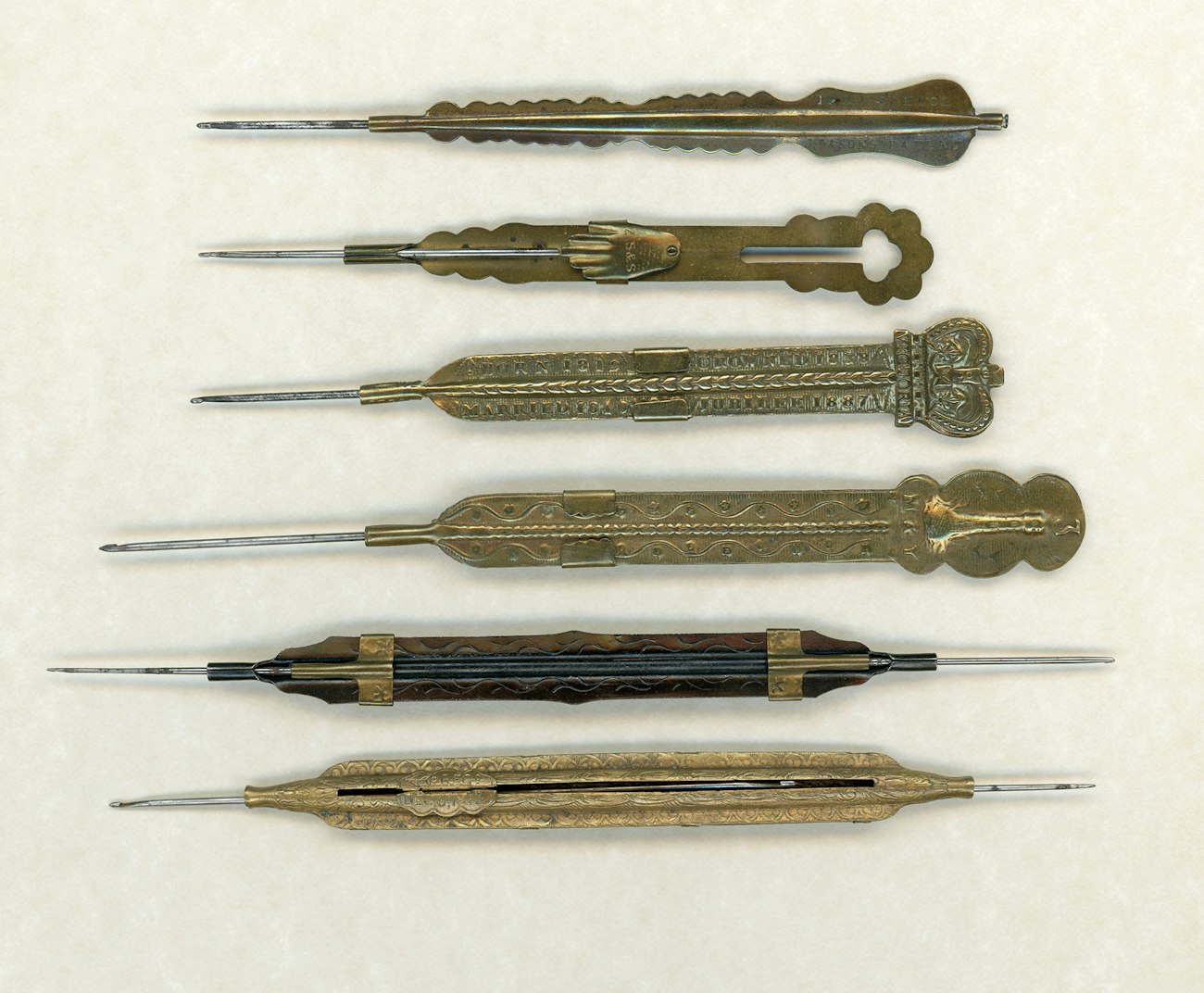 Crochet hooks with stamped-brass or stamped-steel handles, most with surface design incorporating trademarks and/or text. Top to bottom: Stamped The School, J B & Sons Patent by John Burgess & Sons, the needle is permanently mounted in the brass handle; sliding needle with hand-shaped mechanism stamped Z.S&S by Zaccheus Shrimpton and Son; sliding needle Queen Victoria commemorative hook, handle stamped with text: "Born 1819, Crowned 1838, Married 1840, Jubilee 1887," and portrait of Queen Victoria on mechanism on the back; sliding needle with handle finial stamped with lighthouse (Morris and Yeomans's trademark), "M and Y" and "3½" (size); duplex hook with steel handle (the same design also was made in brass), the unused hook retracts into the handle; quad hook by Charles Miles and Sons with mechanism for two hooks on one side and separate, identical mechanism for two more hooks on the opposite side.
Another popular style was a hook comprised of a shaft and stamped-brass handle introduced by William Hall in 1876. Stamping made possible surface design that could incorporate trademarks, such as the Morris and Yeomans's lighthouse, or text, such as the words on the Queen Victoria Golden Jubilee commemorative hook. Some of the hooks were permanently mounted in handles; other hooks slid into the handle for storage. Some variations of the sliders incorporated two or four hooks of different sizes. A few hooks had stamped steel handles. Crochet hooks with handles were eventually replaced by one-piece crochet hooks formed from tapered steel rods. Steel-rod crochet hooks had been manufactured as early as 1860, when steel became more readily available, although the round or hexagonal rods were difficult to hold, and the hook easily rotated out of position. Crochet hooks with handles remained the hooks of choice until August Kippenberg patented the flat (also called "grip" or "pad") hook in 1896. Other companies experimented with grip variations on steel-rod hooks, but none were as easy or cheap to produce as Kippenberg's. And the inventions continued!
Interested in learning about other craft collections? This article and more can be found in the PieceWork November/December 2017 issue.
Also, remember that if you are an active subscriber to PieceWork magazine, you have unlimited access to previous issues, including November/December 2017. See our help center for the step-by-step process on how to access them.
NANCY NEHRING is a regular contributor to PieceWork publications. She has been researching crochet-hook history for more than fifteen years.
Originally published October 18, 2017; updated November 7, 2022.