In the PieceWork special issue Vintage Crochet, Mimi Seyferth introduces us to Jabez William Ridgwell (1874–1957). Jabez learned to crochet granny squares as a part of his rehabilitation after he lost parts of several fingers to shrapnel in the Second Boer War (1899–1902). He crafted a christening blanket consisting of one large granny square.
In her article "Jabez Ridgwell: A Boer War Soldier Crochets," Mimi Seyferth explains the connection between crochet and the Boer War:
"Jabez Ridgwell's blanket is not the only granny-square crochet project related to the Boer War. Queen Victoria (1819–1901) crocheted eight khaki-colored woolen scarves, using the double-crochet-and-chain-stitch construction characteristic of the granny square motif, to be awarded to selected veterans of the Boer War. To honor her self-governing colonies' contributions to the Boer War effort, four of her scarves went to the four most distinguished soldiers in the Canadian, Australian, New Zealand, and South African forces. The other four scarves were given to her grandson Major Prince Christian Victor (1867–1900) for presentation to the British Army soldiers. The scarves, ranging from 4 to 5 feet (1.2 to 1.5 m) in length and 8 to 10 inches (20.3 to 25.4 cm) in width, were proudly worn as sashes.

The recipients of the scarves were all enlisted soldiers who were selected for the award by a vote of their fellow soldiers, which was approved by a board of officers. The member of the South African forces who was selected to receive one of Queen Victoria's scarves was actually an American—Leonard Chadwick (1878–1940), who had been awarded the Medal of Honor for his service in the U.S. Navy during the Spanish-American War (1898) and who thereafter enlisted in the South African Mounted Irregular Force in 1900 to fight in the Second Boer War."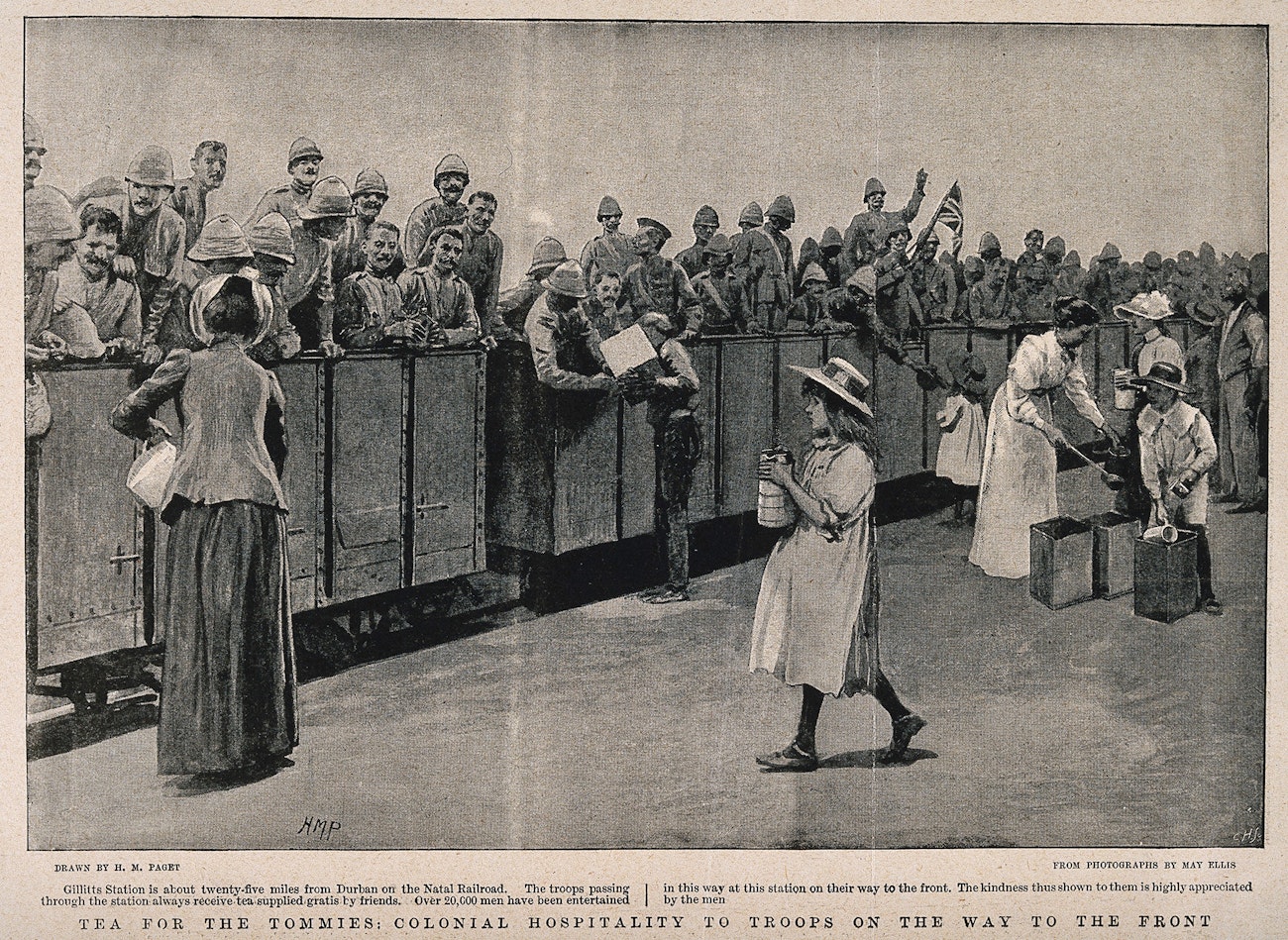 Boer War soldiers in packed train carriages receive tea. Halftone. Circa 1900.
Image © Wellcome Library, London and courtesy of Wikimedia Commons
No one knows who taught Jabez Ridgwell to crochet granny squares. His crochet blanket has swaddled generations of family babies during their baptisms and has become a treasured family heirloom. Today, the blanket is safely in the care of Jabez's great-granddaughter Joan Gates, who lives in Norfolk, England.
Swaddle a special baby with this lovely christening blanket. Photo by Joe Coca
Inspired by Jabez's story, Mimi designed a replica of the christening blanket, which is featured in the PieceWork special issue Vintage Crochet.
I can relate to the healing powers of crochet while on the mend. One summer after breaking my foot, I crocheted a six-foot granny-square afghan. At the time, I had no idea I was keeping alive a Victorian tradition—rehabilitation with crochet granny squares. How has crochet, or other forms of needlework, aided in your own recovery?
Interested in finding more crochet projects? Find this project and others in Vintage Crochet.
Also, remember that if you are an active subscriber to PieceWork magazine, you have unlimited access to previous issues, including Vintage Crochet. See our help center for the step-by-step process on how to access them.
Elizabeth Prose is a former associate editor of PieceWork.
Originally published October 11, 2017; updated August 18, 2023.