Discover the history of crocheted buttons and crochet your own Irish Rose button from Nancy Nehring's wonderful article and project featured in the March/April 1994 issue of PieceWork. You'll find Nancy's entire article and the patterns for two other crocheted buttons to make in that issue. —Editors
Handmade crocheted buttons were particularly popular, especially in Great Britain, the United States, and continental Europe, from about 1860 until about 1915, although their popularity revives periodically, as it did in the 1940s. At that time, buttons were important decorations as well as functional closures for waists, dresses, and coats.
Many crocheted buttons were black, some were white or off-white, and a few were made in other colors. Several factors contributed to the preponderance of black buttons. Black could be used as a trim color on nearly any color of dress fabric. Black buttons also were suitable for all cloth coats and on furs and fur trims, either as buttons with corresponding buttonholes or a part of a toggle. Black dyes were readily available, and black didn't show the dirt in an era when better clothes were often only spot-cleaned. The most important factor, however, at least in England and the United States, was the rigid mourning customs that required black dress for specific periods of time following the death of relatives as distantly related as a manytimes-removed cousin or a sister-in-law's relative.
Because fabric was expensive, many women, especially middle and lower-class women who could not afford new dresses frequently, simply dressed in black whether in mourning or not. White and off-white buttons were used on summer waists and dresses, especially during the Edwardian era (1901–1910). Crocheted buttons were a perfect match for the lace-encrusted clothing and would stand up to repeated hand washings (wringer washers were invented about 1900). Colored buttons on nineteenth- and early twentieth-century clothing are rare.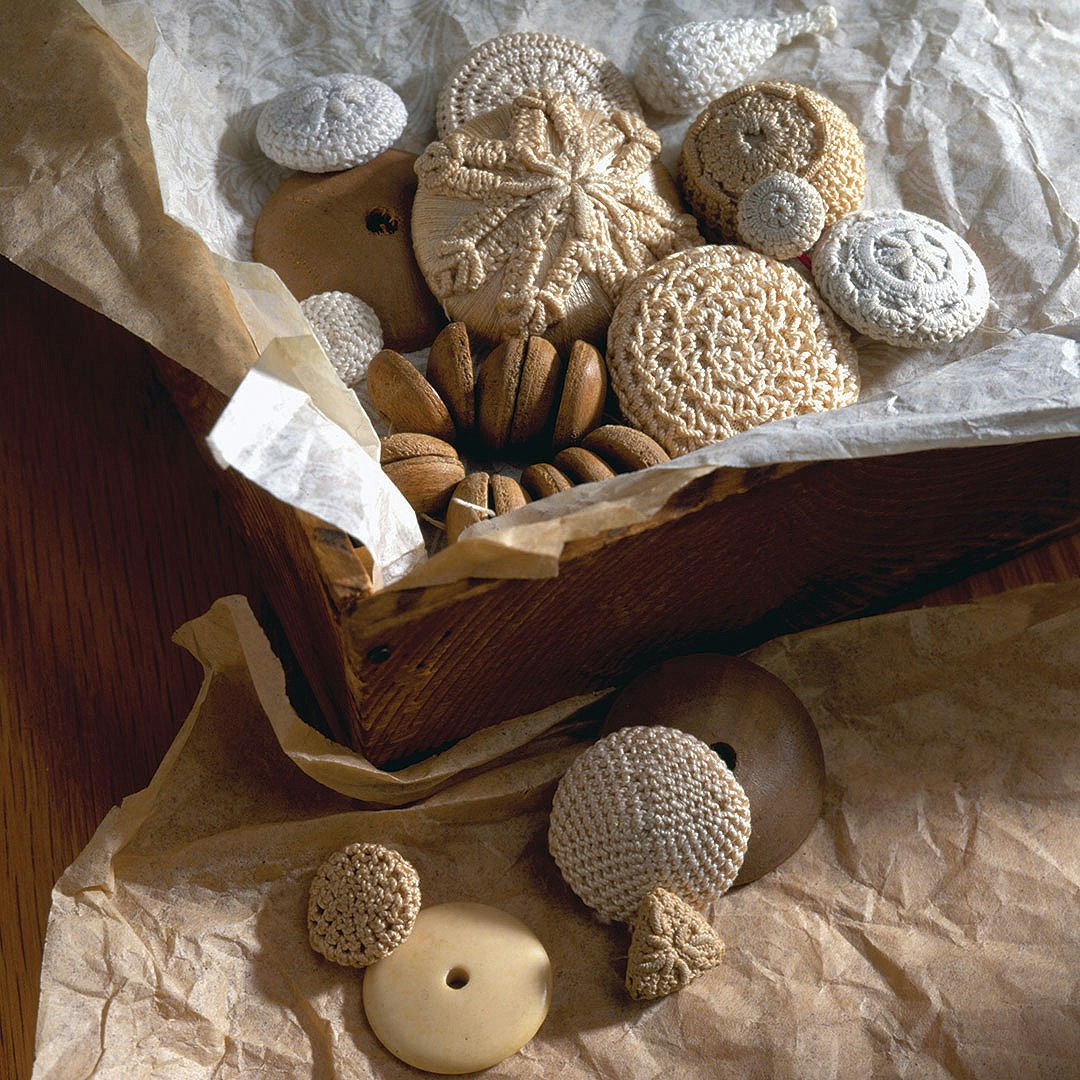 Antique crocheted buttons. Probably Edwardian era (1901–1910). Collections of Nancy Nehring and Agnes Scorgi
In the nineteenth century, Paris was the center of the European fashion industry, and a cottage industry grew up in and around Paris to supply crocheted buttons. Lace makers and button makers belonged to the same guild in the 1700s in France, and this connection may have contributed to the development of commercially crocheted buttons in France. Crocheted buttons elsewhere were made at home or by dressmakers.
Conditions for button makers in France were similar to those for lace makers there and elsewhere in Europe (see "Irish Crochet," March/April 1993). The makers were paid little. Women did most of the crocheting at home and took their work to a buyer, who then did not have to provide work space. Handwork might supplement the family income or might in the case of widows be the sole income for them and their children.
Making crocheted buttons required little in the way of supplies. Thread, a crochet hook, rings, and molds were all that was required.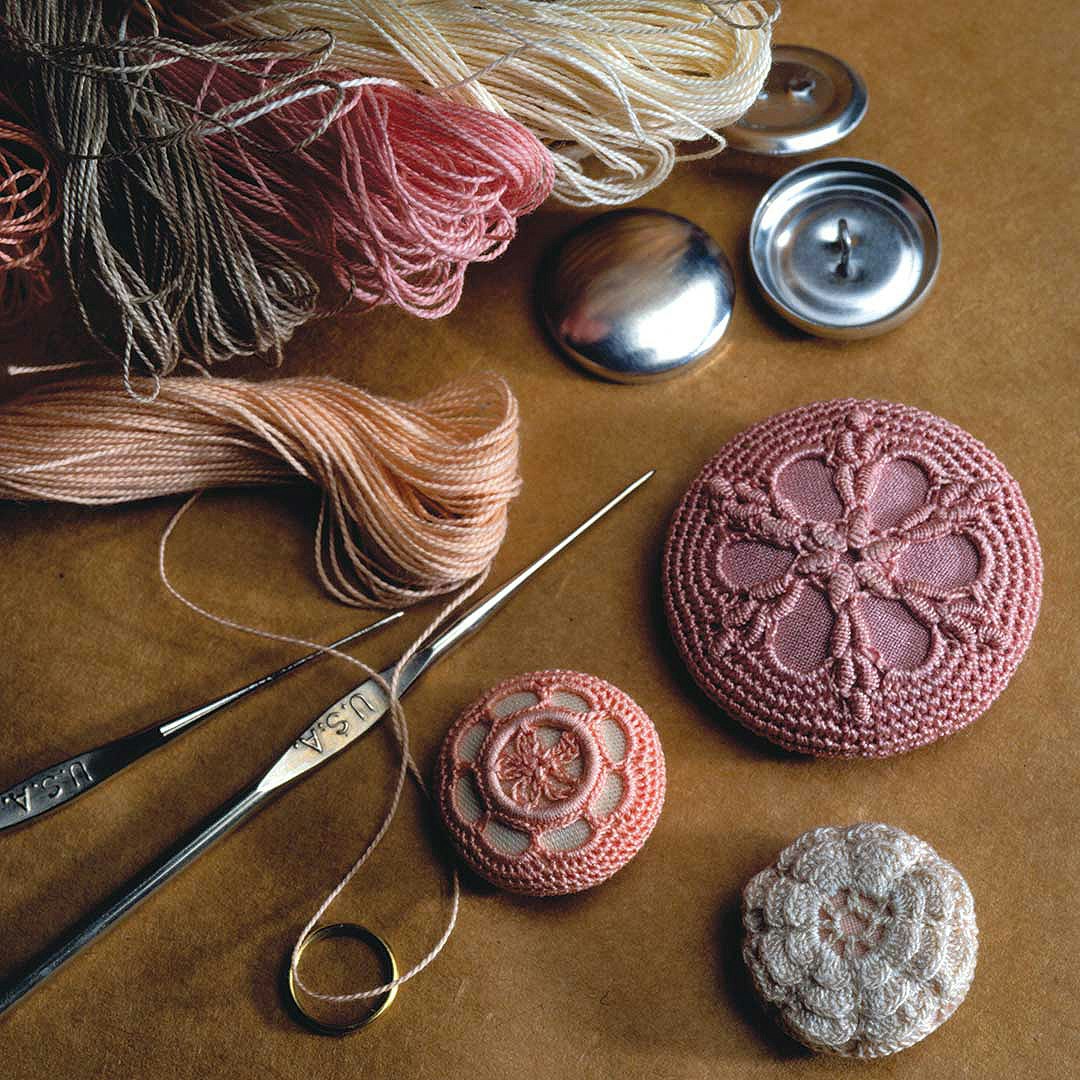 Three Victorian-style crocheted buttons made by Nancy Nehring. The peach-colored button is the Floribunda Arch button, the off-white is the Irish Rose, and the large pink one is the Stacked Bullions button. The pattern for making your own Irish Rose button follows.
Irish Rose Crocheted Button to Make
Materials
Handy Hands Lizbeth Cordonnet, size 80, 100% crochet cotton thread, 184 yard (168.2 m)/10 gram (0.4 oz) ball, 1 ball
Crochet hook, size 14 (0.7 mm) steel
Dritz Craft Cover Button, ⅞ inch (0.9 cm), size 36, half-round button mold covered with fabric
Instructions
Rnd 1: Ch 8, sl st in 1st ch to form ring.
Rnd 2: Ch 5, (dc, ch 2) 7 times in ring. Sl st in 3rd loop of ch 5 to join—8 loops in all.
Rnd 3: Ch 1 (counts as 1st sc). (Sc, 5 dc, sc) in each ch-2 loop around. Sl st in 1st ch 1 to join.
Rnd 4: (Ch 3, sl st between next 2 petals) around, making 8 loops on the back.
Rnd 5: Sl st in ch-3 loop. Ch 1 (counts as 1st sc). (Sc, 7 dc, sc) in each ch-3 loop around. Sl st in 1st ch 1 to join.
Rnd 6: (Ch 4, sl st between next 2 petals) around, making 8 loops on the back.
Rnd 7: Sl st in ch-4 loop. Ch 1 (counts as 1st sc). (Sc, hdc, 9 dc, hdc, sc) into each ch-4 loop around. Sl st in 1st ch 1 to join.
Rnd 8: (Ch 5, sl st between 2 petals) around, making 8 loops on the back.
Rnd 9: Sl st into 1st ch-5 loop. Ch 2 (counts as 1st dc). 7 dc into each ch-5 loop around. Sl st in 2nd ch to join.
Rnd 10: Ch 2 (counts as 1st dc). Dc in each dc of previous rnd. Sl st to join.
Finishing
Insert button mold. Finish the back of the button: Without joining at the end of every rnd, sc in every other stitch around to the center back of the button mold. This will cause the crochet to cup over the mold, holding it in place. Fasten off.
Interested in more patterns for crochet buttons? Find additional designs from Nancy in the March/April 1994 issue of PieceWork.
Also, remember that if you are an active subscriber to PieceWork magazine, you have unlimited access to previous issues, including March/April 1994. See our help center for the step-by-step process on how to access them.
Nancy Nehring is a regular contributor to PieceWork publications. She has been researching crochet and crochet-hook history for many years. She is also passionate about knitted lace and is the author of a PieceWork eBook: Mary Schiffmann's Lacy Knitting. The eBook follows lace-knitting legend Mary Schiffmann's 10-week lace knitting classes; the classes were designed to become progressively more challenging. Find out more information about Nancy on her website.
Originally published March 14, 2019; updated March 17, 2023.