Wander the exhibits at Audubon's Center for Birds of Prey in Maitland, Florida, and you might find Lauren Austin quietly sketching or observing, gathering inspiration for her next quilt project. As the center's Artist in Residence, Austin readily incorporates birds into her work—even X-rays of their broken bones!
Austin made her first quilt at age seven, and has sewn, quilted, and more every year since. Throughout her career at the US State Department and as a human rights lawyer, she used her free time to make quilts, and in 2004 she began pursuing her fibercraft art full time.
Her interest in birds also began at a young age.
"My mother, Elizabeth Beyene, introduced me to birding when I was small," Austin says. "She spent many early mornings observing and identifying birds at our backyard feeder in Syracuse, New York. We travelled to local nature preserves, took part in annual bird counts, and went on summer excursions to state and national parks. Mom was a gardener as well, and created the backyard to be welcoming to birds."
Austin is continually inspired by kuba cloth, a type of textile created in the Democratic Republic of Congo. Known for its complex designs and geometric motifs, kuba cloth is created using appliqué and patchwork techniques.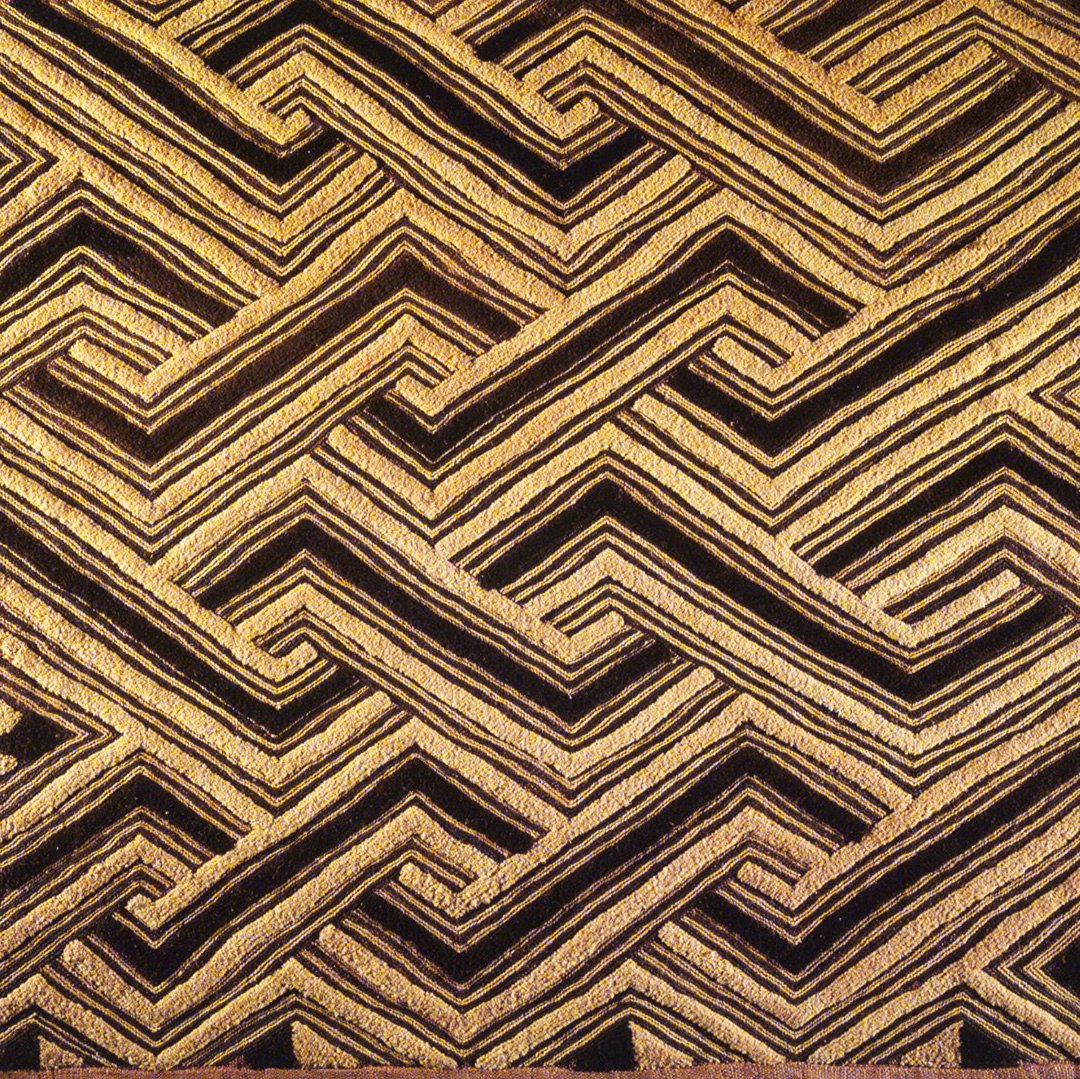 An example of kuba cloth. Photo courtesy of Brooklyn Museum, CC BY 3.0, via Wikimedia Commons
Incorporating birds into her quilting work was an obvious fit, but why birds of prey?
"I love raptors!" she says. "I have lived on every continent except Australia and Antarctica, and I find the raptor center in every place I have lived to be able to see these marvelous birds up close if possible. I like to sketch and paint the birds to use their images in my art."
Taking inspiration from raptors one step further, Austin worked with the staff at the Center for Birds of Prey to see and use X-rays in her work. In addition to caring for the ambassador birds that visitors can see, the center runs a busy Raptor Clinic year-round. Staff medically treat and rehabilitate hundreds of birds each year, from tiny owl babies to adult bald eagles.
"Beth Lott, a raptor specialist at the Center for Birds of Prey, saw a quilt I made with an X-ray of my own broken arm. She told me the break I had endured would have probably killed me if I were a bird," Austin explains.
She continues: "Beth showed me many X-rays of raptor injuries, and very patiently explained each one. I started printing the X-rays on fabric and making quilts with that fabric, and continue to do so. It has deepened my love and respect for raptors given all that they endure. The Center has been a resource and a wonderful place to see and draw my favorite birds."
Austin incorporates the X-rays using a variety of methods. Using special fabric and an inkjet printer, she directly prints the X-ray images onto fabric before incorporating the images into her work. A proud owner of an industrial quilting machine, Austin layers and bastes her fabrics for the quilt top design, then batting, and then backing, before "quilting it to death" to give her textiles a pieced look. Alternatively, Austin sometimes prints the X-rays or her sketches of the birds on clear acetate before using a chemical that reacts to the power of the sun to create blue tones on fabric, a process called cyanotype. The advantage? Fine details and subtle, beautiful gradations of blue.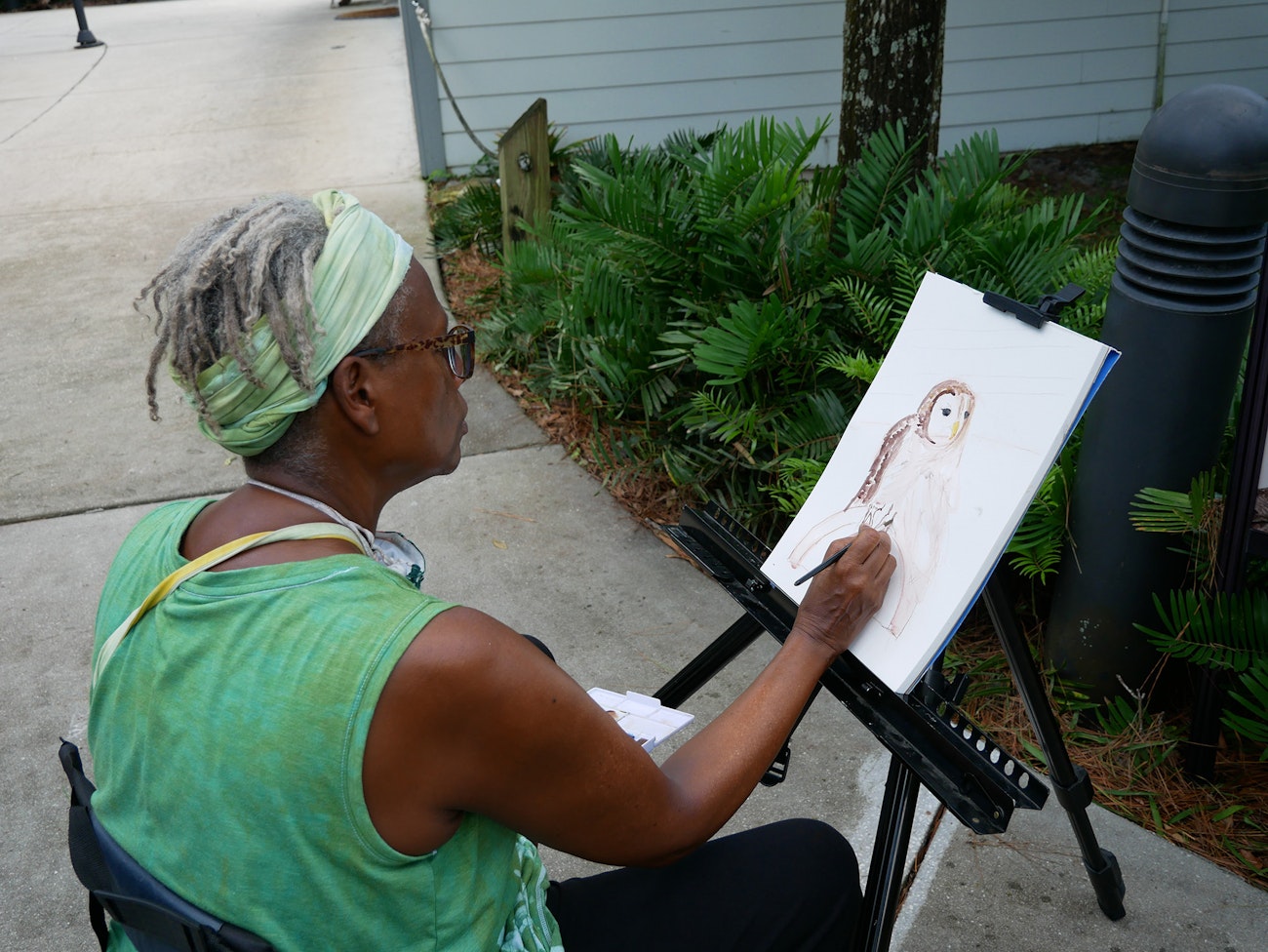 Lauren can often be found sketching at the park. Photo courtesy of Audubon Center for Birds of Prey
Katie Warner, Director of the Center for Birds of Prey, is an enthusiastic supporter of Austin's work: "Lauren has been a great addition to our operations and programs at the Center. She brings a unique perspective and approach to birds and art. She has worked with us to bring new audiences from surrounding communities for visits and events. Most recently, Lauren joined education staff for an after school Birds and Arts program at the Eatonville Library. Working together we are introducing birds, arts, and conservation to new audiences."
Quilts containing images of the raptors and X-rays have been exhibited around the state. Austin hopes that when people see her quilts, they walk away knowing "that the ordinary, intimate, and difficult stories of our own lives make intriguing art. Art is not owned by certain people, it belongs to everyone."
Learn more about Lauren Austin here, or follow her on Instagram.
Erika Zambello is a writer and communications specialist living in Florida. She is a fan of knitting on the move, especially during walks, hikes, and kayak trips. You can follow her fibercraft explorations at @knittingzdaily on Instagram.