A wooden spool with four nails (or pegs or staples) hammered into one end has kept little fingers busy and out of mischief for centuries. Children—and adults—worldwide may know it as a Knitting Nancy, Knitting Jenny, Knitting Nelly, Knitting Nana (K-Nana for short), Bizzy Lizzy, Corker, Knitting Knobby, or Knitting Noddy (not to be confused with a niddy-noddy, a tool used for skeining and/or measuring wool). Boys and men might choose to use a Knitting Bob. Clever shaping and painted details have produced such variants as the Knitting Doll, Knitting Mushroom, Knitting Flower, and Knitting Bee. German children have their Strick Susel [Knitting Susie], while kids in classes at the Victoria and Albert's Children's Museum in London use the same tool for "Scoubedoo Knitting." Others call it a French Knitter, supposedly in allusion to the hats of participants in the French Revolution (1789–1799), which were made on larger versions of the knitting spool.
No one is certain of the origin of the knitting spool or its cousins, the peg frame, the knitting frame, or the knitting rake. Richard Rutt declares:
"The only clear evidence for the early existence of the peg frame is in Gustav Schmoller Die Strassburger Tucker- und Weberzunft (1879), an account of textile guilds in Strasburg. He mentions evidence for the stühl or gestell, a knitting frame, in 1535 and regulations drafted in 1618 about the number of stühl to be allowed in a master-knitter's workshop. . . ."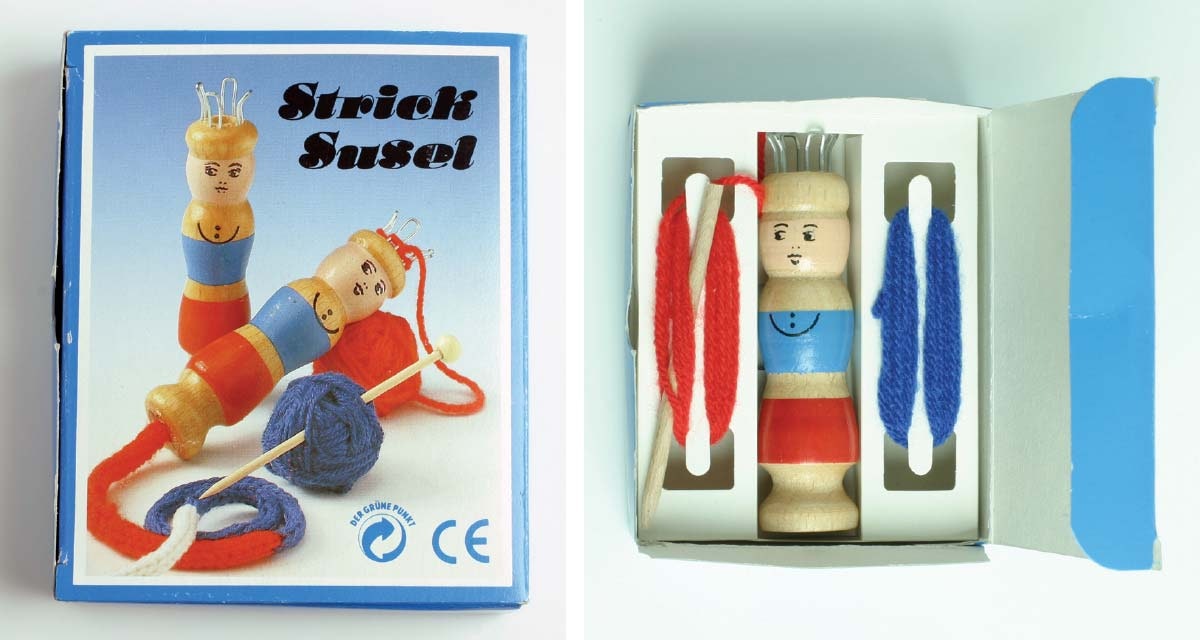 Knitting spool made in Germany for Richard Lausmann, Bad Rodach, Germany
All of these tools create a tubular or flat fabric by repeatedly interlocking loops of yarn. To knit with a knitting spool, the yarn is first wrapped around each peg in turn, either clockwise or counterclockwise, then wrapped once around the perimeter of the pegs in the same direction. Now, one peg at a time, the first wrap of yarn is lifted up over the second wrap and the top of the peg. The wrapping and lifting are repeated again and again, always in the same direction, and the resulting cord is pulled down through the hole in the center of the knitting spool.
Knitting spools may vary in diameter and number of pegs. Jewelry designer Sandy Amazeen of Williams, Arizona, was dissatisfied with the tubes she obtained by winding wire around on a four-peg spool so she devised one with ten pegs. This spool enables her to knit 20- to 28-gauge silver, gold-filled, or brass wire, prestrung with beads, into large tubes that she then pulls through a series of drawplates of increasingly smaller diameter.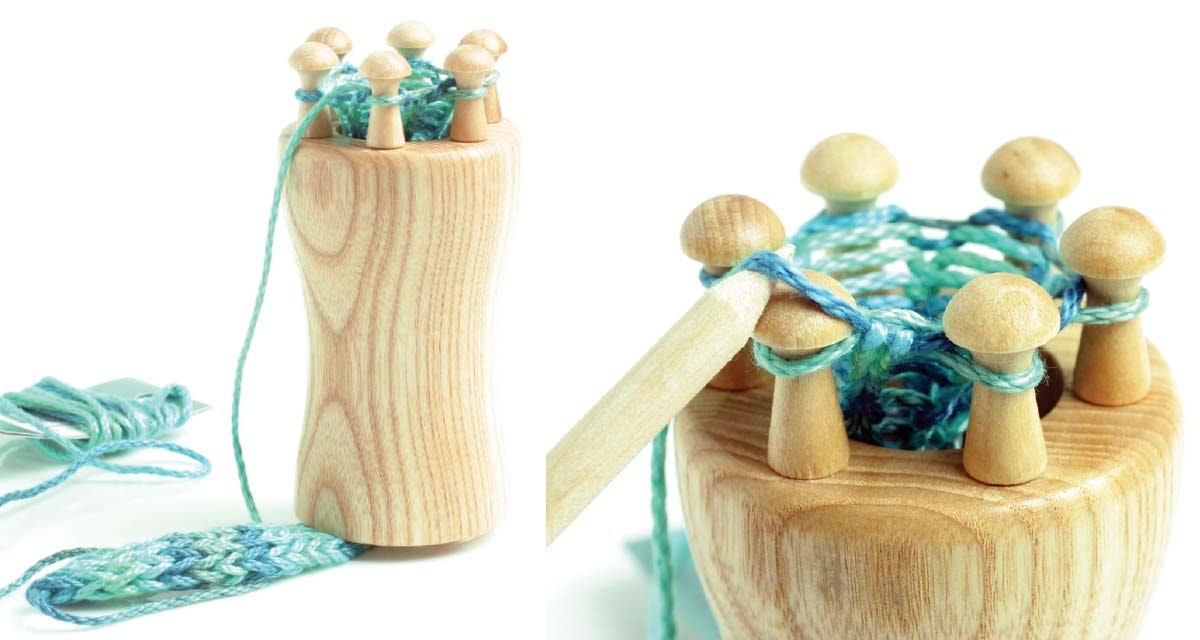 Knitting spool made in Canada of Canadian hardwood for The Skacel Collection, Seattle, Washington, with The Caron Collection Watercolours thread
Use spool-knitted cord for clothing ties or drawstrings; looped into flowers and tacked onto garments; coiled and sewn into mats, coasters, or purses; or threaded onto pipe-cleaner armatures and shaped into animals or other figures. You can even braid, knit, or crochet the knitted cord. Try using cord created from metallic or overdyed thread instead of ribbon for decorating ponytails or tying up gift boxes.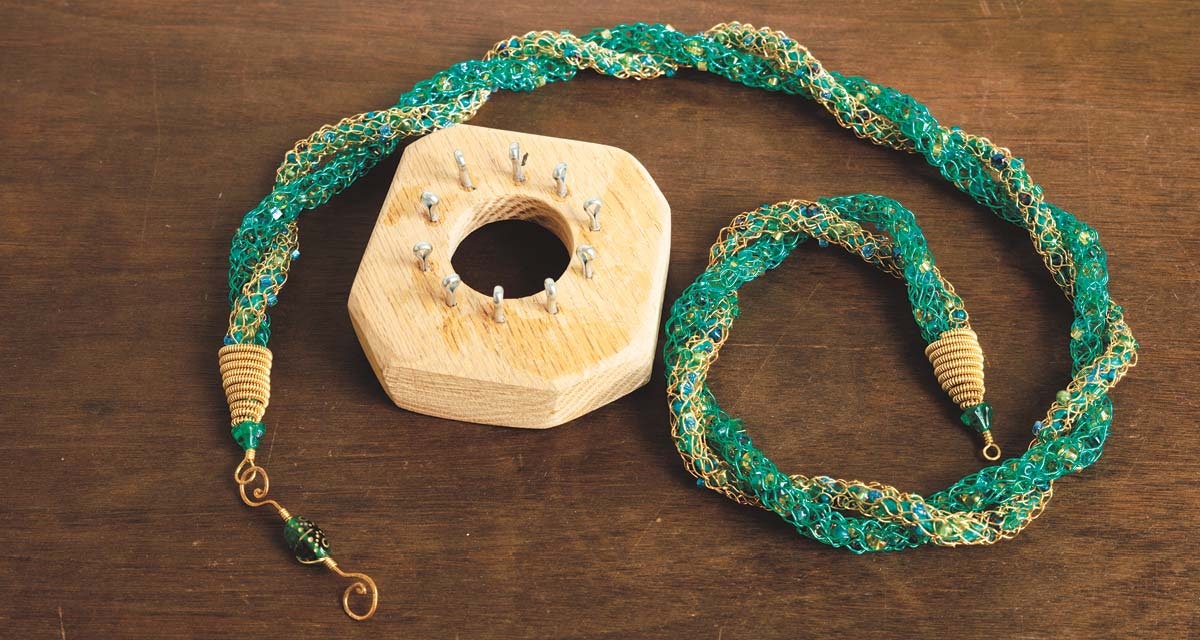 Wirework torsade necklace and knitting spool by Sandy Amazeen. Wood molding, steel cotter pins, metal wire, synthetic filler cord, and assorted beads. 2005. Collection of the designer. Photograph by Joe Coca
Eighty-three years ago, when she was five years old, Estelle Kreinik of Parkersburg, West Virginia, used to sit with friends on the front steps of her home in New York City and manufacture yards of cord on their "horse-rein makers" purely for the pleasure of seeing how long they could make them. One contributor to a knitting website, however, is haunted by dreary memories of schooldays in Great Britain spent cranking out seemingly infinite lengths of cord, which, to his mind, had no purpose whatever.
Edward Peter Hannaford of Sittingbourne, Kent, England, who takes spool knitting very seriously, began knitting a cord on April Fool's Day, 1989. Guinness World Records 2006 recognized his achievement of having cranked out 12.26 miles (19.7 km) of cord, more than enough to stretch up—and back down—Mount Everest.
Many knitting spool enthusiasts enjoy and share a rich sense of whimsy. Visitors to the I Fancy Knitting Nancy Official Website can view photographs of a doll-shaped Knitting Nancy posed in various settings and dressed in tiny costumes. Contributors share true and fictional stories of the exploits of their own Knitting Nancys, reminiscences of childhood Knitting Nancys, and suggestions for amusing yet practical alternative services "unemployed" Knitting Nancys can perform, such as holding keys or gripping pot scrubbers.

Left: Knitting spool made in Germany for Richard Lausmann, Bad Rodach, Germany. Right: Knitting spool made in France for Inox, Altena, Germany
While some dismiss spool knitting as child's play or refer to it in humorous terms, Françoise Dupré, born in France but educated and now living and working in London, has raised its use to an art form. She likes spool knitting because it is process based, repetitive, and time consuming, simple to learn or relearn, and adaptable, and because it crosses over social, cultural, and age boundaries. Her spool-knitted installations have been exhibited in England, Ireland, France, and Australia.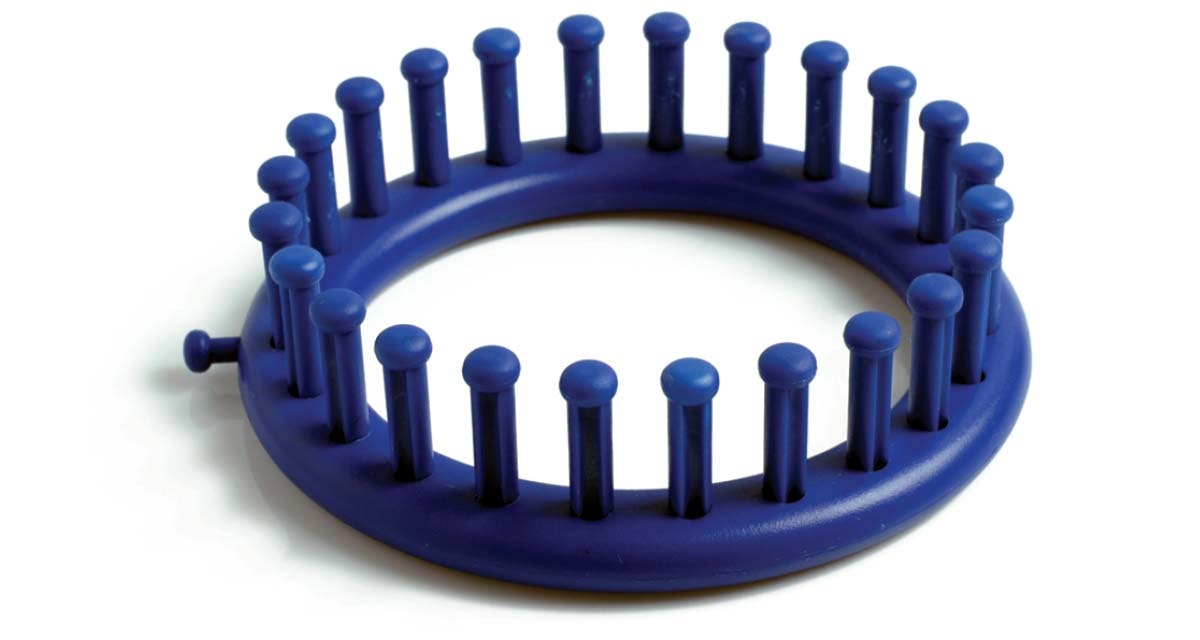 Knitting spool made in China for Provo Craft and Novelty, Spanish Fork, Utah
In this age of high-tech gizmos and battery-powered tools, the knitting spool remains refreshingly simple in its design yet efficient in its operation. Looping yarn over its pegs, again and again, to produce cord is the same satisfying pastime for young and old that it always has been.
This article was originally published in the January/February 2007 issue of PieceWork.
Also, remember that if you are an active subscriber to PieceWork magazine, you have unlimited access to previous issues, including January/February 2007. See our help center for the step-by-step process on how to access them.
Resources
Johnson, Anne Akers. Spool Knit Jewelry. Palo Alto, California: Klutz Press, 2004.
McEneely, Naomi. Compendium of Finishing Techniques. Loveland, Colorado: Interweave Press, 2003.
Rutt, Richard. A History of Hand Knitting. 1987. Reprint, Loveland, Colorado: Interweave Press, 2003.
Sadler, Judy Ann. Corking. Tonawanda, New York: Kids Can Press, 1998.
Mary Polityka Bush is a frequent contributor to PieceWork. She designs and writes about needlework in California, where she lives with her husband, Tom, who wonders what to do with all the spool-knitted cord that Mary made while researching this article.
Originally published June 1, 2020; updated June 27, 2022.