Imagine you are seven years old. It is 1943 in Lvov, Poland, and for the past several years, you and your family have been forced to live in the Jewish ghetto. This was the story of Krystyna Chiger.
After several years in the Lvov ghetto, on May 30, 1943, the final liquidation of the ghetto began. All its inhabitants were to be transported to the Janowska camp and certain death. In anticipation of this event, Krystyna's father and several others had already begun to prepare a place for them to hide in the sewers below Lvov. And so it was on that night, Krystyna, her mother, her father, and her three-year-old brother descended into the sewers. They were not able to take much with them, but Krystyna took the beloved little green sweater with her.
That granddaughter, Krystyna Chiger, and her mother, father, and brother survived . . . as did the sweater. Krystyna donated the sweater to the United States Holocaust Memorial Museum in Washington, D.C. Lea Stern painstakingly reengineered it and wrote the pattern.
Lea Stern first saw the green sweater at The Hidden Children exhibit at the United States Holocaust Memorial Museum in Washington, D.C., in 2003.
I felt that I had a duty to try to reengineer a pattern for it, so its history would remain alive. After contacting the museum, I was able to set up a time to directly examine the sweater with the exhibition curator, Suzy Snyder, and Cynthia Hughes, head of textiles. I determined gauge and took many measurements, notes, drawings, and photographs that would assist me in figuring out the stitch pattern.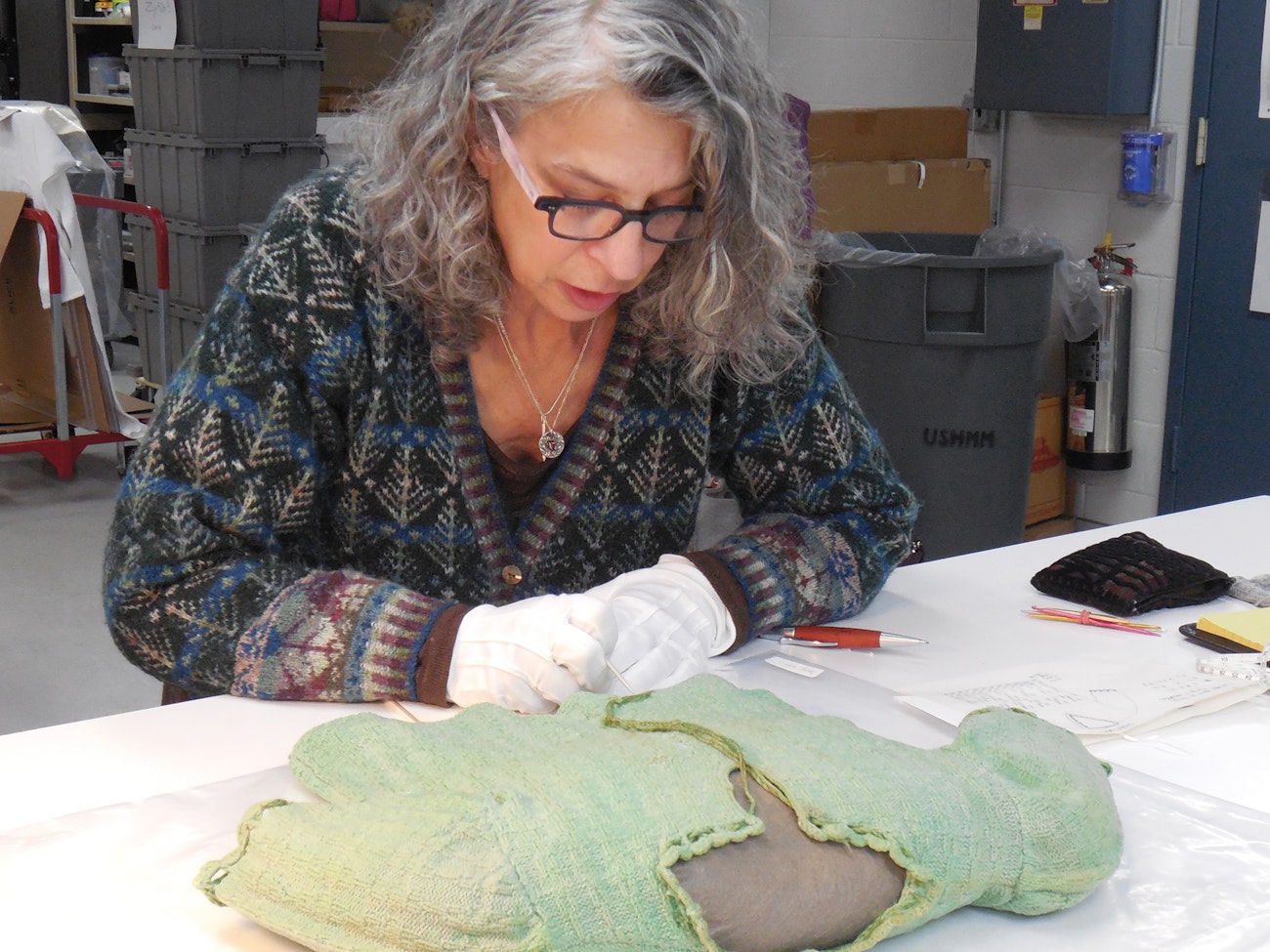 Lea Stern examining Krystyna Chiger's original sweater in storage at the United States Holocaust Memorial Museum in Washington, D.C. Photograph by Julia Grossman
I spent many hours searching for the pattern in every available stitch collection I knew of, but I was unable to find a previously published form of the pattern. I thus assumed that it was something that Krystyna's grandmother had made up or was a popular pattern of the time, commonly known, but not written. Fortunately, I was able to reproduce it on my own after examining the sweater closely.
In December 2014, I traveled to New York to meet Dr. Kristine Chiger Keren and tell her the story of re-creating her sweater. Her husband, Mr. Marion Keren, a mechanical and civil engineer and also a Holocaust survivor, enjoyed hearing about my process of "reverse engineering" a sweater! I brought a timeline of my whole journey, including my notes, early photographs, drafts, and swatches. I presented her with a finished copy of the pattern, and let her choose one of the test-knitted sweaters that reminded her most closely of her original. The curator had told me that it had been difficult for her to give up her sweater, but she had graciously donated it to the museum. When she chose one of the copies, she held it up and said, "Now I have my sweater back!" It was an emotional and fulfilling moment.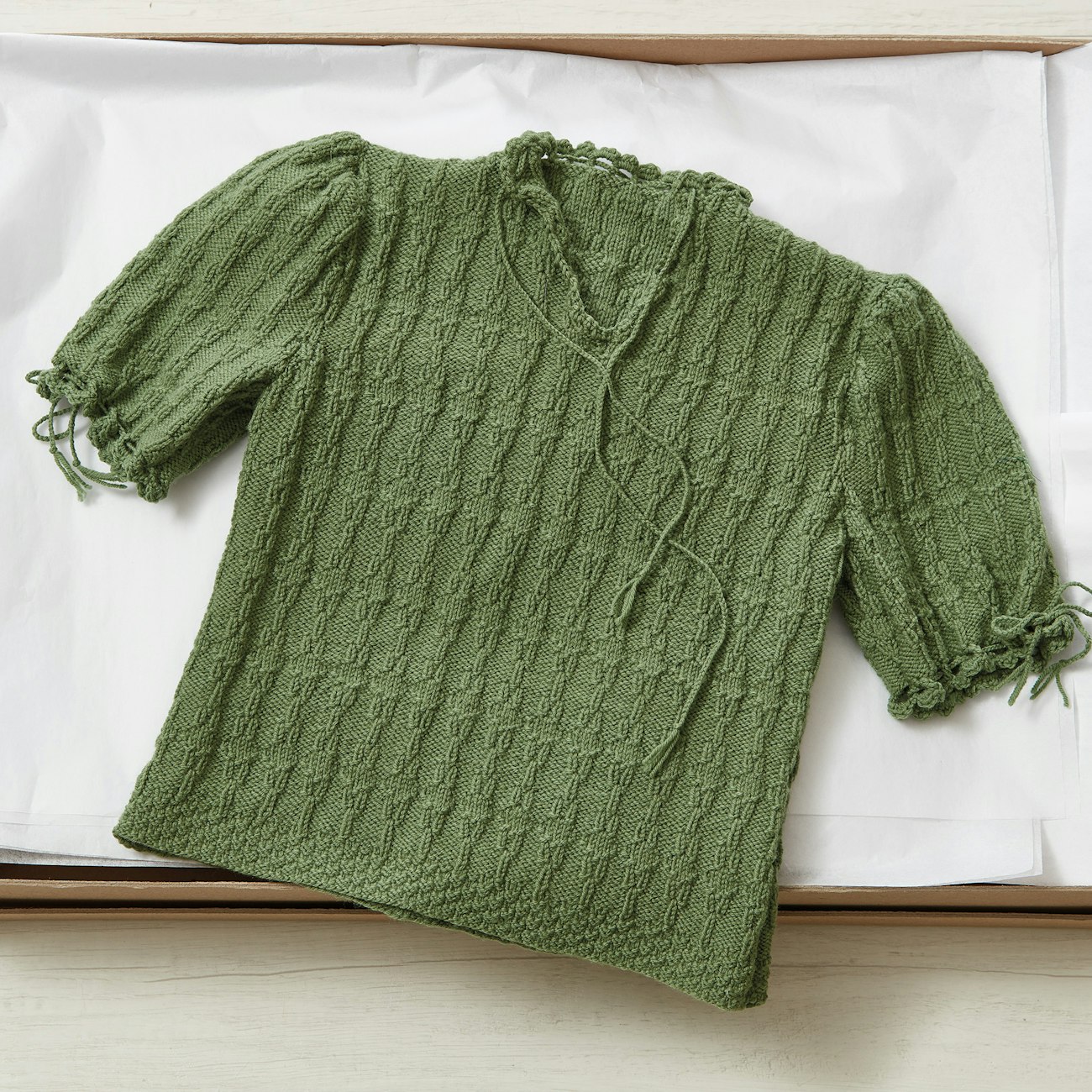 Krystyna Chiger's re-created green sweater, knitted from the pattern Lea Stern "reverse engineered" from the original.
To purchase the pattern as a digital download, find "The Green Sweater" by Lea Stern on Ravelry. Hard copies of the pattern may be purchased at the United States Holocaust Memorial Museum Bookstore: 100 Raoul Wallenberg Pl. SW, Washington, DC 20024; (202) 488-0400. All proceeds from the sale of the pattern are donated to the museum.
Read the rest of Krystyna Chiger's story in PieceWork's January/February 2018 issue.
Also, remember that if you are an active subscriber to PieceWork magazine, you have unlimited access to previous issues, including January/February 2018. See our help center for the step-by-step process on how to access them.
Resources
Chiger, Krystyna, with Daniel Paisner. The Girl in the Green Sweater: A Life in Holocaust's Shadow. New York: St. Martin's Press, 2008.
Marshall, Robert. In the Sewers of Lvov: A Heroic Story of Survival from the Holocaust. London: Harper Collins, 1990.
Lea Stern is a physician who lives outside Washington, D.C. She learned to knit from her mother and older sisters at age four. She is interested in all types of historical knitting and needlework. She thanks Julia Grossman, Phyllis Jaffe, and Liora Moriel for their technical assistance and editing. She also thanks test knitters Julia Grossman, Patti Bernstein, Jenny MacWilliam, Tanya Ford, Sue Tunney, and Jessica Kaufman. Special thanks to Suzy Snyder, curator, Cynthia Hughes, textile conservator, and the United States Holocaust Memorial Museum. Lastly, she thanks the late Deborah Pulliam for her encouragement in pursuing this project.
Originally published November 1, 2019; updated May 16, 2022.