Adding an accurate "antique" or "vintage" label to an object can be challenging. For a pure definition, at the most basic level, we can turn to a dictionary. The Merriam-Webster Dictionary defines "antique" as: 1: existing since or belonging to earlier times; 2a: being in the style or fashion of former times; 2b: made in or representative of an earlier period. Ideally, we could identify the age of the object and with that year, apply a definitive measurement.
The Merriam-Webster Dictionary defines "vintage" as: 2: of old, recognized, and enduring interest, importance, or quality. Classic. Is it any wonder it can be confusing?
Some antique dealers use the term antique to refer to an item that is at least 100 years old. There are exceptions, and depending on your reason for inquiring, you may want to ask clarifying questions. Ask a dealer, insurance agent, lawyer, or museum staff their criteria for the label of "antique" or "vintage." Websites such as Etsy and eBay vary in their policies and definitions. There are several other terms to further complicate labeling of an object. Terms such as collectible, retro, classic, or shabby chic and combinations such as antique retro further complicate defining an object.
Reproductions add further challenges to identifying an object's age. In addition, some objects are made over several years or decades.
Let's look at some examples.
Sunbonnet Sue
In 1900, Bertha Corbett self-published The Sun-bonnet Babies in Minneapolis, Minnesota. The book featured two girls with their faces covered by their sunbonnets. (After Bertha's first book, the hyphen in Sunbonnet was dropped.)
For decades, Bertha's illustrations appeared on Christmas cards, booklets, blotters, calendars, and numerous other retail items, including book illustrations. She employed 15 assistants in her studio to color her artwork. While she didn't promote her art to needleworkers, quilts and needlework-related items began to appear in 1910.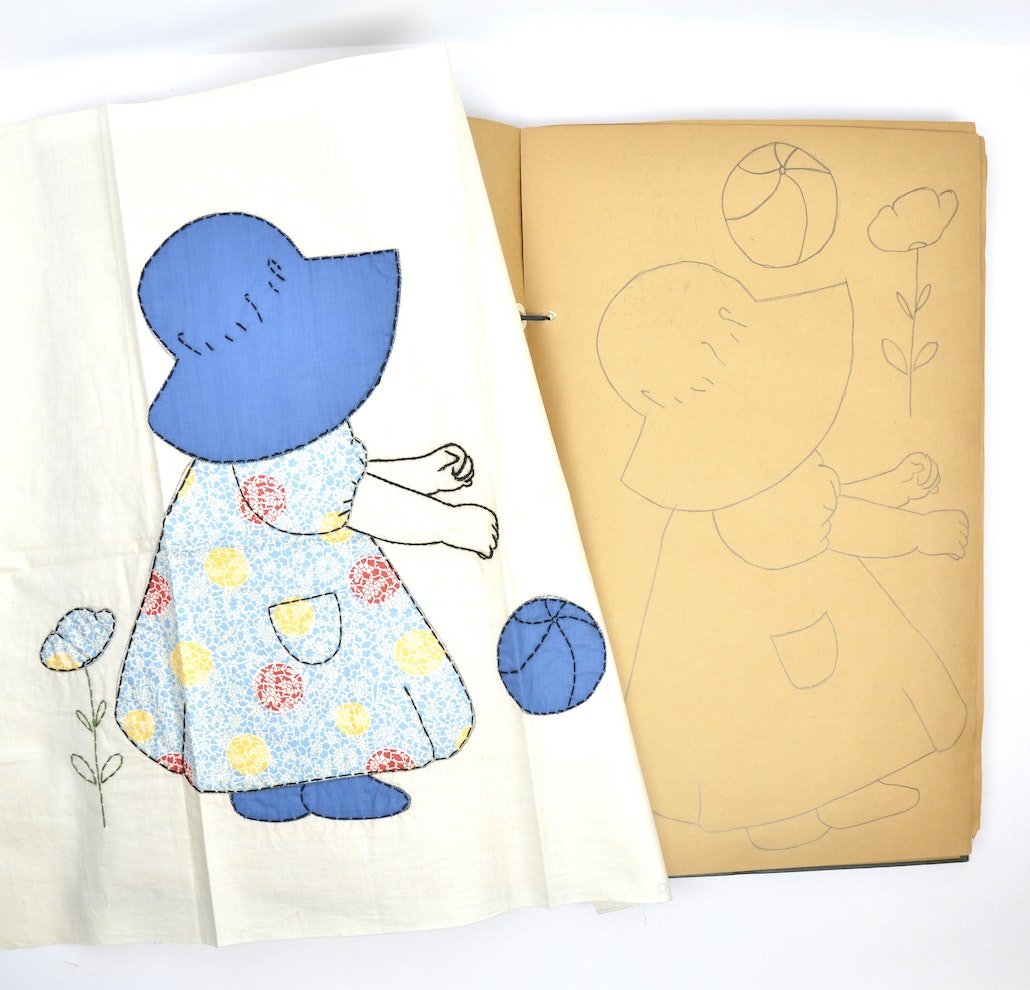 Corbett's designs were imitated by others as far away as Australia. For instance, in May 5, 1925, The Sun newspaper in Melbourne, Australia, published a pattern for a sunbonnet needle book.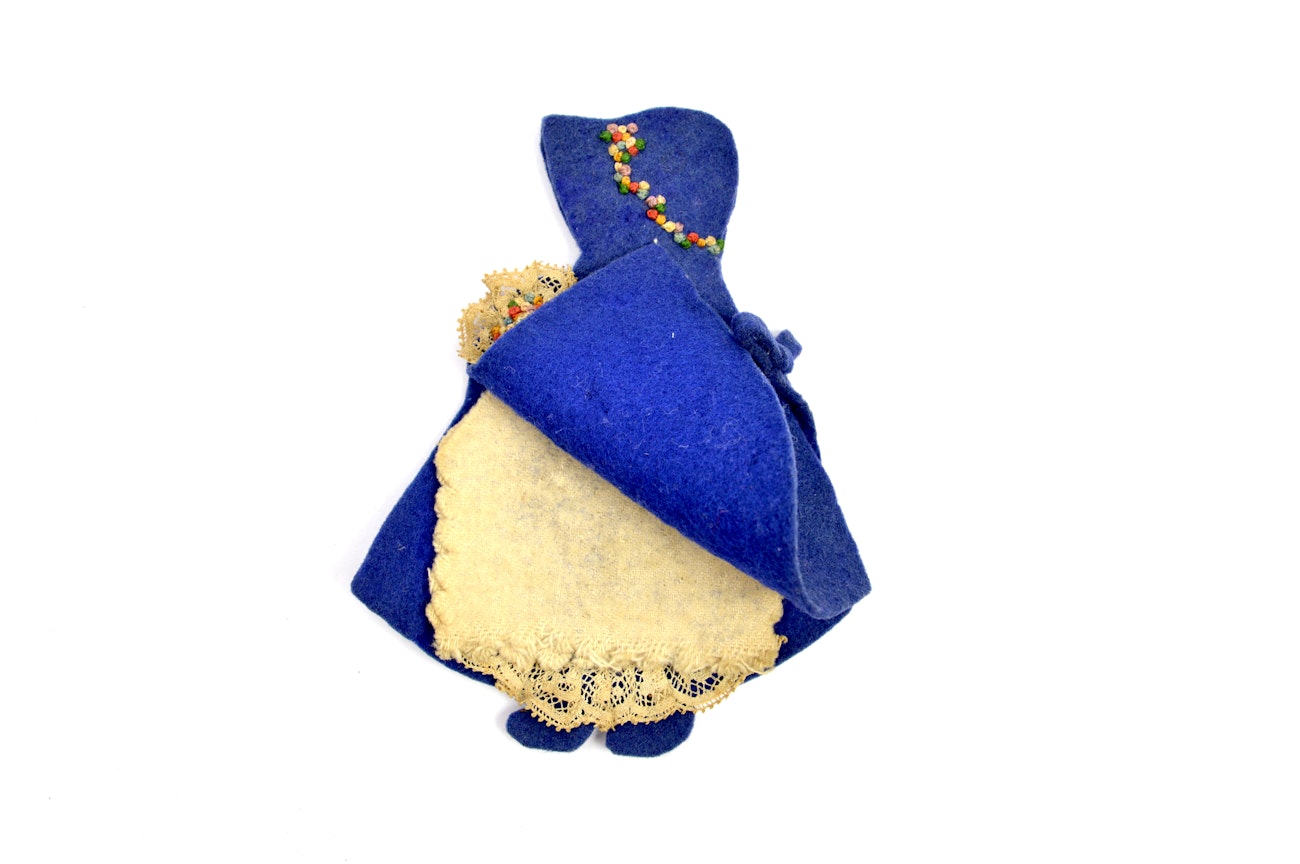 When we see a Sunbonnet baby quilt, needle book, or pattern today, what do we label it? Is it antique? Vintage? Reproduction? There are examples of all three in collections and in the marketplace. More detail is needed; ask clarifying questions.
Experts look at the materials, techniques in construction, and specific pattern styles and markings. In the case of the quilt block and scrapbook pictured, both are considered vintage because the quilt block, from about 1940, is less than 100 years old. The scrapbook dates between 1920–1940, so the majority is less than 100 years old. By comparison, the pattern for the needlebook is dated 1925, and the needlebook itself is circa 1925; the time period of the supplies used in the needlebook match the 1925 pattern as well. While some may question the labeling of antique in this instance, since both the pattern and needlebook are nearly 100 years old, we consider it to be an antique.
The Sewing Bird
Durable goods manufactured over several decades are another example of difficult-to-define items. Let's look at the sewing-bird clamp as an example. (For more about sewing-bird clamps, see "Beak Performance: The Sewing Bird," PieceWork, Summer 2020.)
The first known advertisement for the "third-hand" sewing aid is from The Hartford Times, June 5, 1852, by Waterman. In the 1853 version, the patent date is stamped on the leading edge of the bird wing. With the molds and manufacturing process, Waterman could make more than 50 variations in 1853.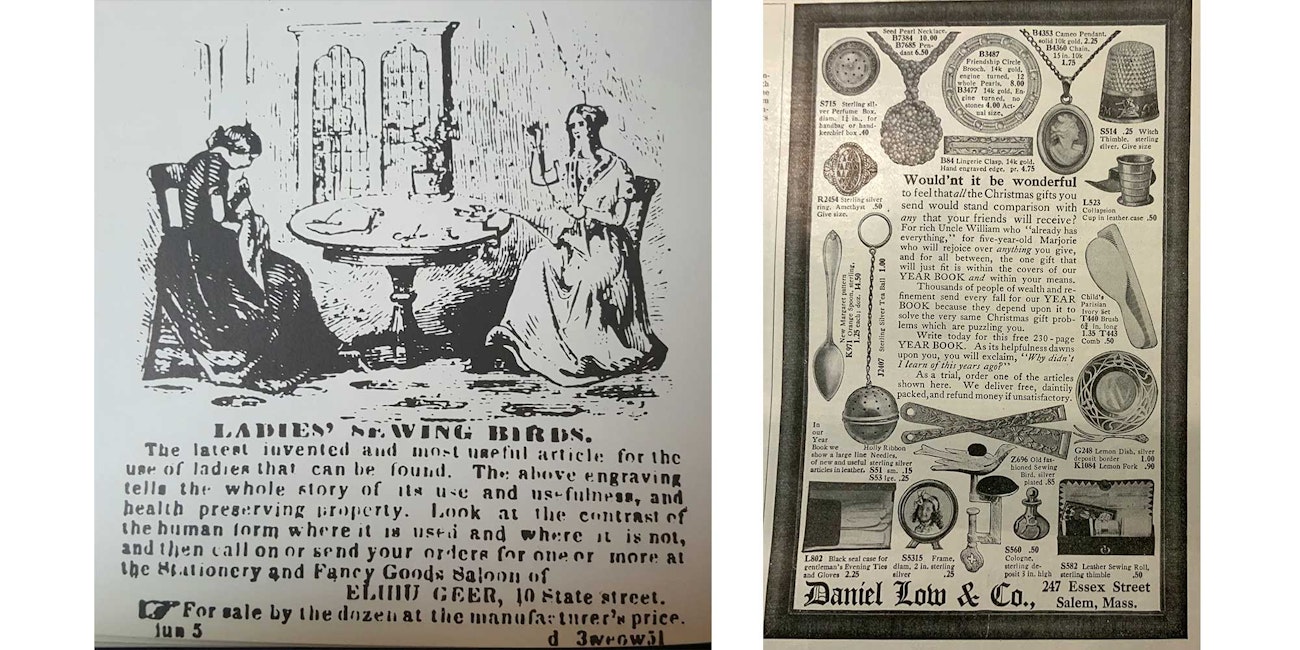 Advertisements can be found well into the 20th century, including silver-plated and crudely molded brass. There are also reproductions from the 1920s, 1980s, and 2022. Antique, vintage, and reproduction examples can be found in collections and in the marketplace. How do you tell which category a sewing bird falls into?
When determining whether an object is antique, it is important to become informed about the item. If your question is for personal use, deeper research can be done at your leisure. However, if it is for legal or resale purposes, it is wise to ask a subject-matter expert or professional certified appraiser.
Dawn Cook Ronningen is the author of Antique American Needlework Tools, Schiffer Publishing, 2018. She maintains a blog, "Collector With A Needle." She offers virtual programs to a variety of groups from her Minnesota home. In-person programs are also available.