Dastarkhan or dastarkhwan refers to a cloth that is used to cover a space on which food is served. It can be spread on a table, like a modern tablecloth. Alternatively, it can be spread on the floor in the space used for serving food.
This particular dastarkhan is a smaller version of a tablecloth (54" x 40"[137 x 102 cm]) and has exquisite intricate embroidery. The piece was my first buy into my textile collection. I bought it from an Afghan woman who was manning an almost-empty stall. This and a couple of cushions were the only things left with her.
At home, my mother, a keen embroiderer herself, pounced on it. She easily identified it as from Afghanistan and marvelled at the embroidery. She kept telling me, "Afghanistan and Central Asia [have] among the finest embroideries in the world." She would later simply pick up the piece and admire the intricate work.
I was initiated into the world of Afghan embroidery through this piece. The embroidery is called khamak and is often referred to as khamak doozi (doozi is the general term for all needlework). It is pronounced as "kho-makh" with the kh making an almost guttural sound. I think this particular piece is from Bamiyan in Afghanistan. Khamak is done in a number of places in Afghanistan. It is a counted-stitch embroidery that consists of delicate satin stitches placed very close to each other. It is so intricate that it is difficult to make out the right side and the wrong one. Both the sides look beautifully finished.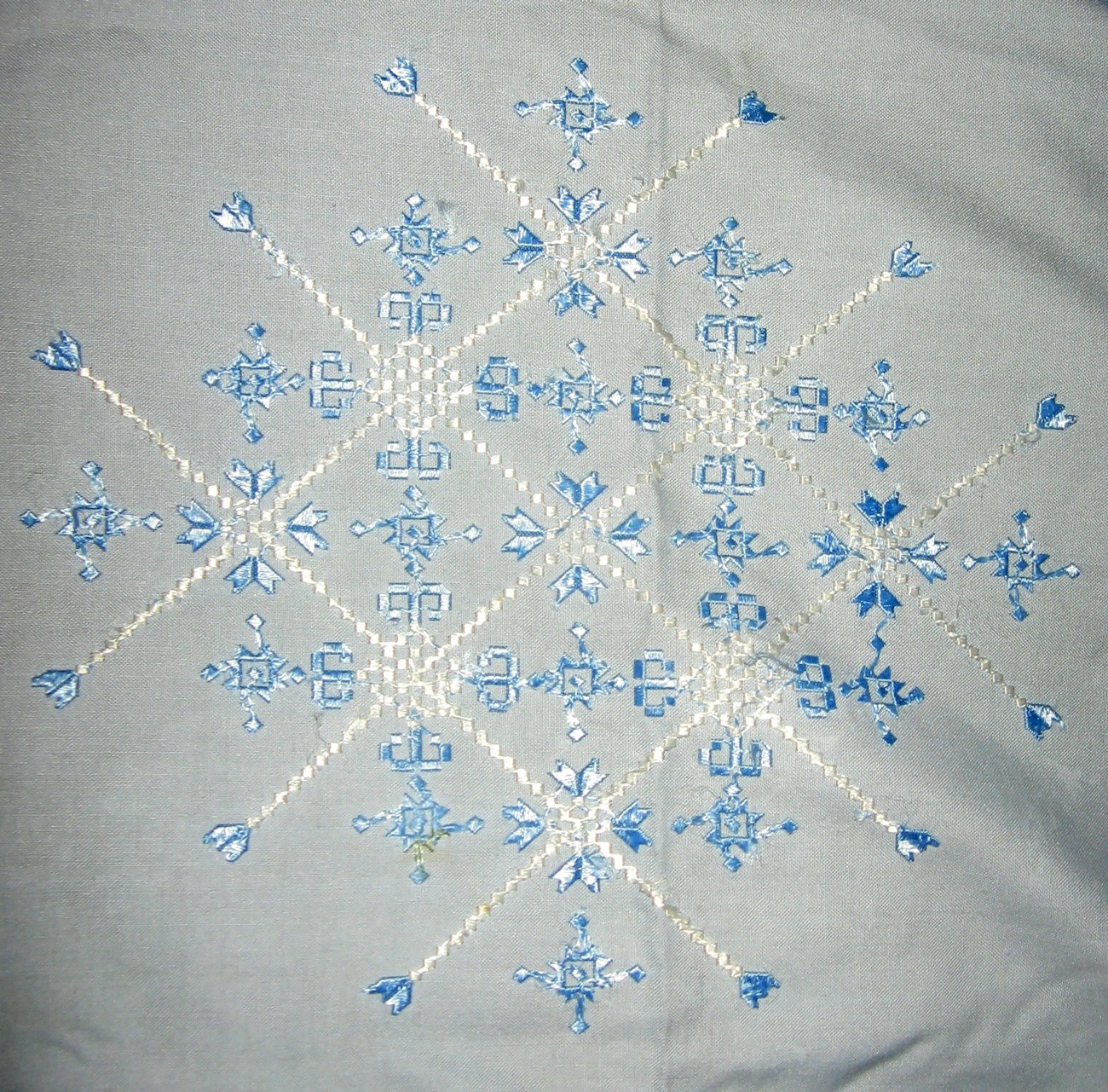 The back side of the embroidered tablecloth, which is as beautifully finished as the right side.
In this dastarkhan, the base cloth is cotton, is mill-made but not lightweight, and the thread used is silk. It is color coordinated—pale blue cloth with the embroidery done in matching shades with a dash of white, which makes it look very elegant. It is embroidered with geometric floral motifs in the four corners. There is also one in the center, for a total of five such motifs.
Though it is a tablecloth, it is so pretty that I have never had the courage to use it, for fear of spoiling it. Indian cooking uses a lot of spices, and turmeric is de rigueur, so I have been worried that just a small spill would mean the painstaking work goes for a toss. So I have admired the dastarkhan, picking it up and looking at the embroidery very closely and keeping the piece back in a precious state.
Chitra Balasubramaniam writes, collects, and experiments with textiles, following her passion with writing about food, travel, and heritage. She dabbles with stock investment analysis and research. She also runs a small travel-log.
Editor's note: Learn more about traditional khamak embroidery in the book, Embroidering within Boundaries: Afghan Women Creating a Future, by Rangina Hamidi, and published by Thrums Books.