Influences in craft can come from anywhere. I started at a young age with my great-grandmother Mimmie teaching me to embroider on tea towels. This trend continued with relatives on both sides of my family as I grew up—Grama Arnold teaching me plastic canvas and counted cross stitch when I would visit during the summer and Mom having me sit across from her to understand crochet with my left-handedness. It wasn't until I took my first formal knitting class that I realized which part of craft called to me most: Lace.
Galina Khmeleva offered an Orenburg lace class at one of my local yarn shops back in 2010 and I attended as a birthday present to myself. She called me Katya all day and I was in awe of the fine materials and skill that existed in the simple motifs that went into such glorious patterns. I was so enthralled after that class that my first published pattern was constructed in the Orenburg warm shawl method (Lyanna's Shawl, Knitting Traditions Fall 2013). This love of lace has continued in other aspects of my crafting as well. The method involved doesn't matter; crochet, tatting, weaving, spinning—I gravitate to the tiny end of the spectrum with all of them. Many people have seen me with my tiny needles and thread-like yarn and proclaim that they could never do that. My response? Lace is simply putting the holes in the right places; the size of the yarn doesn't matter. Sometimes this causes a light-bulb effect and they reconsider lace, viewing it with a different mindset. Maybe this helps them find what it is about craft that they love.
I'm willing to try just about any craft once. My hall closet can attest to this with the bobbin lace pillow, bookbinding tools, and laminating machine. There's even a Gizmo for fiber processing from Galina herself. When the world gets crazy though, I always go back to my beginnings in threads and lace. Maybe it's time to pull out the Olga's Indiski (PieceWork May/Jun 09) I started and finally get it finished.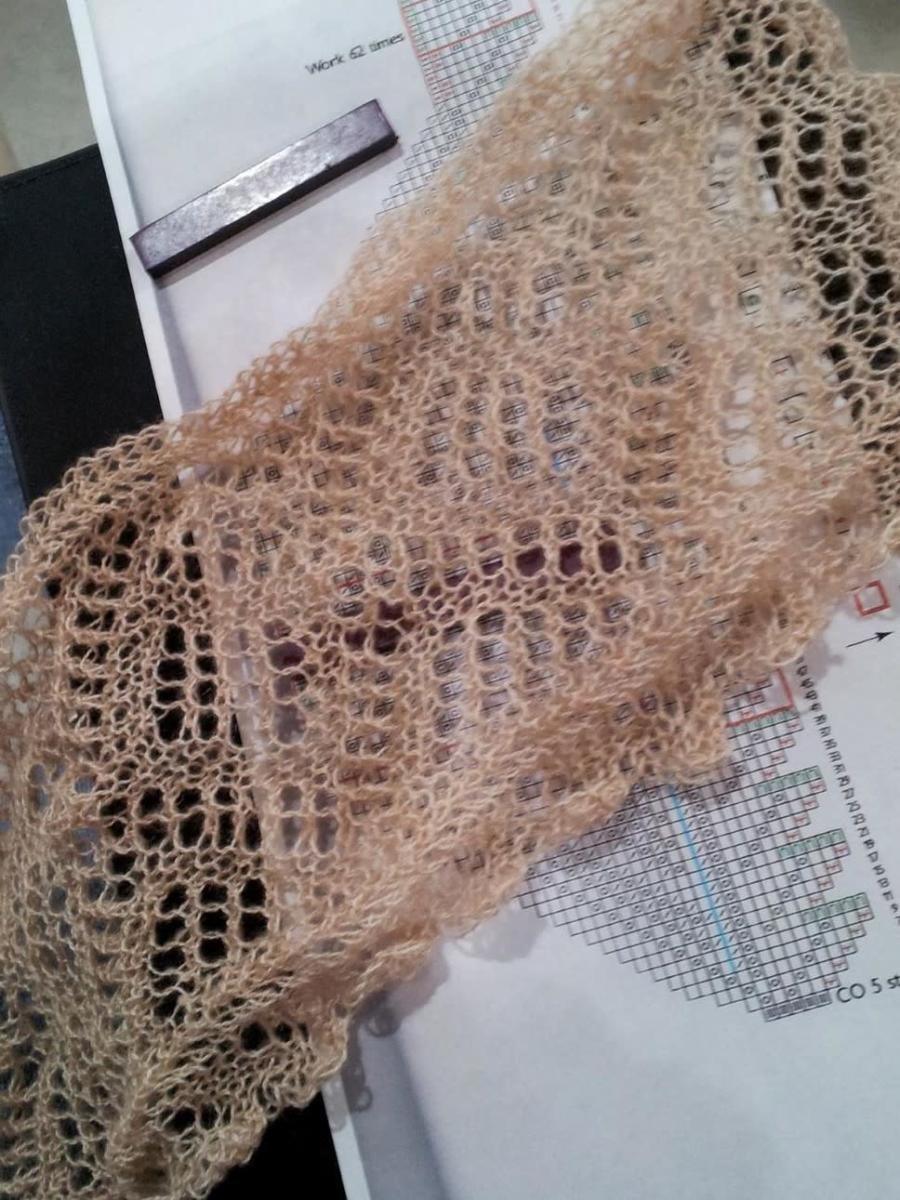 -Katrina
Katrina King has yet to meet a fiber craft she doesn't like. Along with lace knitting, she also has crochet, weaving, spinning laceweight yarn, and tatting in her tool bag. You can follow her craft adventures at Threaded Dream Studio. When she's not crafting, she can be found teaching at her local yarn shops, reading epic fantasy novels, and chasing her daughters to various activities in and around Fort Collins, Colorado.