Home Economics was once considered important for all girls to study. I took "Home Ec" in junior high school, back in the late 1960s when the dress code required girls to wear skirts. The boys took shop. In a classroom complete with sinks, stoves, and sewing machines, I learned to dry a kitchen sink after every use, sew a pair of wool plaid pants, and on one occasion I ponder to this day, we listened to a guest explain how she never washed her face. She instead used cold cream to prevent wrinkles. But the 1960s were a time of many social changes. With the post-World War II economic boom came the modern consumer culture. The price of clothing dropped as factories moved to areas with lower labor costs within the United States. Women began careers outside of the home. I arrived at a high school with no dress code; I was free to wear blue jeans. The hallway down which classrooms contained kitchens and desks with typewriters saw little traffic. Both genders could take the shop and auto-mechanics classes provided by the school.
The rise of home economics as a class taught in public schools began in the 19th century, when what was once learned at home began to pass by the wayside. The Industrial Revolution produced devices to save time and money, sparing women the drudgery of making or repairing the family clothes. New department stores stood ready to offer whatever was wanted. Women's roles changed as well; young women entered the workforce as secretaries, telephone operators, and shop clerks. Magazines focused on making objects to beautify the home, not clothe the family. Household management, like so many other aspects of life, was codified and viewed as a science. Fannie Merritt Farmer (1857–1915) introduced the concept of standardized measurements with the publication of The Boston Cooking-School Cook Book in 1896. The Morrill Act of 1862, which created land-grant institutions such as the University of Rhode Island (URI), was expanded in 1890 to help colleges focused on teaching agriculture, science, and engineering. URI offered the first classes in home economics to women in 1909.
At the same time, women were expected to provide for the family through sewing and could use sewing to save money and, as some social historians suggest, balance the economic influence in a family. Sarah A. Gordon, in Make it Yourself: Home Sewing, Gender and Culture 1890–1930, points out that sewing clothes at home remained a common activity through the 1920s, facilitated by the availability of sewing machines, paper patterns, and inexpensive fabrics. Mary Brooks Picken (1886–1981) founded the Women's Institute for Domestic Arts and Science in 1916, "for the purpose of making a practical knowledge of the domestic arts and sciences available to every woman or girl, wherever she may live." The art of homemaking was no longer to be passed from generation to generation but taught in schools and through correspondence courses until these, too, were no longer necessary.
Sewing Sample Books
Sewing sample books donated to the Historic Textile and Costume Collection (HTCC), at URI, illustrate this shift from sewing taught at home to sewing taught in school. We know that private schools in the 1700s and 1800s taught sewing, embroidery, and other fancy work to their students, primarily those from wealthy families. By 1900, what was once taught at home was being provided by the public-school system. Lucy H. Pierce, who taught at the Providence Technical High School around 1910, donated a collection of her own samples and books to URI. The HTCC houses a number of sample books, which can also be found in universities, many of them land-grant institutions, such as Cornell University, across the United States.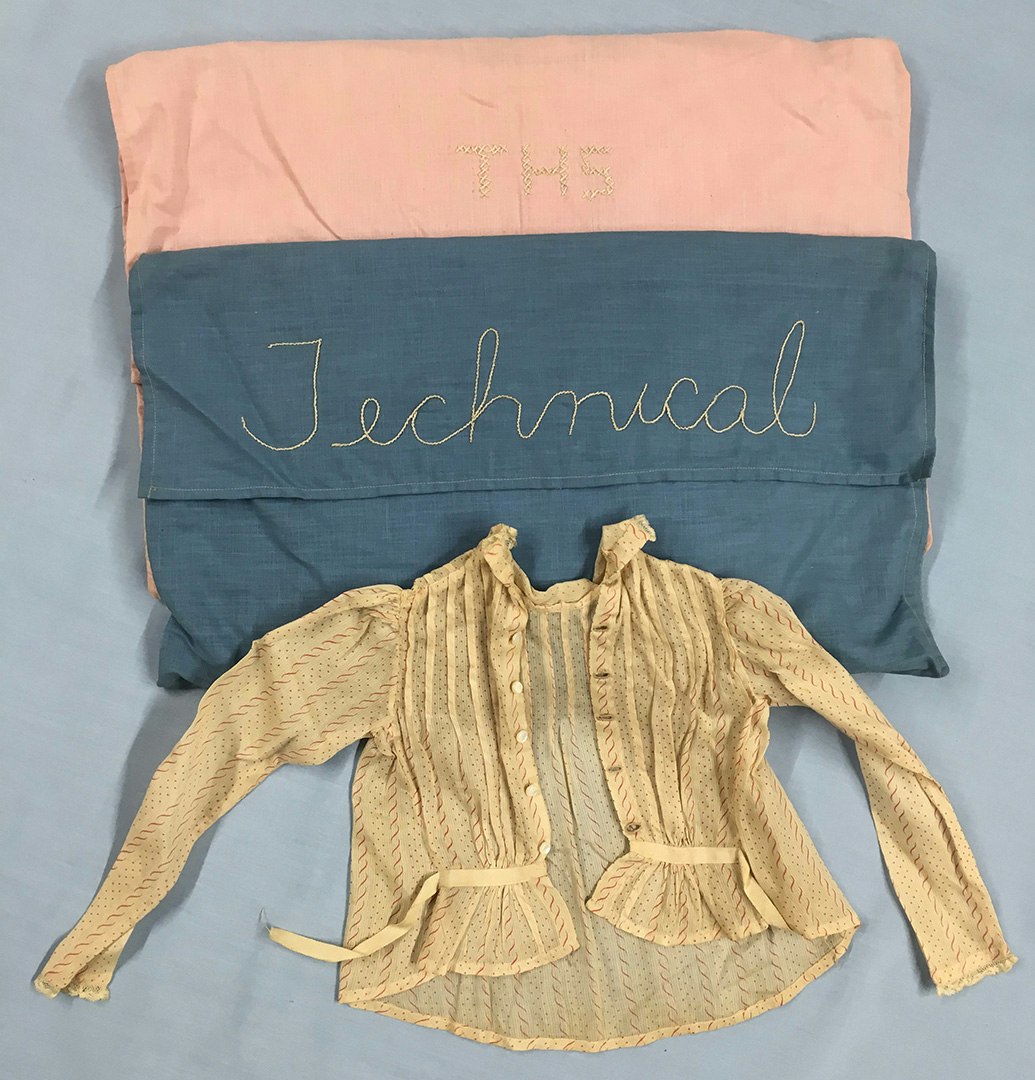 Above: Pierce student sample. Each of Miss Pierce's students sewed a bag in which they kept their samples. The shirt is a small-scale model of a shirtwaist, worn around 1900. The back, complete with handsewn buttonholes, faces up in the photo; the longer front created the pigeon-breasted look popular at the time, with the belt sewn to the back tying around to the front. Donor: Lucy H. Pierce. Historic Textile and Costume Collection, University of Rhode Island, URI 2019.98.05a, b, c.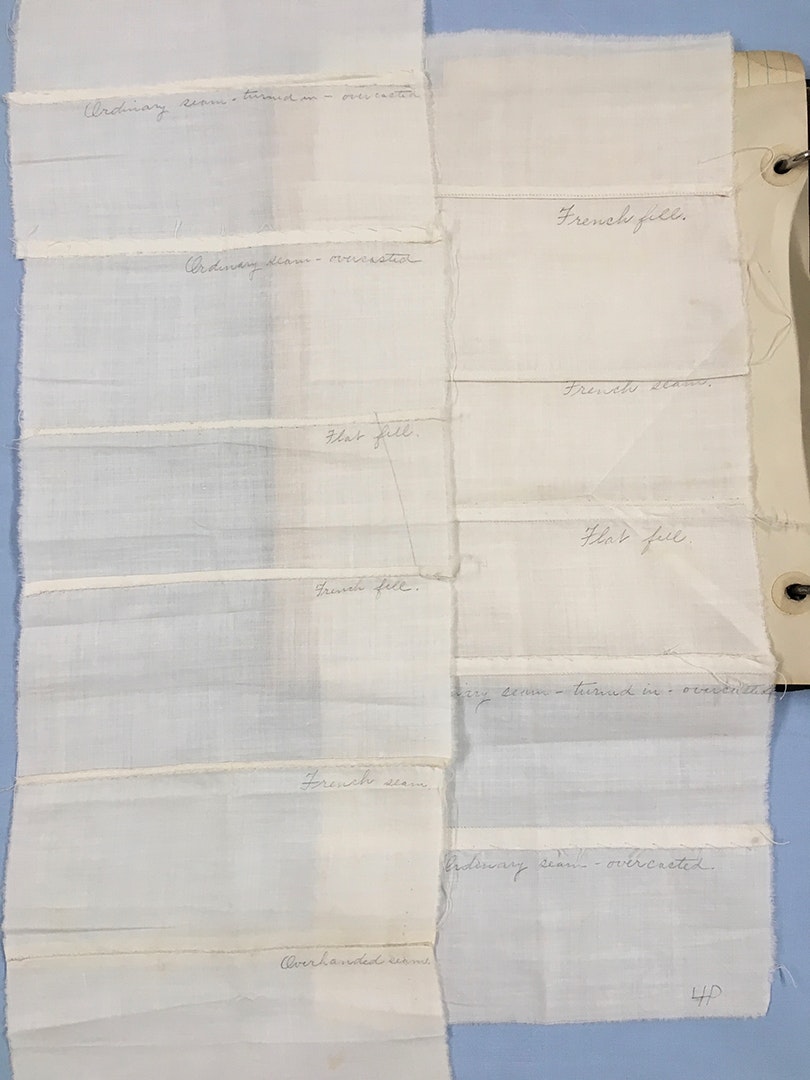 Above: Edna Watt Book. This sample book compiled by "Mrs. Edna Watt a member of the 1893 class" has handwritten in the front, "Home Economics Course, Dolgeville [NY] – 1893, work of sewing classes as then required by Regents." Donor: Grace H. Smith. Historic Textile and Costume Collection, University of Rhode Island, URI 1963.19.01.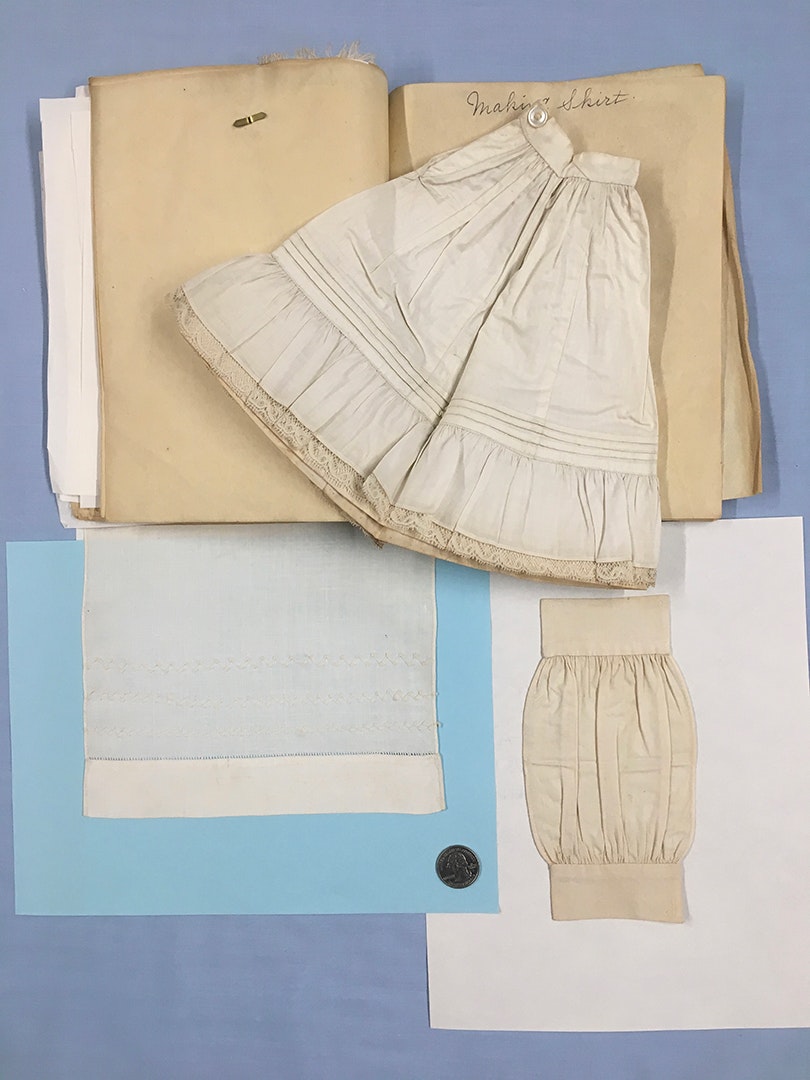 Above: Esther Tripp Book 1. Another booklet, carefully arranged by Esther W. Tripp (1882–1964), has small-scale models, including the petticoat shown here, attached to the pages with brass paper fasteners. Miss Tripp taught at several schools in Providence in the early 1900s. Donor: Estate of Esther Tripp. Historic Textile and Costume Collection, University of Rhode Island, URI 1965.19.03.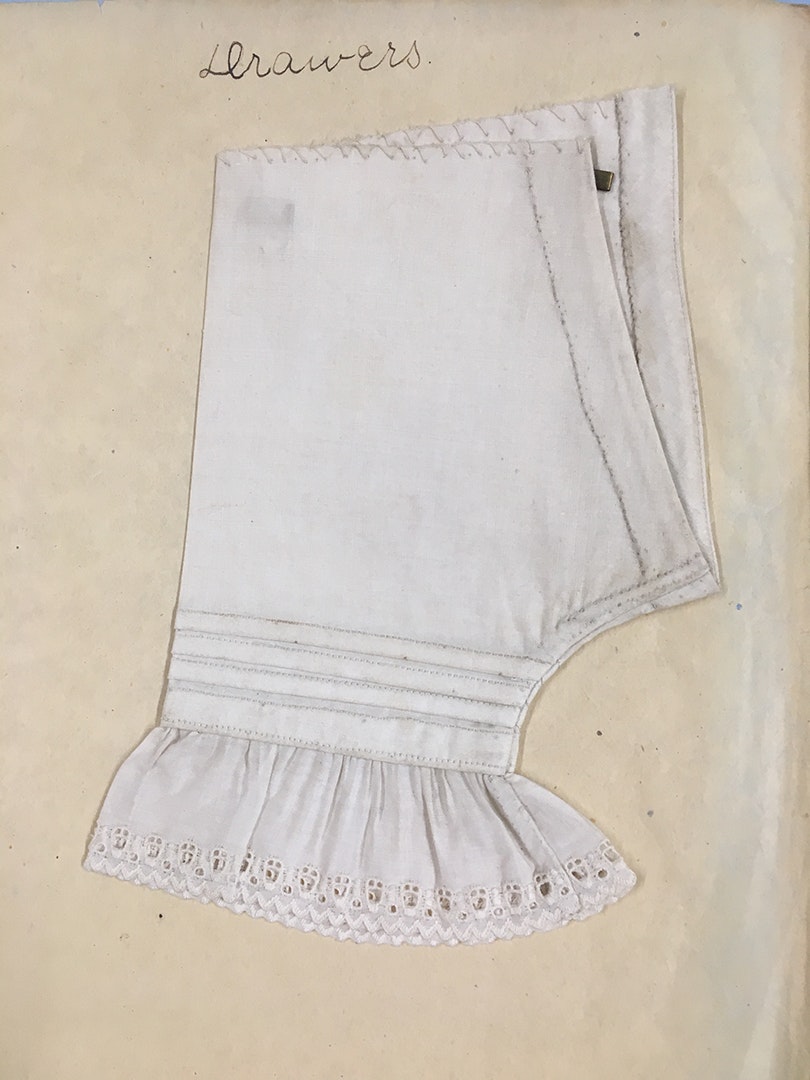 Above: Esther Tripp Book 2. Another booklet with a small perfectly sewn half of a set of drawers. Women ceased wearing this type of undergarments after 1910, as clothing styles changed. They became obsolete after 1920. Donor: Estate of Esther Tripp. Historic Textile and Costume Collection, University of Rhode Island, URI 1965.19.03.
References
Cornell University has an excellent website on the history of home economics. It can be accessed through the university site or at http://hearth.library.cornell.edu.
Gordon, Sarah A. Make it Yourself: Home Sewing, Gender and Culture 1890–1930. New York: Columbia University Press, 2009.
Susan J. Jerome is collections manager at the University of Rhode Island Historic Textile and Costume Collection. She earned her MS degree from the University of Rhode Island, Department of Textiles, Fashion Merchandising, and Design. Prior to continuing her education, she worked for a number of years at Mystic Seaport Museum. She lectures on topics of fashion history and needlecraft; works as a textile and quilt conservator; and is a consultant to museums and historical societies. An avid textile enthusiast, she is happiest when writing, talking, and doing all things textile.