There are as many reasons for picking up needle and thread as there are types of needlework. You can create and beautify objects. You can keep your hands busy and your mind relaxed. You can express your artistic impulses and spiritual values. And you can, like Anna Sjøthun Anderson, maintain connections when far from home and family. When Anna left Norway by herself in 1907 at the age of seventeen, she carried a needlework project with her to work on during the lonely times.
Anna grew up on a small farm adjacent to the village of Solvorn, on the Luster Fjord in Sogn on the west coast of Norway. Her father, Hans, was a tailor and ran a shop in the village. Her mother, Ingeborg, was a skilled seamstress. The fourth of eleven children, Anna was the eldest daughter. When it was time for her to leave home, she decided to go to America. "It wasn't unusual at that time for many of our people to move to the United States," she later recalled. Economic and social opportunities were the primary reasons why many young Norwegians, families as well as individuals, emigrated.
Anna borrowed $78 from an uncle and aunt in Minnesota to pay for the trip. Among her belongings, she packed fabric, pattern, scissors, needle, and thread for doing hardangersøm (Hardanger embroidery). "My mother gave me the tablecloth when I was leaving and told me that when I was feeling lonesome I should work on it. She knew what I would be facing, leaving my family behind."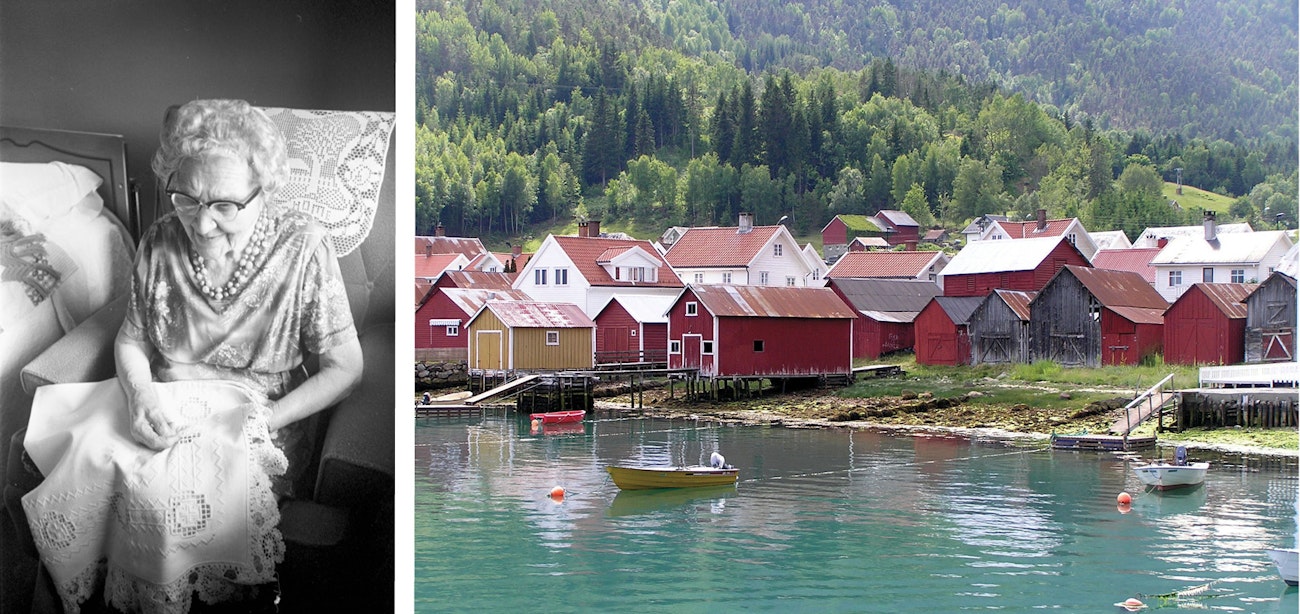 Blonde and 5 feet 2 inches (1.5 m 5.1 cm) tall according to immigration documents, Anna traveled from Solvorn to the coastal city of Bergen and from there by ship to England. In England, she was to board a Norwegian ship bound for Ellis Island, but there was a mix-up, and so she arrived at the port of Philadelphia on a Belgian ship, the SS Westernland. Among its more than 500 passengers were six other Norwegians, but the majority were English, Irish, or Russian (including ethnic Finns, Poles, and Lithuanians).
Anna started her embroidery project while on board the Westernland but completed most of the stitching after reaching the home of her aunt and uncle in Kenyon, Minnesota. At this point, the cotton tablecloth had a 4-inch (10.2-cm) border of embroidery and cutwork on all sides. The stepped border of cutwork surrounded flowers with eight narrow petals accented with delicate eyelets. Satin-stitch (klostersøm) diamonds and zigzags linked the flower motifs and other zigzags framed the border. Anna's embroidery is nearly identical on the front and back, likely the result of her mother's thorough teaching and high standards of workmanship.
Anna worked for her uncle and aunt for $2 a week for three years to repay the money that she had borrowed for the trip. In 1912, she married Samner Anderson. The couple farmed near Kenyon and raised three sons. After retiring about 1955, the Andersons moved into town. "We got a different dining room table [then]," Anna recalled, "and the tablecloth didn't look just right on it. I added to it so it would fit the table better." The addition was a scalloped border of crocheted lace. Three inches (7.6 cm) wide, the border contains rosettes inside eight-petaled flowers that complement the embroidered flowers on the original tablecloth.
Friends who came to have coffee with Anna enjoyed seeing and using the tablecloth. It was also used for family Sunday dinners. Granddaughter Janine Anderson Gaalswyk of Tulsa, Oklahoma, remembers helping Anna put the tablecloth out each Christmas. "It was very special to her. I remember her telling me that it made her feel close to her mother." Vesterheim Norwegian-American Museum acquired the tablecloth in 1985, when Anna was preparing to move into a retirement home. Anna died in 1994.
To make a coaster inspired by Anna Sjøthun Anderson's tablecloth, see "A Hardanger Coaster to Stitch."
Hardanger Embroidery
Hardanger embroidery gets its name from the district of Hardanger in western Norway, where it was known simply as hvitsøm (whitework). Traditionally, this geometric embroidery and cutwork technique was worked in white linen thread on handwoven white linen fabric and used only as trim on garments. By the 1890s, the technique had begun to spread into Europe and North America through the efforts of German thread manufacturers and American needlework magazines. Needleworkers in the United States often added colored thread and other needlework trim. The embroidery became plainer, simpler, and coarser during the 1920s and 1930s. More recently, some needleworkers have innovated with colored ground fabrics, metallic thread, and beads although others are rediscovering the classic beauty of white linen fabric and thread.
Vesterheim Norwegian-American Museum
Vesterheim Norwegian-American Museum in Decorah, Iowa, has more than 350 examples of Hardanger embroidery on textiles for person, home, and church. They include blouses, aprons, dresses, bibs, nightgowns, collars and cuffs, purses, coasters, tablecloths, placemats, napkins, tea cozies, pillow cases, bed sheets, bedspreads, towels, curtains, lingerie bags, pincushions, and altar cloths. Vesterheim Norwegian-American Museum, 502 W. Water St., Decorah, Iowa 52101; (563) 382-9681; www.vesterheim.org.
Interested in creating your own piece of Hardanger? This article and the companion project can be found in the November/December 2012 issue of PieceWork.
Also, remember that if you are an active subscriber to PieceWork magazine, you have unlimited access to previous issues, including November/December 2012. See our help center for the step-by-step process on how to access them.
Laurann Gilbertson has been working with the textile collection at Vesterheim Norwegian-American Museum in Decorah, Iowa, since 1991. She is the author of "Textile Production in Norwegian America" in Norwegian American Women: Migration, Communities, and Identities edited by Betty A. Bergland and Lori Ann Lahlum (St. Paul: Minnesota Historical Society Press, 2011).
Originally published April 15, 2020; updated November 3, 2023.