What goes on behind the scenes to prepare for an exhibit? Jason Brudereck, Public Relations and Communications Manager at Winterthur Museum, shares how the staff prepared for the upcoming Ann Lowe exhibit the museum is hosting later this fall.
Conservators and technicians worked for nearly two years to stabilize and prepare the 40 dresses and mannequins in the upcoming exhibit Ann Lowe: American Couturier at Winterthur Museum, Garden & Library. Conversations, research, and planning for a revolutionary new mannequin-making project began even earlier.
Lowe's recently emerging visibility as a designer stands in contrast to much of her career and the countless unrecognized Black dressmakers and designers who have contributed to American fashion for generations, including her own grandmother and mother. She blazed a path for others to follow and her legacy is still felt in fashion culture.
Ann Lowe: American Couturier, which runs from September 9, 2023 through January 7, 2024, will be the largest exhibition of her work to date. The exhibit features 40 iconic gowns, many that have never been on public display. It will illuminate her evolution as a designer from the 1920s to the 1960s.
In anticipation of the exhibition's opening, a smaller exhibit called Getting Dressed with Ann Lowe: The Art of Mounting Historic Garments opened May 20 and will run through the end of the larger exhibit.
This behind-the-scenes exhibit gives a peek at the work of fabricating, shaping, and dressing the mannequins in the exhibition.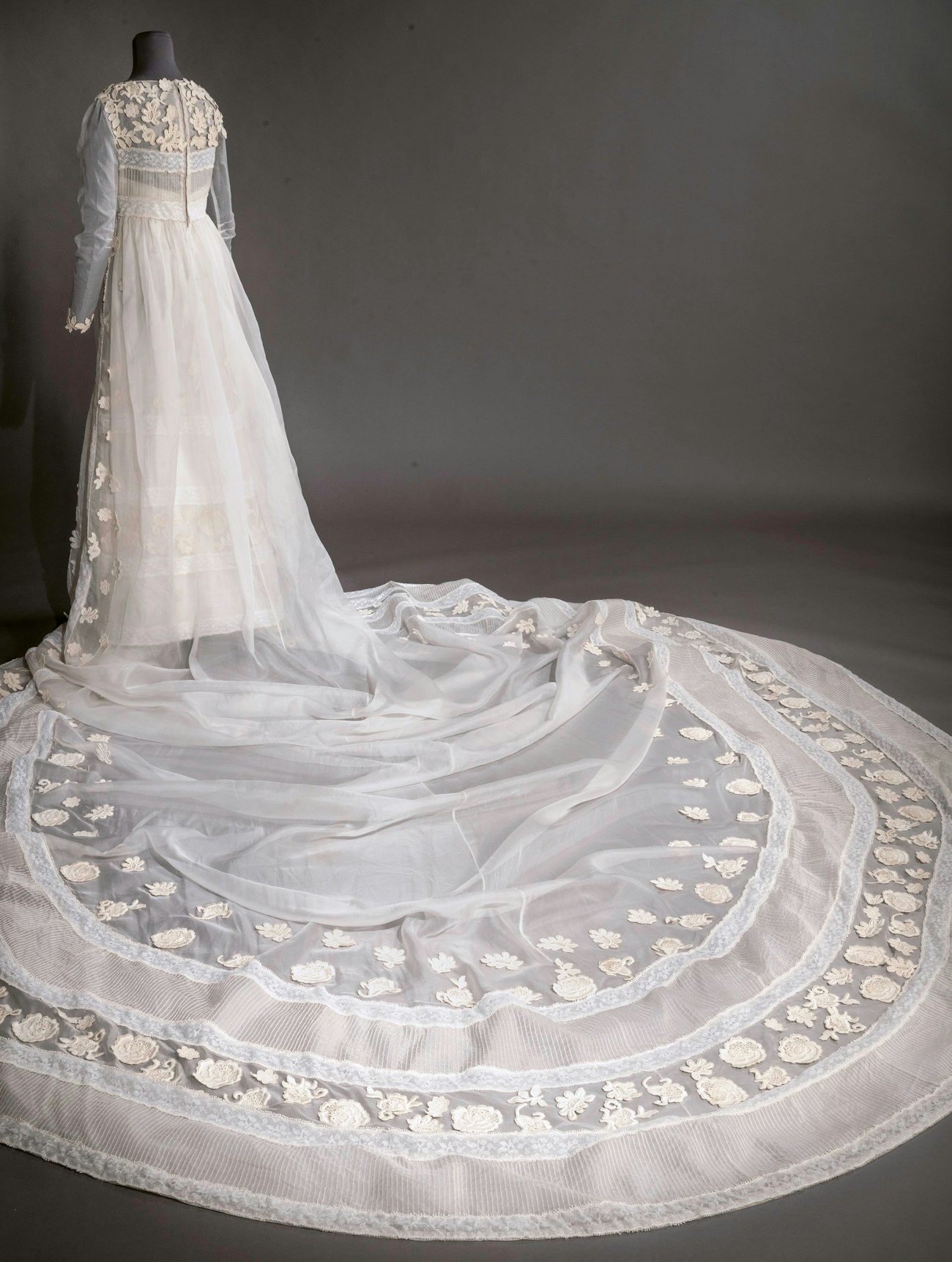 The Elizabeth Mance wedding gown, a part of the exhibit, has a cathedral-length train.
Making a Mannequin
Lowe (1898–1981) meticulously constructed her garments to fit her clients' bodies, so each dress in the exhibit had to have a mannequin made that was unique to the dress, said Heather Hansen, a conservation assistant in the textile lab at Winterthur.
A lot was learned during three previous costume exhibitions at Winterthur.
For those exhibitions, it took one person one week's worth of work to create a unique mannequin, said Kate Sahmel, a textile conservator and head of the textile lab. It was time to learn to make mannequins faster.
To display Lowe's historic dresses, the lab partnered with Katya Roelse, an instructor of fashion and apparel studies at the University of Delaware (UD), and with UD's MakerGym, an interdisciplinary design and fabrication studio, to develop cost-effective archival-quality mannequins.
Heather Hansen, left, and Kate Sahmel talk about creating the mannequins for the upcoming Ann Lowe exhibit.
Conservators measured the dresses to determine what mannequin sizes were needed. The team developed three basic sizes carved from Ethafoam, a durable but flexible polyethylene foam.
The carving was done using computer programs and machinery. It took only 60–90 minutes to manufacture each mannequin.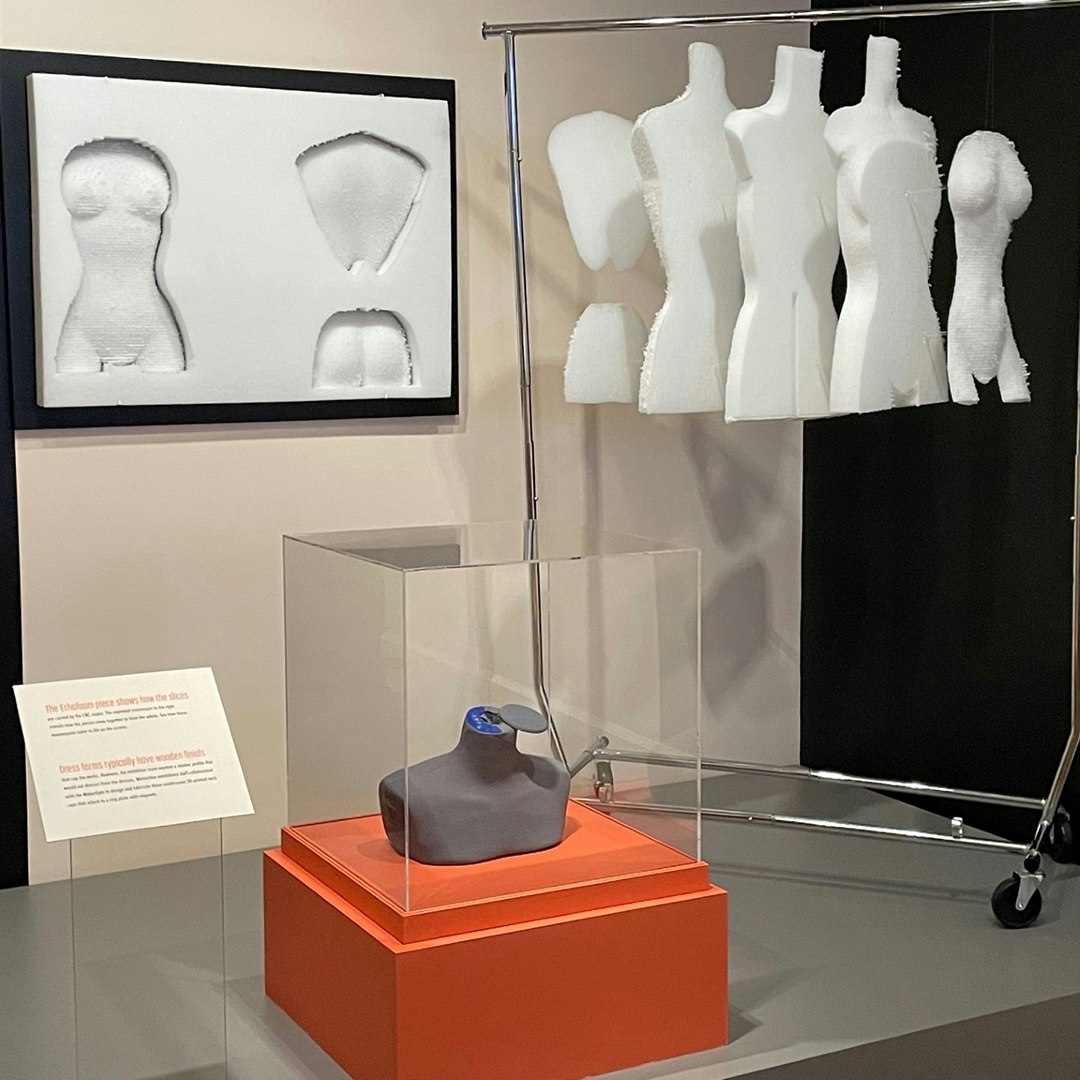 The construction process
Each mannequin contains five slices of Ethafoam. The Ethafoam layers were then glued together and secured with bungee cords until the glue dried.
The mannequins then had to be individually sculpted for each dress, which did take a few more hours of work.
Common areas for adjustment included the bust height and shape and the torso length. Conservators and textile technicians adjusted these proportions by cutting away excess foam or padding out fuller areas to achieve a perfect fit.
With so many dresses in the exhibit, the entire process saved them hundreds of hours, Sahmel said.
Finally, the Ethafoam was covered with two layers of fabric: an inner layer of off-white stretch hemp fleece and an outer layer of gray jersey cotton knit, which had been selected as the exhibition fabric. The layers were cut and marked by size, bundled, and sewn using an industrial four-thread overlock machine meant specifically for stretch fabrics.
Those involved in this project have shared lessons with conservation and fashion colleagues in the hope to continue to refine the process.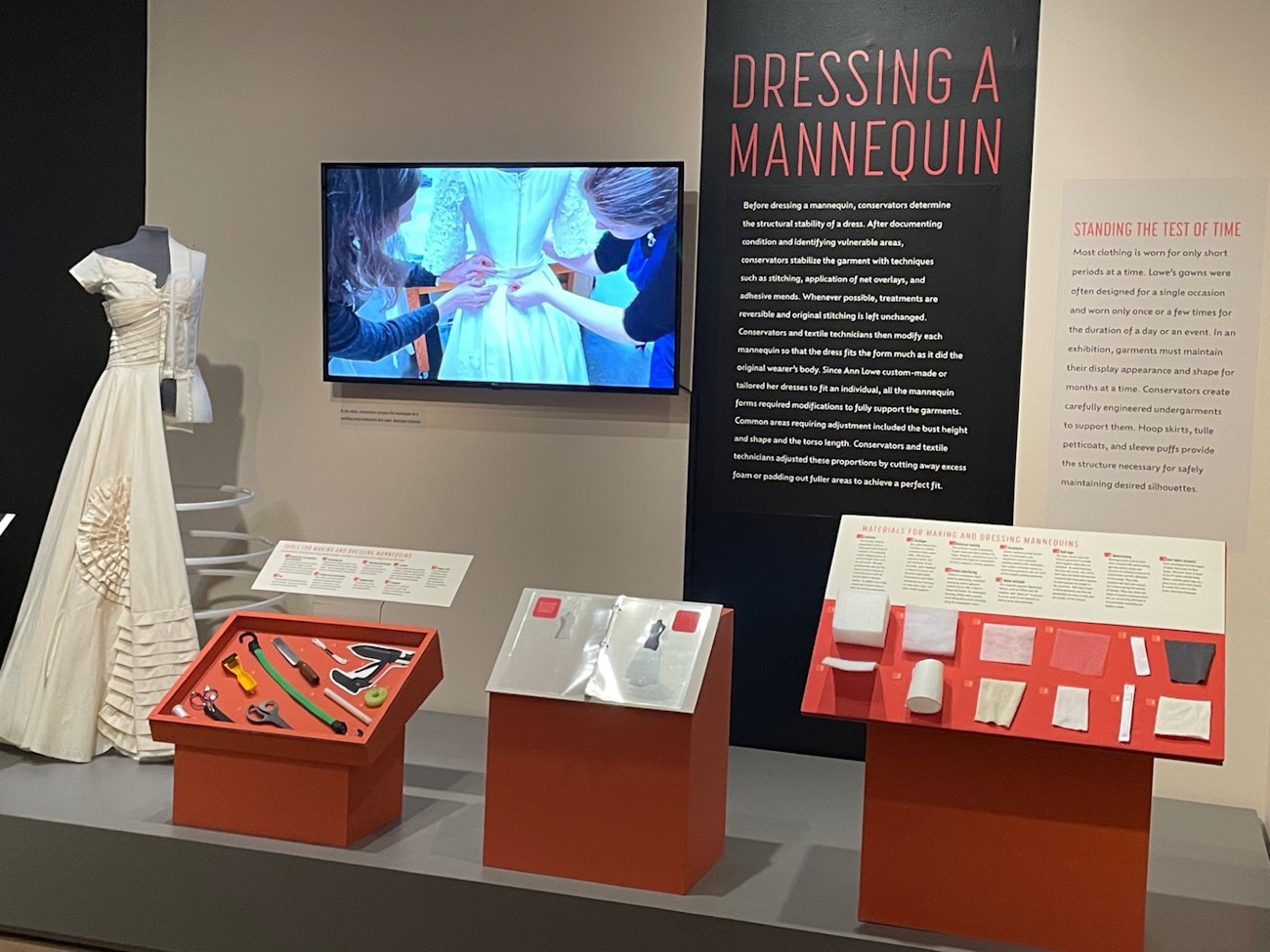 A partial dress and supplies showing how the larger exhibit was created.
Katya Roelse made this partial dress, or toile, as a test piece when working on constructing the re-creation of the iconic wedding dress that Ann Lowe designed for Jacqueline Bouvier when she married John F. Kennedy in 1953. The partial nature of this piece allows you to see how the mannequin was prepared in layers and with undergarments to support the dress. Roelse's full reproduction of the dress is included in the exhibition. The original dress, which is in the collection of the John F. Kennedy Presidential Library and Museum, can no longer take the stress of being exhibited on a mannequin, but following the exhibition, Winterthur will give the reproduction to the JFK Library for future use in their exhibitions.
Jason Brudereck is the Public Relations and Communications Manager at Winterthur Museum, Garden & Library, in Delaware. He previously served as Director of Communication for Berks County Community Foundation and worked for 15 years as a newspaper columnist and reporter.